This ain't my first time writing posts about backpacking Australia. I've got budget travel guides, road trip itineraries, and so much more on the Australia section of my website.
But if you're just about to leave Australia, you might have less of a use for these Australia travel guides, and just be wanting something to take a good old trip down memory lane with – or if you're just starting your journey (I am so jealous), you might be after some more off the wall travel tips for Australia or exactly what to expect.
Backpacking Australia is a unique experience that every keen traveller should try out. You've got the backpacker hubs of the east coast, which makes getting around and seeing natural wonders very easy, and then the rugged wildness of the west coast. There's the Australian wildlife – crocs and jellyfish in the Northern Territory, koalas and seals in the south, and kangaroos hopping all over the whole damn place.
Then there's the oldest culture in the world, Australian Aboriginal culture, which really deserves a lot more recognition. There's the whole outback, which has its own unique beauty with places like the majestic Uluru, as well as quirky towns like Coober Pedy where most people live underground. And Tasmania, the island state, is full of mountains and waterfalls, a more temperate climate, and some of the country's best natural beauty.
There is so much to see and do in Australia, and my top travel tip for the country would be give yourself time to see it all. The country has vast differences and needs time to fully appreciate it.
Once you've got time (if you qualify, doing a working holiday visa in Australia is a great way to stay in the country for longer and to be able to afford travel around the country), check out these things that you'll learn on the way. Or if you've already had a backpacking adventure around the country, see how many you agree with!
Things to know before backpacking in Australia
The beauty of the country goes far beyond the Opera House, Melbourne's Laneways and Bondi Beach
I'd say a big mistake when planning a trip to Australia is to only visit Melbourne and Sydney. While these cities are beautiful in their own right and do warrant exploration – I loved all of the attractions mentioned above (although I preferred nearly ever other Australian beach I went to over Bondi) there is so much more to this country.
Even just exploring the surrounding areas of Melbourne and Sydney will reward you. The Great Ocean Road is one of the best ocean drives in the world for a reason. The Grampians National Park (Gariwerd is its Aboriginal name) has spectacular views over mountains. Close to Sydney are the wineries of the Hunter Valley, the beaches of Jervis Bay and the wonderful Blue Mountains.
But if you have time and can travel further, head to one of Australia's many National Parks and see what the real fuss is about. I'm talking Kakadu, Uluru-Katja Tutja, the Daintree, Flinders Ranges, Kalbarri, Karijini, Cradle Mountain – there are so many in this country, each with their own appeal.
Or, if you're really able to get off the beaten track, get a 4X4 and check out the Gibb River Road, or brace yourself for a drive down one of the most desolate expanses of highway in the world – the Eyre Highway along the Nullarbor plain (2-wheel drive is fine for this road, although some side roads require 4X4).
There is so much to see in Australia, and Sydney and Melbourne are just the start of it.
Heading to Western Australia will reward you
I couldn't write this list of things to know when backpacking Australia without mentioning Western Australia. This state is the reason why I love this country so much and will never stop preaching about how much I love Australia. A road trip through Western Australia will be one of your best ever travel experiences.
Starting in Perth, travellers head to highlights like Kalbarri and its gorges, Shark Bay's beaches, the reef at Ningaloo and Karijini National Park (with more gorges and amazing waterfalls!) before heading to Broome, home of some of the world's best sunsets.
From Broome, another road trip explores the northern Kimberley region, the outstanding Gibb River Road with more waterfalls (these just keep getting better as you travel further north!), desert plains, fascinating caves with Aboriginal rock art and bush camping. Then Lake Argyle, close to the Northern Territory border, is a blissful oasis and the perfect place to unwind.
The Northern Territory is a close second favourite state with the spectacular Kakadu National Park and the cultural Red Centre… but it was Western Australia stole my heart.
Good to know: If you want to travel Western Australia, you need to either have your own car, find friends with a car, hire a car/ van or get on a tour. It's easiest to arrange all of this from Perth, although some people chose to from Darwin and head into Western Australia from the north. I personally bought my car in Melbourne and drove across to Perth, and my friend who joined me for the Perth to Darwin road trip flew from Sydney to Perth to meet me.
You can't travel in northern Western Australia in the summer, as the rainy season is very dramatic and roads are often closed. I mean you can physically travel there, but you won't be able to see anything!
It's expensive… but not as much as it seems
If you've ever read a post by someone who didn't like Australia, you'll notice a recurring trend… it's expensive. Is this true? Yes, in some aspects. Does this mean that you shouldn't travel to Australia? Of course not!
There are other ways to save money in Australia as well. Going out to bars and drinking all the time costs a lot of money, so cut back on that. If you want a drink, buy them in bulk from the bottle'o, or try the ubiquitous Aussie specialty, goon (it's basically wine in a bag, and it's not nice, but it definitely gets you drunk!).
Eating out is similarly expensive, but all hostels in Australia have great kitchens and if you're camping you can get a cheap camp stove from K-Mart. Be creative with your accommodation – I lived in a tent for five months while living in Byron Bay and had the time of my life.
There are so many free campsites throughout Australia, really cutting the cost of road trips. Many national parks are completely free, and others are included in a parks pass, which is great value if you're planning on hitting a few in one road trip.
If you know where to look, you can easily enjoy Australia on a budget. You're hearing this from the girl who survived in Melbourne for 2 weeks on $40 and still managed to see a lot of the main attractions – it can be done (I wouldn't recommend going that hardcore unless you physically have to though).
Working and travelling is the best way of seeing Australia, so consider applying for a working holiday visa
As I previously mentioned, if you can apply for a working holiday visa, do. Jobs like waiting tables and cleaning pay $20+ an hour in Australia, making it really easy to save. Once you're earning an Aussie wage, your money goes a lot further.
You can legally work in any profession in Australia on a Working Holiday Visa – but you can only do the same job for a continuous six months. Unless you have a particular skill, you might find that jobs like waitressing, cleaning or bartending, which have a high turnover of staff, are the easiest to secure.
That's not to say you can't work in other fields though! I had friends who did everything from teaching to HR to marketing. It all depends on wher eyour skills and experience lie and of course, where you're located.
For example, I lived in Byron Bay and worked as a cleaner (earning a really good wage!) and most of the jobs in the area were service jobs like restaurant or bar work. But lots of my friends living in Sydney worked in other fields.
Barbecues on the beach really are a thing
There are some Aussie stereotypes that aren't true – not everyone wears hats with corks (although they're a lot more common in the NT!) and deadly animals don't team the streets of Melbourne. But I am happy to tell you that beachside BBQs are very much real and happen all the time in Australia.
There are actually lots of free to use BBQs in Australia – a godsend when roadtripping and camping – many along the beach. Some of my best memories in Byron Bay were rocking up to Main Beach and BBQing dinner. Eating some good, cheap food with great friends, while watching the sunset and listening to Byron's nightly drum circle – I was the happiest I've ever been in these little moments. Is it time to go back to Byron yet?!
Goon becomes your liquor of choice – and it's gross
Goon is wine in a bag. I actually was a bit underwhelemed the first time I saw it – I drank very similar things when I was at University in Bristol, UK – but it's a lot more popular here. It's not that nice, but it will get you drunk. So basically, when you've spent all of your money on Whitsunday Island Trips or Scuba Diving the Great Barrier Reef, goon will be what you turn to.
If you're feeling slightly upmarket and are absolutely sick of the taste of goon (which happens about 0.1 of a second after trying it), you might want to upgrade to some of Australia's not-so-finest wines. Heralding the 'budget wine' category is Gossips, which to be honest tastes just like goon in a bottle (it feels classier though). At $5 per bottle, there's not much to complain about, though!
In every bottle shop, there will be a few $5-$7 bottles of wine, a few $10 bottles of wine and various wines that are $20 or over. I generally found that bottles costing $10 or more were wines that I could actually enjoy.
If you're not on a budget, there ar lots of great wines in Australia. Famous vineyard regions like the Hunter Valley near Sydney and the Barossa Valley near Adelaide are producers of the beverage, and wine made in Southern Australia is sold worldwide.
I'd recommend doing a vineyard tour at least once while in the country to sample some of the good stuff!
You'll never get used to the cost of fruit
I know I said there are ways to budget in Australia, and that's true. But for a country that produces so much fruit, fruit is frickin expensive. I try to eat as much fruit as possible (so consider myself somewhat an authority on the subject of fruit prices in Australia) but often in Australia, this was limited to apples and bananas.
You'll live for the backpacker meal deals
Not the healthiest of options, but certainly the cheapest, are the backpacker meal deals which are on offer in various hostels and backpacker towns.
Generally these deals consist of things like '$5 fajita night' or 'beer and a burger for $10' and they're well worth taking advantage of. Some hostels also offer free breakfast and free tea/ coffee or pasta and rice – so take advantage of this if possible!
If you're staying in hostels with no cheap food options, use their kitchens. If I was staying in a hostel for a few days, I'd normally make a big batch of something that I knew would last me and whoever I was with. Make sure you label and bag your food properly (sadly, backpackers do steal other backpacker's food in these kitchens quite a lot, but it's rare that someone will actually go through a bag).
If you're camping, definitely cook as much as possible as well. It might be a bit difficult if you're road tripping solo – I ended up eating noodles and veg more times than I could count – but if you're travelling in a group make the most of cooking great meals together. Some things that I cooked in campsites include pasta with various sauces, chilli, curries and a non-baked shepherd's pie.
The tours will feel like a rip off when you're paying for them… but they're so worth it
There are so many tours in Australia, and honestly, it can feel a bit scary when you're booking them, especially if they're all at once.
But there are some things that you must do while you're in the country, including some that can only be accessed via a tour. These are:
There are other amazing places in Australia that are accessible by tour if you don't have access to a car. I did all of these independently, but I know that tours do visit all of these places. They include:
The Daintree Rainforest
Kakadu National Park
The Blue Mountains
The Grampians (Gariwerd) National Park
I could go on and on, but basically, make sure you spend some of your hard-earned cash on the first experiences, and think about doing as many of the latter as possible if you don't have a car (they're very spread out – the Gibb River Road for example is right in the north of Western Australia whereas Sydney and Melbourne are in the south – but they're all so so worth it).
But then, so is buying your own car and road-tripping
I can't begin to express the magic of road tripping in Australia. It was a gamechanger for me. After road tripping Tasmania with friends I bought a car in Melbourne and drove it to Perth, then up the West Coast and across to Darwin, then down the centre to Adelaide, then back up through the outback to Cairns and along the east coast back to Melbourne. So if you have any questions about road tripping in Australia, I'm your gal.
I'd highly recommend buying a car instead of renting one – it works out a lot more cost-efficient in the long run – but take your time, try to make a friend who knows about cars if you don't and persuade them to look at possibilities with you, and make sure you get all the background checks.
I ended up buying a Subaru Forester who I christened Nulla (after the Nullarbor) and I was very lucky with her. I got her the whole way around Australia – and a bit extra – and she was an absolute trooper. But I did get her serviced a few times throughout the journey, and got anything that needed to be fixed done right away. Look after your car and it'll look after you.
Also, I'm definitely not qualified to give out mechanical advice – but if you want to get a reliable brand of car, Subarus are loved by Aussies and mine certainly never let me down. I even took her on the Gibb River Road, much to many people's disbelief – and she survived!
Technical stuff aside, road tripping Australia is the most surreal, once in a lifetime experience. Camping in the bush, travelling through remote outback, spectacular national parks and hilarious encounters with random people make the experience what it is. Every Australian road trip – the East Coast, the West Coast, the centre, the Kimberley region, Tasmania, the Nullarbor and the New South Wales/ Queensland outback are the ones I did – is different and each special in their own way.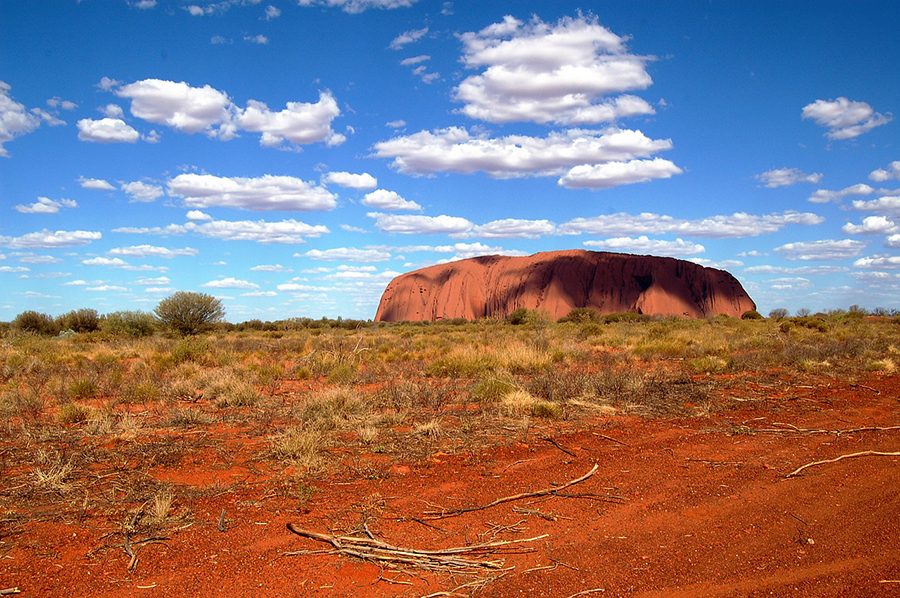 Head to the East Coast for beautiful beaches, tourist-friendly towns and plenty of bars and good restaurants (this is probably the road trip you want to start on to ease yourself into Aussie road trip life). Head to the West for beaches without a soul on them, world-class sunsets, national parks with waterfalls and gorges and outback scenes. The centre is the home of Uluru, amazing Aboriginal heritage and the red dust of the centre, as well as random outback towns like Coober Pedy where everyone lives underground.
The Kimberleys is my favourite place in the world – head here for even more spectacular gorges and waterfalls than the west coast, amazing (and scary) wildlife, huge lakes and Aboriginal culture. Tasmania is reminiscent of places like Scotland or its neighbour, New Zealand, with rugged grassy landscapes, beaches, waterfalls and mountains. \
The Nullarbor is a long, straight road – but has its own individual charm, and the New South Wales/ Queensland outback has arid scenery that meets the forests of the hinterland, dotted with more random towns like Lightning Ridge, an artsy place that's the home of black opals.
Learning about Aboriginal culture is really important
There is so much to learn about when it comes to Aboriginal culture. They're the world's oldest culture and there have been indications that they have been here for 60,000 years or longer. The way they live off the land and use Australia's nature for everything is fascinating, as are their many dreaming stories and bush tales.
It's also important to not sugarcoat what happened to Australia's First People when Europeans arrived. It was a brutal genocide, which has caused a lot of multi-generation trauma amongst Aboriginal people. While we can't change the past, it's important to be mindful of this when travelling in Australia.
Aboriginal people are generally very friendly and love to chat to people travelling their country. I learned a lot about their culture just by random conversations, but it's also great to go on Aboriginal tours to keep their heritage alive. Check out my post about Aboriginal experiences in Australia to find some of these!
WiFi in Australia is rubbish. Get a Telstra SIM and use your data
Oh, Aussie WiFi… how every backpacker in Australia hates thou. Private WiFi connections in Australia (if you're staying at a house) aren't too bad, but hostel WiFi… forget about it. I don't think I ever managed to have a successful Facetime on hostel WiFi in Australia – and most of the time, I'd already paid for it.
Because of Australia's geographical position, WiFi is expensive and just not that strong. Pair that with the amount of people in your typical Australian hostel and you've got a recipe for disaster. And while WiFi is fine if you're using it in a private home, it will be expensive if it isn't included in your rental price.
My solution? Get a Telstra SIM. For $40 you can top up with 6GB of data and free unlimited national and international calls (this meant that I could call my family as if I was in the UK!). It's still not oodles of data, and you may find you need more – but it'll be a lot quicker and more reliable than Aussie WiFi.
I recommend Telstra because if you go into the outback it's the only one with decent signal. Vodaphone signal is nearly non-existent on the west coast and in the centre, and Optus while a little better still isn't great.
Telstra has signal in most towns (some outback towns in Australia just don't have signal, but probably not any that you'll go to) and on various stretches of outback road (although still don't expect it all the time!).
Even if you're not planning on going to the outback, things can always change – especially when you start talking to people, following them on Instagram and seeing how absolutely jaw-dropping the Northern Territory really is. So I'd recommend using Telstra from the get-go!
The Best Australia Travel Tips
I hope you've enjoyed this post about Australia travel tips that you should know for backpacking around Australia! Is there anything else you'd like to know? Drop me a comment if so, or get in touch on Instagram
If you're interested in reading any more Australia posts, click through to those linked in this text, or click here for all of my Australia content.
I'm currently travelling overland from Bali to London – and documenting it all on YouTube. Click here to check out my channel (first video is below!).