Scotland is a country with a rich history, stunning beauty, and some of the kindest locals you'll meet. Mysterious standing stones are spread across the country, as are castle ruins that were once home to different clans and noble families.
Meanwhile, the vast, open lands and misty-topped mountain peaks, make you feel like you are somewhere truly magical.
The best way I recommend exploring it all… an unforgettable trip through central and north Scotland, from Edinburgh to the Isle of Skye by car!
Accommodation
One of the many great things about Scotland is the Right to Roam, which allows you to wild camp all across the country.
With so much open space, you are bound to find some hidden gem spots to pitch a tent. If you are looking for something more comfortable, you can also rent a campervan.
Visit Scotland's official tourism website, for their recommendations on companies to rent from.
Renting a Car in Scotland
It's easy to start your road trip by picking up a car rental in Edinburgh. If you have a valid drivers license in English, you can drive in the UK up to 12 months.
In Scotland, they drive on the left side of the road.
The majority of cars will be manual and you will need to pay a premium for automatic. One of the best places to find cheap deals for a rental is on Skyscanner.
If you prefer to book direct with a car rental company, SIXT is a good choice.
Of course, if you're travelling the UK and you want to road trip England as well, you can rent a car from hundreds of places in England or Wales and drive it up to Scotland.
Day 1: Edinburgh Itinerary
The capital of Scotland since at least the 15th century, Edinburgh is full of history! You can find medieval buildings and narrow alleyways in Old Town, and the newer Georgian homes from the 1700s in New Town.
Edinburgh isn't just for the history buffs though. It's also a foodies paradise with four Michelin-star restaurants, the inspiration for the creation of Harry Potter, and the leading festival city in the world.
You could easily spend a few days wandering the city but if you've got plans for a road trip, here are the highlights to catch in a day.
Walking Tour
The best way I think to start exploring a city is by going on a free walking tour. I went with City Explorers which offers a 2.5 Edinburgh Tour or the 1.5 hour Ghost Tour.
Both are free but it's nice to tip your guide. I chose the ghost tour which made me laugh rather than get spooked but was a great way to spend the evening.
On the tour, we walked the cobbled stone streets of the Royal Mile, learned the secrets of the old alleyways, and much more.
If you are a big Harry Potter fan, you may want to go on the Harry Potter Trail which is also another free tour operator (and one of the best things to do in Edinburgh with kids!).
Holyrood Palace & Artur's Seat
Famed for being the family home to Mary Queen of Scott's and the official Scottish residence of the Queen is Holyrood Palace. Inside you can see Mary's bedchamber, Bonnie Prince Charlie's room for extravagant balls, portraits of legendary kings, and the beautiful palace gardens. Adult tickets cost £14 ($20 USD) which includes an audio tour.
Just a 45-minute walk away from the palace will bring you to Artur's Seat. Sitting atop an ancient volcano, you can catch a spectacular view of the city. This was my favorite thing to do in Edinburgh and is best enjoyed at sunrise or sunset.
The Royal Mile
Described as the heart of Scotland's historic capital, this cobbled stone street connects the medieval Edinburgh Castle to the Queen's official residence in Scotland. The castle's starting point sits atop an extinct volcano which leads down to some stunning architecture like Scottish Parliament and St. Giles Cathedral.
Plenty of shops, cafes, and pubs rest on the street which is perfect if you are looking to buy some tartan or try some whiskey. Other notable places to check out on the Royal Mile include the Writers Museum, with work featuring some of Scotland's best such as Robert Burns, and the John Knox House where plotting for the abdication of Mary Queen of Scots occurred.
Where to Stay in Edinburgh
It is entirely feasible to camp all over Scotland, many times for free, but while you're in Edinburgh you might want to stay within the city centre. Luckily, there's a range of accomodation options all over the city which are perfect for all sorts of budgets and tastes.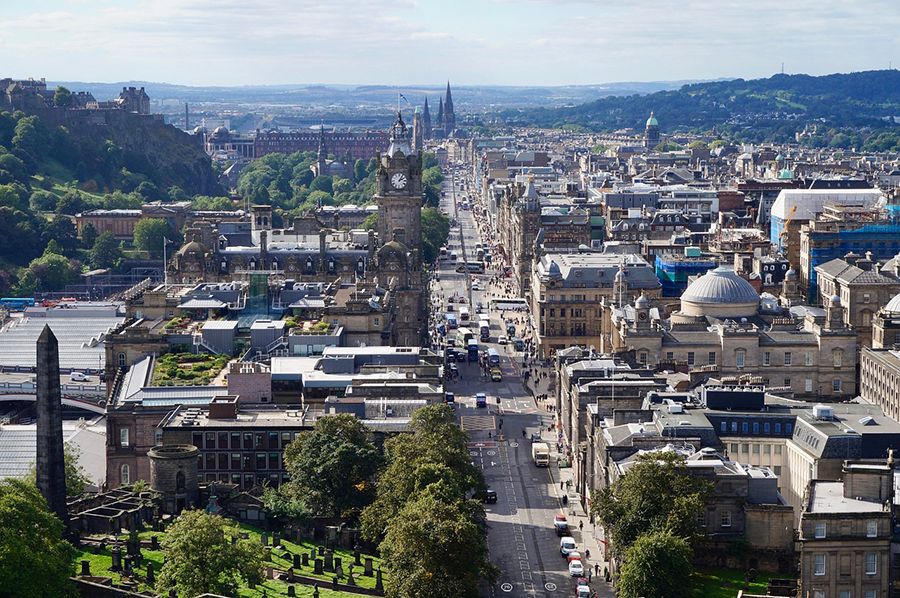 Haystack Hostel is a great option for budget travellers and is located very close to Edinburgh Waverley Rail Station. It's also in close proximity to the famous Edinburgh Castle and other central attractions. The dorm rooms offer individual reading lights and USB sockets, and the whole hostel has free WiFi and secure lockers. For rates and to book, click here.
Another fantastic choice for backpackers, CODE – POD Hostel provides free breakfast and modern dormitories. Each bed is in its own compartment in a 'pod' style and with a curtain, giving backpackers great privacy. It's constantly got amazing reviews and is always bustling and busy with travellers. Click here for the best rates and to book.
If you're after some privacy, Edinburgh Sixteen is a great choice, with king size or super king size beds, flat screen HD TV and a hot drinks machine. They provide a great free breakfast and the hotel is based in the culturally rich Newington area of the city. It's also one of the best value properties for Edinburgh. Click through for more information and to book today.
After an apartment rental in Edinburgh? Blue Stone Global Apartments sleep up to 5-8 people and provide kitchen and bathroom facilities, ocean views and other great facilities like Netflix, a washer and drier and games. The property is very highly reviewed and thought to be one of Edinburgh's best apartment rentals. For more information, rates and to book, click here.
Day 2-3: Edinburgh to the Isle of Skye Itinerary
There are some fantastic gems to explore while exploring Edinburgh to Isle of Skye by car. The drive normally takes 6-7 hours, so rather than spending an entire day driving, stop overnight around Glencoe. On the way, you can see magnificent castles, rugged mountains, lochs, and plenty of sheep.
Stirling Castle
Head out early in the morning to beat the crowds and see Stirling Castle which is just an hour drive from Edinburgh. Stirling Castle is one of Scotland's largest and most important castles.
Sitting atop Castle Hill, this fortress is surrounded and well protected by three steep cliffs. The castle has a rich history, used at different times as a military fortress or royal residence. Inside you can see The Royal Palace constructed by the Stewart King in the 1500s, The Great Kitchen where royal feasts were prepared, and the Great Hall where banquets were held. Tickets cost £15/adult ($20.75 USD).
Hiking Around Glencoe
A rugged landscape that was carved out by glaciers, Glencoe offers some amazing hikes and beautiful photography. Easy walks for any hiker include:
Devils Staircase – Part of the West Highland Way
Allt Coire Gabhail, The Lost Valley
Buachaille Etive Beag Circular
Click here for the full guide to visiting Glencoe.
Jacobite Steam Train
Calling all Harry Potter fans! Here's your chance to ride the Hogwarts Express. If you aren't a Harry Potter fan, maybe the fact that this train ride is recognized as one of the great railway journeys in the world will entice you to take a ride.
On your journey expect to pass by clear blue lochs, isolated houses surrounded by rolling hills, and dramatic coastline.
You'll cover 84 miles on this roundtrip journey which will take approximately 4 hours. The train departs Fort William station and stops at Mallaig before returning. At Mallaig, you will have 1 hour 45 minutes to explore the town before heading back.
You can purchase the tickets by making an online booking. Train rides do book up quickly so purchase your tickets 3-7 days in advance.
The train runs two times a day with the morning service departing at 10:15 AM and the afternoon at 2:10 PM. The cost for an adult return ticket is £39 ($54 USD) for second class or £59 ($81 USD) for first class.
Eilean Donnan Castle
One of the most photographed places in Scotland, this castle dates back to the 13th century. It was first constructed as a defensive measure against Vikings who raided the lands between 800 and 1266. Opening times vary throughout the year so check their site to confirm the time of your visit. Admission to the castle costs £7.50 ($10 USD).
Day 3-5: The Isle of Skye Itinerary
Skye has a long period of domination under the Macleod and Donald clans. Clan MacLeod is said to have Viking heritage and even the name of Skye was referred to by the Norsemen as Skýey or Skuyö, meaning 'Isle of Cloud'. That name is a perfect description of the dramatic landscape of the Cuillin Hills, Old Man Storr, and the Quirang which are enveloped in a cloud of mist.
So get your wellies on and cameras out for some stunning sites! Just watch out for the midges in the summer months. They are notorious during this season so douse yourself with mosquito repellent. Here are the highlights on the Isle of Skye to catch on your road trip.
The Cuillin Hills
Hiking enthusiasts will love Cuilin's rocky mountain range. This is where you can find the most challenging mountains in Britain with excellent rock climbing. If you aren't up for a long hike or climb, there are some easy walks at Talisker Bay and Eynort Forest Walk which ranges between 3-10km.
Check out all the hiking trails available here. Keep a lookout for Sligachan Bridge. Legend has it that if you dunk your face in the water, you will have eternal beauty!
Fairy Pools
Up for a wild swim? Jump into the fairy pools for a refreshing dip. If jumping into cold water isn't your thing you'll still get a nice 2.4 km walk up to the pools to see a beautiful waterfall.
Talisker Distillery
Take a visit to Skye's oldest working distillery. Three options are available for tours which start at £10 ($14 USD) and includes a 45-minute tour and tasting of a single malt scotch. Tours can fill up quickly so book in advance.
Dunvegan Castle & Gardens
The oldest castle in Scotland, Dunvegan has been the ancestral home to Chiefs of Clan MacLeod for 800 years. There, you can see one of the clans' most treasured possessions, the Fairy Flag, which is a banner with mythical powers.
Legend has it that when the Fairy Flag is strung up in battle, the clan would always be victorious amongst their enemies. Many other clan treasures, oil paintings, and Bonnie Prince Charlie items are also here. Tickets to the castle and gardens cost £14 ($20 USD).
The gardens also can't be missed which stretches across five acres. You'll find streams, waterfalls, pools, plants flowers and woodland walks. The history of the garden can be traced back to the 17th century. Interestingly, a map of Skye from 1650 shows that much of the land was covered in trees, but it is said that because the trees hid bands of robbers much of it was cut down.
Skye Museum of Island Life
See what life was like 100 years ago in a traditional highland village. Islanders lived in crofts which are enclosed pieces of land that would often be on an estate. The crofters (tenants) would normally be farmers who would pay rent to landlords.
Inside you can see what a kitchen, bedroom, and barn would look like in a traditional home. There's also a workshop for wool-working, blacksmith, and the old 'ceilidh house' where villagers found their entertainment before the days of Netflix.
The museum is open Monday-Saturday from Easter to late September from 9:30 AM to 5:00 PM. Tickets cost £2.50 ($3.50)/adult.
The Quirang
If you look up the word 'epic' in the dictionary there should be a picture of the Quirang. Panoramic views of jagged peaks, waterfalls along the path and sheep everywhere make up the Quirang.
The full circuit is a 6.8km walk which takes about 2 hours (or more if you like taking lots of pictures like me!). It can get quite busy here, so arrive early. I was there at 9:00 AM and only saw a few other hikers.
Old Man Storr
An iconic landscape of Scotland, the Storr stands out with its rock pinnacle and mountainous backdrop. Hike the Storr on a 3.8km route which offers fantastic views and excellent photo taking opportunities.
The route will take 1 hour and 15 minutes to complete. Read more about hiking the Old Man Storr here.
What to Pack for your Edinburgh to Isle of Skye by car adventure
The weather from Edinburgh to the Isle of Skye rarely goes above 26 degrees or below 0. It changes frequently throughout the day, where you wake up and it's raining but by lunch it's sunny.
Either way, you should be ready for some precipitation no matter what time you visit. Packing essentials include:
Umbrella
Raincoat
Splash pants
Sturdy, waterproof boots
Warm socks
Mosquito repellent & Bug bite (Every local you meet will probably bring up the notorious midges)
Warm clothing (even in summer, it can get quite cold in the evenings)
GPS or Map (cellular service is often shotty all across the island so it's helpful to have a map to help you navigate around)
By the end of this road trip, you'll probably find it hard to leave Scotland and already be planning a return trip. I know I am! What are you looking forward to the most on this road trip from Edinburgh to the Isle of Skye?
Bio
Jenn is a Canadian travel blogger who loves going on adventures that are a little off the beaten path. Her digital stories feature unique experiences in travel and food around the globe like housesitting in Kenya or a motorcycle road trip in Indonesia. Stay in the loop with her explorations on A Map, Fork & Cork! For live updates check out Twitter & Instagram.