The name 'Nullarbor Plain' exudes a certain air of mystery and compel. The plain spans two Australian states, broken only by the Eyre Highway that is the main part of an Adelaide to Perth road trip. If you're planning on driving across the Nullarbor, you'll most likely have been told that you're crackers, had a few dozen people wondering why you don't just hop on a plane and have lost count of how many times you've heard 'you know it's a load of nothing, don't you'…
Don't listen to 'em. If you're craving space, freedom and an authentic Australian experience, take the Nullarbor. I mean, it is a load of nothing. Apart from a few roadhouses, all placed 200kms or so apart, the Nullarbor is one empty place. But at the same time, driving across the Nullarbor is an experience like no other. It makes you realise how big Australia – and the world – is. It's actually home to some amazing sights – like the beautiful head of Bight – and some of the most spectacular sunsets and sunrises in Australia, if not the world. And most of all, driving across the Nullarbor is a huge adventure.
If you're planning on taking the 1200km drive, you'll most likely be searching for some tips for driving across the Nullarbor highway. The road is safe and a lot busier than you might think, but there's definitely some things you should keep in mind when driving across the Nullarbor. Tips like these will help you get out of any sticky situation and have a safe and enjoyable experience while crossing the Nullarbor!
Pack right
As with any outback adventure, driving from Melbourne or Adelaide to Perth requires basic car kit and camping gear (unless you're staying at the somewhat pricey roadhouse hotel motels). Remember to pack the following:
Car jack
Spare tyre and screws
Engine Oil
Coolant
Jump Leads
Tow Rope
LOTS of water – I'd say try to keep 10l for each person at all times and top up when possible
Canned and dried foods – enough to last a couple of extra days than you need. You could buy stuff at the roadhouses on the Nullarbor, but they're super expensive – a bag of doritos for $7 expensive…
Tent – such as this one from Wild Earth
 A self-inflating mat; this type of camp mat is compact but still comfy – check out this great value one.
A good quality sleeping bag – the Nullarbor nights can get cold! Here's a cosy sleeping bag suggestion.
Camping stove – like this great two burner stove – and gas cylinders
The jury's out on a petrol tank. If you're just sticking to the highway, you probably won't need it. But you will save money if you take one – fuel at some of the road houses can be in excess of $1.80 per litre! We didn't take one but could have saved some money if we had.
Shop for camping supplies here!
Check your car's oil, coolant and tyres routinely
Confession: before we left Adelaide, I thought my car didn't have a dipstick. Following a concerned conversation with a car mechanic, I drove all over the city to see if anyone had a dipstick for my car. Eventually one of the scrappers I spoke to looked in the bonnet, where he found the dipstick… exactly where it was meant to be. I was the dipstick that day.
Following this incident, I learnt the importance of checking the oil, coolant and tyres. I checked them pretty much every day and avoided any incidents. I still don't know how to change a tyre, but I have the wikihow instructions print screened on my phone for when the day comes…
It's well worth keeping an eye on these things when you're driving several hundred kilometres a day to avoid the car breaking on you somewhere around Cocklebiddy.
Don't drive at night
That's where the wild things are! Crossing the Nullarbor at night is just tempting fate – we saw a couple of bad accidents that looked like they'd happened at night. There's loads of roaming animals around the Nullarbor after the sun goes down, who will jump out suddenly at night. Plus it's so much easier to become drowsy when it's not light. It's really really not worth it.
Be vigilant about trucks and road trains
We were lucky when we crossed the Nullarbor; the wind was pretty low, so we didn't have any problems crossing trucks. But in high wind, they can create a 'wind tunnel' which will feel like your car is being pulled into them. It won't actually hit it, and there's not much you can do other than hold your nerve, but it's important to be vigilant.
Road trains are interesting. They can be over 50 meters long and go at speeds of up to 130 kmph. If you see one coming towards you, (and you will see it in good time thanks to the good old flatness and straightness of the plain) it's best to pull onto the side and wait for it to pass. We didn't actually see any super long road trains when we were driving across the Nullarbor, but I've heard lots of accounts of them.
Know your fuel stops!
If you know your petrol tank's capabilities at certain speeds, you might be able to deign whether certain fuel stops can be avoided. Here's a list of all of the fuel stops across the Nullarbor and the distances between them:
Ceduna
71km – this is the start of the Nullarbor – click here for accomodation options and book today!
Penong
79km
Nurdoo
143km
Nullarbor
181km – the roadhouse here is highly rated for travellers and makes a good rest stop. Click here to read more about it and to book today!
Border Village
13km
Eucla
65km
Mundrabilla
69km
Mandura
90km
Cocklebiddy
65km
Caiguna
175km
Balladonia
176km
Norseman is the end of the Nullarbor, where there are way more amenities than you're now used to and lots of petrol stations. If you want to book some accomodation for your victorious night after crossing the Nullarbor (or to prep for it, if you're driving west to east!), click here to see rates and book today.
My top tip for getting cheap fuel is to bypass Border Village and top up at Eucla, just 13km away. It's much cheaper!
For a great crossing the Nullarbor map, check out this handy PDF.
Use Wikicamps to find free campsites
Look no further than Wikicamps for accommodation across the Nullarbor; it's a fantastic app that helps users find free campsites on the Nullarbor and all around Australia. On the Nullarbor, these are just pit stops off the road, but are ideal for a night. I saw the best sunset and sunrise of my life at one of these!
Wikicamps cost around $5 to download (the price does go up and down) but is well worth it – you'll make your money back in one day. There's heaps of free campsites on the Nullarbor, so you can negate the pricey fuel with some accommodation for gratis!
If camping's not your thing, there's alternative Nullarbor accommodation at most roadhouses. These should really be booked ahead of time, especially in the tourist seasons – if you get to one and find it's full it's a long way to the next one!
Today's Nullarbor Roadhouse Deals – Click through for more details and to book today!
Stop whenever possible

Did I mention that driving across the Nullarbor is a long way? Stop whenever you can to avoid driver fatigue. There's not a huge amount of attractions on this long straight road, but there's a few unique things to do on the Nullarbor Plain that are well worth stopping for, including…
Snapping pictures with some of the iconic 'I'm in the desert in Australia' signs
These include the typical 'a million miles from everywhere' signs and 'exotic animals on the road' warnings. The pictures will be a great memento of your time!
Admiring some of the Nullarbor specific signs!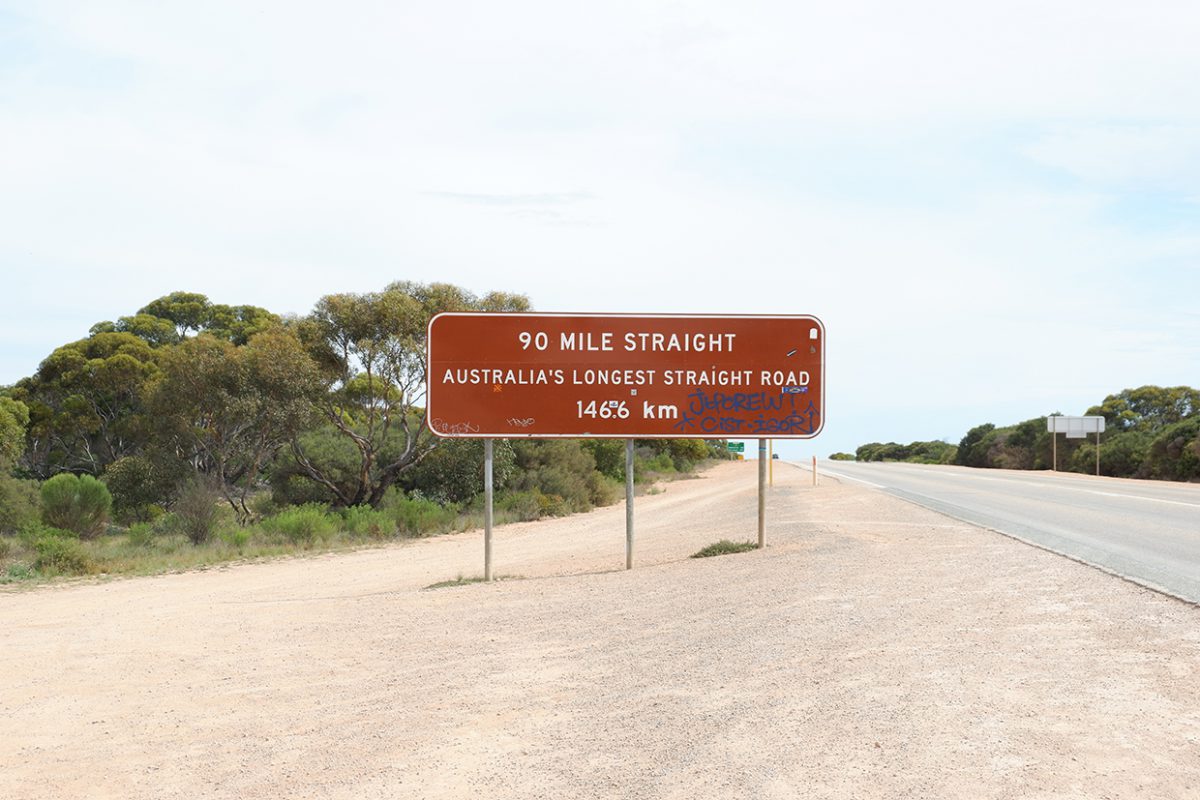 Where else will you have the chance to get a picture taken with an 'Australia's longest straight road' sign (answer: nowhere, because it is here) or 'Nullarbor: eastern end of treeless plain' (same answer applies)? Enjoy these signs, there's little else to do!
The Great Australian Bight
Don't miss the bight, but don't go to the head of bight, which costs $12 and closes at 3:53pm sharp. (advertised as 4, but the owner wouldn't let us in for five minutes at 3:53. Hmphh). Just down the road (heading west), there's a turn for the cliffs of the bight, where the spectacular view is freeeeee. Bear in mind that this area isn't signposted with a name, just with a parking and photo symbol. So if you know you're close to the bight and you see a little camera picture on a sign infront of you, turn down the next side road!
We had a great view of the bight from our wikicamps spot too. Seeing the sun come up over the colossal edge of the Australian continent is an experience that I don't think I'll EVER forget.
Get out of the car and stare off at the flatness, and the long road before you…
It is an experience like no other; I come from London and I've never felt so much SPACE. It's quite surreal really, so be sure to get out of the car and take it all in.
Watch life go by at a roadhouse

Roadhouses are interesting places, and I loved marvelling at the random attractions they have there (such as a giant kangaroo holding a tub of vegemite at border village, SO stereotypical) and people watching, wondering why each of these people were driving across the Nullarbor. Roadhouses provide hideously expensive snacks, drinks and coffee and some 'I've crossed the Nullarbor' memorabilia. I did spend six dollars on a bumper sticker that is now proudly sitting on the back of my car, and I'm not sorry.
I also named my car 'Nulla' after crossing the Nullarbor. I'm still not sorry.
Roadhouses also normally have some interesting/ weird museums about the history of the area. They're worth a stroll around while on a driving break!
Remember to download a LOT of music
You're going to be driving 1,200 kilometres across the Nullarbor with very limited reception, so you'll really need some pre-downloaded music. By some I mean A LOT. I had 250 songs on my ipod and to this day, whenever I hear ANY of them I just think about that long straight road…
I'd recommend at least a thousand songs. And one of them has to be 'Nullarbor Song' by Kasey Chambers. If you're not sure what else to download, here's some road trip playlist inspiration.
Get a Telstra plan
If you want any phone reception on the Nullarbor, go with Telstra – other providers just don't have signal. You can get a pay as you go plan starting at $30. It's well worth it!
Telstra doesn't cover absolutely everywhere on the Nullarbor, but it does span across a majority of the plain.
Don't panic if you break down (but make sure that you have the right cover)
If you do break down on the Nullarbor, you won't be left to perish, especially if you're on the main road. There's plenty of cars still using this road – we saw about one every five minutes. People in the outback are typically very friendly and helpful, and lots will stop for you; helping if they know the problem, or passing a message on if you're out of a phone signal area.
To avoid hefty tow away fees, make sure that you have RAC insurance and, if you're savvy enough, some spare parts. I'm not going to pretend to be an expert on this; I know nothing about car repairs and I only had what I detailed above on me. There's a lot more you can have/ know and if you want to hear advice from someone who knows a bit more about cars than me check out Amanda from Travel Outback Australia's advice for if you break down in the outback.
Be prepared to lose all sense of time
Time doesn't really matter on your Nullarbor roadtrip, but it's worth mentioning that the time zones will baffle you. South Australia is half an hour behind East Australia and Western Australia two hours behind (8 and a half hours and 7 hours ahead of GMT respectively). BUT various places on the border have their own time zone, 45 minutes ahead of WA time and behind SA time. It makes sense in terms of daylight, but it's a tad baffling. To make things more confusing, your phone might automatically change to WA time when you're still in SA or vice versa, like mine did…. I ended up going to bed at 5:50pm in darkness because I was so damn confused.
Don't underestimate the distance
It takes time to drive 1,100 kms. Don't think you can do it in a day. That'll just give you our old foe, driver fatigue. With two drivers, we made it from 50kms from the WA border to past Norseman in a day – a huge amount really – but we swapped every two hours and only drove that way because we felt we could.
Don't put a time on it and force yourself to be in one place at a certain time. This is where the flexibility of wikicamps can't be criticized. You just rock up to whichever is nearest when you've had enough of driving (and there's honestly tons).
Don't forget everyone's warnings… but work out how to avoid the dangers and have a safe time driving across the Nullarbor
Driving across the Nullarbor is no way as scary as most of the people I spoke to before I went thought it was going to be. The main danger is driver fatigue, and if you're old enough to be driving across the bottom of Australia you're old enough to know how to keep yourself awake when you're in control of a vehicle zooming at 110kmph.
The next biggest danger is animals being in the road – which can happen at any time, but is rare during the day. If an animal jumps out the main advice is sadly to go with it and not try to dodge it, as you've still got a very high chance of hitting the animal and an equally high chance of flipping the car. I cringe every time I see roadkill, so I was extremely glad this didn't happen to me. But you can avoid this by not driving at night and remaining vigilant. It's worth mentioning that when we drove across the Nullarbor the only animals we saw were two emus at the side of the road – which I was kind of disappointed about – but this nods to the fact that it's not absolutely teeming with wildlife.
Other dangers? Not stopping for road trains, overtaking too closely etc. We didn't see any road trains but as long as you remember to pull over when you see one coming, you'll be fine. It's probably safer to overtake here than another road, as there's a lot less cars and at times you can see incredibly far, but obviously don't overtake anywhere unsafe.
We've covered breaking down, and as long as you take Amanda's advice (not the girl who thought a dipstick went somewhere completely different to where it actually does), you'll be fine there. It's a pain in the ass if it happens and it might cost you a few bob, but you'll make it through.
The long and short of it? You're going to be fine crossing the Nullarbor by car. It's long, it's flat, it's straight… but it's also fun, unique and safe.
The Nullarbor road trip is one of the best things I've done in Australia so far. It's an experience like nothing I've ever had and it's one of those travel memories that I will take with me forever. If you're thinking about it – DO IT. You'll have a blast.
P.S. When I was researching this road trip, I struggled to find helpful real-life accounts of road tripping across the Nullarbor. So I want this to be a helpful real-life account to help future Nullarbor goers. SO, please do comment and leave me some feedback. Do you have any more Nullarbor related questions? Could I add anything else to the article? How would you rate my Nullarbor information knowledge on a scale of 1-10? 😉
Also, let me know if you've crossed the Nullarbor, I love speaking to people about it! Comment below or drop me a message on Facebook, Twitter or Instagram!
Disclaimer: some of the links in these posts are affiliate links. If you make a purchase using these links, I may get a small commission at no extra cost to you. This is just one of the ways I keep Claire's Footsteps running!
Hey! I'm on YouTube too!
I'm currently travelling from Bali to London without taking a single flight! I'm documenting my journey on YouTube and would love it if you could follow me there!
Here is a video detailing the journey a bit more:

Click here to go to my channel – I'd love it if you subscribed and joined the community!
And finally, please add this on pinterest and help more people discover the magic of the Nullarbor Plain!
Pin Me!