I seem to start every blog post I write about Byron Bay by mentioning how I lived in a tent there for five months, so if this is your first time here, hi my name's Claire and I lived in a tent in Byron Bay for five months.
Now that's out the way, I thought I'd write a comprehensive guide to the best Byron Bay beaches to give you the heads up on what's the best for surfing, sunbathing away from the crowds, photography or for beachside restaurants and bars. Byron Bay is one of the best places to visit in Australia, mainly due to all of these beautiful beaches.
So if you're after the best beaches in Byron Bay, check out this list to hear allll about it!
Here's a jazzy map with the best Byron Bay beaches on.
The Best Byron Bay Beaches: A Conclusive Guide
Main Beach
Best for: being close to the town, evening activities
Worst for: getting a spot of P&Q
As you may have guessed from the name, Main Beach is the central beach of Byron Bay. This means it can get very busy with both sunbathers and surfers. It's very convenient for the rest of the town as it's located at the end of Johnson Street, so you can easily take a beach break to one of the many cafes, bars and restaurants. If you fancy buying some food from Woolies or Aldi, there are beachside BBQs as well. I had many a wonderful evening chowing down on Macro veggie burgers as the sun went down…
Another fun thing that happens at Main Beach is the nightly drum circle. It happens every night, unless it's rainy or ridiculously windy. Buskers and other performers (think fire spinning and hula hooping!) are also often hosted at Main Beach.
As the beach is curved, the sunsets are pretty incredible – experiencing it from Main Beach while the drum circle is playing is a quintessential thing to do in Byron Bay.
Clarkes Beach
• Best for: beginner surfing (sometimes)
• Worst for: parking
Clarkes Beach is located a little to the ? of Main Beach. The further you walk away from the town, the quieter it gets, so if Main Beach is too busy you'll be able to find a place to hang out on Clarkes Beach.
The waves are semi-ok for beginners (but don't quote me on that as this can change daily), but if you're taking to the waves for the first ever time know what you are dealing with when it comes to the Aussie sea – the rips are real.
It's also a great spot for swimming (again, be sea safe) and being in close proximity to town without having to share the sand with millions of other tourists.
Belongil Beach
• Best for: beautiful tea tree lakes
• Worst for: being accessible
Walking about 20 minutes more away from town, you'll find yourself at Belongil Beach. This spot is very quiet and you may well be its only visitors; which makes it a great location to chill out in blissful solitude, something that you don't always get in busy Byron.
There are also some beautiful tea tree lakes at Belongil Beach. They're a great spot to catch a sunset and spend some time far away from crowds. They're ok to swim in, although can smell a little strange depending on what time of year you're there. The tea tree is wonderful for your skin!
Belongil is near a little collection of shops, cafes and restuarants, so if you want to grab a bite after being in solitude, you'll have the chance. Favourites include the Treehouse on Belongil and the Belongil Bistro.
The Pass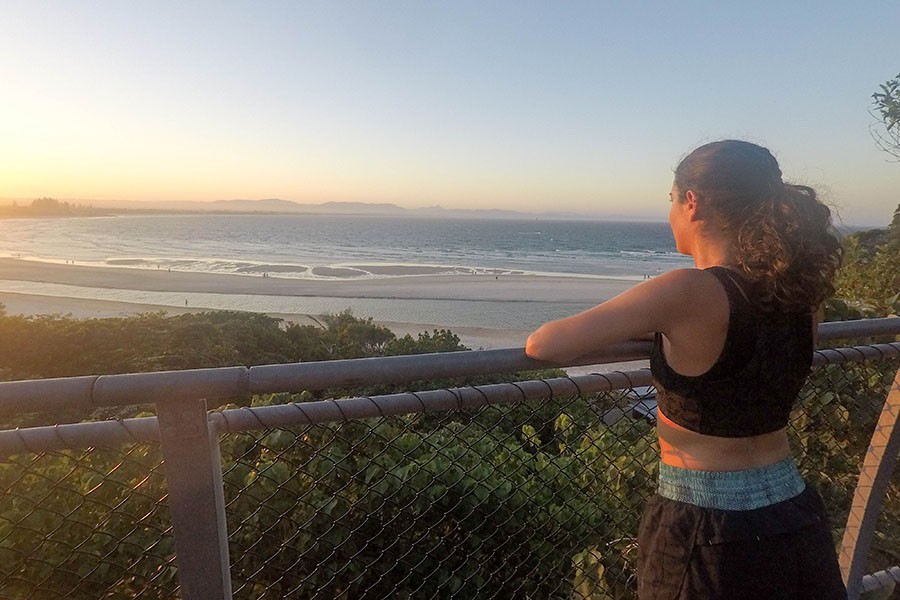 • Best for: Surfing (I think), whale watching
• Worst for: not much!
On the other side of Main Beach, The Pass is a great spot for surfers and whale watchers. It's a little quieter than Main Beach, and you'll definitely be able to find a spot to relax in on this beach.
It's known for its great breaks and is probably not the best place for new surfers. There are stairs going up to the top of one of the rocks where you can look for dolphins and in the winter, whales. Bring your binoculars for it!
There are BBQs on offer by The Pass, so it's a great spot to enjoy a lesser crowded barbecue on the beach. It's also a really wonderful place to watch the sun go down and is located on the Byron Bay lighthouse walk.
From the Pass you can see Julian Rocks, Byron's best spot for snorkeling and diving. You can't go out there independently, but if you go on a scuba dive or snorkeling tour you'll launch out from the Pass.
Wategos Beach
• Best for: scenery and atmosphere
• Worst for: calm waters (although no beach in Byron is very good for this)
Wategos is a small beach right before you start ascending to reach the Byron lighthouse. As it's a bit further from the town centre, it's quieter than main and Clarkes beach. It's another great spot for surfing and is also popular with dolphins – so you might get the chance to surf with them!
It's famed for its blue waters, leafy trees and sheltered areas. It's a great spot if you want to enjoy the beach while catching some shade, and is (another!) popular surfing spot. There is a BBQ and small café by Wategos beach.
Tallows Beach
• Best for: Having some blissful solitude to yourself, taking photos, and enjoying the beautiful tea tree lakes.
• Worst for: Being close to attractions and restaurants
Beautiful Tallows beach is a must-do while you're in Byron Bay. It takes a while to get there, as it's the other side of the lighthouse, but it can be walked to from the centre in about 20 minutes. There is plenty of parking, but it is paid for.
Tallows Beach is also close to Arakwal National Park, which is home to walking trails through heathland and native birds and animals. The Arakwal People called this area home for tens of thousands of years and there is Aboriginal history and activities that can be engaged in throughout the park.
It's almost completely deserted, and has beautiful white sands that are perfect for a walk at any time of day. If you walk along the beach for a while, you'll reach some more tea tree lakes. Sometimes beach parties are hosted here, but most nights it's a beautiful chill out spot.
Tallows is also a popular surf spot, with many wave-hunters searching for breaks at any time of day – it's favoured for the sunrise surf, as the sun ascends over the Pacific Ocean.
Cosy Corner Beach
• Best for: being secluded, fun beach parties
• Worst for: potentially having your relaxing evening invaded by a beach party
Nestled between main Tallows Beach and the lighthouse hill is Cosy Corner. This hangout is often completely deserted, making it perfect if you're after some P&Q. You can surf here, but make sure to stay away from the rocks.
Cosy Corner is also sometimes used for beach parties; if you see a bunch of people heading here as the sun goes down, that'll be why!
The Best Beaches Near Byron Bay
Broken Head Nature Reserve
A short drive from Byron Bay town is Broken Head Nature Reserve. A great spot if you're looking to get more off the beaten path and see some wildlife, enjoy rainforest and learn about Aboriginal culture in the area.
The are used to be the home of the largest tall subtropical rainforest in Australia; today only spots remain, like the tree sanctuary in Byron Bay and the nature reserve here! You'll really get a sense of 'bush meets beach' at Broken Hill and see all sorts of different trees: rosewood, red bean, smooth seeded kurrajong and bungalow palms.
There is a great walking track called 'Two Sisters Walking Track' with amazing sea views. The walking track follows the Aboriginal Dreaming story of two sisters bathing off the headland. One sister got caught in a current and the other drowned while trying to save her. The Bundjalung Aboriginal people use this story as a warning to their children to not swim here. The area is a very spiritual place for the local Aboriginal people, so please do treat it with respect.
Broken Head beach offers some spectacular views of the rainforest meeting the sands, making for some great photo opportunities. The beach is fairly quiet and is facilitiated with toilets, showers, BBQs and picnic benches. There is also a campsite nearby.
Lennox Head
Made a national surfing reserve in February 2007 and actually the largest one in Australia, Lennox Head is a fantastic place to go to if you're a fan of the big blue waves. Don't take your board here for your first time surfing however; the breaks are huge and strong, and there are lots of surfers in the sea at any time.
If you're not a surfing pro, the breaks are still great to look at and appreciate and the sands are great for a walk. There are picnic benches and toilets by the beach, and some restaurants and cafes in Lennox Head towns.
Tweed Heads
A great place to visit if you're tired of the madness of Byron Bay, Tweed Heads is located close to the Queensland border. There are some quintessential deserted beaches including Norries Cove and Causarina Beach, Stotts Island Nature Reserve which is a protected reserve perfect for hiking and picknicking. Cudgen Lake is another great spot to relax in and bird watch.
Tweed Heads is a town in itself, with lots of restaurants, shops and bars. You'll need a car to reach Tweed Heads from Byron Bay. It's close to the Gold Coast, so can be used as a jumping point to reach these areas.
What's your favourite one of the beaches of Byron Bay?
There's a beach in Byron Bay for everybody. Whether you want to surf, BBQ or just have a bladdy lovely chill, you'll find your perfect Byron Bay beach with this guide! While you're in town, make sure you check out some of my other Byron Bay posts:
Pin me anytime…