There's nowhere on earth quite like Australia. I'd argue that no other country has quite the same diversity of terrain – which ranges from tropical rainforest, to barren outback, to alpine peaks – and makes for some pretty spectacular hikes, viewpoints and photo opportunities. Australia is renowned for its glorious beaches, but it also excels in waterfalls, gorges and desert landscapes. It's got the laid-back lifestyle that people automatically associate with the country, but also has 60,000 years of Aboriginal culture (which is the oldest culture on earth). Add this to amazing road trips, quirky townships, unique wildlife on land and in the surrounding seas and busy, cosmopolitan cities and you've got amazing Australia – a bucket list destination for any type of traveller.
But what are the best things to do in Australia? I bring you the Great Australian Bucket List – the 100 best things to see and do within the six states and two territories of Australia.
The list travels roughly from North East clockwise and ends in the red centre, taking in all of the best beaches, national parks, cities and small towns on the way. It traverses every possible climate and really absorbs all of the best features about this unique land in the south.
What would be on your Australian bucket list? Let me know over on Facebook!
Queensland
Australia's capital of sun and adventure, Queensland is where many travellers – young and old – venture to. Boasting impressive rainforest, the world's biggest coral reef, tropical islands, a gorgeous coastline and impressive outback further inland – there's so many amazing things to do in Queensland. The following are great additions to your Queensland bucket list – combine them all in a Cairns to Brisbane drive or check them off at your own will!
Road Trip Cape York
A 'trip to the tip' is the ultimate Australian adventure – it traverses through rugged rainforest, around spectacular lakes, through creeks that may or may not be teeming with crocs, and to some of the most significant Aboriginal sites in Australia.
A Cape York Road Trip can take up to two weeks; it's a long way through seldom-maintained roads, and barely any of the peninsula has phone coverage, but any who have made it to Australia's northernmost point know what a fantastic experience it is.
Explore Daintree National Park
Its title – the world's oldest rainforest – means that Daintree National Park has to be pretty high on your Australian Bucket List. You can drive right through the rainforest, stopping to walk under the trees and relish spectacular viewpoints. One of the best spots to take in is where rainforest meets reef at the gorgeous Cape Tribulation.
If you have a 4WD vehicle, the weather is kind and you're feeling adventurous, you can also take the Bloomfield Track, an unsealed road that leads to Cooktown.
Scuba Dive the Great Barrier Reef
The Great Barrier Reef is alleged to be nearly dead, but that doesn't mean that you should skip it on your Australian trip – there might be hope for its survival yet. It's still the largest living thing in the world, and dive tours will take you to the liveliest sites. It's also a great spot to try scuba diving for the first time, with lots of tours offering fun dives.
Visit the Atherton Tablelands
Nestled into the hills of Cairns' hinterland, the Atherton Tablelands are dotted with gorgeous waterfalls and lookouts. Sites include the Millaa Millaa falls – which was the setting for both a herbal essences advert and Peter Andre's music video for 'Mysterious Girl' (if that's not a reason to visit somewhere I don't know what is) – Lake Eacham and towns like Yungaburra, which proclaims itself to be 'cooler than Cairns'.
Laze on Mission Beach
Mission Beach is a little gem of Queensland. It's a quiet area that, unlike lots of places on the east coast, isn't overpopulated with backpackers, but is a beautiful spot with some of the best-looking beaches I've seen in Australia. These feature gorgeous seas bordered by white sand which give out to emerald green rainforest.
Famous for skydiving, but great for all other adrenalin pumping activities including hikes, scuba diving and water sports – and of course, popular for those who just want to kick back on the beach – Mission Beach is a great place to chill out and explore when exploring the east coast of Australia.
Visit Magnetic Island
A pure island paradise, Magnetic Island is just twenty minutes from Townsville, Far North Queensland's largest city, but is worlds away in its atmosphere.
From snorkelling, to hikes, to forgetting about everything and chilling with a coconut or pina colada, you'll find dozens of things to love in glorious Magnetic Island.
Learn about the Tropics in the Museum of North Queensland
The Museum of North Queensland in Townsville serves as education about the fascinating way of life in the tropics of Australia.
From the tropical flora and fauna that call the state home, to an exhibition about the history of scuba diving, visiting this Queensland museum is a great way to learn about this unique climate and atmosphere.
Cruise Around the Whitsundays
The spectacular Whitsundays are at the top of many people's Australia bucket list. Set amongst an awe-inspiring blue ocean, the cluster of islands can be best explored on a boat trip. They offer snorkelling, spectacular sunsets and beach lookouts.
Whitehaven Beach is a spectacle like no other, with sands that are rumoured to be the whitest in the world and a sea of hundreds of shades of blue. Other highlights include turtle spotting, swimming with tropical fish and kicking back and sunbathing on the tour boat.
Visit the Rockhampton Dreamtime Cultural Centre
One of the best places in the country to learn about ancient Aboriginal culture, the Rockhampton Dreamtime Cultural Centre takes visitors on a journey into native Australian culture and customs. Learning about the Indigenous people of Australia is something that every traveller to the country should make an effort to do; it's a fascinating culture to learn about and
Guided tours offer didgeridoo demonstrations, Torres Straight Islander cultural tours, Djarn Djarn Dancers and show visitors how to correctly use a boomerang.
Surf at Agnes Water
Located just below the start of the Great Barrier Reef, Agnes Water is the start of Australia's famous surf coast which extends the entire way down to Victoria.
It's also where you'll find some of the cheapest surf lessons in Australia; for just $17.70 or $25 (depending on which school you opt for), three hours of lessons can be all yours!
Go 4WDing at Fraser Island
If you like four-wheel driving, you'll love all of the adventures that Fraser Island provides. It's the largest sand island in the world, and visiting it is one of the best experiences in Australia! With either your own vehicle, a rented 4WD or on a tour, you can explore all of the island's highlights.
These include driving on the beach, swimming in eden-like pools, fantastic lookouts, subtropical rainforests and camping under the stars. Be sure to watch out for dingos!
Kayak Through the Noosa Everglades
One of the only of its kind in the world, the Noosa Everglades are a unique spot to visit near the Sunshine Coast town.
One of the best ways to see this natural phenomenon is by a kayaking tour that takes you through the everglades themselves. There's not many of this kind in the world, so they are well worth seeing!
Brisbane's Story Bridge Climb
A great way to see the city of Brisbane is by scaling its most iconic structure – the Story Bridge can be climbed at different times of the day – and can also be abseiled down! Check here for different packages.
Eat at the all vegan Lord of the Fries in Surfers Paradise
In the popular hotspots of Australia, the veggie scene is great. Lord of the Fries is a burger stand chain that is well known for their vegan options, but the newly-opened Surfers Paradise venue is completely vegan.
Herbivores will love their range of burgers, fake chicken nuggets, fries and other snacks, and it's a great place to try plant based food if you're trying to cut down your meat consumption.
Hike through Carnarvon Gorge
A fantastic thing to do in outback Queensland, Carnarvon Gorge is located in Queensland's highlands area and is the most spectacular national park in the region. It's very isolated – but well worth the visit. Travellers can enjoy seeing the mesmerising gorge and all its flora and fauna, as well as tours which detail the Indigenous heritage of the area.
New South Wales 
Most famous for its capital, Sydney (and its iconic opera house!), New South Wales is home to beaches, forests, and outback. From small towns like Byron Bay and Yamba to some of the country's best waterfalls and national parks – make sure you see more than just the state capital when checking out the best things to do in New South Wales. This New South Wales bucket list showcases the finest – to look at how you can put them all together, check out this Brisbane to Sydney drive itinerary.
Explore the northern hippie towns like Mullumbimby
Some of Australia's best hippie towns are located in Northern New South Wales. Mullumbimby is a fine example; it's known as 'what Byron Bay used to be' (although I think Byron Bay is still pretty fantastic).
It's also known as 'The Biggest Little Town in Australia' which in my opinion, is a fantastic claim to fame. The town has its own relaxed, personable atmosphere and other attractions Crystal Castle and Shambhala Gardens, Mullumbimby Golf Course, cafes, bars and various architectural styles.
Hike to Byron Bay's Lighthouse and to the beaches of the town
The lighthouse of Byron Bay is its most iconic feature, and views from the top are spectacular. Gaze out over the beaches of the town and its hinterland, or catch a mesmerising sunrise (the first place where the sun hits mainland Australia!) or sunset.
Enjoy the Arts Factory's Talent Show
The Arts Factory is a one-of-a-kind type of hostel; set over 5 acres, it encompasses volleyball courts, a pool, a café and a campsite, all in a beautiful rainforest setting. There's an un-ignorable arty feel to the hostel, which is perhaps best shown in the weekly talent show.
Every Tuesday night people take to the stage to sing, dance, perform circus tricks or anything else that takes their fancy. It's a fantastic night of free entertainment and is a must-do in Byron Bay. Not visiting Byron Bay on a Tuesday? Head into town for the nightly drum circle at 6pm.
Spend time soaking in the quirky atmosphere of Byron Bay
I lived in Byron for five months, and I really don't think that there's anywhere in the world quite like it. Enjoying the town's atmosphere is a must-do when in Byron; whether that takes the form of perusing the brightly coloured shops, admiring local artist's work, catching a fire spinning show by Main Beach or enjoying the nightly Drum Circle.
Visit the charming town of Nimbin
Nimbin, around 2 hours inland of Byron Bay, is famous for one thing – marijuana. But even though it doesn't seem that way, it is still illegal there – and there's lots of other things to enjoy within the small and charming town, including quirky eateries, Aboriginal history and colourful and eccentric shops.
Skydive over Byron Bay
You can skydive in various places on the east coast of Australia, including Sydney, Brisbane, Cairns and Noosa, to name but a few.
But I'd argue that the best place in Australia to skydive in is Byron Bay (I'd also argue the best place for anything is Byron Bay, but I'm biased!) because from here, you can see the easternmost point of the Australian mainland – I actually saw somewhere I'd looked at so many times on a map, from the air.
It's a spectacular, awe-inspiring experience and if you're going to hurl yourself out of a plane, there really is nowhere better.
Go to the Angourie Blue and Green Pools in Yamba
Yamba is a town that's not visited too much by tourists, but it's well worthwhile of a trip while driving down the east coast.
One of its most spectacular spots is the Angourie Blue and Green Pools, which are set against the ocean but are great scenic swimming spots within themselves. While in Yamba, check out Shane's Tour, which is a hilarious day out taking in the sights of the town!
The Waterfall Way
Some of Australia's best waterfalls are dotted along the waterfall way, which starts inland of Coffs Harbour and ends by the hinterland town of Armidale; a drive of two and a half hours – but will take you much longer to enjoy the spectacular nature! The waterfalls can be hiked around, swum in, and are incredibly photogenic.
Drive through the magical hinterland
New South Wales' hinterland is a magical place; with waterfalls (see above), forests, quirky townships and spectacular hills, before the landscape gives way to the outback. Some of the best spots, for me, are inland from Byron Bay or westwards from Coffs Harbour. Northern New South Wales is home to beautiful national parks and rainforest; or head to the central hinterland area for rolling fields and colourful towns.
Port Macquarie Coastal Walk
This 9-kilometre coastal walk takes in Port Macquarie's best beaches, with lots of swimming spots, beach vistas and impressive lookouts. If you don't want to do the entire walk, it can be divided into four sections and can be accessed from various points.
See the beaches of the Central Coast
The Central Coast is an overlooked part of the country; but there's so many amazing beaches here that most of the time you'll have completely to yourself.
Frazer Beach is a classic example – it's located in Munmorah State Conservation Area and is incredibly scenic. It's a great spot to surf (although only if you have experience – there aren't any lifeguards here!) or just chill on the sand, while being unable to believe how there aren't hoards of people here.
See the Sydney Opera House
Competing possibly only with Uluru as Australia's top tourist destination, the Sydney Opera House is one of the best manmade wonders of the country; and it's a must-do in every Sydney travel guide.
It can be admired from afar- Darling Harbour and Mrs Macquarie's Seat are great spots to view it from – or get right up close to enjoy one of the bars or restaurants or even catch an opera show.
Seeing this manmade beauty is definitely one of the most unique things to do in Australia, and it should definitely be on your Sydney bucket list!
Get lost in Sydney's suburbs
The big smoke of Sydney can be easily escaped by just a short walk from the city centre. Tranquil Surry Hills is home to picturesque streets and boutique shops, or check out funky Newtown for an alternative vibe.
Do the Bondi to Coogee Coastal Walk
This six-kilometre ocean walk is a great way to enjoy nature very close to Sydney CBD. The walk encompasses plenty of beach vistas and swimming spots, as well as traversing through some of Sydney's most scenic suburbs. It is also possible to lengthen the walk and continue onto Maroubra.
Blue Mountains
One of Sydney's best weekend trips, the Blue Mountains are a spectacular national park and definitely one of the top 100 things to do in Australia. Visit to hike, sightsee and photograph the spectacular landscape, which is said to be blue because of the dense eucalyptus forest on each mountainside.
Walk around Jervis Bay
Beautiful Jervis Bay is one of Australia's most delightful beaches – it's rumoured to have the whitest sand in the world (although I've heard that claim for Whitehaven Beach on the Whitsundays and the beaches of Esperance as well – but it still is pretty damn white).
You can do a beach/ forest walk to see the best of the terrain – my favourite part was the intricate rock pools.
Explore the Snowy Mountains
Australia really does have it all – rainforest, outback, wine regions and mountains can all be enjoyed on its east coast.
The Snowy Mountains are a great place to partake in a range of activities which include skiing and snowboarding in the winter, and hiking and mountain biking in the summer. If you're after alpine scenery and amazing views, the Snowy Mountains is for you!
Head to Silverton, an abandoned town near Broken Hill
This one's a bit of a detour – I visited Silverton and Broken Hill on an Adelaide to Cairns drive – but worth it if you haven't got a chance to see any other part of the outback, Broken Hill is accessible by a five hour drive from Adelaide, or a thirteen hour drive or train ride from Sydney.
The main attraction of Broken Hill is actually not in Broken Hill – it's Silverton, an abandoned, artsy town and one of the settings of Mad Max. Driving around here, you can see the desolate buildings, cars with graffiti adorned on them and visit a standard outback pub, complete with travellers' souvenirs adorning the walls. It's within real outback scenery, with a viewpoint so barren that you can actually see the curvature of the earth.
Broken Hill is a pleasant town too – highlights include the Miners Memorial and Lookout and the historic Broken Hill Hotel.
Take a car door tour in Lightning Ridge
Lightning Ridge? Where's that? I hear you say. Driving into 'the Ridge' felt well off the tourist trail, but infact there's a few popular campsites and plenty of tourist attractions there!
Car door tours map out a route around all the mining areas and tourist attractions of the town; some of which are wonderfully quirky. My favourite was 'Amigo's Castle' which was a building constructed by an Italian guy who moved to the Ridge – for no real reason – and decorated with signs with hilarious slogans and other bric-a-brac.
Australian Capital Territory
The ACT is home to Canberra, the nation's capital. It's a tiny territory that was just made to accomodate the city – but there's lots to learn about Australia's culture and history here.
Sit in on a talk at Parliament House
If you're into politics, this will be an Australia highlight for you; Parliament House is a chance to watch Question Time and sit in on parliament sessions, as well as admiring some of the impressive internal features of this important building.
National Museum of Australia
The ultimate Australian exhibition for museum fans, the National Museum of Australia is home to all sorts of collections describing the tale of the Southern land. Some of the collections include exhibitions on arts, crime, the environment, Indigenous Australians and migrations.
Victoria 
Victoria's state capital, Melbourne, is a city loved by travellers and locals alike; things to do in Melbourne range from engaging in its quirky community to enjoying urban attractions. Other things to do in Victoria include enjoying its unique nature and wildlife and its many national parks. Check out the following for your Victoria bucket list!
Do 'the entrance to the lakes' walk at Lakes Entrance
Lakes Entrance is the capital of the Gippsland region of Victoria, and – as the name suggests – where lake meets sea. The scenery can be enjoyed on an 'entrance to the lakes' walk around the lakes and beachfront.
Enjoy the artwork of Hoiser Lane
Possibly Melbourne's most renowned attraction, Hoiser Lane is a hub for modern creatives.
Some of the artwork is permanent, and some is constantly changing; but no matter what is there at that time, you'll definitely find something there to fascinate you. Best of all, it's completely free to explore.
Wander around the State Library of Victoria
Definitely one of the most beautiful libraries in Australia, the State Library of Victoria is home to the Latrobe Reading Room which is ornately decorated and lavishly furnished.
Snap a picture of the room – and feel like you've really gone back in time – and don't forget to check out some of the exhibitions about literature and the state of Victoria.
Enjoy a coffee in one of Fitzroy's quirky cafes
Fitzroy is cool, there's no doubt about that. If you're not quite sure you're up to the levels of hip as this northern suburb, fake it til you make it, and order a fancy coffee in its quirkiest café. It's a great way to pass away a rainy Melbourne afternoon.
See penguins at St Kilda
A resident penguin population calls the end of the St Kilda pier home, and they return to this spot every night. It's free to see the colony, although it is tightly controlled by volunteer staff who work to ensure that the penguins are not provoked or disturbed in any way.
Check out this guide for spending 3 days in Melbourne for more ideas about things to do in the city!
Explore Wilson's Promontory National Park
A national park nestled right by the beach, Wilson's Promontory is a beautiful spot with lots of amazing things to do. Highlights include hiking up Mount Oberon for a panoramic view of the beach, bushland and surroundings, and visiting Squeaky Beach to see why it really does squeak!
Do the Grampians Pinnacle Hike
An inland national park, the Grampians (Aboriginal name of which is Gariwerd) is absolutely spectacular. The landscape vista of the park is something really special – and no view is quite as mesmerising as that from the top of The Pinnacle. Sweeping over mountains, valleys and bushland, on a clear day you can see for kilometre after kilometre. Other highlights of Gariwerd are Mackenzie's Falls and Brambuk Aboriginal Cultural Centre.
Drive down the Great Ocean Road
Known as one of the world's greatest ocean drives, the Great Ocean Road encompasses 243 kilometres of Victorian coastline. Some of the best spots include Apollo Bay, the Otways rainforest, spectacular surf beaches and interesting rock formations like the Grotto and London Bridge.
The most popular attraction is the 12 Apostles – but beware that popular also means huge crowds, and there are better spots on the Great Ocean Road.
Go back in time in Ballarat's Sovereign Hill
Located in the old Goldfields of Australia, Ballarat is one of Victoria's largest cities and has an enthralling history. It was one of the major sites of Australia's largest gold rush, and it's best attraction, Sovereign Hill, is a tribute to that.
Ballarat is widely known as one of the world's greatest open air museums, and here visitors can experience what life was like in the 1850s during Australia's gold rush. Attractions include mine tours, gold extracting demonstrations and replicas of shops, pubs, bars and even a school from the 1850s.
Tasmania  
Australia's island state, Tasmania is often forgotten about by international travellers. But this state is one of the best  – it is home to waterfalls, mountains and exceptional national parks. Many people compare Tasmania to New Zealand, and certainly you'll see similar waterfalls and mountains on a New Zealand bucket list, but they're both special in their own way.
Most of the best things to do in Tasmania include outdoor adventure, but its capital, Hobart, is charming as well. Check out this Tasmania bucket list!
Be Enchanted at Liffey Falls
One of Tasmania's hidden gems, Liffey Falls is a spectacular place to visit. It's a short walk through the forest to reach the falls, which open out into a large plunge pool. It's a wonderfully photogenic place – the perfect spot if you're practicing your photography!
Climb Mount Amos for a fantastic view of Wineglass Bay
Wineglass Bay, located in Freycient National Park, is one of Tasmania's most famous landmarks – but where is actually the best place to see the bay is sometimes debated. Mount Amos is a tough hike, but it's an absolutely spectacular panoramic vista over Wineglass Bay and beyond from the top.
Laze on the beaches of the Bay of Fires
With intense colours – firey rocks, blue seas and white sands – the Bay of Fires is right off a postcard. In the summer months, it's a great swimming spot, and even in the winter is worth visiting for the spectacular beach vistas.
Port Arthur Historic Site
It's a little different from all the natural wonders of Tasmania, but variety is the spice of life, right? Port Arthur Historic Site is Australia's most intact convict site, dating back from the 1830s.
There's lots of history to explore there revolving around convicts being sent to Australia. It was also the site of the worst mass murder in post-colonial Australian history in 1996. Luckily the gun control that was enforced after the massacre has meant that there has not been one anywhere near the same scale since.
Catch the sunrise over Hobart at the top of Mount Wellington
You'll have to get up early for this one, but it's more than worth it. It's possible to drive to the top of Mount Wellington and gaze over Hobart as the city is illuminated – on a clear day you can see a quarter of Tasmania to the north west, and for miles over the ocean to the south east.
If you really don't do mornings, it's beautiful for sunset as well – but the sunrise is just that little bit more magical.
Go to MONA, Tasmania's most famous museum
The Museum of Old and New Art in Hobart is a place unlike any other. The exhibitions span contemporary artworks which will really make you think – the whole museum is like an art revolution!
Climb Up Cradle Mountain
This is a huge item on your Australia bucket list, but I'll be honest – when I climbed Cradle Mountain, I was hanging on for dear life, constantly on the verge of tears and trying to send telepathic messages to my mum in England telling her that I loved her.
I don't think I'd find it half as scary if I did it now – but at the time, I wasn't a climber and I found it horrendous. However, the view at the top made it all worthwhile – it was another spectacular panorama where I felt like I could see nearly the whole island. (I couldn't, but it felt like it).
If you really don't want to summit it or are unable to, walking to Marion's Lookout within the national park and getting a view of the mountain is well worth doing.
South Australia
Known for both its barren outback and lush wine regions, South Australia is a state of extremes. It's the driest state of the country, and outback temperatures can soar to over 50 degrees in the summer. However, its capital, Adelaide, is spacious and breathable. The best things to do in South Australia include seeing the capital and its outback, and this South Australia bucket list will show you it all.
Drive across the Nullarbor Plain
Some consider the desolate stretch of road at the bottom of the continent to be at best boring and at worst soul-destroying. But I was captivated by it – especially coming from a country as packed as the UK, it's mad to realise how much space there is in some parts of the world.
The Nullarbor is a long drive, it's largely straight (if you like collecting 'Australia's best/ biggest' records, it's home to Australia's longest straight road), and there's not that much to do. But there's a kind of liberty in the space and nothingness – and I saw one of the best sunsets and sunrises of my life on the Nullarbor.
If you like space, peace, quiet, camping in the middle of nowhere, no phone signal and driving, the Nullarbor's for you – it's also quite important if you want to get from the eastern states to Western Australia.
See the Great Australian Bight
This one's a turn off from the Nullarbor Plain – but it's not to be missed. The Bight is where cliffs drop straight down into the crashing sea below – it's literally the edge of the continent and it is a mesmerising sight.
The Head of Bight is rumoured to be the best viewpoint, but we found an amazing free spot a little further down (heading westwards). We also camped very close to the bight and saw the sunrise over it in the morning!
Pretend you're in Hogwarts at the State Library of South Australia
Australia does its magical libraries very well. The Mortlock Wing has a real air of Hogwarts about it. It's a fantastic place for photo opportunities and for pretending you're Hermione, Ron or Draco if the mood takes you.
Tour the Barossa Valley
A fantastic day trip from Adelaide, the Barossa Valley is one of Australia's lushest wine regions. Highlights from the valley include tasting wine at as many of the vineyards as possible and taking in the spectacular natural sights.
You can self-drive to the vineyards or take part in a tour – if you're planning on drinking the valley dry, it's obviously advisable to do a tour.
Learn about life underground in Coober Pedy
Coober Pedy has got to be one of the world's most interesting towns. After opal was discovered beneath the town, Coober Pedy attracted many in search of treasure – but soon they found that the outback climate is pretty much inhospitable in the summer.
Their solution? Move underground. Now you can enjoy underground homes, museums, hotels, churches and shops in a quirky community which is over 500 kilometres away from any other town.
Hike in the Flinders Ranges
A great national park for people who want to see the outback without venturing too far from Adelaide, Flinders Ranges is a 540 million year old landscape and is home to mountains, rugged terrain and uniquely Australian wildlife – with plenty of hikes, campsites and photo spots to take it all in.
See amazing wildlife at Kangaroo Island
It's named after a marsupial for a reason; Kangaroo Island is one of the best spots in the country to look for native animals. Koalas, kangaroos (obviously), sea-lions and pelicans are just some of the animals you may spot, which can be enjoyed by driving across the island, taking in the dramatic coastline and inner bush. There are also local wines to enjoy by night!
Take the Oodnatta Track
One of South Australia's great outback drives, the Oodnadatta Track is a 617 kilometre track spanning from Marree to Marla. It's a great alternative to the Stuart Highway and it runs along the bottom of Lake Eyre, and is a must-do for any lovers of wild camping and outback driving. 
Western Australia 
Without a doubt my favourite state, Western Australia is an off the beaten path traveller's dream. A Western Australia road trip (click through for itinerary) will take you through some of the best national parks and beaches of the state, ending in tropical Broome. Head to Western Australia if you like the wilderness, nature, and outback (if you're solely a city slicker, it might be best to stay south in Perth!). Read on for the best things to do in Western Australia.
Drive around the beaches of Esperance
Beautiful Esperance is home to some of Australia's most-loved beaches – head here for blue water, white sands and an ocean drive to rival Victoria's Great Ocean Road.
Climb to the top of Frenchman's Peak in Cape Le Grand National Park
Just outside Esperance there's Cape Le Grand National Park; a very photogenic spot which is home to beaches, hikes and 4WD tracks. You can even drive and camp on the beach! Frenchman's Peak offers a spectacular view of the whole park – it's a fairly challenging but short hike to the top.
Go vineyard hopping in Margaret River
A favourite holiday destination for Perthites, Margaret River is a must-visit destination for surfing, beach basking and even snorkelling – there's a surprising diversity of marine life under these waters.
But another main attraction of Margaret River is its vineyards. It's a great place to do some winery exploring and drinking – just make sure that you book a tour or have a designated sober driver!
Catch a sunset over the Indian Ocean at Cape Naturaliste
If you've drove across the Nullarbor to reach Western Australia, this might be your first Indian Ocean sunset. Cape Naturaliste juts out into the sea and offers a spectacular vantage point from where the amazing colours of the sun descending over the water can be thoroughly enjoyed.
Stroll around the modern city centre of Perth
I've got a crush on Perth – it's so breathable, there's water everywhere, and there's lots of green open spaces. Some of the best things to do in the centre include Elizabeth Quay, bars and restaurants in Northbridge, taking a boat out on the mighty Swan River and of course, looking out over it all from a great vantage point at Kings Park.
Head to Fremantle Markets
If you're visiting Perth or Fremantle during the weekend, head to the markets to enjoy some of the best local produce, international food and hand-made gifts. There's a great market atmosphere, with local musicians playing and plenty of places to sit and watch the world go by.
Drive around the lush Perth Hills
Part of Perth's charm, for me, is its spectacular hills; which are home to vineyards, orchards, small townships and lots of epic views. A drive around the hills can take in some of the best of them; which includes Mundaring, Kalamunda and Guildford. All are only a half hour drive from Perth city centre.
Visit Rottnest Island
A popular day trip from Perth, Rottnest Island is home to hiking trails, amazing beaches, snorkelling and famous quokkas – who are native to the island. It's a short boat ride away from Perth, but worlds away in atmosphere. Ferry fares are quite pricey, but are half price on a Tuesday – book in advance to be sure to secure tickets!
Board down the white sand dunes of Lancelin
Lancelin is a tiny town two hours north of Perth, where it's possible to board down its blinding white sand dunes. Boards can be rented from gas stations or at the dunes themselves.
Take a walking trail through the pinnacles
Love 'em or hate 'em, The Pinnacles are one of Western Australia's wonders. They're interesting rock formations and nobody's completely sure how they got there.
Walk around them and enjoy their otherworldly atmosphere, or climb to one of the viewpoints and enjoy the view of Pinnacles, desert, and sea.
Snap a photo with the 'Hangover Bay' sign
Australia's got a lot of funny names – there's also an Anxious Bay, Mount Misery and a Useless Loop – but Hangover Bay has to be my favourite.
It's actually a really nice beach that you can drive on if you have a 4WD vehicle, but just snapping a photo for the sign is a great addition to your Australia bucket list!
Do Kalbarri's Ocean Drive
Kalbarri is most famed for its national park, but there's a mini 'ocean drive' in the town that rivals other amazing ocean roads in the country. The scenery of this coastline is spectacular, with blue waters, white sands and interesting rock formations.
Watch the world go by at Kalbarri National Park's Nature's Window
It's way better than anything you'll ever watch on TV! Nature's Window in Kalbarri National Park is a wonderful spot to gaze at the nature spanning out below; the park is home to impressive gorges with creeks at the bottom.
You can choose to see just this natural spectacle, or hike around the gorge – an 8-kilometre trek takes you around the edge and through the centre.
Dive the Navy Pier
Rated as one of the best shore dive sites in the world, the Navy Pier is an amazing adventure for certified divers. Located 14 kilometres from Exmouth, the dive site is a surreal underwater world of beautiful tropical fish. It can only be accessed through Dive Ningaloo, and is often closed due to strong currents – so if you have the chance to dive there, make sure you take it!
Snorkel out from the shores of the Ningaloo Reef
Unlike Queensland's Great Barrier Reef, the Ningaloo Reef can be reached just by swimming out from the shore.
With a snorkel and goggles you can see a range of colourful fish and coral independently. The best spots to see the reef are from Coral Bay's beach or Turquoise Bay or Oyster Stacks in Cape Range National Park near Exmouth.
Go swimming with whale sharks
Swimming with whale sharks is without a doubt one of the best wildlife spotting activities in Australia.
Tours leaving from Exmouth or Coral Bay are ethical, with strict regulations on interacting with the creatures, and they are found by a spotter, meaning that they are only seen in the most natural of circumstances. Swimming with the biggest fish in the ocean is an absolutely awe-inspiring experience.
Tackle the adventurous trails of Karijini National Park
Karijini National Park is a firm favourite for adventure travellers to Australia, and for good reason – there are plenty of adrenalin-boosting activities to partake in here.
Try the spider man walking section, where you navigate through a slippery narrow gorge using your hands and feet, and a plunge pool which you descend into by descending down a rocky wall. Or, if that's not quite enough adrenalin, you could try abseiling down some of the higher gorges!
Relish in the small-town vibe of Broome
Broome is a really interesting town – it's very much in the middle of nowhere, with an intriguing history that spans from ancient Aboriginal times to tales of pearling in the twentieth century.
There's some dark history to Broome, which should be fully appreciated by a trip to the Japanese cemetery and the walk around the Broome museum, however, modern Broome can be enjoyed by browsing the shops and restaurants of Chinatown and heading to some of the Aboriginal art galleries.
Catch a sunset on Cable Beach
One of the best sunset spots in the country, the tropical Cable Beach gazes out over the Indian Ocean, where the sun descends into the horizon every day, turning the sky all sorts of pinks, oranges and reds.
You're pretty much guaranteed a great sunset every day (apart from on a very cloudy day in the rainy season), and if you have a 4WD vehicle you can drive down the beach a little to find your perfect secluded sunset spot.
Drive down the formidable Gibb River Road
The Gibb River Road is one of the best adventures in Australia, even without the amazing waterfalls and gorges along its edges.
The 660 kilometre track is nearly all gravel – it's bumpy at best and completely hair-raising at worst. Expect creek – sometimes river – crossings, potholes galore and all sorts of animals on the side of the road. Only tackle it in a AWD or 4WD vehicle, and make sure to take at least one spare tyre!
Enjoy a Kimberley watering hole to yourself
The Kimberley region of Western Australia is a really special part of the country. It looks like a cross between Jurrassic Park and the most beautiful fairy-tale you can imagine, with gentle creeks, unique flora and dramatic waterfalls.
You'll have some watering holes completely to yourself – especially if you get there early. My favourite spot on the Gibb River Road was Galvans Gorge.
Head to one of the lookouts at El Questro National park
The last part of the Gibb River Road, El Questro (fun fact: nobody acutally knows why it has this Spanish-sounding name) is home to more gorges, hot springs and some of the most treacherous 4WD tracks imaginable.
If you have a car equipped for doing these (you'll need a super high clearance) and no fear, then take on one of these steep inclines and be rewarded. If you don't (my Subaru was a fantastic car, but not quite equipped for this kind of slope!), find a mate with a better vehicle. The view at the top will blow your mind.
Soak in Lake Argyle Campsite's infinity pool
The second largest of its kind in the country, Lake Argyle really has to be seen to be believed. It looks like the ocean, as the water spans as far as the eye can see. One of the best ways to take in this view – and a well-deserved way to rest after bouncing down the Gibb River Road – is to soak in the infinity pool of the Lake Argyle Campsite, gazing out over the water beyond.
Northern Territory
The Northern Territory is a bit of a law unto itself – and it's a fantastic place for backpackers and travellers to visit. Your Northern Territory bucket list includes tropical national parks, amazing gorges and waterfalls, and the red centre which is home to Uluru and other desert attractions. Read on for the best things to do in the Northern Territory.
Take a 4WD track down to the Lost City in Litchfield National Park
Litchfield National Park is home to waterfalls, short walks and four wheel drive tracks. Accessible only in the dry season, these tracks are fantastic for anyone who wants to get off the beaten path (Litchfield can get busy!) and see somewhere a little bit different. The Lost City are sandstone rocks which look like the remains of an ancient dwelling – they are rumoured to be 500 million years old.
Learn about Australia's involvement in WWII at the Darwin Military Museum
Many Europeans don't realise the colossal impact of WWII in Asia and Australia; if you don't know about it, the Darwin Military Museum is a great place to learn about Australia's involvement. It really makes you realise what a global conflict this was, and how there was barely any escaping it.
Experience one of Darwin's tropical storms in the wet season
You'll have to visit Darwin outside of the tourist season to tick this one off your Australian bucket list. The dramatic storms of Darwin in the summer are intense and captivating; it's well worth braving the intense humidity and constant downpours to witness the electric thunderbolts.
Darwin often has the cheapest flight deals from Asia – it's only two and a half hours from Bali – so if you're heading to Australia in the summertime, consider flying into Darwin first to see this spectacle!
Take a trip over to the Tiwi Islands to learn about local Indigenous culture
The Tiwi Islands are located a boat ride away from Darwin and are one of the best tours from the city. They are home to some of the most intriguing and well-preserved Aboriginal culture in the entire country. The Tiwi Islands are also famous for their love of art and AFL.
A visit to the Tiwi Islands can comprise of browsing art galleries, seeing the amazing landscapes of the islands and seeing exactly why they're called 'the islands of the smiles'!
Spot saltwater crocodiles at Kakadu's Cahills Crossing
One of the best spots to see the world's deadliest crocodile is Cahills Crossing in Kakadu National Park, a short (for some) three-hour drive from Darwin.
At high tide, crocodiles congregate around here to feed – meaning that you're pretty much guaranteed to see some of these creatures up close from a viewpoint that is far out of their snapping jaws. Just don't try to wade across it – this is why.
Take a scenic flight to see Jim Jim Falls in the wet season
Another Territorian wet season activity (I'll be honest, there's probably only two…), Jim Jim Falls in Kakadu National Park is one of Australia's most spectacular – but when they're at their best, nobody can get there, due to the unpassable roads due to flooding during the wet.
But what you can do is fly above them – and they're pretty spectacular from this vantage point, too. Tours are pricey, but it's a well worthwhile experience.
Hike to Edith Falls in Nitmiluk National Park
Another breath-taking national park, Nitmiluk (more commonly known as Katherine Gorge, but Nitmiluk is the original indigenous name of the area) is a great spot for more of what the Northern Territory does best – gorges and waterfalls.
Edith Falls is one of my favourite spots in the Northern Territory – it's a moderate hike, with a couple of places en-route to cool down and swim (and trust me, in the Northern Territory, you need these!).
Attend a School of the Air to learn about how children in remote communities are educated in Katherine or Alice Springs
Schools of the Air educate children in remote areas in Australia's outback, and the Northern Territory's best can be found in Katherine and Alice Springs. On certain days, you can take a tour of the school, and learn about how children are educated when they live in the middle of nowhere! It's a great way to really appreciate the real price of living in the outback.
Swim in the magical Bitter Springs at Mataranka
Mataranka is known for two things – one for being the location of the book 'We of the Never Never' and secondly, for its springs. But the best springs aren't actually the ones that everyone goes to – Bitter Springs are also in Mataranka, and are absolutely stunning.
This natural swimming hole looks nothing short of magical – the water is so blue, and manages to permanently sparkle. There is a drift heading downstream, so you can get in at one end and let yourself drift down to the bottom… bliss.
Stay a night in the fantastic Daly Waters Pub
I had one of my favourite nights in Australia at the Daly Waters Pub; a roadhouse in the middle of nowhere, five minutes off the Stuart Highway. There's a musician singing covers, food, plenty of drinks, rooms and a campsite. But the main attraction (other than drinking five too many beers and singing along with the cover artist's rendition of Tom Jones' 'Delilah') is the interior of the pub.
It's become a bit of a dumping ground (in a great way) for other traveller's memorabilia – which includes driving licences and other cards, posters, tickets and even bras – and somehow it works so well. It's a great spot to wonder around and imagine the stories of everyone who's visited the pub.
Leap over the otherworldly Devil's Marbles
A place of deep Aboriginal significance, the Devil's Marbles are said to be the eggs of the Rainbow Serpent – who is the protagonist of an Aboriginal creation story.
They're a spectacular sight to behold, and it's fascinating how they're just here, in the middle of the desert. There's a few walking tracks around the marbles to really take the landscape in.
Enjoy the relaxed atmosphere of the desert city of Alice Springs
When driving down the Stuart Highway, Alice Springs really does spring out of the middle of nowhere. But even though it's in the middle of the desert, there's a lot of things to do here – and not just being amazed at the novelty of a city in the middle of the desert.
There's the Alice Springs Desert Park which is a source of education about the surrounding outback landscape, Anzac lookout which offers a view of the city and its outback surroundings, shops selling authentic Aboriginal artwork and products and many cafes, restaurants and bars.
See the West McDonnell Ranges from the lookout at Serpentine Gorge
The West McDonnell Ranges are like nothing you'd expect to see in the middle of the outback – gorges, mountains and even swimming holes make this national park a must-visit in the red centre.
Serpentine Gorge lookout offers a view over the entire surroundings – a must-do while you're in this area of the Northern Territory.
Take the Red Centre Way – the unsealed, back route from the West McDonnell Ranges to King's Canyon
You could drive down the Stuart and Lasseter Highways to reach Uluru from Alice Springs – but where's the fun in that? The Red Centre Way passes King's Canyon and sees the best of the West McDonnell Ranges, and spans across the Mereenie Loop, which is an unsealed track suitable for AWD or 4WD vehicles.
It's proper outback living without going too far off the radar, and you're likely to see wild horses, plenty of kangaroos and maybe even wild camels en-route.
Hike the King's Canyon Rim Walk
King's Canyon's Rim Walk is the best way to take in the surrounding natural beauty and of course, the canyon itself. The 3-4 hour walk is hard in parts, but great fun, and shows the diverse beauty of this area of the outback.
Be wowed at Uluru, the largest rock in the world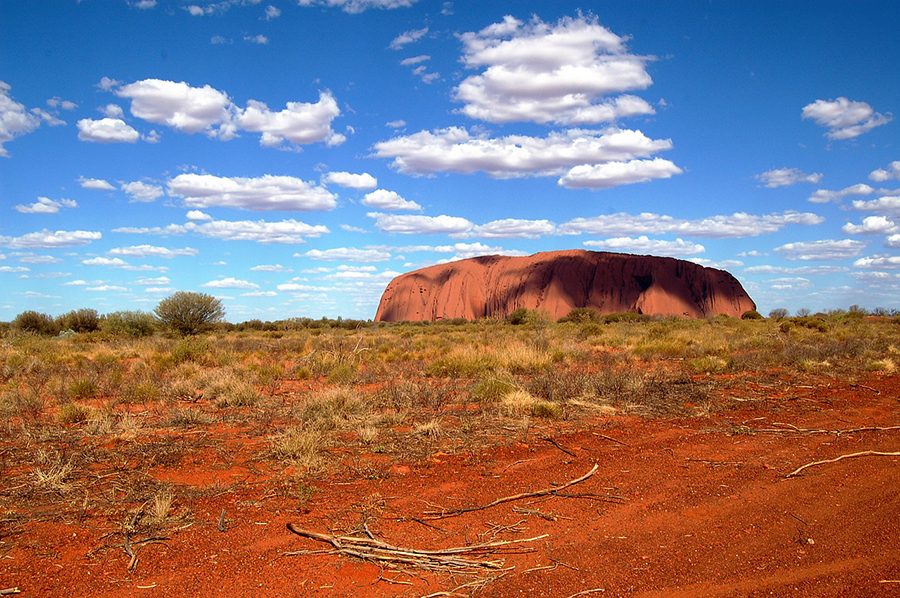 I've saved (one of) the best until last! While many people think Uluru is 'just a big rock', it's an overwhelmingly impressive big rock. It's got a huge amount of spiritual Indigenous significance and intriguing flora and fauna.
Uluru can be enjoyed by a walk or cycle around it (please don't climb up it!) and the national park also includes Katja Tutja  which are some other interesting rock formations.
Your Australia Trip: things to know
What would be on your Australia bucket list?
Pin time!