Sometimes my travel tastes can be a bit alternative. For example, I hated Vang Vieng, Laos' most popular tourist destination (read about my failed hiking expedition here). I also wasn't wild about Pai, a mountainous town in London that the world and his wife rave about.
But Vientiane, the sleepy capital of Laos? Bloody loved it.
Now, I'm not saying that there are twenty thousand secret things to do in Vientiane that none of the other visitors know about. When planning your time in the city, this list of what to do in Vientiane generally covers the main tourist attractions, with a couple of extras thrown in.
But what I did love about Vientiane was the atmosphere. On this trip, I'd been in Asia for three months and had been to Bangkok four times (lol, don't ask me why) and I'd spent three weeks in Hanoi. And all of a sudden, I was in another South East Asian capital… and it was so chill. Visiting Vientiane is definitely worth it; in fact, I think visiting the capital is one of the best things to do in Laos for both first-timers and people who are returning to Laos.
Some people call it boring, I call it having the luxury to walk down a pavement and be able to observe what is going on around you without the fear of being run over every 0.2 seconds.
Plus, if you're wondering what to do in Vientiane, you may be pleasantly surprised. Sure, there's no Grand Palace or Ho Chi Minh's Mausoleum (of course not, as he was a Vietnamese president) – but there's a few great temples, the mighty Mekong, a slightly whacky Buddha park and various funky restaurants and bars.
There's also an unmistakable French influence, caused by colonialism, which adds an interesting air of the city. Even though Vietnam was also a French colony, this isn't found so much here – generally to do with the fact that Laos develops a lot slower than Vietnam, and also because Vietnam very quickly rejected anything French after colonialism.
Anyway, I digress. Vietiane's a great time; if you like history, architecture, good wine (really!), being able to cross a road without fearing for your life, and delicious food, I'd recommend putting at least one day in Vientiane in your Laos itinerary.
In my colossal itinerary that's posted on this very website (if you haven't seen it, check it out here), I recommend that travellers spend a day and a half here, after arriving at lunchtime after a morning bus from their previous destination.
So buckle in (I don't know what to – it's a figure of speech, right?) grab a tea, and let's go through this list of what to do in Vientiane.
There's a high chance that this post contains affiliate links, including Amazon associate links. If you make a purchase using one of these links, I may get a small commission at no extra cost to you. This is just one of the ways I keep this site and my content running for free!
What to do in Vientiane
COPE Visitor's Centre
I'm going to start this list of Vientiane attractions off on a slightly sombre note. I've mentioned this in a few of my Laos blog posts, but it is the most bombed country in the world. During the Vietnam War (or the 'American War' as it is known in the east), over ? tonnes of ordanance were dropped in Laos, killing ? people.
A third of the bombs dropped didn't explode. This means that there are still UXOs hiding in Laos' countryside, and people still die from them denoting today.
More common, however, is people losing their limbs. COPE is a charity that creates prosthetic legs for people. They've put together this visitor's centre to bring the issue of UXOs to the public eye, and raise some much-needed funds for those who need them.
The centre is heartbreaking, with many tragic accounts of people losing their arms, legs, or their lives. It's a sad start to a day in Vientiane, but it's very important to know.
Entrance is free, but please do donate what you can.
Buddha Park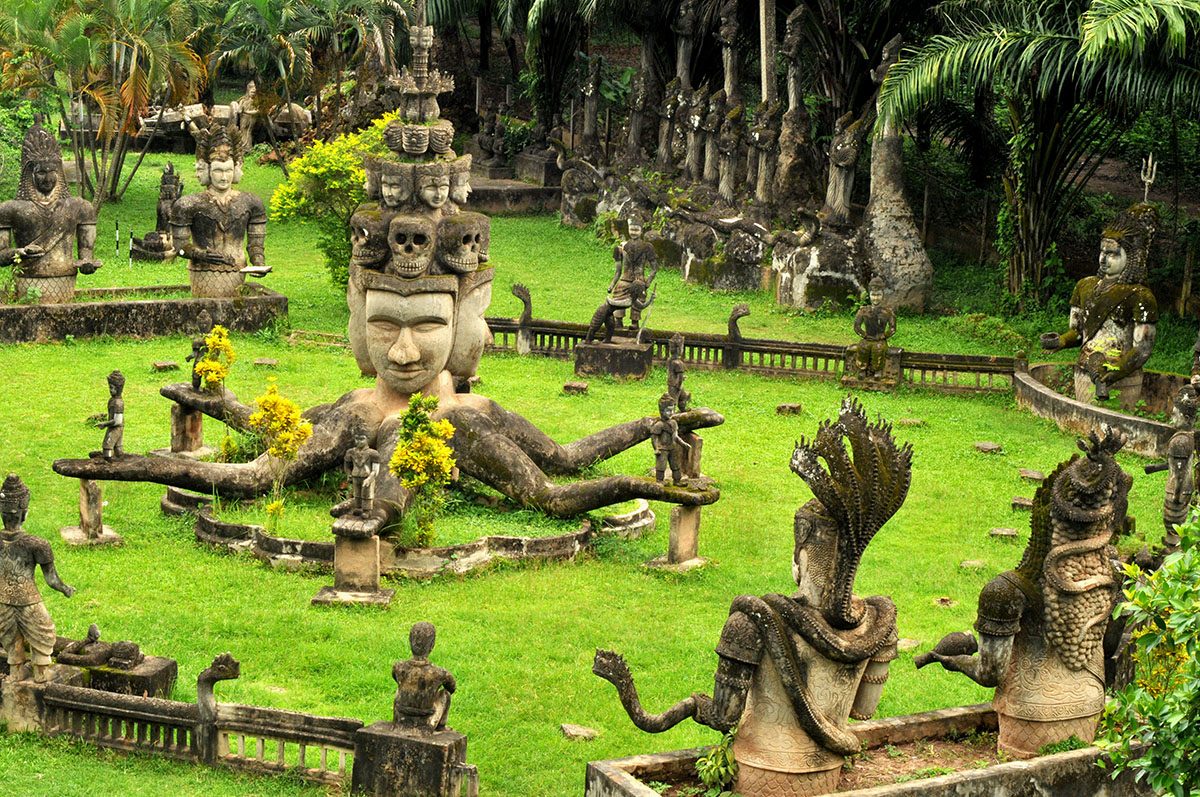 A little way from Vientiane city is the Buddha Park. This is what it says on the tin; a park filled with lots of Buddha statues. It's definitely worth checking out even if you've seen lots of Buddhas before – the sheer amount of them makes for a pretty surreal atmosphere. Make sure you climb up the tower (not for the faint hearted) to check out a birds-eye view of all the statues! There is also a sunflower garden that looks over the Mekong and on the other side, Thailand – and a few places to eat.
You can reach the Buddha Park by taking the public bus from the second-class bus station. It's here on Google Maps and tickets cost 8000 kip. Entrance to the Buddha Park is 10,000 kip.
Vientiane Night Market
One of my favourite things to do in Vientiane is hanging out at the night market. Like many Lao cities, the market has lots of clothes stalls as well as places to buy accessories, and a food section. I didn't sample any of the food, but I did try some coconut ice cream made with coconut milk, which was 10/10 recommended. It is, again, next to the Mekong so again, you can check out Thailand and see how they're getting along over there.
Eat At Lao Kitchen
This was one of my favourite restaurants in Laos, and deserves a mention because it makes traditional Laos food very accessible. They adapt some dishes to Western tastebuds (although you can have it 'Laos style' if you prefer!) and have an extensive menu.
I loved it because I could try Larb, a Lao dish that is traditionally made with meat but here with tofu as well. It's a dish packed with herbs and served with sticky rice – absolutely delicious. The menu is very extensive, so you'll definitely find something that tantalises your tastebuds!
Bike Around
Round round round round, I get around…
You could be singing this the whole way around Laos' capital if you take one of their fab bike tours. These tours include your vehicle and a guide, who will take you around all the most famous tourist attractions – wats, national monuments and more – while learning all about the history of the country.
Take A Guided Tour
If biking isn't your thang, I'd recommend taking a guided tour around Vientiane's best sights. You'll get to see the best sights of the city with an English-speaking local guide. It's entirely possible to see all of these sights independently, but you won't get the local knowledge like with the tour!
By taking a guided tour you'll learn all about the significant history and culture of the country and capital city. Tours cover the ancient religion, French colonialism and the modern history of the country.
Book the guided tour by clicking here.
Lao National Museum
This museum isn't currently open (March 2019), but I'm putting it here anyway because in the future, when this blog post is number one in Google (;)), it may well be!
I obviously can't give an actual review of the museum as I haven't been here myself, but I do always like to check out the national museum of every country I go to, to get a good sense of the country's unique culture and history.
Lao Textile Museum
Laos is famous for its fabrics; they have exquisite workmanship and are weaved beautifully. Weaving is a social activity for Lao people and is a staple industry in their way of life, and is one of the many reasons why tourists visit the country. The Lao Textile Museum is the first private museum of the country, where visitors can learn all about the different materials of Lao ethnic groups through the displayed textiles.
Patuxai Victory Monument
Probably the most distinctively European place in South East Asia, Patuxai Victory Monument is very reminiscent of the Champs Elysees. Ironically it was actually built to commemorate the Lao fight against French colonial rule!
Wat Si Saket
There are plenty of temples in Vientiane, but Wat Si Saket is one of the best and most famous. It's famous for having thousands of Buddha images, dating from the 16th and 19th centuries. The temple itself is beautiful, with pillars and gold plating. While it does resemble many temples in South East Asia, it also bears some stark differences.
Most visitors head to the temple to check out the Buddhas, but there is also a drum tower, verandas and a five-tiered roof. It is also the oldest Buddhist monastery in Laos, making it well worth checking out!
Pha That Luang
One of the most impressive stupas in Laos (it's actually covered in gold!) and certainly more arresting that That Dam, is Pha That Luang, which is located about X kilometres from Vientiane city centre. Its style is very representative of Buddhism and Lao culture and is revered as a national monument.
Built on three levels, it symbolises the ascent from earth to heaven. It was built in 1556, when the capital was moved from Luang Prabang to Vientiene, and took 6 years to complete.
The stupa is open from 8am-4pm daily (with a one hour break from 12-1) and costs 5,000 kip to enter the inside. It is recommended to take a tuk tuk to Pha That Luang and Patauxai Monument at once; the price should be 50,000 kip return.
Haw Phra Kaew
This temple-turned-museum is one of the best things to see in Vientiane without a doubt. You'll be able to walk through the majestic buildings and admire plenty of artifacts from Lao history – including urns from the Plain of Jars and many religious relics. The architecture is beautiful and the amount of objects inside make it a must-do in the capital.
Mekong Sunset
Balinese and Thai sunsets are always making it onto everyone's Instagram feeds, but a top South East Asian secret is that Laos sunsets are really delightful.
Gazing out westwards over the Mekong, Vientiane's vantage point is no exception. Walk down to the night market area and gaze over the outstanding spectacle of the sun descending over South East Asia's most famous river.
Grab yourself a BeerLao and admire the view, as the sun descends below Thailand. It's really something quite special.
That Dam
I spotted That Dam while walking around Vientiane one day. It looks pretty cool, so I walked up and admired it for a bit, and noticed someone next to me – after a while we turned to each other and both said, at the same time, 'so what is this'?
It's one of those cool things that grabs your attention but initially, you're not sure what exactly it's meant to be. But after some research, and then returning, I decided that it's well worth learning about and warrants a place on this list of what to do in Vientiane!
That means unopened bell shape flower that usually contains Buddha relics. A Lao legend claims that a serpent once lived here to protect the city during the Siamese-Laotian war. That Dam was then covered in gold, but its black and somewhat ruined remains serve as a reminder for all that Laos has fought for.
Vientianians regard That Dam as a symbol of their city and country, and while it doesn't look like all that much from the outside, it is highly revered.
Take A Hungry Tuk Tuk Food Tour
This tuk-tuk food tour with Backstreet Academy (a fantastic responsible company) offers tuk-tuk food tours, taking guests around the city to sample some of its culinary highlights. It not only gives people the option to sample different types of Lao food, but it teaches travellers about how Laos produces food and some of the tribulations it faces when it comes to food production due to its climate and economy.
While they do endeavor to provide vegetarian and vegan food, this is not always available throughout the whole tour. I would still recommend this tour for vegans and vegetarians, however, due to how much information there is about food production in Laos within the tour. Click here for more information and to book.
Live Lao for One Day Experience
This is a guided tour of Vientiane with a difference – there is a real emphasis on experiencing local culture. The guided tour will take guests around the city, focusing on Lao food, the 'Secret War' and giving inside knowledge on Lao fashion and culture through its textile factories and craft boutiques. It's the ideal tour for those who want to see something a little different while in Vientiane and embrace the local culture. Book tour by clicking here.
Ang Nam Ngum Reservoir
Sitting 90 kilometres north of Vientiane is Ang Nam Ngum Reservoir, the largest lake in the country, and is a great place for a boat ride, to wow yourself at the dam, or just relax and enjoy the scenes. It's a really pretty rural location, that isn't visited by many tourists. Guided tours go there or you can take a government run bus from Vientiane City Centre to Thalat and take a shared taxi from there.
Tad Moun Waterfall
Laos is the nation of waterfalls (note: I just made this up, but it seems appropriate) and Vientiane province is no exception. While you may not find anything as dramatic as on the Bolevan Plateau, or as wonderfully scenic as Kuang Si Falls in Luang Prabang, these waterfalls are still well worth a visit.
They have actually been separated into several waterfalls: Tad Palay, Tad Vangnong 1 and 2, and Tad Vangnampheuak (if you haven't guessed, Tad means waterfall). They're the closest waterfalls to the city centre – the best way of reaching them is by renting your own motorbike, or ask at your accommodation about public transport alternatives.
Kaysone Phomvihane Memorial Museum
The Kaysone Phomvihane Memorial Museum was established to commemorate Kaysone Phomvihane, who is thought to be 'Laos' great leader'. The museum is housed in a traditional building, and contains lots of intformation about the revolutionary president and his life.
Where to Stay in Vientiane
Hostel: Don't stay anywhere other than My Box Hostel. It literally is the best hostel I have ever stayed in – I absolutely bladdy loved it here. Each bunk bed has its own 'pod' with thick curtains (so you actually can't see outside lights), individual lights and plugs, super comfy mattresses and nice warm showers. There's a good free breakfast on offer, plus a coffee shop. It's not a party place, but it's absolutely 10/10 lovely. Click here for more details and to book (do it).
Mid-Range Hotel: Vientiane Garden Boutique Hotel is a great price, with clean, classy and comfortable rooms. All have their own en-suite with hot shower and there is an outdoor pool. Click here for more information and to book your room.
Luxury Hotel: For 5* luxury, check out Muong Thanh Luxury Vientiane which is located just a short drive from the city. Guests at this hotel can enjoy staying in spacious suites with plush velvet furniture, huge beds and breathaking views across the cityscape. On site are tennis courts, a spa and an outdoor pool. Click here for more information and to book your room.
How to Get to Vientiane
You can reach Vientiane from many places in Laos – including Vang Vieng, Luang Prabang, Thakhek and Kong Lor – as well as from Southern and Northern Thailand and many places in Vientiane.
Your One Stop Laos Travel Shop
Are you searching for somewhere to find out everything you need to know about travelling in Laos? I've literally got you so covered with literally everything you want to know about travelling around the country. Check 'em out…
Where Else Are You Visiting in South East Asia?
I've got you covered for most of the area (and there's more to come). Check out my Bali Itinerary if you're heading to the Indonesian island, or a very comprehensive Vietnam Itinerary for trips to the east. If you're heading to Thailand, check out my three days in Bangkok itinerary.
PS. Some of the links in this post are affiliate links. If you make a purchase using these links, I make a small commission at no extra cost to you. I only recommend high-quality companies and products that I stand fully behind.