Sitting at a kind of crossroads between the Orient and southeast Asia, with an incredibly rich and varied culture and history, Vietnam has some stories to tell. Not all of them good; many people can still remember the brutal war that took place there in the 1970s – and given this, it's amazing how quickly the country has come back onto its feet and has opened itself up to international tourists.
Now, everyone is welcome in Vietnam. There's so much to see and do packed into this incredibly diverse country – which at some points is just a thin strip of land between Laos and the South China Sea.
From the manic cities of Hanoi and Saigon (Ho Chi Minh City), to rice terraces aplenty, to war sites, to the mystical karst stones of Halong Bay and Ninh Binh, nature lovers, culture seekers and food travellers will love this Vietnam itinerary.
This is an ultimate Vietnam itinerary of a month or longer. You could easily spend extra time in many of these destinations, which could extend your time here to two or even three months. If you're just in Vietnam for a short time, check out my 10 days in Vietnam itinerary which details 3 suggested mini-itineraries.
How to get to Vietnam
Vietnam sits on the eastern coast of South East Asia. It borders China to the north and Laos and Cambodia to the west, and has overland border crossings with them all. It's often a key player on a South East Asia itinerary.
It's also possible to fly into Hanoi and Ho Chi Minh City from international destinations. Flights reach these cities from other metropolises in South East Asia and further afield – however, it is generally cheaper to fly into hubs like Kuala Lumpur, Singapore and Bangkok.
Plus, overland travel in South East Asia is a great experience – you should try it!
Book your travel in South East Asia by clicking here.
Visas in Vietnam
Ok, this one's a little complicated, so make sure you know exactly what you want/ need when you're planning your trip to Vietnam. SOME (not all) nationalities get 15 days visa-free travel in Vietnam. This includes UK, some western European countries, Japan and South Korea. Some Asian countries can travel visa-free in Vietnam for longer. Tourists from the USA, Canada, Australia and New Zealand need a visa, no matter how long the trip is.
If you're from a participating country but you want to stay for longer than 15 days, you'll need a visa. If you're not from a participating country, you'll also need a visa.
If your stay is less than 30 days, you can obtain an e-visa (depending on your nationality). However, e-visas cannot be used to cross into Vietnam overland. If you want to cross into Vietnam from Laos, Cambodia or China and you wish to stay longer than 15 days, you'll need to get a physical visa from a Vietnamese embassy. These can be obtained pretty painlessly from the bordering country that you're in.
I crossed the border from Cambodia to Vietnam in May 2019 on the 15 day visa exemption and didn't have any problems. I presume that this means that it is fine to enter Vietnam for 15 days visa free when crossing any land border, but with border corssings you can never know 100%.
You can get visas on arrival for up to 90 days if you'd like to stay in Vietnam for a longer time. These require a letter of invitation and can only be obtained when arriving by air.
Make sure that you look at your embassy's website to get a full idea of the visa situation in Vietnam for your particular country.
WiFi in Vietnam
WiFi in Vietnam is generally pretty good. I think every guesthouse, hostel, and hotel I've stayed in had a strong enough connection to work and make WhatsApp calls. Most restaurants and bars and nearly all places to stay will have WiFi.
However, some people prefer to be connected all the time and use a local SIM. These can be obtained cheaply and come with quite a significant amount of data. Click here to pick up a SIM pre-loaded with credit at Saigon (Ho Chi Minh City) airport and here for one at Hanoi airport.
When to Visit Vietnam
Vietnam is a long, thin country with variable seasons. The winter can be cold in the north and it can dip below freezing in mountainous Sa Pa. In the south, it is always warm, with varying levels of humidity throughout the year.
The rainy seasons also vary; it takes place during summer for the north, autumn/ winter for the central coast and summer again for the south. Typhoons can affect the central coast from August to November – although they are very hard to predict and many a Vietnam itinerary goes ahead in these months without any issues.
So basically, the best time to visit the country varies and you probably won't get perfect weather throughout your whole one month in Vietnam. I'd recommend visiting in February or March. This is out of the rainy season for most of the country, it's a bit warmer up in the north and not too hot in the south.
But if you're visiting any other time, you'll have great weather in some places and maybe not so perfect weather in other places. But it doesn't really matter – nowhere in Vietnam becomes inaccessible in the wet season, apart from possibly the Mekong Delta and some more remote villages.
Health and Safety in Vietnam
Vietnam is generally, a very safe country – violent crime is incredibly rare. However, there are incidents of phone or bag snatching and pickpocketing, especially in Ho Chi Minh City. Do be wary when you're there in particular – don't wave your phone around and wear a cross-body bag rather than a shoulder bag. I've wrote a little more about the safety of HCMC in the Ho Chi Minh City itinerary section.
Vietnam is more developed than other countries in the region (which is incredible really, considering how recently the war ended) but there are still some health problems here. You'll want to make sure your travel vaccinations are up to date before you go – check with your doctor which ones you will need. Malaria isn't generally a problem in Vietnam, although dengue fever can be. You can't drink the tap water in Vietnam.
Healthcare quality ranges in Vietnam, but you can find private clinics with English-speaking doctors in Hanoi, Da Nang and Ho Chi Minh City. I recommend Family Medical Practice – I've used their services in Hanoi and they also have practices in the other mentioned cities.
Costs in Vietnam
In general, Vietnam is an affordable country to visit. If you're careful with your spending, you can expect to spend anywhere from $20 to $50 per day while still enjoying plenty of local attractions.
Of course, like in other countries, the cost of travelling can increase rapidly if you stay in luxury hotels and dine in high-end restaurants – and reduce significantly if you eat street food and say in hostels!
You can view a breakdown of costs for Ho Chi Minh City here. Prices are generally similar in other big cities such as Hanoi and Da Nang, and slightly cheaper in the countryside.
Where to stay in Vietnam
Vietnam accommodation ranges from very basic homestays to hostels to five-star luxury hotels. I would recommend that travellers check out homestays where possible, especially in regional areas, as they're a great place to get a slice of local life and culture. They are often very cheap at $5 or less per night for a private room.
Hostels are located in big cities and touristy areas and are great places to meet other travelers. Dorm rooms in hostels are also around $5 or less per night.
Hotels range from cheap digs for around $20 per night, to luxury hotels costing $150 or more per night. There aren't as many luxury hotels in Vietnam as in Thailand – but Ho Chi Minh City, Hanoi and Da Nang still have their fair share.
I'll include some accommodation recommendations at each stop or you can select and book your Vietnam accommodation by clicking here.
How to Get Around Vietnam
The best ways to travel in Vietnam are bus, train and motorbike. I will cover mainly train and bus travel in this Vietnam itinerary (with the exception of the Hai Van Pass, which can be done either on independent motorbikes or a bike tour).
However, many travellers decide to purchase a bike in either Hanoi or Ho Chi Minh City – wherever they begin their one month in Vietnam – and sell it at the other end. Other travellers hire bikes in different cities to see them properly.
Or others, like me, take buses and trains everywhere and hop onto the occasional motorbike taxi or other traveller's bike and hang on for dear life. (I've got a little better, but I first got on the back of a motorbike in Hanoi and spent most of the time screaming).
I've included ways to book your Vietnam train or bus tickets in each section of this one month Vietnam itinerary. I recommend Bookaway – click here to go through to their website.
How Long to Spend in Vietnam
If you've got a month, spend a month in Vietnam. If you've got 6 weeks, take 6 weeks. BUT if you've only got one week, two weeks or three weeks in Vietnam and you really can't extend your trip, here are the must-dos.
One Week in Vietnam
With just one week in Vietnam, you'll want to focus on the must-dos and not spend too much time travelling. So I'd recommend…
Hanoi – Ha Long Bay – Sa Pa
Hue – Hoi Van Pass – Hoi An – Da Nang
Ho Chi Minh City – Mekong Delta – Phu Quoc
Two Weeks in Vietnam
You could just about do north to south on a two week Vietnam itinerary. You'll be rushed, but it's possible. This would entail:
Hanoi – Sa Pa – Ha Long Bay – Hue – Hoi An – Ho Chi Minh City
Or just do one half of this 4 weeks in Vietnam itinerary.
You could do either the north (Hanoi – Sa Pa – Ha Long Bay – Ninh Binh – Hue – Da Nang – Hoi An)
or the south (Hue – Da Nang – Hoi An – Nha Trang – Da Lat – Ho Chi Minh City – Mekong Delta)
Three Weeks in Vietnam
You won't be able to complete this entire one month in Vietnam itinerary with just three weeks in Vietnam, but you can pick and choose the parts which most interest you from both northern Vietnam and southern Vietnam. So, if you're looking for a Vietnam itinerary for three weeks, read on and see where sparks your interest most!
One Month in Vietnam Itinerary
This one month in Vietnam itinerary takes you on a journey from north to south. It's pretty extensive; covering nearly every stop of interest en-route – as well as a few side trips.
This Vietnam itinerary begins in Hanoi, but you might want to consider starting at another point if you are entering overland from China, Laos or Cambodia. Travellers who enter the country from China or Laos will most likely begin in Sapa and then head down to Hanoi. If you're crossing the Cambodian border, you'll probably be starting in Ho Chi Minh city and travelling northwards. You might also want to do the reverse route if it fits in better with your travel plans.
Hanoi – 3 days
If Hanoi is your first Asian city, brace yourself. If it's not, still brace yourself. The city literally never stops. Nothing ever stops here. It's mad. Brilliant, but mad.
Bikes weaving everywhere making an incessant chorus of horns, shimmering lakes and impressive temples all define this city. Add some typical Hanoian street food and the sweltering heat of the summer and you've got a sensory overload.
Click here to book a private transfer from Hanoi airport to your hotel.
Three days in Hanoi can be passed pretty pleasantly. Highlights include:
Taking an open-topped bus tour to learn about the highlights of the city

Visiting the women's museum

Exploring the Temple of Literature

Going to Ho Chi Minh's Mausoleum

Visiting the Ho Chi Minh House and the Ho Chi Minh Museum

Walking around West Lake (Tay Ho) and exploring different sides of the city

Seeing Hanoi's Old Quarter by night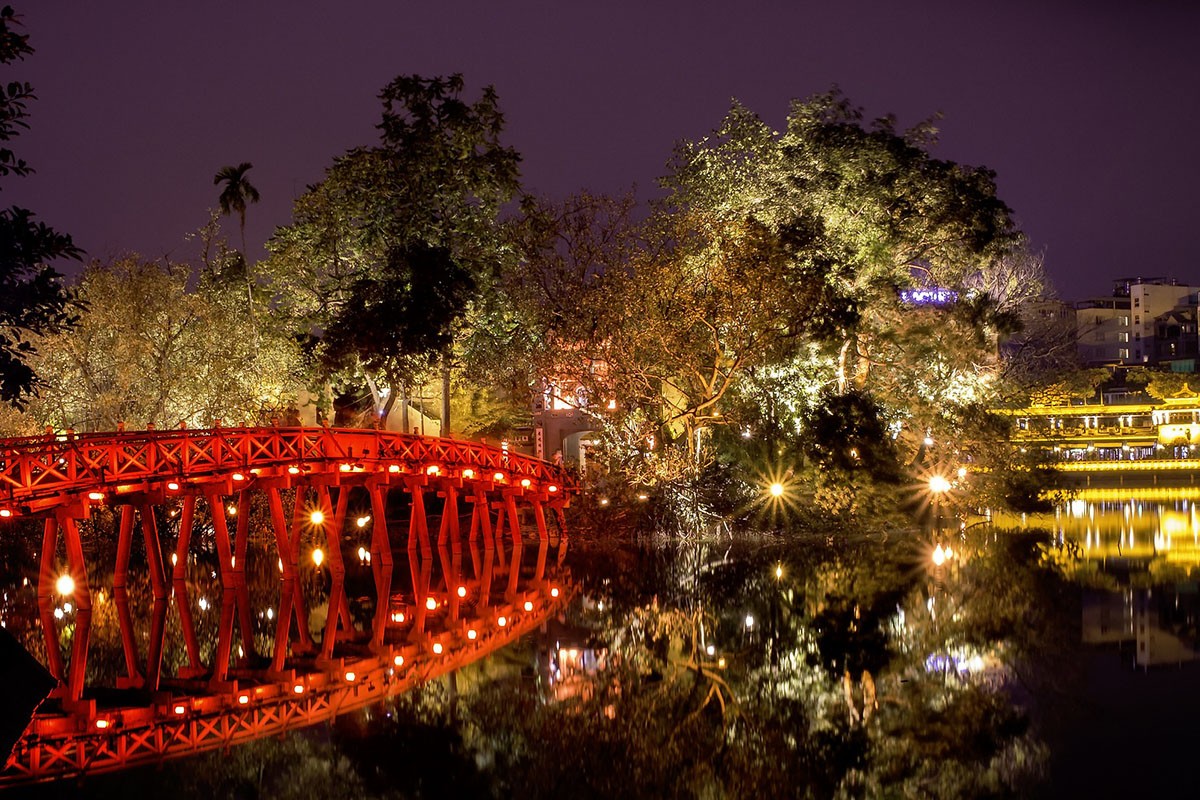 3 Days in Hanoi Itinerary
Spend day one of your three days in Hanoi on the open-topped bus (we did two circuits, one to take everything in and then again to decide where we wanted to stop off). It's a great way to explore the city – which is lacking in public transport – and learn a little at the same time.
After orientating yourself with Hanoi, head to the Temple of Literature, which is located on the bus route. This was constructed as a university, built in 1070 to teach students about Confucius. You'll get to see the Lake of Literature, as well as the ornate carvings and distinct architecture. It's a place where the regal history of the Orient really comes alive.
In the afternoon, take the open-topped bus to Hoa Lo Prison – an eerie spot where both Vietnamese rebels and American POWs were housed. It was sarcastically dubbed 'the Hanoi Hilton', but in reality this couldn't be any further from the truth.
Walking around this ex-jail, you'll learn about some of the darker parts of Hanoi's history, which include its days as a French colony and of course, the American War (known by Westerners as the 'Vietnamese War'). It's a rather dark attraction, but is essential to visit to get to grips with this country.
On day two in Hanoi, get up early to see the Ho Chi Minh attractions. His mausoleum is a revered landmark in the city and is very significant to the Vietnamese. Ho Chi Minh, or 'Uncle Ho' as he is fondly known, was crucial to the Vietnamese struggle for independence and a key campaigner for a unified Vietnam. Here's some more information about Uncle Ho.
You'll need to cover up to enter the mausoleum and be sure to get there early – it's best to arrive around 7am to queue for entrance at 8am. You'll be expected to give in your bags with any photo-taking devices. You've also got to be quiet and respectful as you make your way around – don't talk, dawdle or laugh. It's a site of huge significance to many Vietnamese people – so make sure you're respectful.
After the mausoleum, you can easily enter Ho Chi Minh's house. This is a much more light-hearted attraction, with lots of greenery, beautiful ponds and the chance to see Ho Chi Minh's house-on-stilts – an architectural style that is very typical of South East Asia and China. Then it's time for the the Ho Chi Minh Museum – a great place to learn even more about this well-revered president.
You'll be in Ba Dinh Square when you come out, which has a nice park, pleasant architecture and an all-round relaxed feel – away from the zillions of bikes. You might want to grab a coconut or even some lunch in this area (although beware, the prices are sky high here!).
If you want to check out somewhere cheaper, the next stop on your Hanoi itinerary is close to Hoan Kiem Lake. If you don't mind a walk, wander from Ba Dinh Square towards Hoan Kiem. It's about half an hour through motorbike-laden streets, but it's a great way to get a slice of Hanoian life. You'll also walk past Railway Street – here, people's houses back onto the rails rather than a road. It's a really unique set up and makes for some good photo opportunities.
There are plenty of street food stalls and restaurants serving Vietnamese fare en-route – or if you're vegetarian or vegan (or just fancy some plant-based food!), check out Jalus Vegan Kitchen near Hoan Kiem Lake.
Here's a map of this walking route so you can get a better idea of where everything is:
In the afternoon, check out the Women's Museum, which is located near Hoan Kiem Lake. This is a great exhibition of women in Vietnamese society, demonstrating their expectations in native groups and how they influence the modern world. It's really well set out and really pays homage to how fantastic women are – and we all know that's true!
Spend the rest of the afternoon and evening back at Hoan Kiem Lake. It takes just 30 minutes to walk around Hoan Kiem, but you might want to spend a bit of time taking the pagodas, bridges and statues in. Hoan Kiem highlights include:
Den Ngoc Son (Temple of the Jade Mound)
The Huc Bridge which is known as the 'place where the morning sunlight rests'
A statue of King Ly Thai To, Vietnam's founding father
The Tortoise Tower
The area is also close to the French Quarter, which is headed by the General Post Office. It's worth walking from here to the Hanoi Opera House to check out the colonial buildings and essence of this area of the city.
Heading back towards Hoan Kiem as darkness falls, be sure to check out the Old Quarter. This is the busiest and most popular area of Hanoi – you might even be staying here. Even if you're not, be sure to walk around the brightly lit streets and take everything in, including Book Street, the Harry Potter Cafe Always and of course, the constant whirring bikes.
If you'd rather have an organised tour around Hanoi's main sights, click here to check out a great deal covering various points of interest in the city.
On day three in Hanoi, check out West Lake (Tay Ho). Home to impressive views over the city, lots of cafes and restaurants, and even a water park, there are plenty of attractions to enjoy here. You can walk around the entire lake – it's a 19km stretch and takes 3-4 hours. Because there's a lot to take in on the way, this could take you anywhere from half a day to a full day.
Some of the best things to do around Tay Ho include:
Tran Quoc Pagoda – Vietnam's oldest temple
Quan Thanh Temple – one of Vietnam's four sacred temples
Hanoi Ceramic Mosaic Mural – this is the world's longest mural and is a great presentation of all that Hanoi stands for.
There are plenty of places to eat (many of my favourite vegan restaurants in Hanoi are around the West Lake), grab a coffee or beer halls to enjoy $0.30 Bia Hoi. Take your time walking around West Lake and experiencing local life!
Click here for a more detailed Hanoi itinerary including where to stay, what to eat and the best things to do in and around the city.
Where to stay in Hanoi
The Old Quarter View hostel is a great option for backpackers who want to stay in the centre and enjoy free happy hour beer, free breakfast and a fun, social accomodation while being close to all of the tourist attractions. Click here to book.
Dragon Hotel is by West Lake and is great for easy access to the airport. It's also in the middle of one of Hanoi's best restaurant neighbourhoods and isn't far from Hoan Kiem and the other attractions of Hanoi city. The hotel offers traditional rooms at great value. Click here for more information and to book.
Elegant Suites Westlake offers 5* luxury in Hanoi, providing studios and apartments with deluxe features, as well as a pool, gym and bar. Click here for more information.
From Hanoi, you can either take a train to Lao Cai and then transfer to a bus to Sa Pa, or take a bus all the way to Sa Pa. The bus is easier and quicker but the train is arguably more comfortable. I'd recommend taking the night bus or train so you save on a night's accommodation and arrive ready for your trek the next morning.
Click here to check rates of both to make your decision.
Sapa – 2-4 days
Trekking in Sapa is a bucket-list experience in Vietnam. While the town is touristy, the rice terraces offer some respite and – as long as you go with a decent tour provider – you'll be able to experience some solitude and P&Q up in the fields. They're unbelievably beautiful; the terraces spread as far as the eye can see, interrupted only by serene native villages.
I took two day one night tour with Ethos, a company committed to responsible travel. They work with native guides and open their villages on a CBT (community based tourism) approach. The money that Ethos makes goes into developing the villages, making life easier for those who lives there, and also funds projects like a trafficking awareness and prevention programme – trafficking is sadly a big problem in the Sa Pa region.
Ethos details all of these and other problems that H'mong people face in modern Vietnam – and are also very transparent in exactly what they are doing as a tour provider to help these communities. They're a pioneer in sustainable tourism.
The guides are lovely too and can all speak very good English.
Basically, Ethos is an amazing company to support. The tour was brilliant as well – I stayed the night in my guide's house and got to see what real rural life in Vietnam is really like. The food was absolutely delicious as well (lots of vegan options!).
Click through to see what Ethos are all about. This isn't sponsored, it was just the best tour I ever went on!
Or check here for alternatives:
Other attractions in the area include waterfalls (you can hire a motorbike or take a taxi to see them), Cat Cat Village (which I've been told is touristy and not very nice, but many tourists do go there) and Mount Fansipan.
Fansipan is the highest mountain in Indochina and trekking up it takes at least two days. It's illegal to do without a tour guide –if you fancy the challenge, check out tours here.
If you don't want to climb up Fansipan, you can also take a cable car to the top. It costs $30 so is best to only do it on a clear day, but the views from the top are outstanding.
Sapa town, while touristy, is quite pleasant for a stroll around – but the real attraction is the rice terraces. You might want one day here to recover after your hike and maybe see a couple of waterfalls, but you certainly won't need more than that.
Where to stay in Sapa Town
Sapa Capsule offers pod-style dorm sleeping in Sapa. Each capsule is well-equipped and gives guests their own privacy – at budget prices. Plus, it's located right in the town centre. Click here for rates and to reserve.
Sunny Mountain Hotel has comfortable beds, spacious rooms, lovely décor, and some rooms have mountain views. It also offers free breakfast. Click here for rates and to reserve.
Return to Hanoi by bus or train and stay one night before Halong Bay the next day. Check prices here.
Halong Bay – 3 days
Halong Bay is full of tourists, there's no denying it. But it's well worth visiting still – even in winter. The scenery is out of this world, and you get to see it all while cruising around on a luxury liner – or a booze cruise, whichever takes your fancy!
Activities on the boat include things like tai chi classes, cooking demonstrations, kayaking between the karsts, swimming, visiting local fishing villages and exploring caves. You'll be in for an action-packed three days!
I did Halong Bay with Indochina Junk – an amazing luxury liner. The facilities of the boat were of the highest quality, with comfy beds, baths overlooking the ocean views, a clean and well-facilitated
Tours range from luxury ships to backpacker booze cruises. See below for a luxury, mid-range and budget pick.
Best Halong Bay Tours
Ha Long Dragon Gold Cruises is a 3* cruise company that offers two or three day cruises around the bay. Starting at $145 for a room for two people, it's a great option to see Halong Bay and experience sleeping on the boat on the cheap.
Click here to learn more about Ha Long Dragon Gold Cruises and book today.
Seasun Boutique Cruise offers small cruises of a 3* standard, with compact ships and friendly, accommodating staff. They visit all the main attractions in the bay and offer some activities on the boat itself.
Click here to learn more about Seasun Boutique Cruises and book today.
Peony Cruises have huge, 5* rooms, some with their own private balcony. Each tour has a busy itinerary – perfect for those who want to see the most of Halong Bay. The boats also visit Lan Ha Bay.
Click here to learn more about Peony Cruises and book today.
Return to Hanoi (drop off is included with Halong Bay tours). Then travel by train from Hanoi to Ninh Binh the same evening – book tickets here.
Ninh Binh – 1 day
Ninh Binh is a beautiful place, described by many as 'Ha Long Bay on land'. It has similar limestone formations, but instead of being surrounded by blue seas, it is engulfed in rice terraces. While Ha Long Bay is possibly more dramatic, Ninh Binh gives you the chance to get up close and personal with all of the rock formations.
Now, I'm only recommending one day in Ninh Binh. While it's somewhere that you could easily chill out in for longer, to keep on top of this 1 month in Vietnam itinerary 1 day is all we can really spare. If you have more time, feel free to flop out and relax for a few days!
If you follow this Vietnam itinerary to the tee, you'll get into Ninh Binh in the evening. From the train station, you can get a taxi to Trang An – which is the spot where all the beautiful nature is! I'd recommend staying here over staying in Ninh Binh itself, as from here you can cycle to all of the attractions of Ninh Binh.
The following morning, I'd recommend a boat tour around Trang An. You can park your bike and purchase a ticket, which is around 150,000 dong. You'll be in the boat for 2-3 hours and will explore caves and temples whilst being amidst spectacular scenery.
In the area you should also visit the Trang An Grottoes.
Then there are the rice terraces of Tam Coc and the many temples – like Hang Ma and Bai Dinh Pagoda.
Hang Mua Caves are worthy of some exploration, and the summit of the mountain by the same name is probably the best sunset spot in Ninh Binh. Head here to admire the view, and make sure you get there in good time to get a good spot to watch the sun go down! All of these activities are great ways to enjoy Ninh Binh on a budget.
After a day's exploration of Ninh Binh, leave in the evening. A 7-hour bus travels from the city to Phong Nha, your next Vietnam destination! Click here to book in advance.
Where to stay in Ninh Binh
Trang An Eco Homestay is a chilled out hostel located in the beautiful nature of Trang An, and the hostel offers dorms and private rooms, as well as free breakfast, a restaurant, bike rental and local information. Click here to book.
Trang An Valley Bungalow provides spacious self-contained cabins amongst the spectacular scenery. There is a pool, bar, free WiFi and a fabulous breakfast – and it's in prime location to enjoy Ninh Binh's highlights. Click here to book.
Phong Nha – 2 days
Phong Nha is home to one of the best cave networks in the world – if that doesn't make it worthy of a spot on your Vietnam itinerary, I don't know what will!
It's home to Son Doong, the world's largest cave but don't get too excited – this cave can only be accessed on a multi-day, hair-raising, wild camping excursion. Partakers have to prove that they are fit and don't find things like abselinging into a pitch black abyss scary, and also it costs $3000 and the tickets "sell out faster than Beyoncé tickets", according to the Guardian.
Still, if you think you're up to the challenge I'm sure it would be a worthwhile adventure – the cave is home to beaches, streams, jungles and clouds (the sunlight sometimes gets into cracks in the rock) and its 9km length means that it is big enough for airplanes to land in and could accommodate entire blocks of New York City apartments. Click here to get on the mailing list to find out when Son Doong expeditions are taking place.
Anyway, I digress. There are still plenty of things to do in Phong Nha that don't involve camping to the sound of bats and being lowered into a crevice of which there is a good chance nobody has ever entered before.
Spend your first day in Phong Nha hiking through the Botanical Gardens (which are more like a national park with jungle and waterfalls). There are a few different treks you can do, but as you'll be exploring another cave today, I'd recommend just doing the 1km or 2.5km hikes.
Then head to Dark Cave, which costs 450,000 VND. The trip only takes 2 hours but includes hiking, kayaking and zip lining, so is well worth your money! There are also nearby hot springs.
On day two, check out Phong Nha Cave which costs 150,000 VND to enter – you'll need to get a boat here – and Paradise Cave which costs 250,000 VND to enter. I know it's a lot of caves and they're quite pricey when you add them up but it's well worth seeing them all while you're in the area. Back in the town, you can check out the local market – or if you have a scooter, you could drive to the surrounding areas.
Note: If you're really pushed for time, Phong Nha can be done in a day trip from Hue. It's a lot of driving, but you'll still get to see the caves. In this instance you'd travel from Ninh Binh straight to Hue, and then do the day tour which starts and finishes in the city. Click here for more information.
It's easiest to take the bus from Phong Nha to Hue, and it takes between 4.5 – 7 hours. You can opt for a direct bus (one leaving at 4 am and another at 3 pm) or a tourist bus that stops at the Vinh Moc Tunnel and Ben Hai River. Click here for more information about buses from Phong Nha to Hue.
Where to stay in Phong Nha
Easy Tiger is the place to stay in Phong Nha if you're a backpacker. It's 'more a resort than a hostel, with an amazing source of information about the area, a pool and a great social atmosphere. Click here for rates and to reserve.
Nguyen Shack – Phong Nha Eco Resort is a rustic homestay set in Phong Nha National Park. If the quaint cabins weren't enough to tempt you, there is an on-site restaurant, and the homestay offers free pick-up and drop off from the centre, as well as free bicycle rental. Click here for rates and to book.
Hue – 3 days
Basking in the fame of being the ancient capital of Vietnam, Hue is a really quaint spot. As you can imagine, there's a colossal amount of history to explore through its attractions and architecture.
You can see all of Hue's historical attractions in one day (if you're speedy and providing you take the 4am bus from Phong Nha!). These include:
The Citadel (Imperial City)

The Tombs

Tien Mu Pagoda

Boat cruise along the Perfume River
A good one-day itinerary for Hue would be to organise a cruise with your hotel or hostel and travel up the Perfume River (which, btw, I wouldn't recommend taking a sample of and using as actual perfume), taking in the city and its surrounding nature, to the Tien Mu Pagoda.
This temple, while sometimes busy, is a must-do in Hue. It houses the remains of the car of Thích Quảng Đức – he set the car on fire while in it, committing suicide and acting as a martyr for the unjust treatment of Buddhists in South Vietnam. The pagoda in itself is striking, and has become an icon for the city, and it's also well worth visiting to learn about the monk and his plight.
Then you can hop back on the boat and visit the Imperial City. The centre of Hue, this is a crucial spot to learn about Vietnamese history. From 1802 to 1945 the Imperial City protected the Nguyen Dynasty.
While it was once a complex of gardens, pagodas and regal buildings, the bombs dropped in the Vietnamese War means that many buildings are now nothing more than a pile of rubble. Due to Hue's position in the centre of the country, it was fought over greatly in the American War, and was a crucial place during the Tet Offensive.
The Imperial City is well worth a visit to learn about both the country's regal history and the precarious position of the historic city during the war.
There are actually a few different tombs that you can see around Hue. The closest is Tu Duc Tomb, which is one of the Nguyen Dynasty's most ornate and scenic tombs. It dates back from the 1860s and costs 55,000 VND to enter. Visiting will give you a real sense of the grandeur of the old world of Vietnam.
Plot twist – After all the fuss that went into creating this tomb, Tu Duc isn't actually buried here. He was really laid to rest in a secret location in Hue – so secret that even historians don't know where it is!
Other tombs worth visiting in Hue include the Khai Dinh Tomb which is 10km from Hue and costs 55000 dong to enter, and the Minh Mang Tomb, which is 12 km from the city and can be reached by boat.
If you'd rather take in the sights of Hue on a full-day organised tour, click here.
At night, the streets of Hue come alive. There are plenty of eateries around the city – including a few traditional Buddhist restaurants. Or grab some street food, a cold beer, and watch the city go by.
Hue is also a good base for day/ half-day trips near the city. Most popular is probably the tour to the old demilitarised zone that separated North and South Vietnam. It's a must do for people who want to learn more about the Vietnam war and how the country was divided. Tours include the Vinh Moc Tunnels, local villages, and the Ho Chi Minh Trail which extends into Laos and Cambodia.
You might have already seen these sights if you booked the sightseeing bus from Phong Nha – but if you do have the time in Hue I'd recommend doing this tour instead of the sightseeing bus, as you get to spend all day exploring the area and learning about this crucial part of Vietnam's history. Click here to book the tour.
If you're looking for something a bit more unusual and have a spare few hours in Hue, the Ho Thuy Tien abandoned waterpark is well worth a visit. Located just 8 kilometres from Hue city, it's an eerie playground that's often frequented by locals. It's a great way to spend an afternoon outside of the city. Reach it by renting your own bike, or taking a Grab bike or taxi.
Where to Stay in Hue
The Dreamers is a fantastic clean hostel located in Hue City Centre. It has private and dorm rooms, free coffee and very helpful staff. Click here for rates and to book.
Rosaleen Boutique Hotel is a very welcoming spot, with staff that go above and beyond to make sure that you enjoy your time in Hue. The rooms are comfy and well furnished and breakfast is included. Click here for rates and to book.
After your two days in Hue, take a 2-hour train from Hue to Da Nang the next morning. Try to sit on the left-hand side of the train for stunning views of the beaches and the ocean! Click here for tickets from Hue to Da Nang.
The Hai Van Pass – 2 days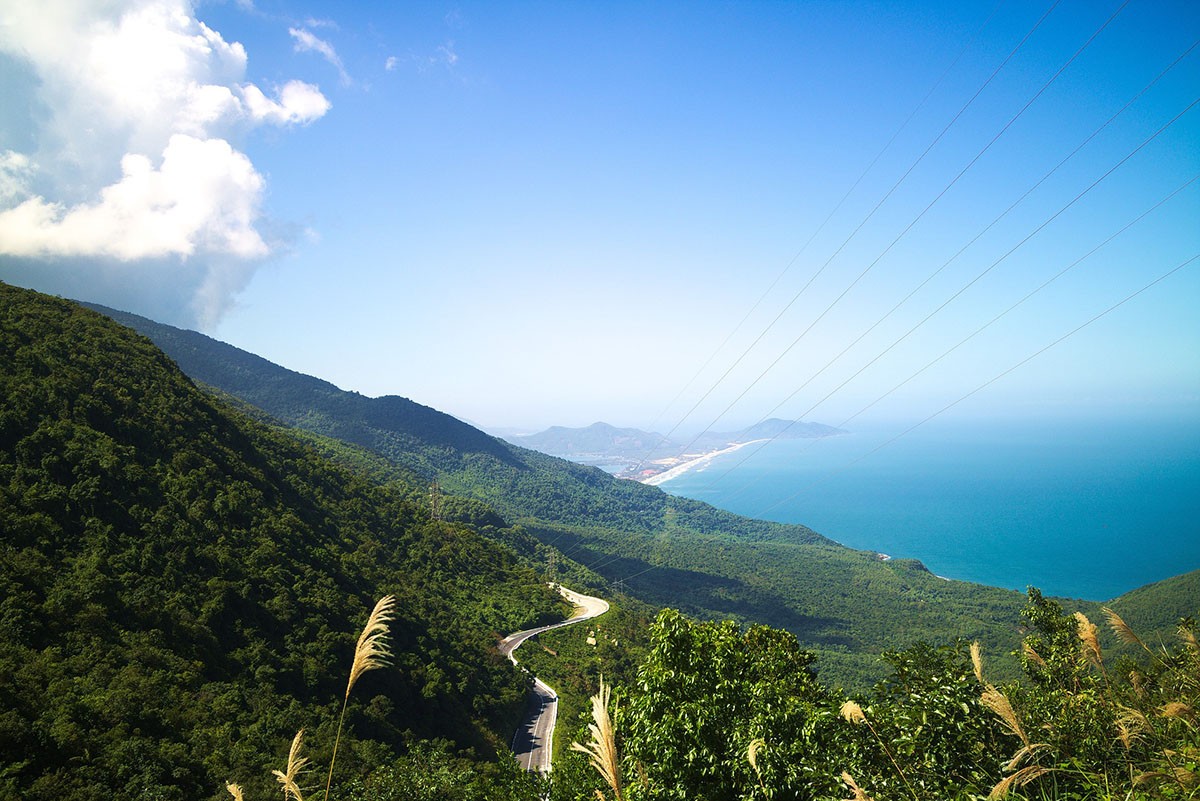 If you're after an adventure, check out the Hai Van Pass. You can either partake in a motorbike tour or rent your own bike and do it. If you're not a driver (like me), then doing an organised tour with very experienced drivers is a good option.
The Hai Van Pass is considered to be one of the best motorbike routes in South East Asia. You'll weave around mountains while looking out over spectacular coastal scenery, admiring the lush green trees as well as the blue waters.
Tours leave Hue and make their way southwards to Hoi An. The only downside of this means that you skip Da Nang city – but this can be visited on a day trip from Hoi An as it only sits 30 minutes north.
If you're pushed for time, check out this day motorbike adventure and if you don't want to be on a bike, take a peek at this retro jeep transfer. Or, if you want to spend longer on this stretch of road that was featured in Top Gear, check out Hue To Go Tours who provide a 2D1N experience.
Da Nang – 2 days
Da Nang is a pretty unique city in Vietnam. Tall buildings line the beach, which then give way to tropical ocean. In contrast to Hue's ancient history, Da Nang represents Vietnam hurling itself into the future – and doing so with style.
2 Days in Da Nang Itinerary
If you're visiting during Vietnam's summer, you'll be very grateful for some beach time once you get to Da Nang! My Khe Beach is the most popular and largest – you can normally find an expanse of empty sand here.
If you're feeling active, you could even do a surf lesson – bookable here.
It's also worth visiting the Museum of Cham Sculpture in the city.
A really awesome vegan restaurant in Da Nang is roots café. It's a chill beachside kinda place, serving up Asian and Western food.
If you want a fantastic time in Da Nang, check out this highly rated motorbike tour, which is a great way to explore local culture.Click here to find out more information.
Night time is when Da Nang city really comes alive. Its many bridges light up and there are eateries and bars along the waterfront. If you're after nightlife, the 7 Bridges Brewing Taproom and Luna Pub are both worth visiting.
On day two in Da Nang, I'd recommend heading up to the Ba Na Hills. This is home to the famous Golden Hand Bridge – where two giant hands hold a walkway in mid-air. Check it out:
Now, getting to the Golden Hand Bridge is a bit complex. It's part of the Sun World Theme Park which costs 700,000 VND to enter – and there is no way to pay to just see the bridge. Once you purchase your ticket, you can take a cable car through the mountains (it's a spectacular ride) to the bridge itself.
Once you've got your photo, it's worth making the most of your $30 and exploring the rest of the park. There is a pagoda and Buddha, manicured gardens, a medieval French village, arcades and more.
Remember that this area of Da Nang is at 1,400 metres altitude – so it's 10-15 degrees colder than the city!
If you want to take the complexity out of visiting the Ba Na Hills, there are tours that include the tickets, transport, lunch and a guide run at decent prices. Click here for more information
.
If you have another day in the city, it's worth checking out the rainforest at Son Tra Peninsula or the tunnels and caves of the Marble Mountains. You can book a Marble Mountains day tour here – or rent a motorbike and start exploring!
I just took a Grab between Da Nang and Hoi An – but if you're wanting to save a bit of money, cheap buses go there. Click here to find out prices and book.
Where to Stay in Da Nang
For somewhere a bit different, Rom Casa offers hostel accommodation in shipping containers! The private and dorm rooms are exquisitely furnished – making it more of a boutique accommodation than a hostel – and it is located in prime location between the Han River and the beach. Click here for rates and to book.
Adaline Hotel and Suite is located in the heart of Da Nang – some rooms have spectacular views over the city and beach. On site is a pool, bar and restaurant and breakfast is included. The rooms are modern, clean and chic. Click here to book.
Hoi An – 2 days
Everyone loves Hoi An. Everyone except me apparently. It wasn't really Hoi An's fault – it was raining and miserable while I was there, which really deflected from the enjoyment of it – but I did find it difficult to explore and very over-touristy.
But I ain't gonna say don't go there. Some places just don't work out for people – I'm visiting again later this year and I'll probably love it then.
2 Days in Hoi An Itinerary
Day One in Hoi An should be spent exploring the old city. Check out spots like the Japanese Bridge, the old traditional houses and the museums. You need to buy a ticket to visit the old city and it lets you access five attractions.
Once you've enjoyed the quaint cobbled streets and aged buildings, get a taste of more traditional life by venturing out into the paddy fields. The best way to do this is rent a bike and just start exploring!
When night comes, check out the lantern market and have some delicious food, maybe at popular Hoi An restaurant Morning Glory.
Another fun day in Hoi An can be passed by enjoying a cooking class and heading to the beach, or just relaxing by the river.
Or take a trip out to My Son – it's worth it if you haven't seen Angkor Wat in Cambodia or are particularly interested in architecture. As well as ancient history with the temples, My Son has some war history – it was largely bombed in the American War.
This means you'll be seeing temples amongst bomb craters, a depiction of two momentous eras of Vietnam's history. Book a tour to My Son here.
As Hoi An doesn't have a station, you'll need to take a bus from Hoi An to Quy Nhon – check prices here. Or, if you want to go straight to the more popular destination of Nha Trang, click here for prices.
Where to Stay in Hoi An
Because Hoi An is so popular with tourists, and because it has one of the most picturesque settings in the country, Hoi An accommodation is very high standard. Backpacker hostels have a great atmosphere, and many hotels are boutique-style.
Hoi An Vietnam Backpacker Hostels is a popular accommodation option that's perfect for backpackers. Those staying here can enjoy the pool, free WiFi, free drinks at some times of day and stunning surroundings, looking out over the rice paddies of Hoi An. Click here to book.
An Bang Stilt House is a great private accommodation option – because you can't go to Vietnam without staying in a stilt house, right? The villa has beautiful rooms featuring a wardrobe, private bathroom, and flat-screen TV. Click here to book.
Quy Nhon – 1-2 days
Vietnam has an impressive 3,260 kilometre coastline; meaning that there's plenty of beaches to kick back and relax on. While you'll have enjoyed the coastline in Halong Bay and Da Nang, this area of the central coast is where it really gets good.
Quy Nhon isn't on everyone's Vietnam itinerary, but if you're after unspoilt, off the beaten track beaches, it's definitely worth checking out. Highlights include the deserts, which are made beach sand that has been blown in, the Champa Double Tower, the deserted Ky Co Island, the natural phenomenon of Eo Gio and local fishing villages.
It's also a great place to unwind if you want to enjoy the beach without many other tourists!
Click here for prices of buses from Quy Nhon to Nha Trang.
Where to Stay in Quy Nhon
As Quy Nhon isn't so touristy, there aren't a huge amount of hotels and hostels here yet.
But NT House is a good option for backpackers, with funky decor and a variety of room sizes, including budget dorms. Click here to book.
Hung Gia Hotel has comfy rooms with en-suite bathrooms and facilities like a kettle and TV. Click here for more information.
Nha Trang – 2-3 days
Nha Trang is a popular beach town south of Quy Nhon – and it's where all the tourists flock to. While this means it's a lot busier, there are also many more facilities for tourism.
One of the things you'll notice about Nha Trang is that a lot is in Russian; which seems very out of place on the tropical beaches! This is due to its proximity to Cam Ranh, which was a naval port leased to the USSR/ Russia from 1978-2002. The area remains popular with both Russian expats and tourists, which is why there is so much written in the Cyrillic script!
Exploring this kind of Little Russia is really interesting in itself, but there are plenty of other things to do in Nha Trang.
2 Days in Nha Trang Itinerary
Most people spend day one in Nha Trang just soaking up the beach. Grab a coconut, laze out under the palms and relax. I'd recommend Hon Chong Beach or Tran Phu for beaches near Nha Trang City, or getting a boat over to Hon Tre Beach, possibly Nha Trang's most famous. You might also want to visit one of the city's famous mud spas to relax and rejuvenate after some serious travelling!
Day two could be spent touring the islands of Nha Trang. Doing a tour of the surrounding islands is a great way to really relish in the beach vibes – click here to book on a tour.
If you've got one more day in Nha Trang, then visiting Vin Pearl could be an option – Nha Trang's very own water and theme park! It's located on Hon Tre Island, and it's possible to get a cable car there. You can purchase tickets here.
Oh and, if you're into scuba diving, Nha Trang is the best place in Vietnam for the sport. Maybe you'll need a few more than 2 days here…
Next up is Mui Ne, famous for its sand dunes. Click here to see bus times and rates.
Where to Stay in Nha Trang
Mozjo Dorm is a great hostel option, with friendly staff, free towel rental, a free banana every day and cheap breakfast. Click here to learn more and book today.
Boss Hotel Nha Trang is a great mid-range option. It has spacious rooms and a pool, as well as a bar and breakfast facilities, at budget rates. Click here for rates and book today.
Sunrise Nha Trang is one of the best luxury hotels in Vietnam. The colonial style hotel has a spa and pool, with complimentary yoga sessions being offered! The spacious bedrooms are awash with natural light and some have a balcony. Click here for rates and to book.
Mui Ne – 1 day
A quieter destination on this Vietnam itinerary, there are still some things to do in Mui Ne to pass a day or two. The most famous of these is the sand dunes. Doing a tour of the red and white dunes and fairy stream is a must-do to break up the journey down south.
Click here for bus times and fares to Da Lat.
Where to Stay in Mui Ne
Mui Ne Vietnam Backpacker Hostels has a pool, free breakfast, water refills, beer between 6-7pm and WiFi, and organises jeep sunset tours to the dunes. It's a great place to base yourself for meeting new people. Click here for rates and reserve.
Hoang Ngoc Beach Resort offers a pool and private beach, as well as comfy bedrooms – some with spa baths. Click here for rates and to book.
Da Lat – 1-2 days
Known as Vietnam's capital of adventure, visiting Da Lat is an absolute must for any adrenaline junkies. Not too far from Ho Chi Minh City, Da Lat sits at 1,500 metres above sea level – making it a fantastic place to escape to during the sweltering summer months!
Things to do in Da Lat
Datanla Falls are only 15 minutes from town and are well worth checking out, and Elephant Waterfalls are a longer journey (about 40km/ 1.5 hours), but give you the chance to see the countryside as well as traditional Dalatian (I may have made that up) life. It's worth renting a bike for this alone!
Close to Elephant Waterfalls is the Happy Buddha and the Linh An Tu Pagoda. Lang Biang Mountain is also worth a hike up and offers unrivalled views of the city.
Many traveller's favourite activity in Da Lat is canyoning. This abseiling/ rappelling excursion is not for the faint-hearted, but is certainly the most adrenalin-boosting thing to do in Da Lat. Tours generally include a few different abseils, hikes, and a traditional lunch. It's definitely a great way to see Da Lat's scenery and is perfect if you have 2 days in Da Lat or longer!
Back in Da Lat City, something that every traveller should experience is the Crazy House – a building designed by a local architect with Gaudi/ Alice in Wonderland vibes. Then there's also the Truc Lam Pagoda which can be reached by cable car from the city centre (the Vietnamese sure love their cable cars!) and the Dalat flower gardens – which is where the city of flowers name was coined.
After the sun goes down, check out the Da Lat Night Market for some food (pleaaaasseeeee make sure whatever you're eating is hygenic and hasn't been left sitting out for a while, I got very sick after some market food in Luang Prabang in Laos. Even if there's no meat, the threat of food poisoning is very very real – trust me) and Escape Bar for drinks and classic rock.
Click here for bus times and fares from Da Lat to Ho Chi Minh City.
Where to Stay in Da Lat
Mr Peace Backpackers House is a 'semi-party' hostel, perfect for backpackers who want a semi party. (If semi party means getting really drunk but still being in bed by 11pm, I'm so down, that's my favourite type of party). They offer free WiFi, breakfast, scooter parking, a beer happy hour and patio bar. What more could you want? Click here for rates and to reserve.
The Orchid Villa Da Lat is in a beautiful location, with spectacular views over the scenery. Each room has a flat screen TV with cable channels, a private bathroom and outdoor dining area. Click here to learn more and book.
Ho Chi Minh City/ Saigon – 3-4 days
Saigon is Hanoi's more glamorous cousin. It has less authentic buildings, and more flashing billboards, and trades Hanoi's quaint lakes for an industrial river. However, it certainly doesn't lack for scooters – you won't believe that a city could have more than Hanoi, until you reach Saigon.
BTW, Ho Chi Minh City and Saigon are the same thing – but most Vietnamese people I've spoken to said they prefer to call it Saigon, so that's what I do :). You can read more about the name change here – there's also a really poetic phrase that I like called 'The Queen of Saigon' which means someone who is campaigning or fighting for a lost cause. Can you tell I'm an English Literature student/ complete hopeless romantic?! 😉
3/4 Days in Ho Chi Minh City Itinerary
Travelling through Vietnam is kind of like time travel, with every city being a bit different. When you finally arrive in Ho Chi Minh City, you'll feel like you've been suddenly zoomed forwards into futuristic Vietnam. And, I've said it before and I'll say it again, when you consider what this country has been through in the last few decades, this is overwhelmingly impressive.
But Saigon has plenty of stories to tell, which you'll learn in the War Remnants Museum on day one in Saigon. Understanding the war is essential for any travellers to Vietnam, and there's nowhere that tells it better than here. The stories you learn in the museum will give you an outstanding admiration for Vietnamese people and how they managed to not only win the war, but rebuild their country.
Saigon's other attractions can be enjoyed on a walk around the city after getting your full dose of history in the War Remnants Museum. They include:
The Opera House

The Post Office

Notre Dame Cathedral
Reunification Palace – which costs 30,000 dong to go inside
Museum of Ho Chi Minh City
Then head to Ben Thanh Market for dinner and shopping – and to just absorb the atmosphere. If you're veggie/ vegan, you might struggle to find something here, but use the HappyCow app to locate a veggie restaurant near you!
Saigon is indisputably the best spot in Vietnam for nightlife. Check out Chill Skybar, which has amazing views over the bright city lights. Then head out to either Pham Ngu Lao in District 3 for Bia Hoi (which you might be needing after pricier drinks at the Skybar!) or if you want to stay in District 1, check out one of the live music venues or Lush Nightclub.
On day two in Ho Chi Minh City, take a trip out to the Cu Chi Tunnels. These were used for fighting and hiding during the Vietnamese war, and have now been preserved and restored.
It's advisable to visit the tunnels on a guided tour, as it is difficult to reach them by bus and there isn't much information around the area. Click here to book a guided tour of the Cu Chi Tunnels.
You'll get back between 1-3pm; other attractions to enjoy in Saigon include the Thien Hau Temple, the Museum of Traditional Vietnamese Medicine and the Jade Emperor Pagoda.
On your second night, Turtle Lake is a cool spot to check out, filled with dozens of street food vendors. And of course, there's the Saigon nightlife again…
Day three in the city can be spent checking out Ho Chi Minh's other attractions.
Be sure to see the Museum of Vietnamese History – I know there are a lot of museums on this Saigon itinerary but this one is well worth it! It costs 15,000 dong to enter, 40,000 dong to take photos and 35,000 dong to see a water puppet show within the museum.
The Bitexo Financial Tower is great for a view (take the lift up to the Eon Cafe where you can enjoy the view for free, provided you buy a pretty pricey drink)
Shopping at Dong Khoi street is great for spenders – it is where all the designer stores of like, the entire country of Vietnam are focused.
And head to San Art Laboratory for a slice of contemporary art.
If you're after a nice meal in Saigon, one of the most famous restaurants is Hum Café – and guess what, it's vegetarian! It's got a huge menu with veggie twists on Vietnamese classics, which vegetarians and non-vegetarians alike love. I'd definitely recommend checking it out during one of your 3 days in Ho Chi Minh City.
If you're short on time, take a day trip to the Mekong Delta. Tours include the floating market, the trades that exist on the Mekong, cycling around the villages and experiencing traditional dances. However, if you have 2-3 days, I'd recommend staying in the Mekong Delta area for that time to really get in touch with its magic.
Book a Mekong Delta day trip by clicking here.
Safety in Ho Chi Minh City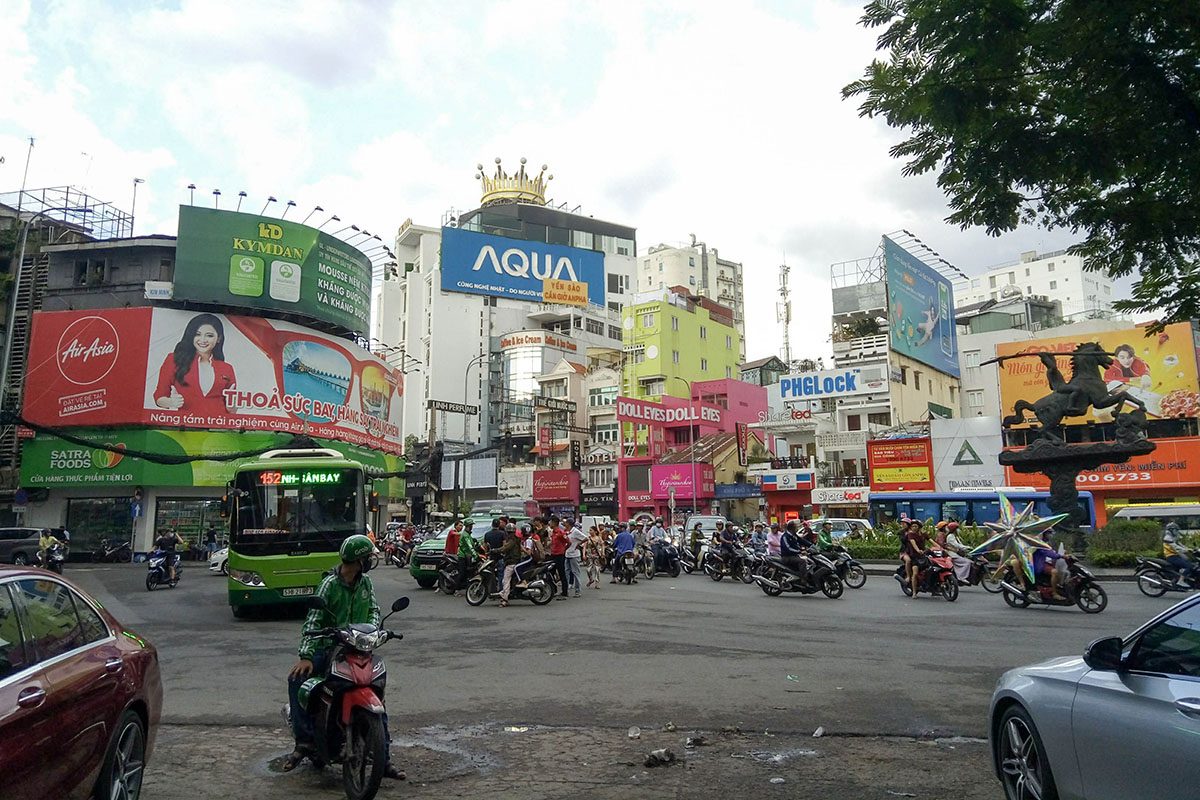 Soooo… about the safety of Ho Chi Minh City. I'll start by saying that Vietnam is an incredibly safe country and I have never once felt my safety questioned here. Neither have my friends who lived there (in Hanoi). However, Ho Chi Minh is widely known as the most dangerous city of the region – but I'm talking relatively here, obviously the most dangerous city in South East Asia is vastly different to San Pedro Sula, the most dangerous city in Central America!
I haven't heard any reports of armed robbery and I don't think such a thing happens. But bag and phone snatching are common – I was warned by two locals while there to not wave my phone around (after spending so much time further north where it's completely safe to do so, I didn't even believe the first warning!). So wear a cross-body bag, don't flash your phone around too much – especially right by the road where a motorcyclist could grab it – and just generally have a bit of common sense.
Scams are also apparently quite common in HCMC – again, I didn't experience any but I've spoke to travellers who did. Wikitravel has a pretty extensive description of the most common scams – check it out here.
All that being said, I experienced no issues in Saigon, and didn't get a bad vibe from the city either. I've felt in much more dangerous situations in London!
Next up is the wonderful Mekong Delta!
Click here for tickets from Ho Chi Minh City to My Tho in the Mekong Delta
Many travellers skip the Mekong Delta and Phu Quoc. If you're running out of time and want to continue straight to Cambodia, click here for buses from Saigon to Phnom Penh in Cambodia.
Where to Stay in Ho Chi Minh City
City Backpackers Hostel is one of the best places to stay in Ho Chi Minh City, with free breakfast, coffee and tea and a great social atmosphere. Click here to find out more information and to book.
Avanti Hotel has clean, large rooms with lots of natural light and modern decor. It is set in district one of Ho Chi Minh City, near to the Ben Thanh Market. There is a bar and restaurant on site. Click here to book.
For a 5* luxury experience, check out Silverland Charner Hotel.This colonial hotel has stylish rooms with chic features, with wicker furniture and deluxe bathrooms. On site is a swimming pool, fitness centre, bar and breakfast. Massages are available. Click here to book.
Mekong Delta – 3 days
The Mekong Delta is doable as a day trip from Ho Chi Minh City (as I've detailed above), but it's well worth spending a little more time here if you have some spare days on your Vietnam itinerary. There are plenty of things to do in the Mekong Delta and guided tours really only touch on the highlights.
From Ho Chi Minh City, it's best to first go to the city of My Tho. Here you can take a Sampan Cruise, see the Vinh Trang Pagoda and enjoy the Ben Tre province.
The next day, take a bus to Can Tho (if you're planning on continuing to Phu Quoc and/ or Cambodia, it's a good idea to change hotels to one in Can Tho) and check out attractions like the Cai Rang Floating Market, the Ninh Kieu Wharf, the famous Cai Be floating market and the Cai Be fruit orchard.
Fun fact: The Mekong Delta grows 70% of Vietnam's fruit – so you'll have a lot to admire and sample in the orchard!
The final part of the Mekong Delta worth checking out is right by the Cambodian border. Sam Mountain is the highest peak in the area, with spectacular views from the top, and the Tram Chim National Park is a haven for birdwatching.
From here, it is very easy to cross the border with Cambodia or head in a southwesterly direction to Phu Quoc.
If you want to book a bus/ boat from Can Tho to Phu Quoc, click here for rates and times.
Where to Stay in the Mekong Delta
My Tho – Mekong Taste Bungalow is a rustic place to stay in My Tho, with free bikes and WiFi and an on-site restaurant. Each bungalow has its own bathroom, TV and air conditioning and rates include breakfast. Click here to reserve.
Can Tho – Casa Inn Hostel has dorm and private rooms, with friendly and helpful staff, great showers, clean rooms and group trips. Click here to learn more.
Vinpearl Hotel Can Tho offers luxury at a budget price, with spacious rooms, amazing views, a pool, gym and bar. Click here to find out more details.
Phu Quoc – 2-4 days
If you fancy some island time in South East Asia, but just don't want to wrestle for the best sunset spot on one of Thailand's over-touristed islands, check out Phu Quoc. A somewhat undiscovered island that actually sits very close to Kampot in Cambodia, Phu Quoc is a place to relax and unwind, maybe scuba dive if the mood takes you, and reflect on your jam-packed month in Vietnam.
You might be running out of days on your Vietnam visa by now, so take as little or as much time as you want in Phu Quoc. Plenty of people head here to just kick back on the beach – whereas others like to enjoy the Phu Quoc National Park and learn about its history in the Phu Quoc Prison. It's also a prime scuba diving destination, with sites to rival those found in Thailand and Malaysia.
Where to Stay in Phu Quoc9Station Hostel Phu Quoc is the ultimate backpackers' chill out spot on the island, with free WiFi, free computers for guest use, free laundry and loads of chill out spaces. There is also a pool and daily happy hour deals. Choose from dorm and private rooms. Click here to see more information.
Dugong Resort Phu Quoc is great for those who want something a little quieter yet stick to a budget. The resort has a private beach and restaurant, and deluxe bungalows have their own bathroom. Click here for rates.
If you want to enjoy ultimate luxury on the last stop of your Vietnam itinerary, check out Sol Beach House Phu Quoc. This resort has a huge pool area, a tropical garden and a spa. Rooms are furnished to the highest standard and there are three restaurants on site! Click here for more details.
Where to go from Vietnam
If you've followed this Vietnam itinerary exactly, you'll be right near the Cambodian border now. From here, you can easily hop on a bus to Phnom Penh (click here for transport from Phu Quoc to Phnom Penh) or Kampot (you know the drill – click here for buses). You could also venture a little north and cross the border into Laos – both of these countries offer a 30-day visa on arrival.
Of course, if you've spent your one month in Vietnam travelling south to north, you'll be somewhere near the Chinese border right about now. You can cross over – I seamlessly crossed the Lao Cai/ Hekou border near Sa Pa with no issues last year – but you'll need a Chinese visa.
You can also cross into Laos from the north – buses leave Hanoi and Sa Pa for Luang Prabang, or you can take local buses to smaller towns in northern Laos.
Or you can, of course, fly out. As mentioned, Hanoi and Ho Chi Minh have decent-sized airports flying to various locations in Asia, Oceania and Europe.
What to Pack for Vietnam
Vietnam has a variable climate, especially in the winter. In the mountains of Sa Pa, it can snow in December and January – whereas Ho Chi Minh City still enjoys days above 30 degrees at this time.
So what should you pack for Vietnam? Clothing wise, you'll probably need…
Hiking boots and gear for Sa Pa

Winter clothes if you're visiting the mountainous north from November – February

Swimsuit, beach towel, sarong for Ha Long Bay and the beaches further south

Comfy shoes for walking around cities

Rain jacket for somewhere in the country!

Long trousers and cover-ups for temples and Ho Chi Minh's mausoleum
And for gear, I'd recommend including…
Being Respectful in Vietnam
It's incredibly important to remember that Vietnam was a war zone just 35 years ago. I travelled some of Vietnam with my mum, who can remember hearing about the Vietnam War (known in Vietnam as the American War) as it unfolded.
If you didn't know about the war and didn't see any of the sites, you wouldn't realise how catastrophic it was. But once you start reading about it, watching TV shows and visiting places like the War Remnants Museum in Ho Chi Minh City, you'll discover its devastation, which will give you a huge appreciation for the people who have pulled through today.
Children are still born with defects after their parents or grandparents unknowingly ingested Agent Orange. Although a great effort has been made to clear the country of UXOs – and there is very low to no risk of UXOs being anywhere on this Vietnam itinerary – they are still present in the countryside.
So do the Vietnamese a favour, and educate yourself about the war before visiting and while in the country. Make sure that you're not ignorant about it.
If you're from the USA, don't worry – the Vietnamese don't have any hard feelings towards modern day Americans. A lot of work has been done to promote peace and good relations between the two countries, and they're very aware that Americans travelling today had nothing to do with the war.
Useful Vietnamese Phrases
English levels in Vietnam vary – however, the government is currently hiring a lot of English teachers to boost the number of people who can speak the language. Most people in the hotel and tourism industry can speak good English, and in the cities many restaurant staff and others speak the language. Every tour guide I've had in Vietnam has spoke excellent English.
However, the locals will love you if you try to say a few words in Vietnamese. Due to it being very tonal, Vietnamese is a pretty tough language to learn (although here are 9 reasons why it might not be as hard as you think). But even just an attempt at the basics will no doubt bring a smile to any Vietnamese person's face!
Here are some words and phrases that helped me out when I was travelling around Vietnam:
hello
thank you
please
sorry
how much is this
station
airport
bus station
one room for one night
noodles
rice
vegetables
beer

xin chào
cảm ơn bạn
xin vui lòng
lấy làm tiếc
cái này bao nhiêu
ga tàu
sân bay
trạm xe buýt
một phòng cho một đêm
mì
cơm
rau
bia
If you want to learn a few more Vietnamese words and phrases, click here to buy a phrasebook.
Books to Read About Vietnam
As you may expect from a country with such an intricate past, there are many books to read about Vietnam. Most of these are available on Amazon – click through to read reviews of them and purchase!
I hope you've enjoyed this ridiculously long Vietnam itinerary! If you've read it all, you are the best. For more incredibly detailed itineraries, awful jokes and sustainable travel tips, add me on Instagram and Facebook – and don't forget to share this article!