Are you planning a trip to Vietnam, but with only limited time? If you're wanting to see the highlights of this South East Asian country, but have only 10 days in Vietnam, I'm going to explain how to see the country with just this time.
I'm going to be completely honest first, in your Vietnam itinerary 10 days is not enough to completely see the country. With just 10 days in Vietnam, you'll only be able to focus on one particular part of the country. If you can spare longer, and want to see the whole country, here's my one month in Vietnam itinerary which features all the tourist spots. You might even fall in love with the country so much that you end up living in Vietnam!
Vietnam is a long, thin country and it takes quite a long time to travel overland – of course, you could always fly, but I'd highly recommend instead just focusing on a certain part of the country. Northern, Central and Southern Vietnam are all very different places and you'll be able to experience an individual culture deeper by just focusing on one area.
Which Vietnam itinerary should I choose?
I've suggested three sample 10 days in Vietnam itineraries in this blog post. One focuses on Hanoi and the surrounding area, one travels from Da Nang to Phong Nha in Central Vietnam, and one spans southwards from Ho Chi Minh City.
Which itinerary you choose depends on your personal tastes and the time of year. It can get cold in Northern Vietnam in Winter, so if you want sunshine every day you might want to focus your travels further South.
It rains a lot in Ho Chi Minh City in the Summer – although it is still feasible to visit there. In Central Vietnam, November and December are the rainiest months, with the possibility of typhoons.
Each of these 10 day Vietnam itineraries also offers different things. They all have a bit of beach time, but if you're after a tropical island paradise I'd highly recommend chilling out on Phu Quoc in the Southern itinerary – this itinerary also includes relaxation in the beautiful Mekong Delta.
For some absolutely epic nature, check out the first itinerary and the likes of Sapa, Halong Bay and Ninh Binh, as well as the dynamic city of Hanoi.
The centre of Vietnam has some of the most interesting history – as my suggested 10 day itinerary includes the Ho Chi Minh trail and a tour of the DMZ that used to seperate South and North Vietnam. It also includes the backpacker and foodie's favourite, Hoi An.
All of these 10 day Vietnam itineraries are worth doing, but read on to discover which you think would work best for you!
Vietnam Itinerary 10 days: The North
Hanoi – 3 days
Spending 3 days in Hanoi is a great introduction to Vietnam. There's so much to do in this dynamic city: it's definitely a foodie destination, and has temples, lakes, museums and shopping.
Some of the best things to do in Hanoi include the Temple of Literature, the Woman's Museum, walking around Hoan Kiem Lake, eating a lot of food (there are plenty of vegan options if you're plant-based as well!), exploring West Lake and drinking 60p Bia Hoi.
You could also take a tour of the city – some popular ones include:
Click here for my full blog post on what to do in Hanoi in 3 days.
Where to Stay in Hanoi
The Old Quarter View hostel is a great option for backpackers who want to stay in the centre and enjoy free happy hour beer, free breakfast and a fun, social accommodation while being close to all of the tourist attractions. Click here to book.
Dragon Hotel is by West Lake and is great for easy access to the airport. It's also in the middle of one of Hanoi's best restaurant neighbourhoods and isn't far from Hoan Kiem and the other attractions of Hanoi city. The hotel offers traditional rooms at great value. Click here for more information and to book.
Elegant Suites Westlake offers 5* luxury in Hanoi, providing studios and apartments with deluxe features, as well as a pool, gym and bar. Click here for more information.
Halong Bay – 3 days
Halong Bay is the most famous tourist attraction in Vietnam for good reason. It's a UNESCO world-heritage site, and tops the list time and time again of the best things to do in Vietnam.
The best way to see Halong Bay is on a cruise, and even though you only have 10 days in Vietnam, I really recommend taking 3 of them to enjoy Halong Bay or Bai Tu Long Bay. The cruises are so relaxing, yet are also packed with activities and life on the boat is so much fun.
I went with Indochina Junk, who I highly recommend. You can click here to see their website.
As I explained earlier in the post, Northern Vietnam isn't necessarily the best place to visit in winter – although I did spend some time there last winter and while it got a bit chilly, it was still a great time. You can read about my experiences in Halong Bay in December here.
Your Halong Bay trip will include return transport to and from Hanoi, so you can head back there after. Then I'd recommend taking the overnight train to Lao Cai, on the Chinese border, and heading up to Sapa ready for a hiking trip the next day.
Other Halong Bay Tours – Cheaper Options
You can book your overnight train from Hanoi to Lao Cai here.
Sapa – 2 days
Sapa, while kinda touristy, is one of the most beautiful places in the country and will be a highlight on your 10 days in Vietnam itinerary. The town is very busy with travellers and people selling tours, but the outskirts are really something special.
I'd highly recommend booking a tour with Ethos, who are a sustainable company who work with local Black H'mong people. They employ them as guides and put their profits back into the communities, helping with building homes and raising awareness for social issues like human trafficking.
The tours are individual and fully customisable, so you have a lot of say in where you go, how long you hike for, what you eat etc. with guidance from your expert guide. Food is purchased in the market and all dietary requirements can be easily catered for.
You'll get the chance to eat in a local home and spend the night in a local homestay with a family, giving money straight back to the communities and have a really authentic experience. The guides are friendly and informative, happy to talk about all sorts of things and speak excellent English, as well as Vietnamese and their native tongue.
You can read more about my experiences trekking in Sapa here or click here for Ethos' website.
After your hike, you can take the Sapa Express right back to Hanoi (book by clicking here), and stay another night in Hanoi before a final day trip.
Ninh Binh – 1 day
Just a couple of hours south of Hanoi is beautiful Ninh Binh, also known as 'Halong Bay on land'. It has similar karst stones, and it's a spectacular place to enjoy authentic Vietnamese village life, visit temples, and take river cruises between the rock formations.
You can either book on a guided tour – click here for options – or do a self-guided tour from Hanoi.
If you go for the self-guided route, buses leave from Giap Bat. You can rent a bike or scooter at one of the rentals in town, and then either ride, cycle or take the bike in a taxi to Tam Coc.
With the scooter or bike, you can check off all of Ninh Binh's best attractions like:
Trang An Landscape and Boat Tour
Mua Caves and Lying Dragon Mountain
Bai Dinh Pagoda
Hoa Lu Ancient Capital
From Ninh Binh, you'll want to hop on a train back to Hanoi (I'd recommend taking the train if you have a certain time to be back, as the buses can be unreliable), and taking onward transport from there. Click here to book your train back to Hanoi.
People tend to either fly out of Hanoi airport, take a bus to Laos, or I took the night train from Hanoi to Nanning which was a pretty cool experience.
10 Days in Vietnam Itinerary: The Centre
Da Nang – 1 day
Da Nang is one of Vietnam's biggest cities, and is certainly one of its most modern. Modern high-rise hotels and offices give way to the beach, and the city has a booming forward-thinking atmosphere.
You could spend some time just soaking this in, but as you only have one day in Da Nang, I'm going to suggest you head up to the mountains. The famous Golden Hand Bridge is located in the Ba Na Hills, which are in the Sunworld Theme Park. You'll get the chance to take a cable car through the mountains, which is really spectacular, and enjoy the panoramic views from the bridge itself – but the experience will set you back around $30. You will, however, get to enjoy the rest of the park on the same ticket.
If you don't want to spend that much on seeing the bridge, you could book a surf lesson (see here for options) or a motorbike tour of the city (click here to book). The Museum of Cham Sculpture is also worth checking out. At night, be sure to walk up to the Dragon Bridge, which is lit up every evening and makes for some great photos.
Where to Stay in Da Lat
For somewhere a bit different, Rom Casa offers hostel accommodation in shipping containers! The private and dorm rooms are exquisitely furnished – making it more of a boutique accommodation than a hostel – and it is located in prime location between the Han River and the beach. Click here for rates and to book.
Adaline Hotel and Suite is located in the heart of Da Nang – some rooms have spectacular views over the city and beach. On site is a pool, bar and restaurant and breakfast is included. The rooms are modern, clean and chic. Click here to book.
Hoi An – 2 days
Beautiful Hoi An is top of many people's Vietnam bucket lists. With cobbled streets, multicoloured houses, and lots of lanterns, it's very photogenic, and has an interesting history.

I'm going to be honest, after visiting many places in Vietnam the over-tourism is a bit much for me – but most people absolutely love it, so one of my fantastic guest posters put together this list of the best things to do in Hoi An to help other travellers there.
You can spend your two days in Hoi An exploring the old city, cycling to the beach (it's one of the best beach destinations in Vietnam!), eating at the numerous fantastic restaurants (there's plenty of vegan and veggie spots too), booking into a spa and exploring the surrounding rice terraces.
Tours in Hoi An
Where to stay in Hoi An
Hoi An Vietnam Backpacker Hostels is a popular accommodation option that's perfect for backpackers. Those staying here can enjoy the pool, free WiFi, free drinks at some times of day and stunning surroundings, looking out over the rice paddies of Hoi An. Click here to book.
An Bang Stilt House is a great private accommodation option – because you can't go to Vietnam without staying in a stilt house, right? The villa has beautiful rooms featuring a wardrobe, private bathroom, and flat-screen TV. Click here to book.
Hai Van Pass/ HCM trail tour – 2 days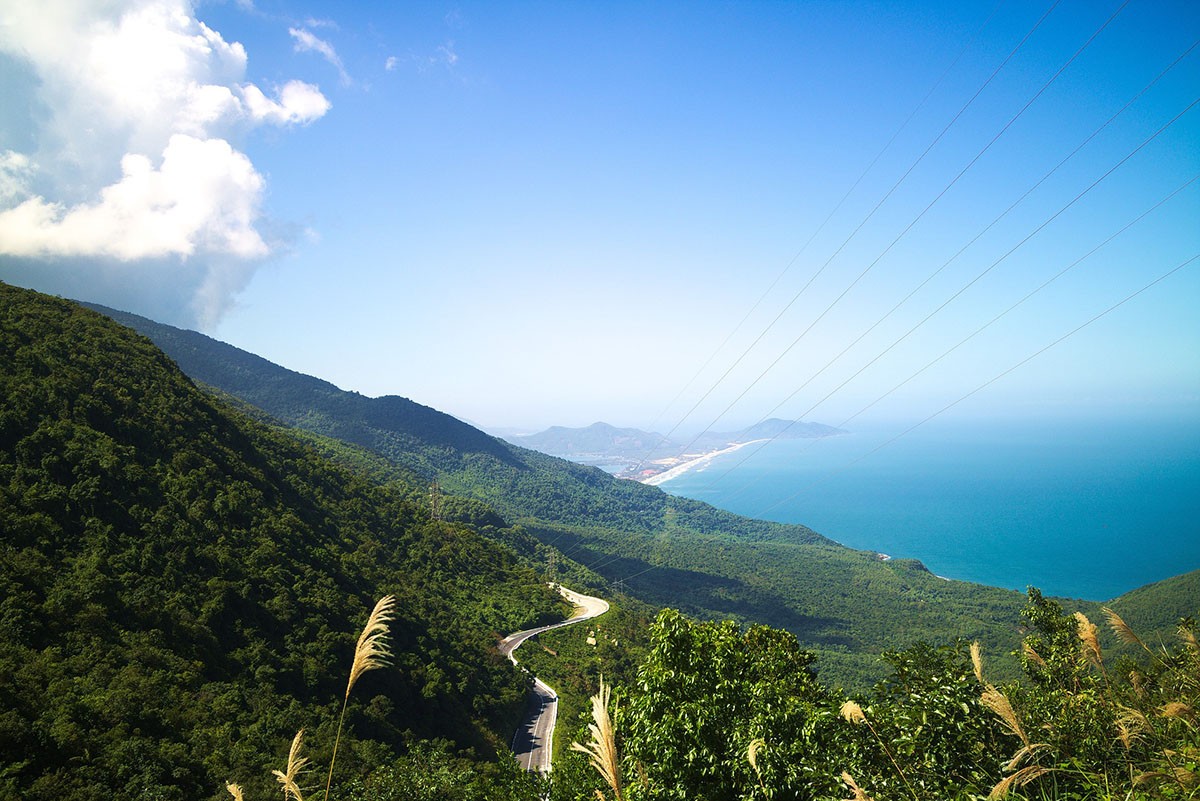 This was one of the best things I did in Central Vietnam, and I highly recommend it for all travellers to the area, to get a better sense of the history of this area of the world. I took an easy rider bike tour along the Ho Chi Minh Trail, and learned about the history and significance of this trail in the Vietnam War.
We overnighted in a nearby town, and the next day travelled to Da Nang and through the Hai Van Pass, known as one of the most scenic ocean drives in the world and loved by Top Gear, ending up in Hue.
My driver and tour guide was actually a Vietnam war vetran, and the stories he told me were invaluable. While I can't guarantee that you will have him as a driver, all of them are very knowledgeable about the war and its effects on Vietnam to this day.
You can see more information about this tour by clicking here. – I'd recommend sending them an email to get a personalised itinerary and exact costs.
If you don't want to ride a motorbike as a passenger, or want to condense this part of the trip, you could take this van tour which includes the Hai Van Pass and the attractions of Hue, and finish in Hue rather than taking the bus back to Hoi An. Click here for more information.
Hue – 1 day
There's lots of things to do in Hue, the old imperial capital of Vietnam, but if you only have one day I'd recommend visiting the old Imperial City, taking a boat tour on the Perfume River, seeing the Thein Mu Pagoda and heading out to one of the ancient tombs.
Where to Stay in Hue
The Dreamers is a fantastic clean hostel located in Hue City Centre. It has private and dorm rooms, free coffee and very helpful staff. Click here for rates and to book.
Rosaleen Boutique Hotel is a very welcoming spot, with staff that go above and beyond to make sure that you enjoy your time in Hue. The rooms are comfy and well furnished and breakfast is included. Click here for rates and to book.
I'd recommend taking an evening train to Dong Ha City – you can book by clicking here.
Dong Ha City – 1 day
Dong Ha City isn't a popular spot on the tourist trail, but is a great place to visit to access the DMZ. A DMZ tour takes in various museums and sights that made up the border between north and south Vietnam, and a knowledgeable guide will tell you all you need to know about this volatile area.
This can be arranged with Tam's Guesthouse, who will also organise transportation to Phong Nha after the tour.
Phong Nha – 2 days
One of the most beautiful areas of Vietnam, Phong Nha is the perfect place to really take in the wonderful nature of this part of the world. It's home to the largest cave in the world, which is unfortunately very difficult to access (you need $3000, a lot of caving experience, and to be in the right place at exactly the right time to get the tickets which sell out faster than Beyonce concerts).
However, there are plenty of things to do in Phong Nha in two days. You can either hire a motorbike, or go on the back of a motorbike and see the national park, seeing places like Dark Cave, Paradise Cave and the Botanical Gardens.
Where to stay in Phong Nha
Easy Tiger is the place to stay in Phong Nha if you're a backpacker. It's 'more a resort than a hostel, with an amazing source of information about the area, a pool and a great social atmosphere. Click here for rates and to reserve.
Nguyen Shack – Phong Nha Eco Resort is a rustic homestay set in Phong Nha National Park. If the quaint cabins weren't enough to tempt you, there is an on-site restaurant, and the homestay offers free pick-up and drop off from the centre, as well as free bicycle rental. Click here for rates and to book.
From Phong Nha, you'll probably want to venture further north to Hanoi (book your bus here) where you can arrange onward transport.
Vietnam 10 day itinerary: The South
The south of Vietnam is incredibly different to the north – while northern Vietnam has a more Communist feel, the south is looking increasingly into the future and focuses more on Capitalism. This can be seen in the megacity of Ho Chi Minh, but it's entirely possible to get out and enjoy more of the country's nature in 10 days in south Vietnam.
Saigon – 2 days
This 10 days in Vietnam itinerary starts in Ho Chi Minh, the capital of south Vietnam. Formerly named Saigon, Ho Chi Minh City is an icon for the future of Vietnam. It's not loved by all travellers – and honestly, I do prefer Hanoi – but there are some things worth seeing here and it's a great jumping point for the rest of south Vietnam.
Firstly, I'd recommend seeing the War Remnants Museum. This is the most comprehensive exhibition of the Vietnam War, and it covers everything – from why it happened, opposition, to the after effects that still blight the country today. It's moving and at times very difficult to learn about, but very important to know.
Other things to see in Ho Chi Minh City include the Benh Than Market, the Notre-Dame Cathedral, and the colonial Post Office. I'd also recommend checking out one of Saigon's famous rooftop bars for a view of the city by night – I went to Chill Skybar for the most expensive drink I've ever had in Vietnam.
On day two in Ho Chi Minh City, a day trip to the Cu Chi Tunnels is well worth doing. Touring these tunnels will help you get more of a sense of how the Vietnam War was fought, and will give you an idea as to how the country managed to beat the Americans during the war. You can book onto a tour here.
Where to Stay in Ho Chi Minh City
City Backpackers Hostel is one of the best places to stay in Ho Chi Minh City, with free breakfast, coffee and tea and a great social atmosphere. Click here to find out more information and to book.
Avanti Hotel has clean, large rooms with lots of natural light and modern decor. It is set in district one of Ho Chi Minh City, near to the Ben Thanh Market. There is a bar and restaurant on site. Click here to book.
For a 5* luxury experience, check out Silverland Charner Hotel.This colonial hotel has stylish rooms with chic features, with wicker furniture and deluxe bathrooms. On site is a swimming pool, fitness centre, bar and breakfast. Massages are available. Click here to book.
Click here to book your bus from Ho Chi Minh City to Da Lat
Da Lat – 2 days
Da Lat is one of my favourite spots in Vietnam. It's a beautiful highland area with waterfalls and lakes, the temperature is wonderfully cool in comparison to Ho Chi Minh City, and there are some fun attractions within the town itself.
I'd recommend checking out the historical station, which was designed during the French colonial period (in the 1930s, to be exact). From here, you can take a vintage train to Linh Phuoc Pagoda in Trai Mat, a nearby village. It's a half an hour trip and passes through some of the region's spectacular beauty. Lin Phouc Pagoda is another alternative attraction of Da Lat, with amazing modernist architecture.
Back in Da Lat, enjoy more of the weird and wonderful with a visit to the Crazy House, a museum dedicated to all things odd, walking around the city, and having a drink at Maze Bar/ 100 Roofs Da Lat, which is a bar on many levels and with various different themes.
If you'd rather a local show you around, you can book onto a city tour here.
For your second day in Da Lat, either hop on an Easy Rider Tour to see the waterfalls, farms and nature spots in the region, or if you have experience, rent a bike yourself and see sights like the following:
Datanla Falls

Elephant Falls

Linh An Tu Pagoda and the Laughing Buddha

Xuan Hong Lake
You can read about the Easy Rider Tour here – I recommend booking it by emailing the company and confirming itinerary details and prices with them.
If you don't want to go on a motorbike, as a driver or passenger, or for a more budget option, you can take a group tour – click here for more information.
Another popular pastime for Dalat-ians is to grab a glass of soy milk from a street vendor and sit by the side of the road watching the world go by, so be sure to factor this into your time here!
Where to Stay in Da Lat
Beginning Homestay was where I stayed in Da Lat, it was a wonderful budget place to stay with great hosts, who took the time to have a chat and share stories about Da Lat. The rooms were comfy, and the home-cooked breakfast was absolutely delicious! Click here to book your space.
For something a little more luxurious, The Orchid Villa Da Lat is in a beautiful location, with spectacular views over the scenery. Each room has a flat screen TV with cable channels, a private bathroom and outdoor dining area. Click here to learn more and book.
Take a night bus from Da Lat to Can Tho. Click here to purchase.
Me Kong Delta – 2 days
The Me Kong Delta is one of my favourite places in Vietnam. It's very chilled out, there's not a whole lot to do apart from enjoy the relaxed pace of life here – but that's kind of the beauty of it.
I'd really recommend staying at Can Tho Boutique Lodge Homestay – the owner (who speaks perfect English) looks after his guests really well, offers all meals and trips out on his boat to see the floating market, dry market and sunset. Bikes are also available for rent. It's very easy to lose a couple of days here or longer! Click here to reserve your spot at Can Tho Boutique Lodge Homestay.
Travel to Phu Quoc – 1 day
The overland bus/ boat route from Can Tho to Phu Quoc will take you all day – but it's a lot more eco-friendly than taking a very short flight. You can take a bus from Can Tho to Rach Gia – the owner at Can Tho Boutique Homestay will happily sort that for you – and then a boat to Phu Quoc.
Phu Quoc – 2 days
Vietnam's island paradise, Phu Quoc is a great spot to enjoy some tropical island time before you depart the country! Spend some time on Phu Quoc's famous beaches, rent a bike and see the island, take a tour to beautiful surrounding islands (more information here), or if you're after something more historic take a tour of Phu Quoc's prison (where Northern Vietnamese prisoners were kept during the war).
There are plenty of things to do in Phu Quoc, but also no judgments if you just want to chill out with a cocktail in hand!
Where to Stay in Phu Quoc
9Station Hostel Phu Quoc is the ultimate backpackers' chill out spot on the island, with free WiFi, free computers for guest use, free laundry and loads of chill out spaces. There is also a pool and daily happy hour deals. Choose from dorm and private rooms. Click here to see more information.
Dugong Resort Phu Quoc is great for those who want something a little quieter yet stick to a budget. The resort has a private beach and restaurant, and deluxe bungalows have their own bathroom. Click here for rates.
If you want to enjoy ultimate luxury on the last stop of your Vietnam itinerary, check out Sol Beach House Phu Quoc. This resort has a huge pool area, a tropical garden and a spa. Rooms are furnished to the highest standard and there are three restaurants on site! Click here for more details.
From Phu Quoc, it's actually very easy to jump over to Cambodia. You can take a short ferry to Kampot (if you have time, do spend some time in Kampot, it's my favourite place in South East Asia), and from there head to Phnom Penh, where there is an international airport and transfers to Laos and Thailand.
Or you can head back to Ho Chi Minh City on a bus, where you can transfer to other international destinations or elsewhere in Vietnam.
Vietnam Itinerary 10 Days
10 days is not a huge amount of time to see Vietnam, but it's sufficient to really experience a part of it. I've tried to balance modern culture with history and nature with its amazing food in these three 10 day Vietnam itineraries to give you a bit of everything.
I've written a lot of posts about Vietnam and have loads of travel tips for the country and South East Asia in general – you can check out all of my Vietnam posts here or click the links within the texts.
Enjoy your trip to Vietnam and let me know if you have any questions over on Instagram!
I'm also on YouTube – you can check out my Vietnam video below…
Pin Me!