The enthralling, all-encompassing, non-stop city of Hanoi is somewhere that every traveller should experience at some point in their life. Most people visit Hanoi on their first or last stop of a Vietnam itinerary, or others see Hanoi and the surrounding area (normally Sapa and Halong Bay) as one seperate trip. Whatever way you do it, I'd recommend allowing 3 days in Hanoi to see the city at its best. This Hanoi itinerary focuses on the best things to do in Hanoi after my many trips over the last few years; based on you spending 3 days in Hanoi and wanting to see the best of Vietnam's capital.
How to Get to Hanoi
Hanoi is located in the north of Vietnam, at a crossroads between the east Asian orient and tropical southeast Asia. It can be reached by northern Laos by bus, elsewhere in Vietnam by train or bus or China by train or bus. Hanoi airport flies to various locations around Asia, a few in Europe, and of course to airports domestically. If you're already in South East Asia, however, I would recommend overlanding – you'll see more of the world that way! You can use Bookaway to reserve your tickets – click here to browse their website. Wherever you arrive into, I'd recommend taking a Grab taxi or bike. It's the cheapest way of travel in Hanoi – download the app before you arrive.
How to Get Around Hanoi
Grab, of course! There isn't much in the way of public transport in Hanoi, which is very frustrating to the eco-warrior inside me. Grab taxis and bikes are commonly used throughout the city, and I'd recommend the bikes if you're comfortable doing so. I was terrified of the bikes in Hanoi the first time I went, but eventually, I was comfortable enough to use Grab bikes, and the drivers are very safe. They're cheaper than taxis and more fuel-efficient.
WiFi in Hanoi
WiFi in Hanoi is pretty decent, with most hotels and guesthouses offering strong connections and there being a WiFi connection in most cafes and restaurants. Some people do decide to get a local SIM – these are cheap and benefit from a good amount of data. I like to be elusive and off-grid, so I never get these.
Where to Stay in Hanoi
Hostel:
Old Quarter view Hanoi Hostel is a lively place, considered by many as a 'home away from home'. It has sturdy, good quality bunk beds and spacious dorms, and is a great place to meet people.
Click here for rates and to reserve.
Budget Hotel:
Dragon Hotel – this hotel is out of the Old Quarter, located on the shores of Tay Ho. It's a good place if you're keen on escaping the crowds of tourists, but you will need to get taxis or Grab bikes to get around. The architecture and decor is traditional, and the rooms are spacious and comfy.
Click here for more information.
Mid-Range Hotel:
Sunline Paon Hotel and Spa – this is in a fantastic location right in the middle of the Old Quarter. The beds are comfy and rooms well equipped, the WiFi is excellent and the staff are absolute angels. It isn't the best in terms of natural light, and the pool area is quite small and it lacks a bar, but it's great value for what it is.
Click here for more information and to book.
Luxury Hotel:
Apricot Hotel is located in the action, right in Hanoi's old quarter. It has elegant rooms with period decor, and a rooftop bar and swimming pool with amazing views of the lake. There is a restaurant, bar and fitness centre on site. The atmosphere is peaceful and tranquil, meaning it is a great place to unwind after the chaos of the Old Quarter!
Click here for rates and to book.
Hanoi Itinerary Day 1
This 3 days in Hanoi itinerary presumes that you arrived in the city the evening before. If you find yourself with some free time the evening before, spend it walking around the neighbourhood you're based in, taking in the sights, smells and sounds of this vibrant city. On day number one, fuel up on breakfast and head out for the day. Your first stop is in the bustling Old Quarter, so you can grab breakfast here. There are many eateries here, from street food stalls to upmarket restaurants. If you're veggie or vegan, or just fancy something meat-free, I highly recommend Jalus Vegan Kitchen. They serve up local and western food, use bamboo straws, and everything is delicious. For breakfast, you can get mango pancakes or a tofu omelette (which is amazing), and they have lots of juices, smoothies and coffee. If you fancy something more local, there are plenty of eateries lining the streets of the Old Quarter, Tay Ho, and just about anywhere else in the city.
Hanoi Open Topped Bus Tour
Next I'd recommend purchasing tickets for the Hanoi open-topped bus – you can find the starting point of this route near Hoan Kiem – the location is here. This takes you around all the main sights of the city, and gives you a brief introduction to each attraction. I'd recommend doing a full lap at first, to take it all in. Then, on the second lap, you can decide which parts of the city you want to see first! There might be parts that specifically interest you, and that you want to disembark on. But I highly recommend the following:
Temple of Literature
One of the most splendid places to visit in Vietnam, the Temple of Literature was built as a Confucian university in 1070. It has been used as a place of spiritual education since then, and has plenty of traditional features to marvel at. It's one of the most historically significant places to visit in Hanoi, so take your time to explore and take it all in.
Women's Museum
The Women's Museum in Hanoi is one of the best museums I've been to. It focuses on the important role of women in Vietnamese society, both past and present. Especially poignant to me were the short films about the lives of Vietnamese fruit sellers. Many of these women aren't from Hanoi, but are living here, normally away from their kids, because they need to make money. It really changed my perspective on a lot of things and I highly recommend visiting on your first day in Hanoi. You'll probably spend 2-3 hours in this museum, which is worthwhile to take it all in. It's a really fantastic exhibition and is well worth spending an afternoon in!
National Museum of Vietnam
If you want to learn a little more about the country, which might be a good idea if you're planning on spending a long time travelling in Vietnam, the National Museum of Vietnam tells its story. It has several exhibitions dating from Prehistoric times all the way to the 19th century.
The French Quarter
With many of Hanoi's most famous colonial buildings, including its opera house, the French Quarter is worth a walk around to see the contrast in architecture. Nearby is the train street, where the rails leading up to Hanoi's station go straight through a residential street. It's a cool spot to check out – the train hurtles through at around 3pm and 7pm. You can read more about it here.
Old Quarter by night and Hoan Kiem
Hanoi's bustling Old Quarter is interesting for a walk around in the daytime – but it really comes alive at night. There are market vendors, street food sellers, and a whole load of motorbikes – it's worth walking around slowly, to take it all in. There are quite often events happening in the Old Quarter, especially if you're there around Vietnamese independence day or Ho Chi Minh's birthday. If it all gets too much, there are plenty of bars and restaurants in the Old Quarter as well. One of my favourites is a Harry Potter themed cafe (of course) called Always. Hoan Kiem Lake equally lights up at night. It's a scenic spot to walk around and enjoy the lights – it takes about half an hour to walk around the lake in its entirety.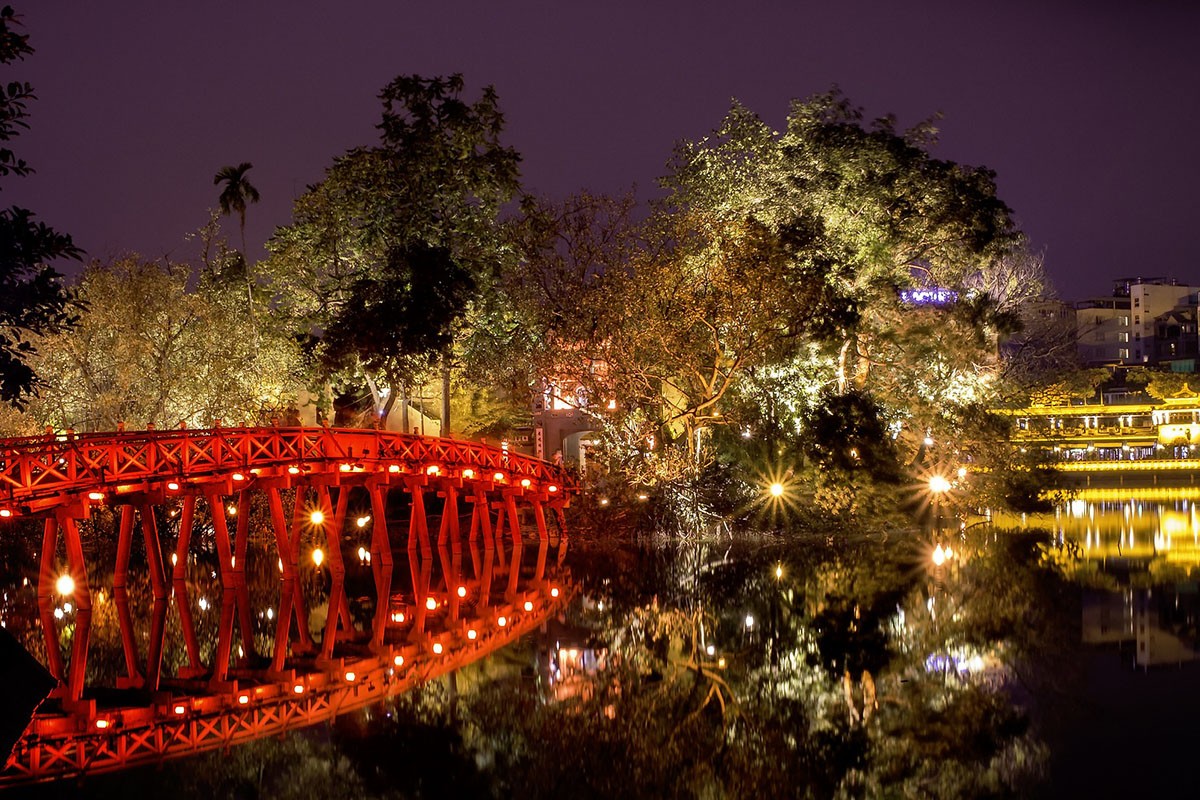 If you're wanting to take it all in over a beverage, head to Apricot Hotel's rooftop bar, which has a fantastic view over the lake. Or if you want to enjoy the Old Quarter's best food, check out this Old Quarter food tour.
Hanoi Itinerary Day 2
Ho Chi Minh's Mausoleum
Ho Chi Minh's Mausoleum is a Hanoi must-do, and somewhere where you can get a truly local experience. Vietnamese people from all over the country come to see Uncle Ho resting; make sure that you are quiet and respectful, he's a national hero and by far the most revered figure in Vietnam.
It is free to enter the mausoleum, and there is always a bit of a queue. This does, however, move very quickly. Aim to get there for around when it opens at 6:30am. The actual mausoleum visiting is very quick, but it's worth it as an unusual attraction.
Ho Chi Minh's House and Museum
There is plenty in the area to occupy yourself with for the rest of the morning. Check out Ho Chi Minh's house, where you can both enjoy the architecture and setting and learn more about his life. Going even deeper into this is the Ho Chi Minh Museum – which details exactly why he is such an important character in Vietnam.
Ba Dinh Square
Ba Dinh Square is pleasant for a stroll around as well; although do beware if you want to buy anything from here, it's very pricey!
One Pillar Pagoda
Nearby is One Pillar Pagoda, yet another sacred spot in Hanoi. It was quite literally built on one pillar, and is one thousand years old. It has been called 'the most unique pagoda in Asia' and is a quick visit, close to Ba Dinh Square.
Hoa Lo Prison
Next on the agenda is Hoa Lo Prison. Dubbed the 'Hanoi Hilton' by witty inmates, it's a place to learn about Vietnam's not so pleasant past. The prison was used both in the war against the French and in the American War, and the living conditions were awful. A self-guided tour will tell you all about it.
St Joseph's Cathedral
Vietnam is predominantly a Buddhist nation – however, French colonialism has left its mark in more ways than one, and there is infact a huge Christain Cathedral in the middle of the Old Quarter. It looks rather out of place, but it's interesting to see.
Water Puppet Show
In the evening, I recommend enjoying traditional Hanoi by checking out a traditional water puppet show. These are a Vietnamese favourite; they depict scenes from rural Vietnamese life, using puppets that are partially submerged in water. Everything will be in Vietnamese, but the shows are easy enough to follow along!
Hanoi Itinerary Day 3
West Lake Walk/ Cycle/ Bike Trip
Hanoi is famous for its many lakes, and while Hoan Kiem sees the biggest amount of visitors, West Lake is equally deserving of your time. During my first visit to Hanoi, I spent a day walking around the entirety of West Lake, taking it all in. There are lots of temples, monuments and attractions to visit on the way. If you don't want to walk, you can hire a bike for the day, or easily rent Grab bikes to take you to various spots on the lake. Places to visit around West Lake (Tay Ho) include:
Lotte Center – this is the tallest building in North Vietnam, and it's possible to go up to the observation deck for a great view of the city.
Tran Quoc Pagoda – this is a must-visit while exploring Tay Ho, as it is Vietnam's oldest temple. Built in the 6th century, it's now symbolic of Vietnamese Buddhism.
Quan Thanh Temple – this is located in Ba Dinh, and is one of Vietnam's ancient four sacred temples, built between 1010 and 1028.
Take to the water with a swan boat – rentals are by the hour (you can rent near Canteen Truong Chu Van An, which is on the map).
Here is a map with all the suggestions above – but it is well worth checking out the north side of the lake as well, it's really scenic and you get a great view of the city.
There are also tonnes of great spots to eat around Tay Ho. I heartily recommend the following:
Buddha Chay – this is a great vegan restaurant, focusing on Buddhist monks who often follow a vegan diet. It serves various Vietnamese curries.
Handi – this is a fantastic Pakistani restaurant that serves up some of the best hummus I've ever eaten.
Jeep Cafe – at the North of West Lake, this cafe is decorated with war jeeps. It's a bit intimidating, but also quite interesting.
Bia Hoi
After a long day's walking, you'll probably want to relax on your last night in Hanoi. And luckily, relaxing comes cheap in Vietnam's capital – Bia Hoi centres offer beer at ridiculously cheap prices – the lowest I found was a pint for the equivalent of 70p/ $1 USD. It's a great place to sense some of the local atmosphere, and to toast to a great time in Hanoi!
Other Things to do in Hanoi
Mosaic Wall
Hanoi's huge mosaic wall is something that you'll see on the open-top bus tour, but somewhere that you might want to revisit to see up close and personal. It's the largest mosaic wall in the world, sponsored by different nationalities and artists, all displaying their love for Hanoi.
Cooking Class
Vietnamese food is world-famous; come here and try it, and you'll see why! Whether it's a big bowl of spicy pho, spring rolls or bahn mi, you'll absolutely fall in love with Vietnamese cuisine. If you're a budding chef, then what better than to learn how to cook it yourself! Here's a popular cooking class by Backstreet Academy.
Dong Xuan Market
The largest indoor market in Hanoi, Dong Xuan Market is located in a Communist-style building and serves up food and flowers. It's a really local place, where Hanoians go to shop, so is a great spot to get a feel of local life.
Hanoi's Flower Market
The flower market is open 24/7, but is best visited from 2am onwards, when the new deliveries of flowers get brought in. It's a great spot for photos, and to just walk around and enjoy the overpowering aroma of freshly cut flowers!
Day Trips from Hanoi
Ninh Binh
Ninh Binh makes a good day trip from Hanoi. If you only have one day to allocate to Ninh Binh, I recommend you do it on a tour – you can check out a comprehensive Get Your Guide tour here. Otherwise, you could head to Ninh Binh on the bus or train and stay overnight, checking out attractions like the Tam Coc Caves and the many temples of the region. If you are heading South, it's a good idea to visit Ninh Binh and then head to Phong Nha, Dong Ha or Hue. You can book bus or train tickets here. If you're staying overnight in Ninh Binh, I recommend Nha Trang Eco Guesthouse, which is right in the scenic area. Click here for more information. Check out this day tour that sees the best of Ninh Binh, including Tam Coc scenic area and Hoa Lu.
Van Phuc Silk Village
Van Phuc Silk Village is renowned for its silk (unsurprisingly), and is both a great spot for shopping for clothes and to learn a bit more about Vietnamese silk. There are plenty of shops to learn about the craft. Van Phuc Silk has been exhibited in many international displays. As it is only 10km from Hanoi, many people opt to just take a Grab taxi or bike here.
Perfume Pagoda
A pilgrimage spot for many Vietnamese Buddhists (generally between February and April), the Perfume Pagoda is a wonderful place that can only be accessed by boat. It's a selection of Buddhist shrines at the foot of Huong Tich Mountain, so a day trip to the Perfume Pagoda is a mix of beautiful architecture and spectacular scenery. Check out a great day tour of the Perfume Pagoda from Hanoi by clicking here.
Hanoi Essentials
I'm going to write a South East Asia packing list soon – or you can check out my essentials for long term travel here. But here's a few things that you might want to consider for Hanoi especially (you can click through on each item to purchase it on Amazon):
Immodium for a dodgy stomach!
A bumbag to keep essentials close while travelling around
A water to go bottle so you can drink the tap water
Loose, comfortable clothing – Vietnamese people are quite conservative, and while tourists certainly do wear revealing clothing, you might find you get a lot less hassle if you dress accordingly.
I use and recommend the Osprey 40l backpack.
Camera – I use and recommend the Fuji x-a3 and the GoPro Hero 6
Unlocked smartphone (you can get a Vietnamese SIM if required) – I use and recommend the Samsung Galaxy S9
Health and Safety in Hanoi
Hanoi is literally one of the safest cities in the world. I'd feel comfortable here at any time of day, and while pickpocketing and bag-snatching aren't unheard of, they are a rarity. This kind of crime is much more common in Ho Chi Minh City.
Scams
There are, however, a few scams that you need to be aware of when you're planning a trip to Vietnam. These generally operate in the Old Quarter and include:
Shoe shining: some people hang around the Old Quarter of Hanoi keeping their eyes on people's shoes. When they see a not-so-perfect pair, they'll ask to shine/ glue said shoe, often saying it's free – but then it turns out not to be. If someone starts asking you about your shoe, walk swiftly on.
Fruit selling: ladies selling fruit will often try to put their baskets on your shoulders for a photograph. Again, they may say it's free, and it may well not be. I do feel for these ladies, for reasons that you'll find out in the Vietnamese Women's Museum, but I don't think that this kind of behaviour should be encouraged – instead, think about buying some fruit from them if you desire.
Massage extras: I didn't experience this while I was there, but have been told about it. Sometimes tourists will go in for a massage and get additional extras, like tea or a facial, without being asked. Then when it comes to pay, it turns out these extras cost an obscene amount of money, which it is very difficult to avoid paying because the tourist has already had them. If you're given tea or any extras, make sure that you ask if it's included in the rate.
This being said, I want to make it clear that not all Vietnamese people are scammers/ out to get you – the huge majority are kind and thoughtful. There seems to be a bit of a perception, especially among the backpacker crowd, that everyone offering a service is a scam artist, and this really isn't true (and lends to a lot of tourists being really quite unpleasant).
Health
I would recommend making sure your jabs are up to date before visiting Hanoi. Having your typhoid, tetanus, hepatitis A and B and rabies jabs are all a good idea – I'm not qualified to give out medical advice though BTW, chat to your doctor about what they think they need. There aren't many mosquitos in Hanoi, and not much malaria anyway in Vietnam, but you might need malaria tablets elsewhere in Vietnam. Dengue Fever could pose a problem in places outside of Hanoi. Don't drink the water in Hanoi and boil it for a while to steralise it. Or use a water to go bottle – this is how I drunk clean water while in the city!
You can purchase by clicking here.
Where to go from Hanoi
Travellers from Hanoi can go in all four directions – north to the rice terraces of Sa Pa and China, east to the world-famous Ha Long Bay, west to wonderful Laos, or south to Vietnam's other cities and attractions. You can book transport to Sapa and elsewhere in Vietnam here. You can see my video about the best places to visit in Vietnam below.
There are good transport links to all of these places. Check out the rest of my Asia posts to get an idea of where you'd like to go, and if you want to book transport I'd recommend using the Bookaway search engine to get cheap tickets hassle-free. You can check it out by clicking here.I hope you've enjoyed this 3 days in Hanoi itinerary! I've got a lot more Vietnam posts in the works – so do check back or keep posted on Instagram, Facebook and Youtube!