One Month in China Itinerary for First Timers
If you're reading this China itinerary, I'm guessing you're planning a trip to the country.
China is one of my favourite countries to travel in. It's brimming with history and culture, from the Terrcotta Warriors to its many, many temples, but it has the most dynamic modern scene in cities like Shanghai and Guangzhou. It has desert, beaches and mountains (lots of the latter!), as well as some of the most impressive megacities you'll likely ever see.
I've been to China four times now, so I know a thing or two about planning a China itinerary.
Planning Your China Itinerary
First up, don't feel overwhelmed.
On my first time in China, I landed in Beijing with no guidebook, no phrasebook and I only knew how to say 'this is my foot', 'you are very beautiful' and 'make me a cup of tea' in Mandarin.
These phrases are probably only useful to a flirty shoe model with a caffeine addiction and didn't help me at all when I was navigating the airport, buying a subway ticket and finding my way to my hostel.
But I still made it, not only to my hostel but travelling around for two whole months.
I am lucky to have family from China – my stepmum was born here, and I did spend some of my first two months in China with her and her family (although I arrived alone).
So I have had some help in that regard, but I'm going to pass on all that I've learnt about travel in China from my family in this post and others.
You don't have to know Mandarin to spend 1 month in China, but I do recommend some forward planning.
First thing first – get your Chinese visa sorted. It's a bit of a complicated process, but you can check out this handy guide on how to get a Chinese visa for some great pointers.
The second step is to think about the best places to visit in China and work out exactly where you want to go. Luckily for you, I've done all the hard work! Here's a month's China itinerary to see the main highlights of the country, including tips for travelling to each destination.
There's a high chance that this post contains affiliate links, including Amazon associate links. If you make a purchase using one of these links, I may get a small commission at no extra cost to you. This is just one of the ways I keep this site and my content running for free!
Travelling in China Essentials
You'd be daft to visit China without guidebook and phrasebook (that was me, umm…).
Other things I wouldn't forget for China would be my water to go bottle, collapsible tupperware (perfect to store delicious leftover Chinese food in!), my kindle
(there's a lot of long bus rides), a rain mac (it can rain at any time of year!), a good first aid kit, a bumbag to keep all of my valuables in and a good smartphone to download some useful apps for China.
One Month in China Itinerary
This one month in China itinerary includes every place that I visited in the country on my first trip, when I was keen on seeing all of China's highlights. I have returned and visited other places since.
On my first trip I also spent a week in Liaoyuan, a non-touristy city in China, visiting family. I loved visiting and would recommend that anyone add a trip to a non-touristy city to their China itinerary, but because this post discusses the highlights, I haven't included it. But read this post to learn about why I think everyone should visit a non touristy city in China!
This China itinerary covers the following cities:
Beijing (and the Great Wall of China)
Xi'an (and Huashan Mountain)
Shanghai
Nanjing
Chengdu
Jiuzhaigou
Guilin (and the rice terraces of Longsheng)
Hong Kong
It's a very packed one-month itinerary for China, but it is feasible.
If you have more time in China, I'd also recommend the following places that I have since visited: 
Kunming: this is a city close to the Vietnamese border, so is a good jumping point from or into Vietnam and South East Asia. The city itself is ok, with a few attractions to pass a day or two, but it's nestled in the Yunnan province with lots of opportunities to see some spectacular nature.
Dali: a night train from Kunming, Dali is nestled in the mountains, with some great hikes and temples, and the old city is a popular UNESCO world-heritage site with a fun backpacking scene unlike many other places in China.
Chongqing: a popular layover destination, Chongqing has some attractions within the city, like the old quarter and various temples, and is also the gateway to the Yangtze River.
Guangzhou: one of China's crazy megacities, Guangzhou has modern architecture twinned with a compelling and multicultural history.
Hangzhou: one of China's most beautiful cities, Hangzhou has various scenic areas arranged around a beautiful lake.
Nanning: again, a good jumping place if you're travelling into/ out of South East Asia (you can take a direct train from Hanoi to Nanning), Nanning is a modern city with not all that much in the way of attractions – but it's still quite interesting to check out local life.
Erlian: right at the border of Mongolia in the Gobi Desert, Erlian is famed for prehistoric dinosaur history and is a great place to enjoy Mongolian culture without actually crossing over. If you are crossing into Mongolia, check out my guide to Ulaanbaatar, its capital.
Zhangjiajie: famed for being the inspiration to Avatar, Zhangjiajie has beautiful mountains and some great hiking opportunities. You can check out my YouTube video below:
One Month in China Itinerary
Below is a sample one month China itinerary that I have put together from my four trips to the country and conversations with my Chinese relatives. As you can see, this travels a lot of ground in a month and includes a fair amount of overnight trains that you might find very tiring. That being said, I'd recommend thinking about your own travel style, and if you need to omit some of these places, then do so.
If you're not sure what to omit and what to include, here's my advice: on a first trip to China, Beijing, Shanghai and Xi'an are must-see cities to understand the nation's culture and history. Guilin is probably the most accessible place for nature, and from there it's an easy jumping-point to Hong Kong. Jiuzhaigou is my favourite nature spot in China, but you do need to go to Chengdu to get there.
Zhangjiajie is stunning, and worth seeing if you've got time, Hangzhou is a really special Chinese city and worth seeing to prove that cities in China can be beautiful, and Nanjing has a lot of WW2 history, a very sombre but significant message from China's dark past. These are all destinations that are worth visiting in their own right.
However, if you think that your one month in China itinerary will be too rushed with all these destinations, it might be worth prioritizing what you want to see.
That being said, it's entirely possible to do this China itinerary in one month, and even have a couple of days wiggle room!
So let's get into this one month China itinerary.
Beijing and the Great Wall – 5 days
Start your China trip in its lively and chaotic capital. Beijing is perfect for China first-timers because it has all the conveniences of any large city but is still bursting with culture and history. From Beijing airport, you can take a metro all the way to the city centre, where a lot of hostels and hotels are located.
For the sake of this one month in China itinerary I'm recommending you spend three days in Beijing to see the highlights – but you could easily spend much longer. If you want to take your time to soak in the Chinese capital, 5 days in Beijing is perfect – if you want to take a more leisurely pace (which is a bit of an oxymoron in Beijing, but we'll go with it), you could spend over a week here. 
Day One: Tiananmen Square and the Forbidden City
Spend your first full day in China visiting two of its most famous attractions: Tiananmen Square and the Forbidden City. Be amazed at the vastness of Tiananmen Square, and snap a photo of the famous gates which are looked over by a portrait of Mao Zedong. You can even visit his Mausoleum if you arrive early enough!
Then walk through to the Forbidden City, an area filled with magnificent architecture and grandeur. Spend your afternoon wandering around the National Museum of China, which will definitely inspire you to learn more about this compelling country!
Day Two: The Summer Palace and the Temple of Heaven
On day number 2 in Beijing, I'd recommend visiting the Summer Palace and the Temple of Heaven.
If you thought the Forbidden City was grand, the Summer Palace will blow your mind away. Wander around this royal park and be amazed at both the enchanting pagodas and the stunning gardens.
After a morning here, be transported to the equally compelling Temple of Heaven – one of the most instagrammable places in Beijing – a medieval religious site used by historic emperors.
In the evening, check out the Beijing Opera – you can purchase tickets here.
Day Three: Historical and Cultural Beijing
Start your day at the Silk Market, where you can see some of the finest examples of Chinese Silk – which caused all sorts of cultural connections throughout the 12th century including the establishment of the Silk Road in places like Uzbekistan and the introduction of Islam to Central Asia and Western China. It was largely down to this Chinese product that one of the best land routes was ever made. Here you can check out the silk products, and buy some for yourself if you want some souvenirs.
Next, head to Lama Temple. This temple sees fewer tourists than the ones that you saw the day before, but it's actually one of my favourites. Then you can spend the afternoon exploring Beijing's hutongs, like Nanluoguxiang, and checking out its art scene at the 798 Art district.
I go into this itinerary in much more detail in my three days in Beijing post – check it out!
Day Four and Five: The Great Wall of China
Visiting the Great Wall of China is a must on anyone's Chinese wish list. But camping on the Great Wall is even more compelling, right?
Take an overnight camping tour with China Hiking to Jiankou, a completely unrestored section of the Great Wall. Relish in the serenity that comes with being at such a quiet area of this wall, and enjoy the architectural marvel that so many people associate with this Asian country.
You will camp overnight on the Great Wall, and a transfer back to Beijing will be organized in the morning. Spend the rest of the day visiting some spots you've missed out, or just chilling out ready for your overnight train to Xi'an. 
Take an overnight train from Beijing – Xi'an. I'd definitely advise booking trains in advance for your first time in China – it is very daunting to try to negotiate buying tickets with no Chinese and they often sell out. Use this link to see the latest deals. 
Xi'an – 3 days
Xi'an is probably my favourite Chinese city – I love the merge of cultures, the delicious street food, and the fairly compact layout of it all. It's steeped in history – it's one of the four ancient capitals of China, after all – and most of your China itinerary here will be spent exploring the stories that the city has to offer. Of course, there's a trip out the city to see the world-famous Terracotta Warriors, and a day trip to Huashan Mountain as well.
Day Six: Xi'an City
Once upon a time all cities in China were walled. Xi'an is one of few cities whose walls have not been abolished and can be explored at your own leisure.
Spend the morning on top of these walls, either walking along them or exploring the walls by bike (they can be rented from the top of the walls), before descending into the city's Muslim Quarter. Here you can enjoy the delicious and cheap street food and walk around Xi'an's Great Mosque.
Day Seven: The Terracotta Warriors
On day two, take a transfer to the Terracotta Warriors, an ancient selection of soldiers that were made with the intention to protect an emperor after his death. The ensemble of figures is an amazing feat – be sure to snap lots of pictures before leaving!
Spend the afternoon wandering around the Wild Goose Pagoda, an ancient building from the Tang Dynasty.
Day Eight: Huashan Mountain
For you last day in Xi'an, take an early transfer to Huashan Mountain, a sacred Daoist mountain (and thought by some to be the most dangerous mountain in China!).
The path around it can be easily navigated and it offers some spectacular views. But be sure to descend to catch the last bus back to Xi'an that night at 7pm!
Read my full guide on a day trip to Huashan Mountain and my thoughts on its safety here.
Overnight train from Xi'an to Chengdu – use this link to see the latest deals. 
Chengdu – 2 days
Day Eleven: Chengdu Panda Base
Take a bus to the Chengdu Panda Breeding and Research Centre and learn about how the national animal of China is being kept away from extinction.
Even though I had some doubts about this place, I strongly believe that everyone should visit it to make their own minds up – but I would strongly advise against holding pandas for photo opportunities. Read about whether the Chengdu Panda Centre is ethical or not here.
Day Twelve: Leshan Giant Buddha
The next day, you could visit the world's largest Buddha at Leshan, which is 2 hours away. Spend the day exploring the scenic area and the many Buddhas it contains, as well as marvelling at the Big Buddha itself.
Day Thirteen: Bus to Jiuzhaigou
A 10-hour bus will take you to Jiuzhaigou, an enchanting town on the edge of the Tibetan Plateau. The bus journey is very long and it's likely that you'll be the only non-Chinese person on it, but it does make a lot of (maybe too many!) food/ toilet stops and the scenery is spectacular. There will be a post about how to get this bus very soon. 🙂 
Day Fourteen: Jiuzhaigou National Park
Spend the day exploring Jiuzhaigou National Park. With gorgeous waterfalls and outstandingly blue lakes, this park shows off the very best of China's nature.
Day Fifteen: Exploring Jiuzhaigou's Surroundings
Jiuzhaigou isn't technically in Tibet, but it's culturally as close as you can get without a separate visa. Spend the day exploring the surroundings of Jiuzhaigou and enjoying the sub-Himalayan culture of this area of Asia.
You can do so by hiring a driver (you're unlikely to get an English-speaking driver, but if you ask your hotel/ hostel for someone to show you some local spots they will be happy to oblige and recommend places).
Where to Stay in Jiuzhaigou
Day Sixteen: Bus to Chengdu
Take the bus back from Jiuzhaigou to Chengdu. Once you're off the bus, transfer to the train for an overnight journey from Chengdu to Nanjing. Use this link to find the best deals. 
Nanjing – 1 day
Day Ten: Nanjing Massacre Memorial
During your one day in Nanjing, the Nanjing Massacre Memorial. This is a difficult place to visit but a very important one. Here you will learn all about one of the most gruesome genocides of the Second World War, and the story of the war in Asia.
The attached museum is fantastic and gives a real insight to WW2 in this part of the world, which is very important to learn about, especially if you only studied European WW2 history in school like most schools in Britain.
Take an overnight train from Nanjing – Guilin. Use this link to purchase tickets. 
Shanghai – 3 days
Shanghai is one of China's most-visited cities, and the most western-friendly. The city is a huge, glittering, metropolis, with over 23 million inhabitants, but its land size, city planning and public transport make it relatively easy to both enjoy its urban attractions and green spaces – and there are also plenty of day trips from Shanghai that enjoy its nearby nature, that you can do if you have more time in the city.
Day Nine: Shanghai Highlights
Start your time in Shanghai by enjoying the intriguing skyline of The Bund. Even if you only have one day in Shanghai, this should be your first stop.
A stark contrast to the ancient temples of Beijing, The Bund showcases futuristic China. After taking some snaps of this modern marvel, take a walk down East Nanjing Road, the busiest road in Shanghai.
And if you want some serenity after the chaos, take a stroll down to Yuyuan Garden which is a calm oasis in the middle of the mad city.
Day Eight: Alternative and Historical Shanghai
The next day, take a walk around the French Concession and visit the alleyways brimming with shops and restaurants of Tian Zi Fang. Then head out and explore one of the city's most unusual museums – the Propaganda Poster Museum!
Afterwards, learn all about China's modern city at the Shanghai Museum. You can also ascend the TV tower for a great view over the city – this is best done at sunset, but do be aware that there are sometimes queues of an hour or more to reach the top of the TV tower.
Day Nine: Zhujiajio Floating Village
On your last day in Shanghai, consider getting out of the city and exploring the water village of Zhujaijio, which is home to a network of scenic canals, as well as cute cafes and bars and authentic culture.
Then head back to the city for an evening bullet train to Nanjing! You can check out my YouTube video to see what to expect from the bullet trains below and use this link to find some awesome deals.


Day Seventeen: Guilin City
Arrive in Guilin and spend the first day exploring the city, maybe doing a free walking tour. Visit the famous elephant trunk hill and walk around the varied and interesting food markets, enjoying some street food for dinner.
Day Eighteen: River Li and Yangshuo
The next day, get a transfer to the River Li and take a cruise around the river. Afterward, spend some time enjoying the natural scenery around Yangshuo. If you have some spare time on your China itinerary, consider staying here ofr a night to enjoy the scenery. Or if you're in a rush, take a transfer back to Guilin for the evening.
Day Nineteen and Twenty: Longsheng
Take a bus to the Longji Rice Terraces and spend the day walking around the stunning area. Enjoy both the scenery and the rustic village atmosphere, and spend the night there for a sunrise over the picturesque rice terraces. Here are some reasons why you should favour staying in Yangshuo and Longsheng over Guilin!
Day Twenty One: Hong Kong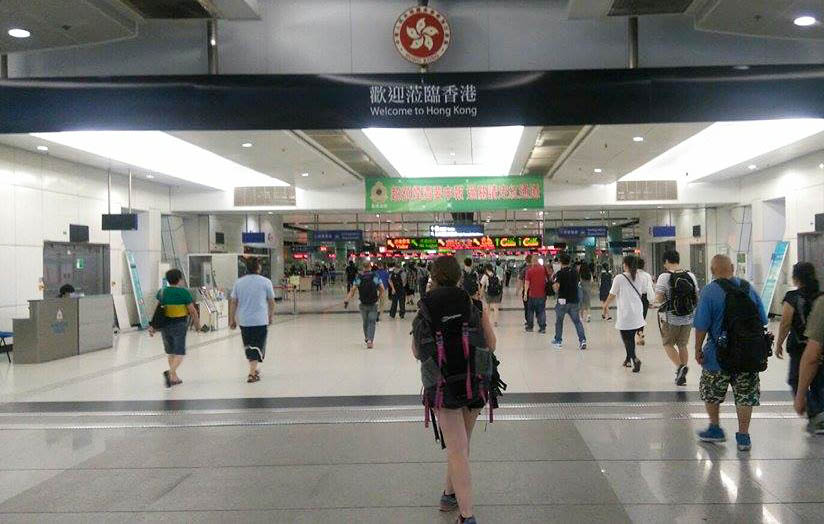 Take a train from Guilin to Shenzhen in the morning – book tickets by clicking here – and then cross the border into Hong Kong (I personally couldn't stand Shenzhen, but some travellers do spend time here).
Spend the first afternoon in the Kowloon area, visiting the Temple Markets as they open at night.
Day Twenty-Two: Hong Kong Highlights
The next day, take the Peak Tram up to Victoria Peak and enjoy the impressive cityscape of Hong Kong laid out in front of you. In the afternoon, take a trip to the Hong Kong museum to learn more about the city. And be sure to catch the Symphony of Lights at 8pm.
Day Twenty-Three: More Hong Kong
On your next day in Hong Kong, take the cable car up to the Hong Kong Buddha and visit the Po Lin Monastery. Spend your last afternoon in Hong Kong exploring the Tsim Sha Tsui area of the city.
If you have a bit more time in Hong Kong and the surrounding areas, check out this detailed itinerary for Hong Kong and Macau.
Where to go from Hong Kong
Your first time China trip ends today! Hong Kong has a very well connected airport that can take you to global destinations. Alternatively, cross back over into China (if you have a multiple entry visa) to explore more of the country, or have an overland adventure to South East Asia!
Still have questions? Check out my other China posts…
Solo Travel in China – tips on how to navigate the country if you're travelling alone (also useful if you're not!)
Train Travel in China – taking the trains through China? Be sure to read this article to learn about everything you'll need to know
I hope you found this China travel itinerary useful. I've got loads of deeper resources on each destination mentioned – click on the hyperlinks for more information! And please do not hesitate to contact me, either in the comments box below or over on Facebook if you have any China-related questions!
Have you ever been to China? What were your highlights if so? If not, what is the #1 thing you want to do in the country?
If you liked this first time in China backpacking itinerary, please share it or follow me on Facebook!
10 responses to "One Month in China Itinerary for First Timers"