You'll never guess the last place I went camping… The Great Wall of China!
Crowds are something that you just have to deal with in China. Whether they be outside museums and attractions, or inside subway stations, there's no escaping the masses of people in this country – up to 1.5 billion locals and countless tourists. When I came to China, I knew that I'd have to do a certain amount of crowd-standing and pushing in, and I looked on it as all part of the cultural experience.
But one thing that I really didn't want to have to battle through the crowds for was my trip to the Great Wall of China. It's somewhere that has always enthralled me; I've always been amazed at the spine of the architectural marvel traversing hill after hill ending (or beginning?) with the Jiayuguan Fortress, and I knew that I wanted to experience and admire this crowd-free.
I'd seen that (in)famous picture of thousands of tourists crammed into one section of the Great Wall, and I'd heard about how busy certain parts of China's most famous tourist attraction can get. Is there any way to see the Great Wall of China crowd-free? I wondered.
Pssst… are you just in Beijing between flights? Find out how to see the Great Wall on a layover here!
Luckily, I stumbled upon this great article about how to see the wall crowd-free by Thrifty Nomads. They explain the best ways to enjoy the famous wall without thousands of other people clambering for the same view.
While reading through the article, one link in particular caught my eye – Camping the Great Wall of China. Intrigued, I clicked through to China Hiking's website to see what this entailed.
It promised a 10 kilometre trek on the Great Wall of China, camping overnight after hiking up to an unrestored section of the Great Wall that isn't open to the public and traversing the unrestored wall itself. After the overnight stay it promised a leisurely amble back down in the morning, and three authentic meals included in the price.
After hiking Acatenango volcano in Guatemala last year, I decided that there was no way it could be any worse than that, and pressed the 'Book Now' button.
Hiking Jiankou, an unrestored section of the Great Wall of China
Jiankou is a tough section of the Great Wall of China. It's also not really accessible to tourists; a family own the section of wall, and you can only really get to it if you're with a guide who has an arrangement with them.
Do you know what this means? Glorious, uninterrupted wall bliss.
The catch? Hiking to an unrestored section of the wall, like Jiankou, is not easy. I thought it couldn't be harder than my insanely difficult volcano hike. It was definitely different to the hike, and was less of an ordeal because it was a lot shorter, but the overwhelming heat and the fact that I was carrying about 7kgs of camping gear certainly did not make it easy!
However, the extremely challenging hike only lasts for an hour or so. And while it was difficult, it was never completely unbearable; mainly because we were all spurred on by the view that promised us at the top.
And it was certainly all worth it. After the incline, we finally turned a corner to see the watchtower that we'd been keeping an eye on suddenly a great deal closer, and after a few dozen more steps, we were at its entrance where we could clamber into the watchtower itself, drop our bags and climb to the top.
Here's where we were greeted with one of the most fascinating architectural feats of the 15th and 16th century; the majestic wall spanning up and down hills, as far as the eye could see. And just as China Hiking had promised, it was deserted. The only people within viewing range were our tour group, and the wall itself was completely unrestored; as if the last people to be there were those from the Ming Dynasty over 500 years ago.
Hiking the Great Wall of China with China Hiking
I couldn't have wished for a better company for my hiking and camping experience on the Great Wall of China. From the moment I met the guides at the allocated meeting point, the entire day ran with the highest professionalism and care. Our guides, John and Jamie, supported us throughout the hike, made safety the highest priority and gave us interesting facts about the wall, with lots of jokes thrown in along the way!
Included in the price was a delicious lunch at a restaurant near the wall, a well-deserved dinner on the wall itself and breakfast the next day at a local B&B. We were certainly well fed, and it was great to have the opportunity to eat at these local restaurants and try the authentic food.
One last thing that really impressed me about China Hiking was their dedication to preserving the Great Wall. Our guides made sure that we left the wall without a trace and ensured that we all cleared up any rubbish from the night. This helps keep the wall great and it's great to see a company with such an emphasis on this!
Camping on the Great Wall of China
Camping on the Great Wall of China is not an experience that I'll be forgetting in a hurry! After we had hiked for 8km we reached a watchtower where we pitched up our tents and got ready for a night in the wilderness of the wall.
While our dinner was being prepared by our wonderful guides, the sky started to darken ever so slightly and one of the group members felt a solitary drop of rain. Soon, we heard a faraway rumble of thunder, which then evolved into a furious thunderstorm. The sky would illuminate each time lightning struck, and was always followed by the ominous groan of thunder.
The rain was falling sideways into the tunnel, and we had to edge around a corner to keep dry. I felt a mix of amazement and fear but gleefully knew that this would be one of my most unforgettable nights in China. How many people can say that they've sheltered from a thunderstorm while camping on the Great Wall?
The thunderstorm passed as quickly as it had came on, and soon we were laughing about it all over a delicious plate of noodles and vegetables. After the thunderstorm, it cleared enough for us to have a campfire outside, where we roasted marshmallows, sung songs and drank; in the cloudless sky we could even see some star constellations!
We retired to our tents eager to wake up for 4:40am and potentially catch a sunrise. After my alarm went off at 4:30, I clambered out of my tent to be greeted warmly by… a load of mist. The sunrise looked very unlikely, but I decided to climb to the top of the watchtower and admire the view nonetheless.
Even though the sky just lightened its greyish shade rather than boasting a spectacular sunrise, the wall being gradually more and more lit up was a marvellous sight. I was quite alone as I stared over section after section of the wall; and felt in wonderful harmony with everywhere around me.
It was soon time to return to the hustle and bustle of central Beijing and continue my Chinese adventure, which no doubt was to include more queuing and crowding! But I am extremely grateful to have been able to explore such an unfrequented part of the Great Wall.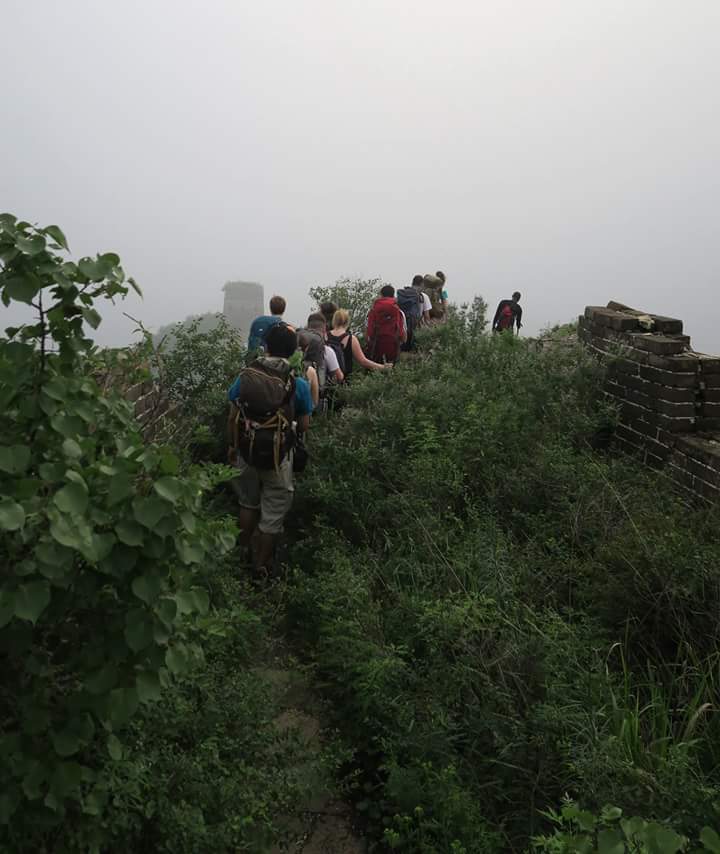 Despite the lack of the sunrise and the somewhat scary thunderstorm, my night at the Great Wall was pretty perfect; which was all thanks to my excellent guides from China Hiking. If you're thinking of doing any hikes in this country, do get in touch with these guys to see what they have to offer – you can visit their website here!
This isn't a sponsored post, I'm just writing about these guys because they're so awesome. Thanks again for an amazing trip!
You know you want to pin it…