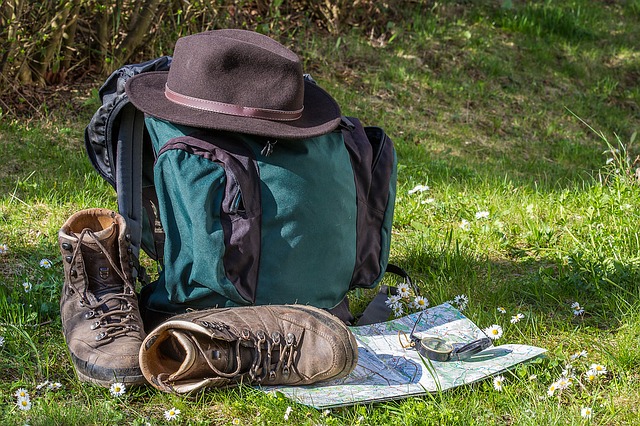 In the last couple of years we've learnt lots about the importance of eco-travel. What with flying, the resulting need for chain restaurants and hotels and certain tourists who leave their footprint wherever they visit, travelling isn't always the most eco-friendly of hobbies.
But there's lots of ways to be a more eco-friendly traveller; you can enjoy local cuisine on a food trip, travel slowly using public transport and use companies that make conscious efforts to minimise their carbon footprint. Check out these awesome posts from Don't Forget to Move and Chantae for some more great ideas!
But, before you begin your adventure, it's important that you pack green. By this, I don't mean that you only opt for one colour of clothing, but you select green travel products and gear that are going to leave minimum impact on the world around you. But how do I know which products are best for the environment? I hear you ask. Whether you're packing for a summer holiday or a winter trip, you can make great sustainable choices to create a green backpack.
When I look for green travel products and gear, I ask myself the following questions
• What kind of material or ingredients is it made from?
• Does it help me cut my disposable material use?
• Is it lightweight?
Using the answers to these questions, I've compiled a list of eco-friendly travel products that I always carry with me. Most of these can be packed into your in flight bag, but here's a full hand luggage packing list!
Green Travel Products
Your Toiletry Bag
You should definitely begin your green travel packing with an eco-friendly toiletries bag. I don't tend to carry around much make-up with me; I'm far too impatient to faff around with the likes of contouring and primer. There's loads of places where you can get environmentally friendly make up (unfortunately I can't really advise on this, as I don't even own a foundation…) but check out here and here for more information.
What I can advise on is good, nourishing, vegan skincare and toiletry products. To which Lush is the answer.
If you don't know, Lush is a cosmetic shop which is dedicated to producing eco-friendly, natural and vegan products. It's basically an eco-warrior's heaven and it's where I do all of my toiletry shopping.
Why are Lush products so eco-friendly?
Firstly, as aforementioned, all of their products are made with vegan ingredients, so you can be sure that they are completely animal and environmentally friendly.
All except one of what I'm reviewing come in solid form without packaging.
The products also last for much longer than their liquid substitutes; meaning that for every solid product that you use, you can save the world from multiple plastic bottles.
They are much lighter in the first place, and the reduction in weight that these products offer ultimately means less weight in your bag, less weight loaded on whatever form of transport and less fuel emissions. Although this only makes a very small difference individually, if everyone did it we would be cutting emissions hugely!
Here's the best items sold by Lush, that are perfect for your eco-friendly travel washbag:
Solid Shampoo
Shampoo – in soap form. It's a bit of a strange idea, but you just lather it as much as possible, like normal soap. Then you put on and wash off like normal shampoo. You can purchase it in all kinds of scents and will undoubtedly find one perfect for your hair type.
For some more information, take a look at this solid shampoo review by Alex in Wanderland. It's worth noting that since I started using the solid shampoo, I have stopped using conditioner entirely (and I have long, thick hair!) but if you want to use a solid conditioner as well, check out her review of Creating Harmony Solid Conditioner.
Lush soap/ body gel

The lush soaps double up as body gel and come in all sorts of forms, for whatever kind of washing experience you want. Choose a moisturising bar to soothe your skin, or perhaps one with exfoliating oats in – whatever your choice, you can be sure that it will contain vegan ingredients and be sold to you unpackaged, ideal for your eco-concious soul!
Lush Deodorant
The deodorant was the Lush solid product that I was the most sceptical of, but actually turned out to be my favourite. Due to constantly running around everywhere and dashing from place to place, I have the tendency to get the tiniest bit sweaty, and I am quite fussy with my deodorant choices.
But then I used Lush's deodorant – which again is sold in solid form – and you just rub it on like a roll-on deodorant – and went about my day. No odour. Dashed around the shops. No odour. Went to Body Pump gym class. Absolutely no odour. And I kicked myself for not trying it sooner!
I'd recommend Lush's solid deodorant to anybody – I use it at home as well as when I'm away. I don't know quite how they manage to completely prevent bad smells, but it sure as hell works. Just another example of plant power I guess!
Lush Toothy Tabs
Say cheese! These toothy tabs come in all different types and are perfect for a non-liquid alternative to toothpaste. Every time I have used these, my teeth have been glistening and my mouth has felt like heaven. As they will run out the soonest, I also use a small tube of toothpaste, but they are a fantastic vegan product.
Mooncup (for girls only!)
Mooncups are a fantastic tampon and sanitary towel substitute. Don't shudder at the thought of a reusable cup – they're actually a lot easier to use than you'd think, and are wonderful for travelling.
By using a Mooncup, you cut waste enormously, hugely helping out the planet.
And it's perfect for travelling for more reasons:
The mooncup is also convenient and lightweight, ideal for travelling (you only have to carry around a lightweight cup rather than loads of tampons or towels).
It works out super cheap (a £17 one off price and it lasts for years).
Finally it's there for use in countries where tampons aren't readily accessible (which is a lot)!
If you're a travelling girl and haven't converted to a mooncup yet, I'd really recommend you take the switch.
Buy a Mooncup here
Green Travel Gear
Microfibre Towel
The days of lugging a super heavy wet towel around are behind us, thanks to this amazing microfibre towel! It's ultra light and dries really quickly, making it ideal for travelling purposes. Despite its lightness, it functions perfectly and is a very efficient eco-friendly travelling item. And its lightness obviously means that the bag will weigh less and hence less fuel emissions will be produced.
Buy a Microfibre Towel here
Water to Go Bottle
Constantly buying and throwing away plastic bottles really takes its toll on the environment, especially in less developed countries where the recycling system is not as sophisticated. Obviously, to avoid this, you can take a reusable bottle and refill it from clean water sources, but what about when you don't have access to drinking water?
I bring you the 'Water to Go' bottle. This comes fitted with a device which filters water from any source and gives you clean drinking water.
I will be reviewing this bottle whilst I am in China, but from what I have read, they're a great item that can help you save money and the world in the process!
Material Bag
In the UK there is now a charge of 5 pence for each plastic bag; this is so people are encouraged to bring reusable bags, and I think it's a great incentive! You can carry this mentality with you while you're travelling by packing a material bag into your backpack for when you go food or souvenir shopping. I bought a material bag in Chelsea Market in New York last year which I love and always squeeze into my backpack as a shopping bag!
Tupperware
Carrying around some Tupperware will encourage you to cook in hostel kitchens and take a packed lunch rather than buying food to go in shops or restaurants. This, again, is a great way to cut our plastic use (and saves some money in the process!). This great set that I use collapse to be half the size, which is perfect for backpack space saving!
Buy a set of Collapsible Tupperware
Portable Knife and Fork
You'll need something to eat your Tupperware food with, and this compact set of knife, fork, spoon and chopsticks is perfect. Not only does it stop you using disposable plastic cutlery, but it is so lightweight and compact that it won't add anything to the weight of your baggage. Perfect!
Buy a portable cultery set
Portable Blender
Once again, this reusable product cuts down on your cup use and means that you can make use of local fruits and vegetables to make delicious smoothies and juices. The blender is charged through a USB charger, which saves batteries getting wasted.
Buy a portable blender
How Eco-Friendly is your Backpack?
Any trip starts with packing, and if you're conscious about eco-travel, make sure that your trip starts off on the best (green) foot by packing a backpack contains these items or similar. Remember, packing eco-friendly products and gear and generally being a responsible traveller means that you can save the world while exploring it!
I may receive a small commission, at no extra cost to you, if you purchase some of these products by clicking the links I have provided. This is just one of the ways I am able to travel and keep up this blog, so if you like the look of any of these items, please support Claire's Footsteps and use my link!
If you enjoyed this article, please share it or follow me on Facebook!
Pin Me!