Now, I'm not saying that I didn't enjoy Chinese cities. I loved Shanghai way more than I thought I would, and I enjoyed exploring a remote city in China, Liaoyuan.
But, after six weeks exploring city after city, I thought my head was going to explode.
As I arrived in Guilin from a 21 hour train from Nanjing, I wearily looked around me at…. Another city. Granted, this one was a bit different, with South East Asian influences (and mangoes!), but it wasn't doing much to help my city fatigue.
Luckily, I had the perfect remedy in store.
I was going to visit a Longsheng Rice Terrace without a guide; more specifically, I was going to go to a small village nestled in the Longji Rice Terraces called Ping'an. I was going to have a much needed couple of days of rest, rejuvination and rice trekking completely out of a city.
Visiting the Longji Rice Terraces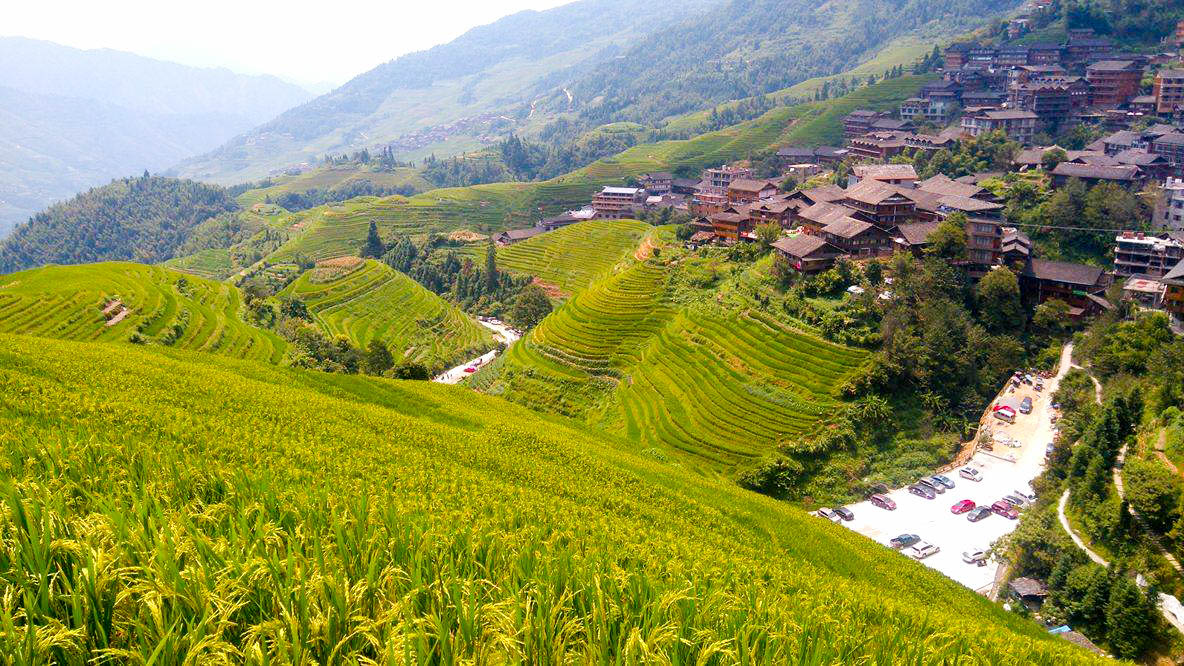 My main reason for visiting this part of China was to see the Longji Rice Terraces. I'd seen the famous photos, I knew that they were a must visit in China, and I was dying to go.
But I didn't want to go on a tour. Tours really aren't my thing – I like doing exactly what I want to do, when I want to do it, and feeling like the experience is unique to me. I didn't want to just go to a tourist trodden part of the rice terraces. I wanted an experience.
How to visit the Longji Rice Terraces without a tour guide
Typ 'Longji Rice Terrace Tour' into google and you'll get lots of responses, but 'Longji Rice Terrace No Tour Guide' elicits much fewer. You could easily think that the only way to see the Longji Rice Terraces is with a tour guide, but it's extremely easy to do without.
Why visit the Longji Rice Terraces without a tour guide?
Whether you like tours or not, there are still lots of reasons to visit the Longji Rice Terraces with no tour guide.
Tours to Longji often just go to the tourist spots, and all at the same time. If you don't take a tour, you can avoid being mixed in with all the other groups.
Tours to Longji only take a day, leaving at 8am and returning at 6pm. This gives you about 3 hours to explore the rice paddies, which in my opinion, is nowhere near enough time. Consider that you'll want to factor in time to enjoy the village and soak up the countryside atmosphere too, and for this two days was barely enough time for me!
If you don't take a tour to Longji, you have the huge benefit of being able to stay overnight and catching the sunrise or sunset. While I didn't get a great sunrise, it was still a magical experience and I've seen some surreal pictures of Longji as the sun is coming up.
It costs about the same price to go with a tour for one day as it does to stay at the terraces overnight if you go solo.
I didn't do this myself, but I met people who went trekking from one village to another. They said that while tough, this trek was one of their best experiences in China and had I known about it sooner, it would have been something that I would have loved to have done.
Ok, I'm sold… but how do I reach the Longji Rice Terraces alone?
Easy peasy. One option is to take a direct bus, which can be booked through most hostels and hotels and costs 50 yuan. It takes between 2 and 3 hours and the pick up point is a hotel near Guilin station.
The other option is slightly more complicated and involves taking a bus to Longsheng or Heping Village and changing for a bus to the village that you would like to visit. This adds up to 40 yuan. Normally, I'd always choose the harder and cheaper route, but for the sake of 10 yuan (about £1.20), I went for the direct bus.
The direct bus drives you to the scenic area gates, where you must pay the entrance fee to the bus (which is 95 yuan I'm afraid… national parks in China aren't cheap!) and then takes you to the village that you have decided to go to.
Which Longji Village should I visit?
My choice was Ping'an. After booking my hostel, I decided to do a bit of research on the village (backwards, I know…) and was advised that it was the most touristy of the Longji villages. Still, lured in by promising photos of green paddy fields (marketing at its best), I still decided to go there.
Well, I'm now very keen to visit the other villages at Longji Rice Terraces and see how touristy they are. I guess 'less touristy' must mean that the ten or so other people I saw in the terraces themselves over the course of the two days must not be there?
Nonetheless, as long as you don't mind your rice terrace vista being interrupted once an hour or so by another tourist, Ping'an should be fine. I was very happy with my choice. The village had treks to two different viewing points, both which were absolutely stunning. Both treks only took about half an hour each way (so an hour round trip) but I spent much longer just taking everything in and marvelling at the scenery.
Dazhai is another good choice for visitors to the Longji Rice Terraces. I was told that it is a little more 'out the way'- than Ping'an, with less street vendors. While this may be appealing as it tends to mean less crowds, this really wasn't much of a problem for me in Ping'an.
As I previously mentioned, other travellers that I met hiked from Dazhai to Ping'an and said it was a challenging but rewarding walk. They relied just on having 'which way to Ping'an' written on a piece of paper and made it to the village just before sundown. While pretty nerve-wracking, they said that the sunset over the fields made it all worth it!
Hostels at the Longji Rice Terrace 
My Ping'an hostel was great; I stayed at Longji International YHA and felt immediately welcomed. The entire building is made out of wood, which gives it a rustic and homely feel. I actually had an entire dorm to myself, which was lovely and relaxing. It's not the most social of hostels (as in: I think I was the only person staying there), but it makes for an idyllic break to the countryside.
Click here for rates and to book Longji International YHA.
Food in Ping'an is generally expensive, and somewhat lacking in vegetarian options, so I had dinner and then breakfast and lunch at the hostel. They served a mix of western and Asian food, including aubergine (of course, that's pretty much all I ate in China) and egg and tomato soup for reasonable prices.
Hikes in Ping'an
There are two main hikes to do from Ping'an. The first is called 'Nine Dragons and Five Tigers'. It ascends directly above the area by the hostel, which means that you are immediately engulfed in rice fields as soon as you start to climb. The hills covered by paddies are completely spectacular and make for a completely incredible walk. You can climb for about 20 minutes, surrounded by the gorgeous fields. The view from the top is pretty spectacular, with the green paddies traversing the horizon for miles, littered with rustic huts.
I took an afternoon to do this hike – it can be done in a much shorter time but I really wanted to take everything in.
The second hike from Ping'an is up to 'Seven Stats with the Moon' point. This walk takes you through rural lanes and alleys, past local shops and cafes and upwards to some fantastic viewing points. Here was the first time I felt like I was really in rural China and I loved it.
I think the view from Seven Stars with the Moon is even more spectacular than the Nine Dragons and Five Tigers viewpoint, and it's an ideal place to watch the sunrise. I didn't get much of a colour display but I couldn't really complain with the view that I had!
Both viewpoints are signposted, but it's a good idea to take a photo of one of these signs for if you do get lost. Both English and Chinese are written on the signs and any local will be happy to point you in the right direction.
Exploring Ping'an Village
There's not a huge amount to see in Ping'an village but it's nice for a little stroll, to enjoy not being in a huge city and to meet some local people. There are a few eateries and places to buy some souvenirs – I didn't have the budget or the backpack space to get any of these so wouldn't know how much they cost!
There's pretty much all you'll need to know for a day trip to the Longji Rice Terraces without a guide. If you have any more questions about the terraces please just drop me a comment! I'd also love to hear about any rice terraces you've visited or day trips that you have done without a guide!
If you enjoyed this post, please share it or follow me on Instagram!