Where to Stay in Byron Bay: Areas Guide
I arrived in Byron Bay on a night bus from Sydney one September morning. The subtropical town had just come out of winter, so it was still jacket weather, but was starting to get warm. I remember walking down Johnson Street, ecstatic that I'd finally reached the town that I was planning on staying in for a few months. 
5 months later, and I left Byron with the heaviest of hearts. I was off on a road trip around the whole of Australia, so I couldn't be too mad, but leaving was really really tough. 
Anyway, I've managed to put together my best Byron Bay travel tips over the course of the last few years. But I realised that although I've written about hostels in Byron Bay, I've never done a complete Byron Bay accommodation guide to help you decide where to stay in Byron Bay. 
So today's the day I post just that! Even though Byron Bay is a small town, it has diverse with accommodation options and a few different neighborhoods to consider – I've personally stayed at a few of these hotels, but also have worked at a few (during my brief stint as a freelance cleaner…) and known people who recommended others.
If you're wondering what the best places to stay in Byron Bay are, this post will help you figure it out!
Where to Stay in Byron Bay – the best options
If you don't have enough time to read the whole of this post (don't blame ya, we're all busy, and I tend to ramble…), here is the best hostel, guesthouse, mid-range hotel and luxury hotel in the town, as selected by yours truly.
Hostel: The Arts Factory. This is the hostel that I lived in, and absolutely loved, for 5 months. There are dorm rooms and privates, and also the chance to go 'jungle camping'. Enjoy yoga sessions, a weekly talent show, bushcraft walks and more, all in a rustic, jungle setting. Click here for more information and to book.
Budget Hotel:  Reflections Holiday Parks is right opposite the beach, so it is the perfect location for a family beach holiday. Guests can check into cabins and villas of different sizes, which are compact yet pack a lot in, like full kitchens, lounges, flat screen TVs and comfortable bedrooms – it's like an upgraded caravan! Click here for more information. 
Mid-Range Hotel: The Lord Byron is a fresh, modern hotel with boutique-style rooms, just a short walk from all the action of the town centre. There is a swimming pool on-site – perfect for those hot Byron days! Rooms have a deluxe en-suite and bright and airy windows. Click here for more information.
Luxury Hotel: Garden Burees are self-contained apartments that offer a tranquil escape from the hustle of Byron centre, in luxury jungle surroundings. With decor inspired by Bali, these blissful apartments and studios have state-of-the-art features like tea and coffee facilities, flat-screen TVs and deluxe bathrooms – some which are even outside! Click here for rates and to reserve your spot. 
Best Areas to Stay in Byron Bay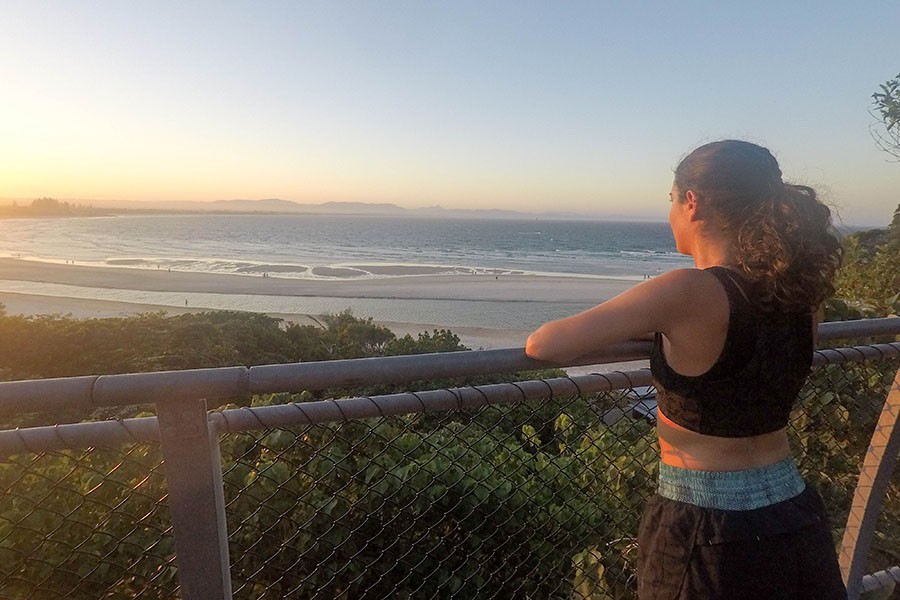 Here's the lowdown of the best areas to stay in Byron Bay, depending on what type of traveller you are. I've put together the best of my technical knowledge, which is very little, and if you click on the links below they'll take you to the corresponding section.
Where to stay in Byron Bay as a backpacker: Johnson Street
Where to stay in Byron Bay with kids: Tallows Beach
Where to stay in Byron Bay in luxury accommodation: Clarkes Street
Where to stay in Byron Bay on a budget: Shooters Hill
Where to stay in Byron Bay to be in nature: Nimbin
Johnson Street – Centre
Johnson Street was where I stumbled off the Greyhound bus at 5:30am on that September morning. This is the heart of Byron Bay – if you're spending some time here, a few of your activities will definitely take place in and around Johnson Street.
There are all sorts of bars and restaurants (including many of the best vegan restaurants in Byron Bay) here, as well as… you guessed it, lots of accommodation options. 
Pros: stay in Johnson Street to be a part of all the action and close to bars and restaurants in the evening. This makes it one of the best places to stay in Byron Bay for backpackers because there is always something going on.
Cons: it can be very busy here – and it touristy and doesn't quite have the laid back Byron vibes that you might be looking for. If you're looking for places to stay in Byron Bay with kids, it's not a bad choice because its close to the main beach and many restaurants, but it's also a bit loud at night.
Skinners Shoot
Pros: it's a lot quieter than other locations, and it's on the edge of some really nice nature. 
Cons: it's about a 15 minute walk to the beach, some people may feel uncomfortable walking around alone at night
Wategos and Tallows Beach
Beautiful Tallows beach is a surfing hotspot, is just under the lighthouse and is about a 40 minute walk from the town centre. Apart from the early morning surfers, it's largely deserted, but has beautiful mangroves and is close to the Arakwal National Park, where there are hiking trails and it's even possible to see koalas sometimes! There are also tea tree lakes close by as well. 
Pros: It's great for surfers, and is nice and quiet for families.
Cons: There are no hostels and not so much cheap accommodation. It's quite a way from the town centre, especially if walking back at night.
Clarkes Beach
If you want to stay somewhere that's close to the town centre, but far enough away that it doesn't feel like you're tripping over other holidayers at every step, Clarkes Beach might be your answer. It's the best place to stay in Byron Bay for luxury hotels, as resorts have more land to build here, and there aren't any backpacker options – I'd recommend looking at Johnson Street, Skinners Shoot or Belongil for them. But for couples and families, Clarkes Beach is a great option!
Pros: It's a quieter area yet still close to the main town.
Cons: not really any cheap options for backpackers, although the holiday park is ideal for families.
Belongil
Belongil is a quieter area, located just west? Of the city centre. It's home to a few beaches, the treehouse restaurant, tea tree lakes, and a few more rustic places to stay. It's the perfect Byron Bay neighborhood for those who want to chill out and be out of the hubbub of the town center. 
Pros: It's a quieter area yet still is close to Main Beach. There are options for different types of travellers, from backpackers to families to couples travelling in luxury.
Cons: It is a little bit ostracised from the rest of the town, and is a bit of a walk back from the town centre, but it's not huge.
Bangalow
Inland from Byron is Bangalow; you'll only want to stay here if you have your own transport, but it's one of the most unique areas to stay in Byron Bay if you do. It's got a charming, old-world atmosphere, with beautiful buildings and rolling hills as the village meets the hinterland. Staying here means you can enjoy the best waterfalls near Byron and other day trips around the town. 
Pros: It's out in the countryside and a lot less touristy than Byron Bay.
Cons: It's only accessible by car, being about a 20 minute drive from Byron Bay.
Nimbin
This one is 2 hours from Byron Bay, but I'd still class it as one of the best places to stay near Byron Bay (Australia is one huge country, after all, two hours is just down the road!). Nimbin is famous for one thing… weed. There's loads of the stuff here, even though it is technically still illegal. Doesn't seem to bother people as much though! 
However, I don't smoke weed, and I stand by the fact that Nimbin is a great place to learn about Aboriginal culture, enjoy small town life, browse the quirky shops, eat at good restaurants, and see some beautiful nature. It's great for backpackers and older travellers whether you want to smoke weed or not – I'd maybe avoid it if you're travelling with kids though!
Pros: it's out in nature, it's a different side to New South Wales, the people are very friendly (and maybe constantly high)
Cons: constantly being around weed can be a bit tiresome, and it's not really suitable for families. It's also a bit disconnected from other places.
Where will you stay in Bryon Bay?
Hopefully this blog post about the best hotels and hostels in Byron Bay have given you an idea of where to stay here! There are so many options in this town, from hostels to guesthouses to hotels. If you need any more information about holidaying in Byron Bay, check out the blog posts below!
Or check out all of my Australia blog posts here.
Let's keep in touch on Instagram or YouTube!
Pin Me!