Malaysia is a really special place. It's got a wealth of culture – due to its strategic position between east and west, and north and south, it has influences and many people from India, China and Britain. It also has some older influence from Portugal and the Netherlands. While this wasn't always great (imperialism rarely is), it does mean that it has a fusion of cultures living alongside each other.
I've always been struck by this when I've been to Malaysia – mosques, temples and churches stand next to each other (there are many streets called Harmony Streets which have different religious buildings on) and everyone gets along. You'll walk down any street and see a range of ethnicities and people, and everything will be so peaceful. This is so refreshing to see and on my first trip to Malaysia, was one of the main things that stuck with me, and has made me want to come back and explore more of Malaysia whenever I have the opportunity.
As well as a unique culture and history, Malaysia's got some incredible wildlife and nature, great beaches (although they're not quite as famous as elsewhere in South East Asia), modern cities and amazing food.
There is something for everyone in Malaysia – and what's more, it's easy to get around, things run on time more often than not, and the people are friendly and welcoming.
If you've got two weeks in Malaysia, I'm going to recommend you stick to peninsula Malaysia (and some islands!) and mainly hang around the western part of the country. I haven't been to either yet, but I've heard that Eastern Malaysia and Borneo are also destinations well worth visiting, but if it's your first time in Malaysia, the western destinations arguably offer the best representation of the country in the shortest space of time.
I've travelled in Malaysia with friends, with family and solo, so whether you want to backpack Malaysia or are wondering where to go in Malaysia for a short trip with a group, this itinerary will work for you.
There's a high chance that this post contains affiliate links. If you make a purchase or booking through these links, I may get a small comission, at no extra cost to you. This is just one of the ways I can continue producing this content for free! Thanks for your support :).
Malaysia travel route
So, in this 14 day Malaysia itinerary, we'll cover the following destinations:
Malacca
Kuala Lumpur
Cameron Highlands
Penang
Langkawi
Top tip: If you want to really immerse yourself in the fascinating culture and communicate with the locals more easily, you can even learn Malay online before your trip. Locals always appreciate when you speak a few words of their language, and it's actually one of the easier languages to learn, thanks to simple pronunciation and grammar rules.
How to get around Malaysia
There is a good rail service in Malaysia, but I'm recommending you do all of this by bus. Why? I hear you cry. Well, most destinations on this Malaysia itinerary aren't actually served by rail – Malacca and the Cameron Highlands don't have feasible links, and from Penang to Langkawi, taking the train would certainly be a long way around when the border between them is a sea.
But do not fret – Malaysian buses are fabulous.
If you're travelling solo, you'll get the luxury of an individual seat (by that I mean a seat between the aisle and the window, without sitting next to a stranger), so you can spread yourself out and don't have to be sociable. If you're travelling with someone, there is plenty of elbow room in the double seats. The seats recline really far, and you don't have to feel bad about doing so, because the person behind you will have more than enough legroom.
Malaysian buses knock Megabus, National Express and Greyhound Buses out of the field. Honestly, I promise you're going to have a swell time on them.
Have I sold Malaysian buses to you yet?
Where to stay in Malaysia
Malaysia has a range of accommodation options – from capsule hotels to hostels to luxury hotels, there's plenty here. And what's more, you can get luxury on a budget here. If you're looking for somewhere to treat yerself, you'll find 4* hotels for about 30-40 pound per night here, with 5* hotels knocking in at 50+.
Or, if you're on an uber budget, Malaysia's great for that as well. Dorm rooms cost about ? per night.
Guesthouses and mid-range hotels are, as you'd expect, somewhere around the middle of this range.
I'll be recommending hostels, hotels and guesthouses throughout this post – if you'd like to book any, just click on the links provided.
Or check out all accommodation options in Malaysia by clicking here!
WiFi in Malaysia
WiFi in Malaysia is generally pretty good. It's a little bit weaker in the Cameron Highlands and on Langkawi, but there are legit reasons for this (ie. you're up a mountain or in the middle of the sea). But on the mainland and at a normal altitude, basically everywhere I stayed had fast connection, and most cafes, restuarants and bars have free wifi for patrons as well.
You might opt to purchase a Malaysian SIM card. I don't know why, but I never do this – I like being off-grid sometimes (it's quite hard to be when documenting your travels is literally your job, I need some time off at times!). But I know from other travellers that this is very easy to do.
Arriving in Malaysia
You'll likely arrive in Malaysia one of three ways: by flying in to Kuala Lumpur international airport, by crossing the border from Singapore, or crossing the northern border with Thailand.
If you've crossed the border from Singapore, you can follow this Malaysia itinerary exactly how it's written. If you've flown into KLIA, just add on Malacca as a side trip from the capital and then head north, as demonstrated here. If you've overlanded from Thailand, read it backwards (not literally, but start with Langkawi and go up).
Malaysian customs are pretty easy and most nationalities get a visa exemption. There can be loooong waits at KLIA airport, but as long as your passport is valid, you'll be all good. If you want to use a local SIM while you're in Malaysia, these can be purchased at the airport. Click here to reserve your SIM card for pick up at KLIA.
Crossing the Singaporean border is pretty uneventful – everyone speaks English (it's the national language in Singapore, and most people in Malaysia speak English, especially border control).
Crossing the Thai border has the potential to be a bit more hair-raising – the South East of a very thin strip of Thailand is where all the extremists like to hang out – but I have crossed the border at Song Khla and gone on a bus through that area without anything exciting happening, and other tourist reports suggest that this is normal. If you're hanging around in Thailand, I would really recommend visiting Hat Yai, a southern town that's got a lot more going for it than the picture of extremism that the media likes to paint.
Anyway, I digress – let's talk about Malaysia.
A Shorter Malaysia Itinerary: 7 days
While to get the most out of your Malaysia itinerary, 14 days is what I recommend, if you're looking for a shorter Malaysia itinerary 7 days is feasible to see the main places.
I'd recommend choosing Kuala Lumpur and 2 other destinations on this Malaysian itinerary, depending on what interests you the most.
For example, you could do 2 days in Kuala Lumpur, a day in Malacca – if you're pushed for time you could do this Malacca Tour from Kuala Lumpur
– and then travel up to Penang and spend the rest of your week there.
Or you could focus on Langkawi and Penang, or travel from Kuala Lumpur north to Penang via the Cameron Highlands.
Some people like to spend 2 weeks in Singapore and Malaysia – if this is you, you only really need 2 days to see Singapore's highlights, so you can do most of this itinerary – take off the Cameron Highlands, Langkawi or Malacca, depending on what interests you the most.
Check out this whole Malaysia itinerary and see what interests you most!
Malacca – 2 days
Malacca is a unique city on coastal Malaysia. It's got a rich history – it was once the most significant port in the world – and offers a range of things to explore and enjoy in its city centre.
You could see Malacca's attractions in one packed day, but I would recommend spending two to get to know the city a bit more intimately.
Also, it must be mentioned that Malacca is HOT – I actually had to go inside to cool down during the hottest part of the day while I was in Malacca.
If you don't have time for a whole two days in Malacca, or if you would rather see it all on a tour, you can do a day trip from Kuala Lumpur. Click here for more details
.
Where to Stay in Malacca
Hostel: I stayed in Stay With Me Capsules Hotel. Like it says in the name, this is a pod-style capsule hotel, so you get your own little compartment, complete with light system, charging points and your own private door system, so it's great for when you want a mix between the cheapness/ sociability of hostels and the privacy of hotels. Click here for rates and to book.
Budget Hotel: Another hotel that was recommended to me was OYO Home 44077, where apartments can be had for as little as 16 per night. They are bright, clean and well-equipped, and there is a pool and fitness centre on-site. Reviews have said that the WiFi isn't the strongest, however, and Grabs are needed to reach the city centre (which are very cheap). But it's still a fantastic value hotel, if these things don't bother you! Click here for rates and to book.
Mid-Range Hotel: Malaysia has some of the best value hotels in the world, and when I was searching for hotels in Malacca, Hatten Hotel Melaka really stood out as having amazing features at a fantastic price. The rooms are spacious and modern, with en-suite bathrooms, and there is a gym and pool on site. I ended up deciding to save some money so I went for the capsule hotel instead, but I definitely would have stayed at the Hatten Hotel otherwise! Click here for more information and to book.
Luxury Hotel: DoubleTree Hilton Melaka has all the luxuries that you'd expect in a Hilton Hotel, with huge comfortable beds, deluxe bathrooms, and state of the art technology, as well as two swimming pools and a gym. Click here for more information and to book.
Day number one in Malacca can be spent orientating yourself in the city, enjoying the architecture and laughing at the absolute surreal-ness of the decked-out cyclos. Walking along the river, you'll get to the Malacca Maritime Museum. This museum costs just 10 ringgit to enter and details the history of the port of Malacca. It's really interesting to learn about how it prospered and declined.
Back out in the heat, some popular spots to visit around town include:
The Church of St Pauls, which has Portuguese tombstones, a nod to Malacca's colonial past
Cheng Hoon Chinese Temple
Stadthuys, a 17th century Dutch town hall
You might have noticed a theme here – Malacca is a melting pot of Malay, British, Portuguese, Dutch, Chinese and Indian cultures, and the best few days in Malacca involve spending time getting to know how each of these cultures shaped the city and country today.
Before the sun sets, I'd recommend heading to the Malacca Straits Mosque. You can watch it as the sun goes down, and it's really very pleasant.
Then visit Jonker Street Night Market. There's all sorts going on here – you can purchase street food, clothes, gifts and electronics. It's got a really great atmosphere and is a perfect way to end a day in the city!
On your second day in Malacca, I'd recommend venturing out to the Living Museum at Kampung Morten, and taking a boat tour down the river.
Take an evening bus to Kuala Lumpur at the end of your second day in Malacca. You can easily do this by just heading to Malacca Sentral Bus Station and hopping on the next bus – tickets don't need to be purchased in advance and there are many buses throughout the day.
However, if you'd like to reserve your ticket in advance, I often use Bookaway – click here to browse times and transport.Note that if you do purchase in advance, your seats are secured but you will still need to allow time to collect the actual tickets at the station.
Kuala Lumpur – 2 days (3 nights)
You'll arrive into TBS Transport Station in Kuala Lumpur. To save yourself a bit of agg, you can buy your bus ticket for the Cameron Highlands here – that's what I did and it saved some time!
TBS is connected to KL Sentral by the KM Komuter Train, where you can get links to the rest of the city.
Where to Stay in Kuala Lumpur
Hostel: Paper Plane Hostel is one of the best hostels that I've ever stayed in. I stayed in the queen room, which had a comfy bed, was really clean and had lots of extras like tea and coffee and clean slippers and bathrobes. The whole hostel is decorated in funky art, and the staff are really lovely. Click here for more information and to book.
Budget Hotel: Ibis Kuala Lumpur City Centre is a cheap place to stay, where I holed up for 24 hours to get some work done – so I can report that the WiFi is good as well. The rooms are clean and relatively spacious, there's a gym and restaurant on-site and its really good value. Click here for rates and to book.
Mid-Range Hotel: D'Majestic Service Apartment is a mix of apartments and hotel rooms, clean and modernly-furnished. There is also a rooftop pool and gym, and it is close to lots of great restaurants and cafes. Click here for more information and to book.
Luxury Hotel: I stayed in Expressionz Suites Kuala Lumpur with my family just before Christmas, and WOW it's incredible. We got a 3 bedroom apartment for an amazing price, and it had floor to ceiling windows, comfy sofas, a modern kitchen, two spacious well-furnished bedrooms and a smaller single room. There's a gym and pool on-site, including the pool with the skyline view that I've posted above! Click here for more information and to book.
2 Days in Kuala Lumpur
On day number one in Kuala Lumpur, head to the main points of interest in the city. You can either do a Kuala Lumpur tour, complete with a guide who will tell you all about the history of the city, or visit the attractions listed below independently. If a tour interests you, click here for more details.
If you go for the self-guided route, just follow my directions below!
First up is the National Museum of Malaysia. I go to every national museum possible, and this is one of my favourites – it really summarizes Malaysian culture well.
Next up, it's time for the National Mosque. You can only visit the mosque at certain times – check them out here. It's a really nice spot to walk around, with impressive architecture and historical significance. You need to wear a robe and, if female, a headscarf to enter – but this is provided at the entrance. This should go without saying, but make sure you don't enter any areas that are designated for Muslims only (you wouldn't believe how many people I saw go into them) and be respectful.
After the Mosque, you can cross the road and see the old railway station just over it. This is a key point of interest in the city!
Then head to Central Market, where they sell all sorts of souvenirs, cheap bags, shoes and other accessories, and all sorts of other stuff. If you're hungry, there are plenty of eateries lining the market.
In Chinatown is the Sri Mariamman Temple, entry by donation. This is a really beautiful Hindu temple – when I was there I had the pleasure of chatting to a local about his religion and beliefs (I don't think he worked there, but he said he liked to come there to chat to tourists) and he invited me to watch their praying ceremony. It was really wonderful!
Masjid Jamek is the other must-visit mosque in Kuala Lumpur. It is smaller than the Masjid Negara, but more ornate and in my opinion, the more striking and beautiful of the two. The Masjid Jamek was built on the founding place of Kuala Lumpur, so there's lots to learn about the history of the city here.
As night falls, checking out the Petronas Towers is a must-do. They're more striking at night, when they and the city are lit up – but if you can reach them for sunset, definitely do that! You can also ascend the KL Tower to look at the city beneath you. Purchase tickets by clicking here.
And definitely head to the Kuala Lumpur market street for dinner, where you can enjoy all sorts of Malaysian and Southeast Asian specialties. If food really interests you – and it should, Malaysian food is among the best in the world – you could do a food tour – click here for more information.
Day number two focuses on going to the Batu Caves, which are only a short way out of the city, but took the best part of my day when I was there! You can take the KTM Kommutertrain straight to the caves from KL Sentral. Alternatively, Grab taxis aren't too expensive to and from the caves – or if you want to see some more of the suburbs, you can book onto a Batu Caves and suburb tour by clicking here.
These are majestic Hindu temples and caves carved into the rock, with huge statues. They're free to enter and explore, although there are some experiences that cost money. I didn't do any of these, and they should be pre-booked in advance, but if you want to explore the caves a little more while you're there, there's the option to!
Back in the city, you could check out the Thean Hou Temple (a Chinese temple), which is one of the oldest and largest Chinese temples in South East Asia.
At night, perhaps do a food tour if you didn't get the chance to the night before, or enjoy a Malaysian cultural night
.
Another Kuala Lumpur option: If you like doing cooking classes, want to learn to cook Malaysian food and either have an extra day in Kuala Lumpur or don't mind swapping one of the morning activities out, I really recommend Lazat Cooking Class. You can read my full review here.
If you'd like to read this Kuala Lumpur itinerary in more detail, click here for how to spend 2 days in the Malaysian capital.
If you're just having a shorter visit to Malaysia – this time! – you could spend a 3 days trip to Malaysia in Kuala Lumpur, doing a day trip to Malacca or a very jam-packed day trip to the Cameron Highlands.
Morning bus – Kuala Lumpur to Cameron Highlands (1 day)
This trip won't take you all day, especially if you're on an early bus, but I'd recommend putting aside a whole day for it – and if you get any extra time in the Cameron Highlands that's a bonus. I took the 8:30am bus from TBS to Tanah Rata, and it got in at around midday.
To avoid stress and to know the train times before you go, you might want to book your tickets for this bus in advance. You can click here to purchase tickets.
If you do the same, you'll have the afternoon to enjoy the highlands. You could take one of the shorter walks – there are waterfall spots to visit and other places to enjoy – or just chill out in the town, and drink some Cameron Highlands tea.
Or if you're already up for an adventure, think about hiring a scooter and whizzing off to either a tea plantation, to see where it's made yourself, or to go strawberry picking.
Where to Stay in the Cameron Highlands
Hostel: I stayed at the lovely Traveller Bunker Hostel when in the Cameron Highlands. It's a chilled-out backpacker hostel with great dorms, all with pod-style beds. The social area is a great place to meet people, and the staff are friendly. Click here for more information and to book.
Guesthouse: Do Chic In B&B is located very close to Tanah Rata town, with gorgeous views. The rooms are cosy and well-appointed, and the breakfast is phenomenal. Click here for more information and to book.
Mid-Range Hotel: Probably the closest you can get to London without leaving South East Asia, Hotel De' La Ferns has English Tudor architecture and traditional rooms. All rooms include breakfast. Click here for more information and book today.
Luxury Hotel: Cameron Highlands Resort is one of the best 5* resorts to stay at in the Cameron Highlands. It's located in a colonial building and has rooms with period features. There's a cosy on-site restaurant – great in these cooler climates! Click here for rates and to book.
Cameron Highlands – 2 days
Hiking in the Cameron Highlands is a HIGHlight (not sure that that pun worked, but I'll leave it in anyway) of a Malaysia itinerary. There are plenty of trails to do, which range from short walks to longer excursions.
Be prepared to get muddy, see some lovely views, and enjoy being in rural nature.
I hiked trail 4, which leads through the woods, and then joins up with trail 6. It got very muddy, and I was filthy by the time I got back to the hostel, but it was good fun! This trail took me about 4 hours in total, so isn't a whole day activity – although I was pretty shattered by the time I got back to the hostel.
Other trails include the hike to Gunung Berembun, where a WW2 aircraft wreck is located, or to various waterfalls in the area. All the trails are visible on the app maps.me, where you can download offline maps, so I'd definitely recommend downloading that before you get there.
Your final day in the Cameron Highlands could be taken up by another hiking trail, or there are lots of tours to different destinations in the area which are really cheap. You might find, however, that you prefer to hire a motorbike and see the sights alone – although I wouldn't recommend biking here if it's your first time.
Note: if you are just spending 1 week in Malaysia, you could do the Cameron Highlands as a day trip from Kuala Lumpur – but to do so, you'd need to do a tour, which you can book onto here.
Morning bus – Cameron Highlands to Penang (1 day)
This journey will take you the best part of a day, so download some good podcasts! You can get a direct bus from the Cameron Highlands to Butterworth, which is on the mainland, just over from Penang. You can arrange tickets at the bus station when you arrive – this is what I did – or purchase them here on bookaway.
From Butterworth, the easiest way to reach Penang/ Georgetown is by ferry. It's really cheap, only 7 ringgit per person, and only takes about half an hour. Once docked, you can easily reach to Georgetown centre by walking or taking a taxi (Grab is available in Penang).
I'd recommend spending the rest of that day orientating yourself, grabbing some food – I love Wheelers Cafe for Western/Asian fusion food, or the many street food stalls that line Penang Road – and enjoying the relaxed vibe of Georgetown. Again, if you're a foodie traveller, you might want to do a food tour – click here for more information.
Where to Stay in Penang
Budget Hotel: Old Penang Guesthouse has great reviews on booking.com and offers twin and double rooms with free WiFi and breakfast. Click here for more information.
Mid-Range Hotel: Hotel Jen Shangri-La is a luxurious yet affordable hotel near the city centre, and is the place I stayed on my most recent trip to Penang. It's got a pool and gym, as well as a restaurant and room service facilities, and the spacious rooms are adorned with Penang art. Click here for more information and to book.
Luxury Hotel: Eastern and Oriental Hotel is Penang's answer to Raffles in Singapore – with colonial architecture, this colossal hotel has various bars and restaurants, one of which we visited to drink a Penang Sling – in all honesty, not a great cocktail, but the bar is lovely! I didn't get the chance to see any of the rooms, but the photos look like they're as impressive as the restaurants and other rooms around the area. Click here for more information and to reserve your room.
Penang – 3 days
Penang is a really wonderful place. It's got Georgetown, which is a quirky and beautiful little city, as well as some lovely sleepy villages and national parks, all on one island off of Malaysia's east coast!
I'm recommending three days in Penang, although you could see it in two. But Georgetown warrants two days in itself, and then the nature of Penang is well worth seeing as well! Like in Kuala Lumpur, you can either do a guided tour –
click here for more information
– or see below for information about visiting the attractions yourself.
Start your time in Penang by heading out to see its famous street art. The street art was created by Lithuanian artist Ernest Zacharevic, who was commissioned to create something that would revitalise the historic buildings of the city centre – it was made to be interactive, so get involved! You can make friends with kids by sitting on the swing next to them, take a ride on a scooter with a local, or peek into a small window – the photo opportunities are fab.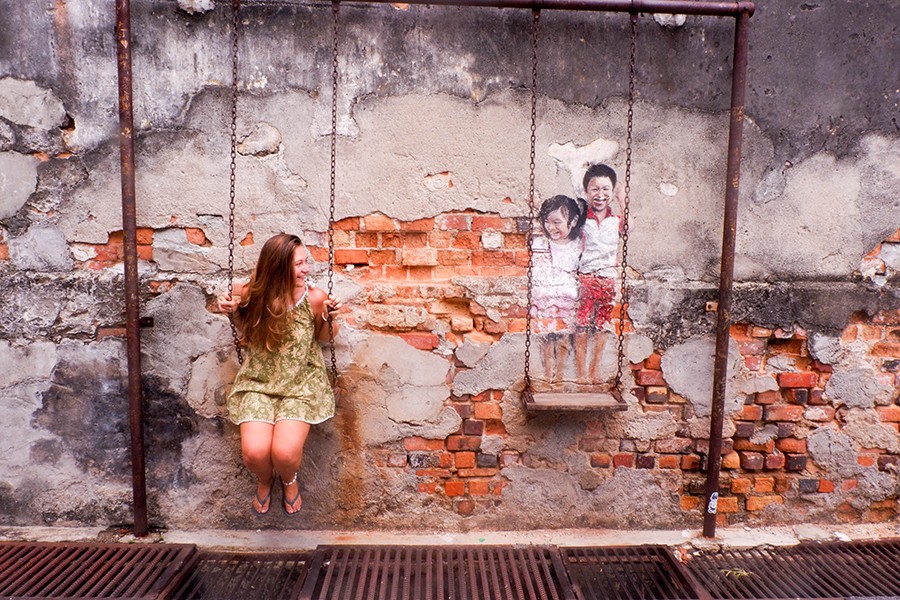 Next up, head to some of Penang's cultural spots. Harmony Street is home to four types of religious buildings: a mosque, a Chinese temple, a Hindu temple and a Christian church, and guess what – everyone lives in harmony. In this day and age, that's reallllly nice to see.
Make sure to check out the inside of each place of worship, all of which are free, and head to other points of interest around town, including Fort Cornwallis, which was the British fort when it was a colony, and Cheong Fatt Tze's Mansion, or the 'Blue Mansion', which was constructed by a Chinese self-made millionaire and featured in the Mah Jong scene of Crazy Rich Asians.
On your second day in the city, head to Penang Hill and take the funicular up to see the amazing view – it can get very busy here, so I'd recommend getting there early, or purchasing VIP tickets if your budget allows. Nearby is the Kek Lok Si Temple, a huge Chinese temple that'll take at least an hour to go around. You can enjoy the atmosphere around the temple area before getting a Rapid Penang bus back to Georgetown.
On your last day, it's definitely time to enjoy some of Penang's nature or slower village life. You can do a day trip to Penang National Park – for various reasons I've never actually made it here, although I have researched it and this blog post by Travel Drafts is really helpful for planning your trip there.
What I did end up doing was getting the wrong bus and ending up in the small town of Balik Pulau. There's not a huge amount to do here, but it was nice to experience authentic Malay culture, have some local food, and have a walk through the surrounding nature. If you like going to smaller, less touristy places too, I'd just recommend hopping on a bus with no real plan in the morning, and getting one back when you think you've seen everything!
Again, Penang is an option if you have a shorter, 3 days trip to Malaysia – you could just explore Georgetown and Penang Island in this time. Or, if you're looking at spending one week in Malaysia, that could be spread out between Penang and Langkawi.
Morning boat – Penang to Langkawi (1 day)
The boat from Penang to Langkawi has a bit of a rep, and it's not for its luxurious cruise-like experience. It's a bit bumpy, so you may well want to pack some seasickness pills before heading out. If you're visiting in the dry season, it should be a bit better – I did it in December and didn't find it too bad, but reports in April were that it was horrible.
Even if the ferry is horrible, it's a lot quicker than the other option (a ferry to the mainland, a bus to Kuala Perlis, and then a boat to Langkawi), so it may well be a good idea to grin and bear it.
Boats leave every morning at 8:00am and arrive in Langkawi at about 11:30am. Pre-booking is advised. You can book online through Bookaway here.
You'll end up in Kuah Jetty. You can hop in a Grab taxi here (WiFi is available in the terminal) but maybe ask the driver if you can swing by the eagle statue before heading to your hotel – of course, offer to pay a cash tip for this. It's one of the only decent attractions in Kuah.
Where to stay on Langkawi island
Where to Stay in Langkawi
Hostel: I stayed at Bed Station Hostel the first time I went to Langkawi, which has excellent reviews – honestly, it wasn't my favourite though. Still, click here to read the reviews and make your own mind up – there was nothing wrong with it, I just didn't get the best vibe (maybe because I was visiting off-season), and it is quite far from most things (which might be ok if you have a bike). It's in a good location if you need to be close to Kuah Jetty. You can check it out here.
If I was to stay again, I'd choose somewhere like Two Peace House, which is a small hostel set in nature, with reports of friendly staff who are happy to show their guests around the island. Click here for more information and to reserve.
Budget: The Smith House is a boutique yet budget 3* property that is close to Langkawi's best beaches, mid-way between Kuah jetty and the cable car. The rooms are airy and bright, and there is a pool and bar on site. Click here to reserve your spot.
Mid-Range: Vivanta Rebak Island is, as the name suggests, a hotel on an island. It features rustic cabins, 4 restaurants and of course, amazing private beaches. Click here for more information and to book.
Luxury: The Danna Langkawi is without a doubt the best hotel that I have ever stayed in. Including a large pool area, rooftop gym, free champagne breakfast every day, huge king-size rooms with terraces, and the friendliest staff I've ever met, it's a really one of a kind type of place. It's not cheap, but the experience is worth it. Click here for more information and to book.
Spend the rest of your day chilling at the beach. Langkawi has some of the best beaches in Malaysia, so enjoy!
Langkawi – 2 days
I'd recommend hiring a driver for your first morning in Langkawi for a Langkawi island tour. They can take you to a variety of places, including a Thai temple, a tomb and a waterfall. You can ask the driver to finish the tour at the cable car and skybridge.
A must-visit place in Langkawi is the Cable Car and Skybridge. The Cable Car is the steepest in the world (I can attest to this, it's pretty scary) and the Skybridge looks out over the dense jungle. If you only do one thing in Langkawi, make sure that it's this.
Tickets to the cable car also include access to the 3D art museum. This is a great time. You can get really involved with the art (it's kind of similar to Georgetown's museum), so take lots of photos, be a big kid, and have fun!
Also in the area is the 7 Wells Waterfall, which can be hiked to from the cable car's carpark. You'll see this as you ascend on the cable car.
On your second day in Langkawi, I'd recommend either doing a jungle trek to see the jungle and learn more about its flora and fauna, or an island hopping tour. You can book the jungle trek with Junglewalla or the island hopping here via Klook.
I've done both, and my personal favourite was the jungle trek, but it is quite difficult especially in the heat and humidity, so you'll need a certain level of fitness. The island hopping tour is accessible to most people, although there is some clambering in and out of boats involved.
For the remainder of the day, head to the beach or your hotel pool and soak up some of Malaysia's best ocean scenery.
You can read my full post on things to do in Langkawi here.
Where to from Malaysia?
As this Malaysia itinerary finishes in the northern part of the country, the obvious choice is Thailand. You can cross from Langkawi to Satun in Southern Thailand and then get the bus to destinations like Krabi (for Koh Lanta), Phuket or Surat Thani – you can also get a bus all the way to Bangkok from here (check out my 3 days in Bangkok itinerary for what to do here!). Or you can take a boat straight to Koh Lipe in Southern Thailand!
If you've done this Malaysia itinerary in reverse and are now in Malacca, the obvious place to go to is Singapore. Just 3-4 hours from Malacca, a whole different country and one of the most dynamic cities in the world, there is plenty to enjoy in Singapore. Click here for my two days in Singapore itinerary.
You can, of course, venture back to Kuala Lumpur and from there take a connecting flight to worldwide destinations. KLIA airport is a transport hub, with flights landing and taking off from all over the world.
You can book transport on Bookaway. Click here to browse times and transport.
Malaysia Travel Tips
English is spoken quite well in Malaysia. However, I would recommend learning some of the local lingo. Malaysian is near-identical to Indonesian, where much fewer people speak English, so it'll be handy if you're planning to continue your travels as well!
I wouldn't recommend visiting Malaysia during Ramadan. Lots of restaurants close during the day and some hostels/ hotels don't offer breakfast. You'll need to do what the locals do and eat really early, or find tourist places (normally very overpriced) to eat during the day.
What to pack for Malaysia
Pack for Malaysia as you would any tropical country. I would only recommend wearing short shorts, skirts, and dresses on the beach – Malaysia, while very multicultural, is a predominantly Muslim country, and while you don't need to be too conservative, it's always best to err on the side of respectful. Light, loose trousers and skirts are perfect.
The Cameron Highlands can get cold, so make sure you have a jumper for here – also, of course, pack your hiking gear for the hikes!
Here are some other great travel products not to forget:
Here's a full international packing list with some more ideas!
Sustainable Travel in Malaysia
It's more important than ever to be sustainable travellers, in Malaysia and everywhere in the world. Climate change is a real and very scary threat, and there are lots of ways we can help the environment while travelling. Travel isn't the most environmentally-friendly activity, I know, but there are many ways that we can reduce the impact we make by travelling.
Take the train or bus instead of flying internally in Malaysia. Malaysia's train and bus network are great, better than they are in many Western countries, and it's a small country that doesn't take too long to travel around in.
Refuse plastic. Pack metal straws, a water-to-go bottle so you can drink the tap water, canvas bags, solid toiletries and a menstural cup if you're a girl and will have your period when travelling (you can read my mooncup review here).
Don't use lights unnecessarily, turn of the AC when you're not using it, take short showers.
Eat veggie or vegan when possible – there are lots of great options in Malaysia. Here's more about how eating fewer animal products helps the environment.
It's also really important to respect and preserve local cultures when travelling in Malaysia. Malaysia is a pretty modern country, and is developing more rapidly than Kuala Lumpur's transport system (which is called RapidKL… get it…), but there are many ancient traditions that should be maintained and respected.
The country, as a whole, is quite wealthy, but there are still pockets of poverty (check?). Stay in locally-run accommodation when possible, eat local food, buy any handicrafts direct from the artists, and try to generally make your stay beneficial to locals rather than take away from it.
Are you ready for your Malaysia itinerary?
I hope this itinerary has proved useful when planning your trip to Malaysia! Whether you're planning to backpack Malaysia, or are travelling as a family or older couple or group, I guarantee you'll have the best time in this diverse, fascinating, not-quite-so-touristy South East Asian country.
As always, please do drop me a message on Instagram if you have any questions, and if you have found my content useful and want to be entertained by various overland adventures, I'd love it if you checked out my YouTube channel!