Are you wondering how to take the Megabus?
This full Megabus review is here to help! From the good to the bad, i've put together all the information you need about this bus company, including whether I think they are a worthwhile overland option in the UK.
Megabus Review: How Does It Compare To Other Bus Companies?
Megabus UK is potentially the cheapest coach company in the UK. Its price makes it popular with students, backpackers and anyone who loves a bargain (me).
But how does this intercity bus service compare with other companies – or, indeed, taking the train or plane? Here is my full review!
My Megabus history
First, what qualifies me to write this review? Well, quite a lot, actually. I'm a bit of a Megabus connoisseur, mainly because I have friends living all over the country and find British trains to be abhorrently expensive.
I went to university in Bristol, and the Megabus was my primary mode of transport between there and London, my family home.
I've also taken the Megabus to countless other cities around the UK, and I even took a really long Megabus all the way to Amsterdam (this was back in 2017, but it only cost me £10!).
So, I'm basing my Megabus review on all of this knowledge!
The Megabus is cheap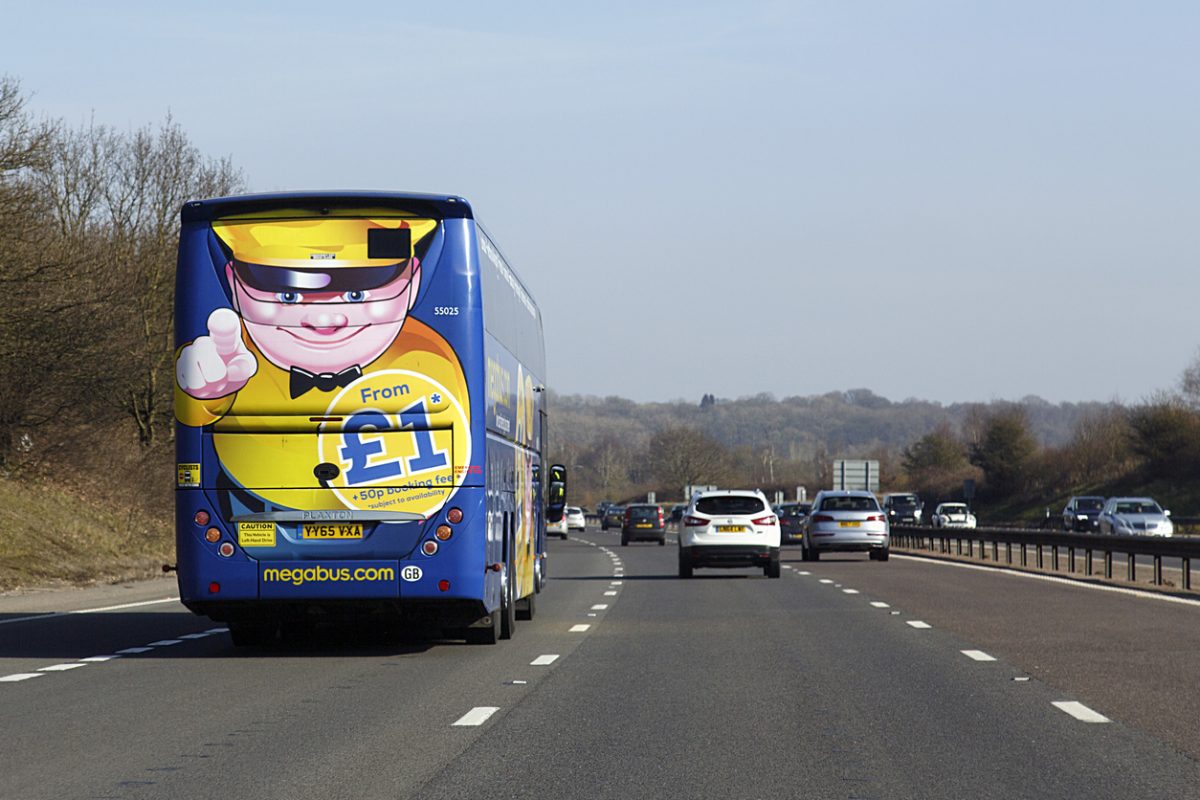 First up, let's get this straight on the table. The Megabus is cheap. How cheap depends on a few factors.
You see, the Megabus ticket prices work a bit like airlines. If you book weeks in advance for a non-popular date, you're likely to grab a great deal. We're talking one-way tickets for £10 or less, sometimes even £5 or less.
I've bought a ticket for £1 before.
However, like any business, they've got to make money. This means that closer to the date, you're likely to pay more money. Plus, if you're travelling at peak times – for example, if you're going on a weekend away on a Friday evening and back on a Sunday evening – you're likely to pay more. Do look out for bargains, though!
But how cheap are they really?
I've put this theory to the test by booking a theoretical trip from London to Manchester in January.
I found tickets for the bargain price of £5.95 each way. Plus a booking fee, this takes my entire trip to £12.
These are pretty standard fares for a Megabus.
Is Megabus reliable in the UK?
Many people will tell you that despite the low prices, they will never get Megabus because it's unreliable.
Now, I'm just one person. But I've probably taken over 50 megabuses in my life, and I think only one or two have been delayed more than an hour – and only a couple of others have had more than half hour delays.
I know, buses shouldn't be delayed an hour anyway. But it's the UK; traffic happens.
Plenty of people have Megabus horror stories. But most Megabuses do run more or less on time (or only a little bit late). If you want to guarantee you'll be somewhere for a particular time, book an earlier bus.
How strict is Megabus with baggage in the UK?
The Megabus doesn't check baggage, but they ask that bags be under 20 kg and 200cm in size (width + height + depth).
You can also take two or three bags if the total space isn't more than 20 kg/ 200cm.
Are the Megabus seats comfortable?
Mega buses aren't plush luxury, but they are pretty standard coach seats and comfortable enough for a few hours.
Here's a photo of me on my Amsterdam to London Megabus, which had a reasonably comfortable seat – although it was a bit uncomfy after a few hours!
The Megabus gold used to have much comfier seats (and generally a more luxury service), but sadly, it no longer runs.
Does Megabus have WiFi?
Yes, the Megabus does have WiFi, but I wouldn't rely on it working!
You may also find that you can only connect to it for an hour or so. If you don't have data, it's good to have to check messages or emails but don't count on it to do any work.
How is Megabus so cheap?
The Megabus manages to have the cheapest transport networks in the country, time and time again.
It's cheap because it only serves major cities, a lot of its buses are double-deckers which mean that it can transport more people.
A lot of their stops are out of the city hubs, and sometimes, their tickets can be slightly more expensive (but still lower than other modes of transport!
How to take the Megabus
Step one: book your bus tickets
You can book bus tickets online at Megabus.co.uk. Don't book with any third providers – they won't offer you the best value when it comes to seats.
Just go on the main homepage and use the search functions to find your seat.
You can use their seat selection tool to guarantee your seats – but this will cost you an extra £1-£3 each way.
You will also have to pay a small booking fee. This is usually £1.
Step two: download your ticket
Once you have gone through the online booking process, you should receive an email. Make sure that you have downloaded your booking confirmation and print it out or have it saved somewhere on your phone.
You usually only need the passenger number, but it's best to have everything saved to your phone just in case.
Step three: double-check the departure point
Megabus departure points aren't always the main bus station or coach park of the city.
Double-check the departure point and find it on a map before your departure time.
If you're unfamiliar with the city, or if it's the first time you have used the bus stop, give yourself extra time to find it!
Step three: arrive early
Yes, I know, Megabuses can be late. But it's still worth arriving 20 minutes before departure. Some Megabuses start boarding 15 minutes before departure, and arriving early means you can nab a good seat (perfect if you haven't pre-booked one) and can relax before your trip!
In fact, Megabus states on your ticket to arrive 15 minutes before. So I'd definitely try to get there 20 minutes early, just in case!
You can't just jump on board the next bus if you miss it – your ticket is for your reserved Megabus only.
Step four: board the bus
Us Brits love queuing. If you're getting a Megabus in the UK, you'll need to join the back of the queue and wait patiently to board.
Once you get to the front, show the driver your confirmation number, put any luggage in the hold, and climb on board!
Step five: find your seat
If you haven't booked your seat, find any available non-reserved spot. If you have, you should have the confirmation on your ticket and locate it from there.
If there's already someone sitting in your seat, explain the situation to them – you paid extra for that seat, so it is rightfully yours!
Most people are happy to move when they realise that the seat has been reserved – often, they won't have realised that you can reserve seats on Mega buses!
However, if you encounter any aggressive passengers or people who won't move, ask the bus driver for help.
Step six: relax and enjoy the ride!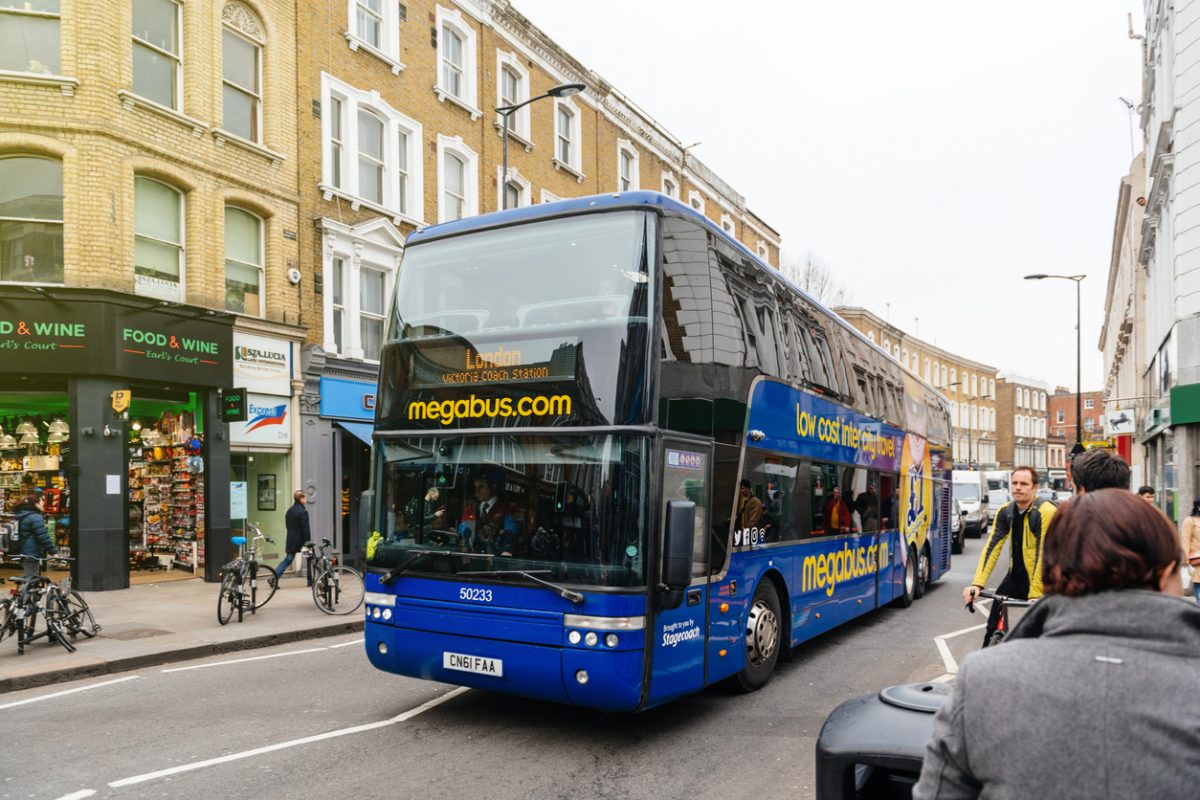 Many Megabus journeys mainly consist of motorways, but there are some scenic journeys!
I particularly like the drive out of London towards Bristol, which travels through London City Centre, past Harrods and other iconic sights.
Tips for taking the Megabus
Use the loo before: there is a toilet on board, but it can sometimes be out of action or just very unpleasant. For journeys of over four hours, you should stop for a break. Make sure that you use the loo whenever you do!
Pack some snacks: unless you stop at a service station, there isn't really anywhere to buy snacks. I'd recommend getting some snacks before. There are plenty of eateries at Victoria coach station in London, but refreshments at other coach stations are limited.
Board early for best seats: if you haven't reserved a seat, try to board as early as possible. This may help you to get the best seat and potentially even two seats to yourself.
Take entertainment: there isn't any on-bus entertainment, so take something to read/ watch/ listen to (plus headphones!) for the journey.
Keep an eye on your route: the bus driver usually says which stop you're at on the speaker, but keep an eye on the route, so you know roughly where you are.
Where does the Megabus go?
For me, one of the most significant disadvantages to the Megabus is it doesn't go everywhere. For example, when I lived in Bath City, I always had to take the National Express coach as Megabus doesn't stop there.
However, there are lots of places it does stop, including some international destinations! You can take a look at all of the places where the Megabus goes to here.
Some of these buses, for example, the one to Munich, are operated by a different provider, but you can book them through Megabus.
What is the Megabus customer services like?
I'll be honest, I've never had to use the customer service helpline – but that is credit to how good all of my journeys on the Megabus have been!
You can contact customer service advisors on this email address: [email protected]
I will state here that they don't have an excellent service rating online, but I can't pass comment as I've never used it personally!
Is Megabus better than taking the train or plane?
So what makes the Megabus better than taking a train or plane? Let's look at some pros and cons.
Megabus vs train
Pros of Megabus
No standing tickets are sold, so you're guaranteed a seat.
Sometimes it stops at better areas of the city than the train (e.g. if you want to get to South London, the Megabus stop at Victoria Coach Station is better).
The price (this is a BIG pro – it can be up to 1/10th of the train price).
Cons of Megabus
It's nearly always slower than the train.
It's prone to more delays/ cancellations.
The train is usually more eco-friendly.
The price sways it for me, but I can see why some people prefer to take the train.
Megabus vs plane
Two disclaimers here.
1. I always avoid planes for journeys I can easily take by bus/ train.
2. There are quite a lot of Megabus journeys that you can't take by plane, like London to Bristol etc. I'm only talking about Megabus journeys that you can take by plane here, such as London to Edinburgh, London to Amsterdam etc.
Pros of Megabus
It's usually a lot easier to get to a Megabus stop than an airport.
Much more eco-friendly than flying.
Travelling without flying is just… better (in my humble opinion, anyway!).
All costs considered (such as flight, getting to/ from airport etc) it is still usually cheaper.
You can take baggage without needing to pay.
Cons of Megabus
The flight itself will be quicker – although depending on where you're flying to, the total journey time might not be as much as you think.
Even if it does take a similar amount of time, you won't be spending as long in the same position.
But as I mentioned, I would rarely fly if I could get a 10+ hour Megabus to cover the distance instead. I might be on my own with that opinion though.
What is the Megatrain?
Lastly, there is such thing as a Megatrain.
What is this? I hear you ask.
The Megatrain is a rail service. It's basically the National Rail Service, but Megabus sometimes works with them to provide cheap tickets on certain journeys.
It's a nice idea, but it's never really kicked off, and even if you use their Megatrain search engine you'll often only get Megabus results.
Still, look out for the little sticker that says 'train' when searching – you might grab yourself a budget train journey!
Is the Megabus good?
If you like frugal travel options, the Megabus is a valuable way to get around the UK. It gets a lot of stick and I would recommend allowing time for delays. But, if you travel on a regular basis, or just want a good money-saving option, try the Megabus!