Oaxaca might well be becoming my new Byron Bay, aka the place I write approximately 482 blog posts on.
You might have read (or even be coming here from!) my bumper Oaxaca travel guide – and there will be lots more where that came from soon!
So, in May last year, I suddenly thought 'wouldn't Mexico be cool right now?'.
I was struggling for money and was looking for somewhere to use as a base. At the time, I was in South East Asia, a great place for bloggers and digital nomads, but it was wet season.
I suddenly had a burning desire to get some more Spanish under my belt and to drink coronas… so 3 weeks later I was on a plane to Mexico.
But where was I going? At first I considered Guadalajara, Mexico's second largest city. But then I realized I don't really like huge cities – not to live in, at least – and started reading about the arty city of Oaxaca, which is nestled in Mexico's southwestern mountains.
As soon as I found out that there was a coworking space there, I was in.
I flew to Mexico City, stayed a night in the capital, and was on a 7 hour ADO bus to the Oaxaca the next day. I spent four months living in Oaxaca: drinking corona, eating tacos, making new friends, watching parades, climbing mountains and generally having a swell time.
But there are certain things that I wish I'd known before living in Oaxaca city.
And here's my list of 'em.
17 things to know about living in Oaxaca
1. It's absolutely stunning
Oaxaca is unbelievably beautiful.
Colourful buildings line cobbled streets with mountains rising in the background… many streets look like postcards and one of my favourite pastimes while living in Oaxaca was just wandering around, looking at the buildings.
Make sure you've got a good camera for this one!
2. It's cheap too
I was spending on average $600-$700 per month while living in Oaxaca, and that wasn't scrimping at all.
I had a gym membership, went to some yoga classes, ate out in not-the-cheapest restaurants two or three times a week, bought good food and drunk my normal amount (which I mean, isn't loads).
Here are some more examples of how Oaxaca will make your wallet go 'wheeee!'
Street food can cost less than a dollar
My apartment was super expensive for Oaxacan standards and rent (most bills included) cost me $200 per month (I looked at one that would have cost me $60 per month!!)
Beers are just over a dollar
Oaxaca is one of the cheapest – if not, the cheapest – place I've ever visited.
3. Learn some Spanish before you go
English isn't spoken all that much in Oaxaca – plus, it's just common courtesy to be able to speak a bit of the native lingo, especially if you're living there.
People will be very grateful if you extend a few words in Spanish and most love a chat about what you're doing in their city.
4. It's great for digital nomads
Sure, it hasn't quite got the buzzing nomad scene of somewhere like Chiang Mai or Canggu in Bali, but Oaxaca does have… Convivio.
Convivio is an awesome coworking space, which has a lovely family atmosphere.
The space has great wifi, a kitchen and a large outdoor area.
Gigs and other events are held there weekly. It's a great place to meet both other travelers and Mexicans; it lacks the 'foreign invasion' feel that a lot of coworking spaces have because locals work there as well and it is used for other purposes.
For the digital nomad Oaxaca has plenty more to offer. Great nightlife, cheap food, friendly people, inspiring art… what more could you need?
5. There's ALWAYS a fiesta
There's always something going on in Oaxaca. Whether it be an eight-day long Mezcal festival (I'm serious), a wine fiesta, a parade about corn or just a Cumbia dance on a Saturday night, I think it's impossible to get bored in this vibrant city.
Of course, the downside of this is… noise.
Mexico is a noisy place to begin with, but Oaxaca is especially raucous. There's not much you can do about it apart from buy some earplugs or join the party yerself.
6. Be prepared for 24/7 fireworks
And where there's a party, there's… fireworks. The majority of them go off in the day – when you can't even see them – but just every so often, someone will decide to have a full-on fireworks display at 4am.
If you know me, you'll know my biggest pet peeve is being woken up when I'm fast asleep.
So I'll leave the beautiful mental image of my face when I've been kept awake by fireworks for an hour straight at silly o'clock in the morning here.
7. The culture is amazing
Many people in Oaxaca say that the city may be poor in money, but it is rich in culture, and let me tell ya, it's so true. Oaxaca has a very concentrated indigenous population, meaning that its history spans back millennia.
Oaxaca brought you Day of the Dead, alebrijes which are the monsters featured in Disney film Coco and the world's largest radish-carving festival.
Yep, 2 days before Christmas, the whole of Oaxaca comes together to see who can carve the best radish. If that's not a reason to hang around here, I don't know what is.
There's also constant music, traditional dresses, artwork and so much more. If you're looking for somewhere to top up your creative spirit, book the next ADO to Oaxaca City now.
8. Mezcal can give you a hangover
I've found myself in many a debate with Oaxacans about this one: Mezcal, the drink of choice is alleged to not give hangovers.
I beg to differ – it certainly gave me one or two during my time there!
That being said, try some mezcal while you're there. You'll hate it at first, so try it again and again until you don't mind it.
Then eventually, you'll find yourself automatically ordering it when you're out. At 48% volume, it's the quickest way to get drunk, after all.
9. And never drink the tequila
Ok, you can if you want, but it's cheap nasty stuff. I had the worst hangover of my life after just 2 beers, 2 mezcals and a tequila and from now on, I'll only drink tequila if I'm actually in Tequila.
You have been warned.
Oh, and here's a fun fact: tequila is actually a mezcal, although I think they're very different. However, you can only call tequila tequila if it's made in Tequila (make sense?).
The same rules as Champagne. Tequila is a city in central Mexico not far from Guadalajara.
10. Oaxacan food is nationally (and internationally!) famous
People LOVE Oaxacan food.
Famous dishes are tamales (potato wrapped in dough), memelas (thick tortillas topped with bean paste and cheese) and of course the seven moles (ridiculously complicated sauces with about 30 ingredients each). I'm not going to lie, being vegan, Oaxacan food isn't my all time favourite – even seemingly vegan dishes get manteca (pig fat) snuck into them.
BUT I did have the pleasure of doing a Oaxacan cooking class where I made veganised versions of the dishes, and I can confirm that they were absolutely delicious.
Oh, and the guacamole of course. It's worth living in Oaxaca for the guacamole alone.
Apart from Mezcal, Oaxaca is famed for another beverage – its chocolate caliente (hot chocolate).
This sweet sweet liquid is made with just Oaxacan chocolate, sugar, cinnamon and boiling water and it's an absolute delight.
I may or may not have ended up buying one pretty much every day when I was living in Oaxaca…
11. The mercados are where it's at
I love a good Mercado (market), and there are so many in Oaxaca.
What's more, they're cheap, the fruit and veg is organic and they're just a general good time.
There are often live bands and sit down areas serving fresh food.
The mercados are such a great place to just sit and watch the world go by; I could spend an entire afternoon in one of them! Some of my favourites within the city are:
El Pochote market for sit down food
Mercado de la Merced for the weekly shop
Benito Juarez market for souvenirs and taste and smell sensations
12. Oaxacans are very proud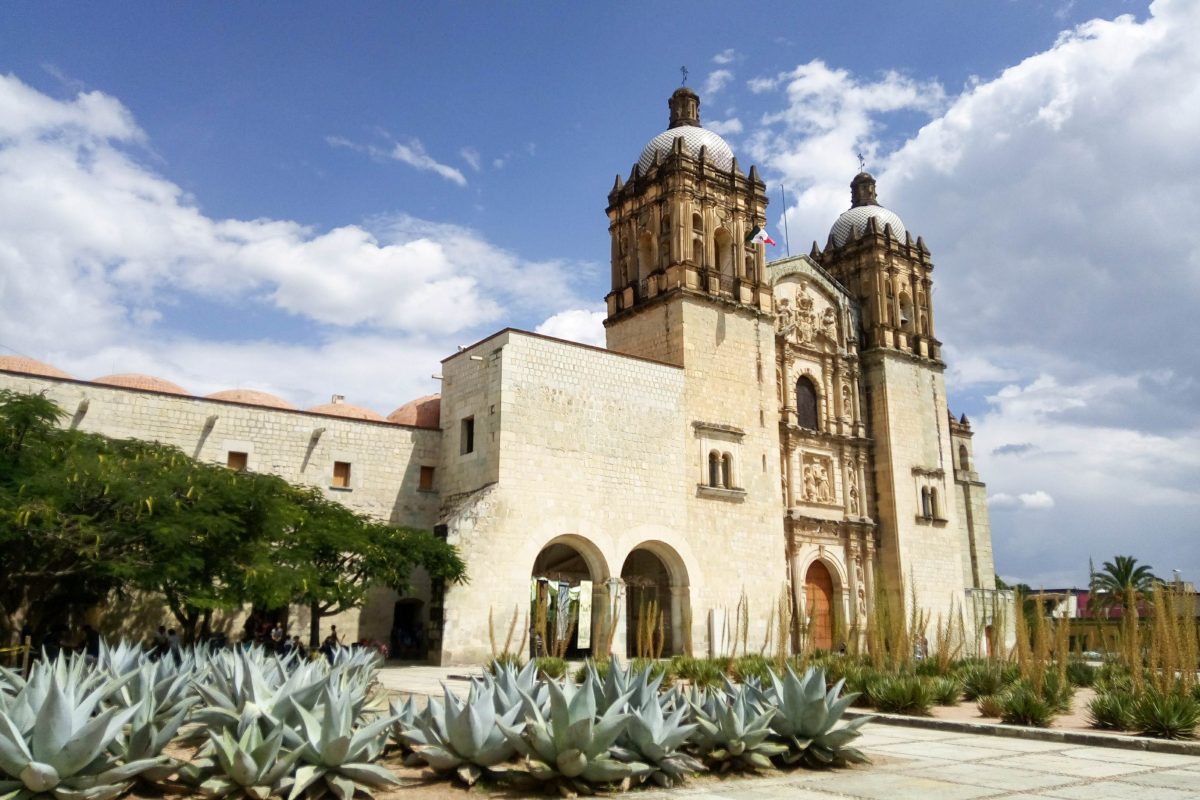 Oaxacan people love being from Oaxaca. I mean I would, it beats Bromley every day, but every time you get chatting to a local, you'll be asked about your opinions of Oaxacan food, Oaxacan customs, Oaxacan culture and everything about the city.
Although I did end up having pretty much the same conversation every single day (mainly with taxi drivers who are, by the way, absolutely lovely) it was really great to hear the obvious pride in Oaxacan people's voices about their home city.
13. Get ready for a very strange bin schedule
Oh the bins in Oaxaca… what a palaver.
Basically, there are no communal apartment bins or anywhere to put bins out. You just have to keep the rubbish in your house/ on your balcony until you hear the bin trucks coming around, which is most days – but at 5am.
Sometimes they come around in the afternoon as well. As I'm sure you can imagine, I missed quite a lot of the 5am pickups! Fortunately, I had a small outside space to keep rubbish but it certainly got very disgusting at times.
14. There is, unfortunately, quite a lot of catcalling
Now… into one of the things I really couldn't stand about living in Oaxaca.
I'm keeping it real, as always, and I can't pretend that my whole time was rainbows and sunshine.
Oaxaca is a traditional city, which means… some people's views can be a bit backward. This means catcalling.
Any girl seems to get catcalled, but if you look foreign you're especially vulnerable.
Also – I am very much of the opinion that girls should be able to wear whatever they want, wearing shorts does not mean that men have a right to harass them – but even so, I was harassed just as much when I was wearing tracksuit bottoms as when I was wearing a skirt.
Unfortunately, it is part and parcel of living in Oaxaca.
Of course, not all men are like it, but there's no escaping that some certainly are.
I was grabbed twice (once by a supermarket employee!); both times they walked off after I screamed at them.
I don't think in either of these incidents would have turned really ugly (they were both in broad daylight, for one), but of course, this was always in the back of my mind when I was walking around.
I wouldn't let this put me off moving to Oaxaca, but I do think that any girl planning to spend time there alone should know that it is a problem here.
15. Make sure you spend a few weekends in the mountains
If you're spending a month or longer living in Oaxaca, you've got to make sure that you get up to the mountains as much as possible. It can seem like a trek sometimes, but it's well worth it.
The mountains surround the city and they are home to authentic villages, old-style country living and of course, jaw-droppingly beautiful nature. It's so great to get out of the city and spend some time walking through the trees and to be awed at the spectacular viewpoints.
Check out my hiking in Oaxaca post to read more about the mountains near the city (coming soon!), but in a nutshell, my favourite mountainous spots are:
Capulapam – a small community with cabanas that open out onto woodland
Benito Juarez – a tiny village that doesn't have wifi, where you're immediately within nature whenever leaving your front door
San Jose del Pacifico – the most famous mountain town near Oaxaca – famed for one thing – magic mushrooms. But there are plenty of hiking opportunities as well and the chance to use a temazcal.
The mountains can be easily reached by collectivos and minivans.
16. Look for rooms on Craigslist, Facebook or by word of mouth
There are plenty of Airbnbs in Oaxaca, and they're a good option for when you first get to the city.
That being said, you'll get more bang for your buck by renting out a long-term apartment.
It seems a bit daunting when you first reach the city, but there are plenty of apartments out there.
Craigslist is the most popular website with proven success, and there are also various Facebook groups where you can find apartments.
However, all that being said, I found my apartment through good ol' word of mouth. As you start to meet people (Convivio, the aforementioned coworking space, is a great start), you'll start hearing of more and more openings.
If you're too broke to afford an Airbnb when you get to Oaxaca (like me…) then a hostel might be a better accommodation option.
I stayed at Casa Angel for my first 2 weeks and really recommend it – it's a great spot to meet people and it has some really fun activities to help explore the city.
17. Pick your neighbourhood wisely
Oaxaca is a small city, but it has a surprising number of neighbourhoods. I lived in 'El Barrio de La Noria', a pretty quiet area of town; about a 20 minute walk from the main restaurant/ bar area and 10 minutes from the Zocalo.
My only complaint about living here was that I had to get taxis back after like 10 pm as it's not really safe to walk the streets late alone.
Santo Domingo is the ideal place to live, right in the middle of the action, but it's pricey.
Cheaper, yet equally nice places to live are Xochimilco (like the place with all the boats in CMDX!) and Jacilatan.
They're probably the best spots to live in – close to the centre, with lots of cool street art and local bars, and fairly cheap prices.
I hope you've enjoyed this post about living in Oaxaca – which is one of my favourite cities in the world.
For more awful jokes, super detailed guides and sustainable travel tips, follow me over on Instagram and Facebook!