If you're searching for things to do in Oaxaca city, look no further! This is my full Oaxaca travel guide that I put together when living there for 6 months.
You know when you travel somewhere new and just think 'woah this place is somewhere special?'.
That's what I've been feeling like over the last few months in Oaxaca.
I'm no stranger to Mexico or Latin America – my dad actually lived in Mexico City for 4 years when I was younger (it was where my real love for travel was born 🙂 ) but when I returned, I wanted to see somewhere new. And that place was Oaxaca City.
And what a place it is.
The best things to do in Oaxaca range from wandering around the colourful streets, learning about its cultural heritage in the museums, sipping horrendously strong mezcal (and feeling grotesquely hungover the next morning) and touring the markets.
It's one of the most beautiful cities in Mexico, absolutely bursting with colour, music and happiness.
It's known by many as one of the best places to live in Mexico, and it's definitely proved itself true during my time here.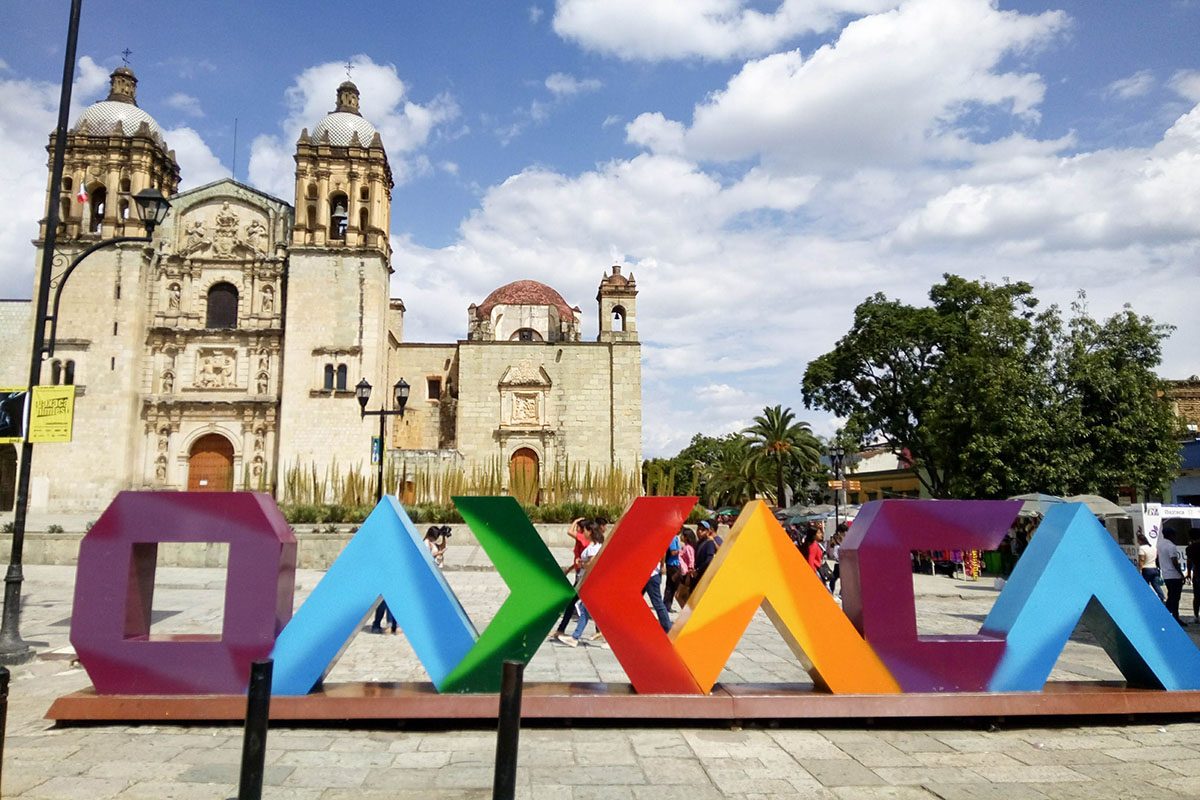 Oaxaca City FAQs
There have been a few things that I have been asked about Oaxaca, so I'll cover the top FAQs here.
How the heck do you say it?
Oaxaca comes from an Indigenous word "Huayacac" which means "place of the seed". Therefore it is pronounced in the Indigenous way, meaning 'O' sounds like a 'W' and 'X' resembles 'H'. Phonetically, Oaxaca is WA-HA-CA.
How do you get there?
Oaxaca is nestled in the mountains of South Western Mexico.
It sounds like it might be a little out of the way, but in reality, it is just a 6-7 hour bus ride from Mexico City.
If you want to break the journey up, the city of Puebla is well worth a visit too.
Most Mexican itineraries take travellers to Oaxaca from CDMX (Mexico City) and then through Chiapas state, eventually venturing east to the Caribbean coast.
It is also feasible to cross into Guatemala from Chiapas.
Is Oaxaca safe?
I probably feel safer in Oaxaca than I do in London.
Oaxaca state is one of the safest in Mexico and the capital definitely reflects this.
I've been here 4 months and have never felt my safety compromised, and in fact, have encountered the kindest people time and time again.
Of course, I do take precautions; I don't walk around on my own at night, I don't flash my valuables around too much (not that I have any lol) and when I do have my phone or camera out I make sure I put it back into a zipped compartment.
But that's just common sense.
How Long to Spend in Oaxaca
How long is a piece of string? I spent 6 months there and still haven't seen it all – although I was working a lot too.
Most travellers stay in the city for three nights, but I don't think that's quite enough to see all of the Oaxaca highlights.
Really, I'd recommend at least five full days. A sample itinerary for five days in Oaxaca could be as follows:
Day One: Walking tour of the city, visit to one of the museums in the afternoon and return to any other places of interest, dinner at La Popular and drinks at La Mezcalaria.
Day Two: Oaxacan cooking class in Reforma (this takes all day), dinner at Calabacitas Tiernas, drinks and kareoke at Cucaracha bar.
Day Three: Trip to Monte Alban in the morning, spend some more time wandering around the colourful streets and bustling markets in the afternoon. Make sure you take in Parque el Llano and the Zocalo, as well as all of the connecting streets. Enjoy a more European dinner at Boulenc bakery (the pizzas are unreal!) or grab some street food for dinner.
Day Four: At 10am, do a street art cycle tour around the city with Coyote Aventuras and learn about the politics of the city and the country as a whole, the day of the dead traditions and local flora and fauna through the artwork. Grab some lunch by Santo Domingo and head to another museum in the afternoon. At night head to the baseball stadium for a night of buckets of beer, delicious overpriced curly fries, trying to avoid getting mocked by the cameramen and a bit of actually watching the baseball game.
Day Five: Day trip out west, first to Tule which is home to the widest tree in the world, then to the pueblo of Mitla and its ruins, and finally up the mountain to Hierve al Agua. Return to the city in the evening and enjoy dinner at Tlyaduas el Negro, close to the zocalo.
And I haven't even started on the surrounding mountains, which are well worth a few days, or the Pacific Coast of Oaxaca yet!
You could spend a month exploring this state and not run out of things to do.
So what are the best things to do in Oaxaca? I'll give you a bit of a run down!
Best things to do in Oaxaca
Walk through the colourful streets
The streets of Oaxaca are an absolute dream.
With houses from all colours of the rainbow spectrum, cobbled streets, palm trees and mountains in the background, it's hard to imagine a more scenic city.
Add this to some of the old-style cars parked along the streets, and sometimes you'll feel like you've gone back 50 years in time.
On a sunny day, I could spend hours just wandering around the streets of the centre, stopping occasionally for a torta or a taco!
They're so photogenic, any keen photographer will be in their element here.
Doing a walking tour of the city is a great way to get to know it and its history. It's a city known for its cultural diversity and there's many a tale to know about the place!
I would recommend doing a walking tour of the city at first to get to know it some more.
If you are a backpacker, stay in Casa Angel and do their free tour (tips encouraged), or if not, check out the variety of walking tours here.
Ps. the above photo isn't a depiction of an alien (and human) invasion in Oaxaca, it's the beginnings of a parade.
I'll cover these later in the post!
Head to the Zocalo to people watch
If you're a fan of people watching, the Zocalo is the place for you.
It's the shady (as in, there are lots of trees not that it's dodgy) centre of Oaxaca, with markets, balloon sellers, restaurants, a bandstand and a church.
There are often exciting things happening here – the atmosphere when Mexico beat Germany in the world cup was insane.
The restaurants are pricier than most other places in the city, but it's a great experience to see the Zocalo.
I haven't dined at any myself (yet!), so I can't comment on the vegan options here.
Visit one of the many museums in the city
You can't get much more cultural than Oaxaca.
It's the home of many indigenous groups, making the city centre a melting pot of different types of Mexicans, and the inner city is just bursting with music, art and history.
You can get an essence of its Indigenous culture by just wandering around the city centre, but a way to really absorb the culture of Oaxaca is by viewing its museums.
Some of the best include:
Arquetopia – a nonprofit foundation focusing on arts and music through galleries and photography centres.
Museo de las Culturas
Museo Casa de Juarez
Museo Textil de Oaxaca
Museum of Contemporary Art
Head up to the Guelagetza stadium for a 10/10 view
It's a short but strenuous hike up one of Oaxaca's many hills (I always seem to settle in places with hills – looking at you, Bristol and Bath) to reach the Guelagetza stadium.
Used in late July for the festival celebrations – which celebrates all of the different native tribes of Oaxaca state – the stadium is a great lookout point for the rest of the year.
You can gaze over the city and to the mountains on the other side – you'll get a good idea how Oaxaca is literally surrounded by mountains.
Wander through the markets
Oaxaca is famed for its many mercados (markets). Wandering through these will give you a great essence of the city.
They sell everything from fresh fruit and veg, to mezcal, to souvenirs, to clothes.
Some focus on delicious food, with stands serving up different dishes and some are better for retail.
I shopped at Mercado de la Merced every week which focuses on fresh produce and has some dining options.
Other popular ones are:
Benito Juarez (sells chocolate, mole powder, flowers and juices amongst others)
20 de Noviembre (which has more artisan products)
Teotitlán del Valle (only open on Mondays from 8am to 11am and selling indigenous artisan products sold by women living in communities in the mountains)
Zaachila (which is a pottery market). There are also markets which specialise in dining. El Pochote is an organic market that is great to eat in. There are a few vegan options here and delicious fresh juices.
Do a bicycle tour of the city's street art
This tour takes you around the city on two wheels (which if you've only just learnt to properly ride a bike like me, is terrifying) and stops at some of the most notable works of street art.
You'll learn about Mexican politics and history through Oaxaca's outdoor art gallery, including some of the heartbreaking reasons why there are so many political protests.
There is also a lot of street art about Dia de Los Muertos (day of the dead) and Mexican flora and fauna – including the spiritual hallucinogenics that are found in the mountains (more about that in a while!).
The tour takes 3-4 hours and is great to see another side of this fascinating city.
Check out Coyote Aventuras to book – both English and Spanish speaking tours are available.
See the churches
Like many destinations in Mexico, there are lots of beautiful churches in Oaxaca. Santo Domingo sits in the city centre. Surrounded by agave plants, it's a beautiful place inside and out. There are plenty of other churches all over the city too, so keep an eye out!
Practice your Spanish
Oaxaca is a fantastic place to learn Spanish.
There's a range of schools throughout the city – I personally used Spanish Magic.
They can provide you with homestays or you can just book group or private classes.
Alternatively, you can also attend some of the language exchanges.
The Intercambio at the Oaxaca Lending Library takes place every Saturday at 10am, and Tarde de Lenguas is at a different café each Saturday at 5pm.
Both are free to attend. It's a great way to make some new friends as well as practice your language skills!
Stroll through Parque El Llano
I spent far too much time in Parque El Llano.
It's a park towards the north of the centre of the city, and it's where Convivio coworking space was located.
The park is really nice for a chill and just to observe Mexican life.
You can grab Oaxacan food here and watch the world go by.
It's also the location for a lot of fiestas, like the Feria de Mezcal (yes that's a Mezcal fair – and it goes on for 2 weeks!).
There are also music events throughout the year.
See Los Guerreros de Oaxaca play at the baseball stadium
Watching a sport has never been so fun.
Oaxaca is actually a pretty good baseball team, but before I went I never realised that the games go on for hours.
So what does one do? Drink buckets of beer and eat their own weight in curly fries, of course!
Beer and food get delivered to your seat and the cameramen scoot around, looking for people they can post on the big screen.
They also randomly start playing extracts from different songs and have a great chant involving the word 'Oaxacaaaaaaaaa!'. Everyone gets very enthusiastic about this (especially after 3 buckets of beer).
Games start at around 7:30 pm and finish at 11 – 11:30 pm.
Food and Drink in Oaxaca
Mexican cuisine is world-famous (although it's really nothing like Taco Bell or the equivalent) and Oaxaca is famous within Mexico for having possibly the best food.
There's even a British restaurant chain named after Oaxacan cuisine (although it's pronounced more phonetically).
Because of the range of native cultures in Oaxaca, there is a lot to try throughout the city.
If you're vegan, some of the options are limited – although you won't feel like you're missing out on too much because of it.
I haven't eaten meat for over 8 years now and didn't miss it in the slightest when I was in Oaxaca.
But there is a lot of cheese – the stringy Quesillo that Oaxaca is famous for.
That being said, in the right places, vegan options can be found.
Here are some examples of delicious cuisine that you should try in Oaxaca – and you can often find vegan options!
Mole (pronounced mol-ay) – often this sauce made with pig fat, but several locations including a stand in Pascaus Market serve a version made with vegetable stock. It's a sauce made of… kind of everything. Just some ingredients include chocolate, plantain, oregano, salt, tomato, bread… there are a few different theories as to how it was invented, but it is really delicious!
Tamales – this is basically dough in a corn husk or banana leaf, served with frijoles (beans) or mole. It is generally not vegan because it is made with pig fat, but vegan options are available.
Memelas (or Memelitas) – these are thicker tortillas served typically with beans and cheese. I generally get mine with some vegetables and different salsas.
Tacos – you thought I was going to forget, didn't you? 😉 Tacos are served all over Mexico, and of course in Oaxaca. It's normally possible to substitute the meat for mushrooms or other vegetables – and some places even sell Seitan as a meat replacement.
Tlayudas – lovingly known as a 'Oaxacan pizza', these traditionally come with meat and cheese, but vegan versions can be made with refried beans (just check that there's no animal fat) and vegetables – generally avocado and tomato, although some places offer other options as well. These are best enjoyed at 3am after a night of Mezcal at Txlaparta.
Sauces – I have a dream about being placed in a room full of guacamole and having to eat my way out. Fresh Guac from Mexico is absolutely divine (and I'm proud to say I can make it now!) and is an absolute must-eat for any visitors to Oaxaca. Plus there's salsa verde picante (green spicy salsa) and salsa roja (red sauce – kind of spicy but nowhere near as much as the green).
Refried beans (frijoles) often act as a sauce as well – if you don't eat meat, be careful because it quite often has fat in. Ask whether it contains grasa or manteca de las animales. And of course there's mole… wonderful mole.
Chocolate Caliente – on a cooler Oaxaca night, chocolate Caliente is an absolute must-drink. It is made with Oaxacan chocolate which is a blend of cocoa, cinnamon and sugar, and is generally made with water although it can be with milk as well. I've drunk far too many of these during my time here… #noregrets.
Dine at the Best Restaurants in Oaxaca
Restaurants are literally everywhere in Oaxaca. Here's the best of the best, including both Mexican joints and places to grab a European or American meal if it takes your fancy.
La Popular – they mean it when they say it's popular. Especially on Friday and Saturday nights, this spot is packed out (mainly with foreigners). But they serve up the best guacomole, tlayudas, tacos, tostadas and agua del dia (which is kind of like flavoured water with a stronger flavour) and of course, Mexican beer.
Las Quince Letras – serving up homely Mexican food, Las Quince Letras is a great spot for a family atmosphere and some incredible food. It is well known for its variety of moles and other authentic dishes.
Okasa – close to Parque el Llano, this is a great spot for lunch; they serve up a set menu and have good vegan options including soup, fried veggies, rice and beans.
La Casa de Tio Guero – this joint has another good set menu (ask for the Comida Corrida) or an a la carte service. It offers vegetarian mole, so it is quite easy to put a meal together with veggies and rice.
Casa Taviche – I haven't actually eaten here yet, but they have an 81% excellent rating on TripAdvisor and seriously well-presented food, so they look like a good option! They offer more typical fare including mole and fresh tortillas at a reasonable price.
Calabacitas Tiernas – I really enjoy this place. The restaurant is set in what resembles a garden (but it's under cover!) and they serve vegan, vegetarian and paleo food. I've tried pretty much everything on the vegan menu (which has a whole five options!), and while this might sound surprising, I really recommend their Thai Green Curry. Plus they do vegan banana bread for puds which is just awesome.
Cafe Cuiles – ok, the only thing I've tried here is the veggie burger – but sometimes you do just need a good veggie burger, right? Cafe Cuiles hits the spot for this, and rumour has it that the other dishes are pretty tasty as well.
Boulenc – a backpacker favourite, if you want to feel like you're in Italy or Vietnam, head to Boulenc for some delicious pizza or bahn mi. The pizza is seriously good. It's also a bar and event space, so it's a fun place to rock up to of an evening and then see where the night takes you!
Do a cooking class
On the subject of food, I highly recommend that you take a cooking class in Oaxaca.
I did one with Cooking Classes Oaxaca which was an entire day's worth of eating, drinking and cooking.
We made all the sauces I raved about, memelitas, quesadillas (although I'm not sure what you actually call a quesadilla with no cheese…) and just when we were completely full… it was time to make the main course including mole from scratch.
You get the recipes to take home and there's an open bar for five hours, top quality banter from Agustin, the owner of the cooking class and a dog to play with. Both Agustin and Esperanza, the chef, speak good English.
I can't speak for other cooking classes in Oaxaca but this one is well worth the time and money. It costs 1200 pesos per person but it is well worth it.
You might be thinking that you're going to be getting constantly merry on tequila when you go to Mexico. I'll let you in on a secret (well it's not really a secret, that was just for dramatic effect): I've been here for four months and I've only had tequila once.
And I ended up throwing up until 8 pm the next day.
In Oaxaca, they have a different spirit… mezcal.
You'll hear about mezcal pretty quickly after you arrive in Oaxaca. I think it was the first thing I was told about the city.
Made from the agave plant, mezcal is produced in the rural regions around the city. Many people claim that one of the best things to do in Oaxaca is to drink mezcal – although depending on how much I drink I sometimes think the opposite!
Mezcal is served in a shot glass, but don't shot it unless you want your mouth to feel like it's been engulfed in flames and you want every Mexican to shake their head at you in a bemused fashion.
Mezcal should be sipped and savoured – good quality mezcal doesn't really taste alcohol but just leaves a smoky sensation in your mouth.
There are plenty of mezcal bars, but you can also purchase the spirit at nearly every restaurant in the city or alcohol or food stores.
If that's not quite enough mezcal for you, consider a mezcal tour. It will take you to the plantations and mezcal distilleries, and you'll get to try lots of different types – including some flavoured ones.
You'll learn all about the history of mezcal and how it became such an instrumental drink in Oaxaca today. Plus, you can of course do some mezcal tasting!
Oh also, apparently mezcal can't give you a hangover. I don't think I agree with this, but that's what they say…
If mezcal isn't your thing, beer is also plentiful and cheap in Oaxaca.
The most popular brands are corona and victoria, and dos equis are also plentiful. W
ine is rare in some bars, but is sold in many stores and in more high-end places.
I'm yet to see any vodka or west country cider in Oaxaca, but I'm not exactly an alcohol connoisseur, so they might be hiding somewhere….
Day Trips from Oaxaca
Some of the best parts of Oaxaca lay in its surroundings. I'm going to do a proper day/ weekend trips from Oaxaca post that will go into detail about all of these places, but some of the best spots include:
Hierve el Agua
A favourite day trip from Oaxaca, Hierve el Agua or the 'petrified waterfalls' is located up in the mountains.
Resembling a frozen waterfall, the spot is a great photo opportunity and there are semi-natural pools nearby to swim in while enjoying the beautiful view.
There are also a few short hiking trails around the area.
Monte Alban
The most famous and significant ruins in Oaxaca, Monte Alban looks out over the city.
It takes a couple of hours to explore and can be reached in about 40 minutes from the center of town.
My favourite bit about Monte Alban is the sweeping views – you can really imagine being a Zapotec king looking out over the land.
The Giant Tree at Tule
Ahh, the giant tree.
It's the widest tree in the world, so you've kind of got to check it out, but it is what it is… a big tree.
Still, given that it's only 15-20 minutes from Oaxaca centre, it's worth the trip.
Tule is a pleasant town to walk around in for half an hour too – there is a church on the same sight of the tree and a spacious park.
Mitla Ruins
The Mitla Ruins are smaller than Monte Alban, but you can walk through them, which is pretty cool.
There is lots of information about the history of the ruins but it is all in Spanish.
Still, the ruins are cool to check out, and Mitla is a more traditional, quiet town which is a contrast to bustling Oaxaca.
It is recommended to combine Tule, Mitla and Hierve al Agua in one day trip. You'll have to leave early to fit them all in, but you pretty much go through Tule and have to change at Mitla to reach Hierve al Agua, so it makes sense!
The Sierra Norte
Aah, the Sierra Norte.
This beautiful part of the state is the mountains to the north of Oaxaca, filled with laid back towns and hiking paths.
It's an interesting cultural place to visit too – the Zapotec indigenous people live here, and you can see their unique culture everywhere.
It is possible to visit Ixtlan or Capulapam just for the day and go on a hike, but if you have the time it's also a great idea to stay the night in one of the Cabanas.
Tour operators in town also organise hikes in the area.
What to do in Oaxaca at night
When the sun goes down, Oaxaca stays fun. Things to do in Oaxaca at night include drinking mezcal, salsa dancing, drinking corona, eating street food, listening to music, and drinking more mezcal.
Go to a Gig or Event
One of the reasons why I love living in Oaxaca is because there are so many gigs and events here throughout the year.
The main ones are, of course, Guelaguetza, Semana Santa and Dia de los Muertos (day of the dead), but there's thousands of other, smaller events and gigs all the time.
Convivio (the coworking space that I am a part of) has gigs most weeks, as do many other venues throughout the city.
They have bands from Mexico and the US and occasionally, further afield.
Entry is cheap or sometimes free and beer and mezcal is aplenty.
They also do some other events including markets, exhibtions, comedy and more! Check 'em out on Facebook to see what's on when you're here.
Enjoy the nightlife
There aren't that many bars and clubs in Oaxaca, but enough to have a good night. Here are my recommendations:
Txlaparta – the biggest and probably the most popular bar in Oaxaca, this bar has a fun rooftop terrace as well as a large downstairs area. It's packed out on Friday and Saturday nights and serves up the usual fare of Mexican beer and Mezcal. They also do a mezcal mojito which I heartily recommend. Side note – if you're in Oaxaca when the world cup is on, Txlaparta is a great spot to watch a game.
Archivo – this is the best dancing spot in Oaxaca, in my humble opinion. They play mainly Latin Pop, which can get a bit repetitive after 4 months but it's still fun nonetheless. They also serve food (even at 3 am, which makes life very handy) and have a quieter upstairs area. The tiny bar upstairs sometimes plays deep house music and overfills its capacity by about 200%. That's always fun.
Cucaracha – generally the place that everywhere goes at the end of the night (I've only made it once because my normal bedtime is 11 pm sharp), Cucaracha has a bar, a small dancefloor and… a karaoke room. Which of course, at 5 am, is filled with people thinking they are the next Beyonce.
Tiki Bar – I don't know if this is its actual name, but everyone just knows it as 'the tiki bar'. It used to be a speakeasy (so it was called 'the tikisy') but now has its licence. Despite owning a tiki shirt, I've never actually been there, but I've been advised that it is a good time.
Festivals in Oaxaca
Oaxaca looooooves a fiesta.
While sometimes I've found myself grumpily stuffing in my earplugs and putting my head under my pillow at 3am because fireworks have started again, the cheerful musical culture is somewhat endearing.
There are parades throughout the year, for different reasons, but some festivals which are very famous. These include:
Semana Santa
Underneath the million shots of mezcal and the latin pop, Mexico is quite a traditional, religious country, so Holy Week (Semana Santa) is celebrated quite widely.
There are many church processions depicting the death of Jesus and how he rose again.
The most impressive is possibly the 'Procession of Silence' which is a time of reflection while figures carry objects and symbols.
Guelaguetza
Occurring every July, Guelaguetza is a celebration of the different native groups of Oaxaca state.
The main festival takes place in the Guelaguetza stadium (the spot with the nice view that I mentioned before!), but lots happens in the town throughout the couple of Guelaguetza weeks as well.
These include the Feria de Mezcal which is a 2 week long festival dedicated to mezcal in Parque el Llano (I told you Oaxacans love the stuff), various parades, pop up street food stalls and artisan markets, workshops and a reggae festival, satisfyingly called 'reggaeleguetza'.
Dia de Los Muertos
This is a nationwide festival, but it celebrating Dia de Los Muertos in Oaxaca should be on every Mexico travellers' bucket list.
The festival celebrates the lives of those who have passed – and legend has it that they come to the houses of their loved ones during the festival.
It is tradition to make a shrine to late friends or relatives and to go to the graveyards to honour them.
If you're just passing through Mexico, you can go to a graveyard and adopt a grave that doesn't have any visitors.
There are also lots of parades and events in town.
Noche de los Rabanos
I heard about this festival on my first day in Oaxaca and it made me fall in love with the place.
On the 23rd December, they have the world's largest radish carving festival.
I'll just repeat that.
On the 23rd December, Oaxaca has the world's largest radish carving festival.
Sorry what?
So yeah, they carve radishes into all sorts of funky shapes – generally nativity scenes – and display them for the city to see.
I'm pretty devestated that I won't be there then, not going to lie.
If you're not going to be in Oaxaca City for these dates, there may well still be parades – they have them for occasions like the national day of corn, and sometimes seemingly for no reason.
They're well worth checking out, so if you hear of one while you're in town be sure to check it out!
How to get around Oaxaca City
You can walk to most places in the centre, but if your feet are sleepy, there are plenty of buses – and in fact, I would highly recommend you take one while there.
They cost a mere 8 pesos and while some are uneventful, others will be garishly decorated (almost like chicken buses in Guatemala) and play a variety of music – once I listened to deep house, while in the worst rainstorm I experienced in the city.
There are signs on the front windows of the bus saying where they go (generally it will be a street name or a local attraction). Ask at your accommodation where to look for buses to.
Taxis are plentiful in Oaxaca and unlike in Mexico City, they are safe to hail on the street.
A taxi anywhere in the centre will cost 50 pesos.
If you're going to a suburb that's a little further out, expect to pay more. Collectivos drive around the edge of Oaxaca City and pick up passengers for just 10-15 pesos.
You can get to different entrance points of the city this way, and to surrounding towns and villages. It does take a little while to get the gist of the collectivos though!
Where to go from Oaxaca City
From Oaxaca, people tend to go to one of four places.
To Mexico City, located a 6-7 hour ADO bus away.
To the Pacific Coast – you can either take a 6-7 hour shuttle bus through the mountains (which many people recommend against, but I'm actually not opposed to it) straight to Puerto Escondido or to Pochulta, where you can catch a camioneta to Zipotle or Mazunte, or a 12 hour ADO bus to either destination, which takes the highway and is a lot less travel sick-inducing. Check out my guide to beaches in Oaxaca (coming soon!) to suss out which is the best option for you.
To San Jose del Pacifico – this is about 3 and a half hours into the Sierra Madre del Oaxaca. You can't avoid the mountains for this one – it sits at 2400 metres high. It's a spiritual place where magic mushrooms are readily available – there are some great hikes in the area too. Most people visit San Jose, then take a van to Pochulta and onto the beach from there.
To San Cristobal de las Casas – I haven't actually been here and I've heard very mixed things. Some people loved it, some said it was way too touristy. That being said, it's a good stopover if you're going east towards the Yucatan Peninsula, and is a good jumping point for other places in Chiapas state. It's a long old bus ride from Oaxaca though – about 10 hours.
I hope this list of things to do in Oaxaca has helped to inspire you to visit this wonderful Mexican city! If you have any questions, please leave me a comment on here or Facebook!
Pin Me!