This blog post contains affiliate links. When you use these links, I get a small commission, with no extra cost to you. This is one of the ways I can keep producing free content!
Don't wait until summer to explore Turkey. While Istanbul and Turkey in general are gorgeous during the warmer months, Istanbul in winter is every bit as interesting, beautiful, and dynamic as it is the other half of the year!
I've visited Istanbul four times – three of which have been during winter. The other time was on a busy weekend in August, and I found myself longing for the cooler weather and non-crowded streets that my subsequent visits had entailed. So, if you're wondering, "is it worth visiting Istanbul in winter" – my answer is a resounding yes.
There are so many things to do in Istanbul in winter – most of its main attractions are just as enjoyable when it's cooler outside. Let's take a look at exactly why I think you should visit Istanbul in winter!
What temperature is Istanbul in winter?
The temperature in Istanbul in winter varies. I've been there in November, January and February, and it's ranged from a t-shirt to full winter woollies weather. Istanbul in November can still be reasonably warm, and it starts warming up at the end of February as well. December, January and February are quite cold, but nowhere near as much as the rest of Europe experiences. Snow is rare.
What should I pack for Istanbul in winter?
Take a coat, no matter what the weather forecast says – the weather can be unpredictable. You might be ok to risk no scarf and gloves in November and after mid-February, but if you're in Istanbul in December and January, definitely pack your woollies too – and everything else that you usually take to stay warm!
I've always felt very safe during my many trips to Istanbul, but as with any big city, I'd recommend taking a cross-shoulder bag to keep valuables in.
What is Christmas in Istanbul like?
I've never spent Christmas in Istanbul, but reports from friends have said some places do celebrate, and the main roads have decorations. However, nothing closes on December 25th, and being a Muslim majority country, there is obviously less celebration than elsewhere in Europe. If you want to celebrate Christmas but not to the extent as some other countries, it might be perfect for you!
Where to stay in Istanbul in winter?
Istanbul's hotels and airbnbs are well kitted out for winter, so you don't need to worry about that too much! Here are my recommended hotels:
Luxury Hotel: Vogue Hotel Supreme Istanbul is located in the Fatih area, right in the heart of Istanbul Old Town and a stone's throw from its best attractions!
This 5* hotel has spacious rooms with deluxe bathrooms, and a restaurant on site. The staff are reported to be extra friendly as well! Click here to read more.
Mid-Range Hotel: I'm a big fan of Pera Center Hotel & Spa. It's located in Taksim, a little way from the main touristy areas but the neighbourhood is fun! The rooms are comfy and clean, with a small balcony, breakfast is served in the restaurant with a rooftop view and there's an underground spa area. The staff are really friendly too, and it's great value for money!
The only thing to note with this hotel is that the en suite bathrooms are separated from the bedrooms by a glass screen – there are privacy curtains but it is a bit of a strange set up! That wouldn't stop me staying there again though – click here for more information.
Budget Hotel: Honey Hotel is a highly rated hotel in Fatih, offering value accommodation in the more touristy part of Istanbul. The rooms are clean and cosy, offering free tea and coffee. The English-speaking staff are also on offer to help with any requests! Click here to read more.
Hostel: Cheers Hostel is close to all of the main attractions of Sultanahmet, and is ideal for backpackers wanting to be in the heart of the action! It has a friendly, fun atmosphere and welcoming hosts, as well as a covered terrace – perfect for breakfast! Private rooms and dorms are available. Click here for more information.
Things to do in Istanbul in winter
Visit the Hagia Sophia
The Hagia Sophia is one of Istanbul's most historic and fascinating buildings, and visiting it is a real bucket list experience.
It was originally built as a Greek Orthodox Christian Church in 360 AD, when Istanbul was called Constantinople. It was repaired and rebuilt twice, with the current building finished in 537 AD. It was a Byzantine hub, the place where emperors were crowned, but when Constantinople fell to the Romans it was administered – and severely damaged – by the Romans. The Byzantines quite quickly took back control, however.
This all changed in 1453 AD, when Emperor Fatih Sultan Mehmed and his Ottoman army captured Constantinople, renamed it to Istanbul, and turned the Hagia Sophia into a mosque. Today, you can see the Islamic calligraphy on the ceiling which was added during this time. From 1935-2020, Hagia Sophia no longer was a mosque and became a museum instead. However, in July 2020 it became a mosque once again.
It's definitely a must-visit in Istanbul – and it's perfect in both summer and winter! In winter, be aware that the Hagia Sophia closes at an earlier time of 5pm.
You can purchase a museum card which includes the Hagia Sophia, or you can purchase a skip the line ticket here. Otherwise, just turn up and queue for a short while to get your ticket!
See the Blue Mosque
Istanbul's Blue Mosque – also called the Sultan Ahmet Mosque – is another iconic feature of Istanbul, its six minarets proudly punctuating the skyline. It is known as the Blue Mosque because of the blue tiles that it is adorned with.
The mosque was constructed from 1609-1616 during Ahmed I's reign (hence its other name). It consists of a tomb for Ahmed I, a madrasa and a hospice, as well as a working mosque. Guests can visit outside of prayer time.
Women need to cover their hair when entering the Blue Mosque, and everybody should wear long trousers/ skirts, cover their arms, and take their shoes off. Entry to the Blue Mosque is free.
Do a walking tour of the city
Istanbul's history is fascinating and you can sense it on every corner. However, the best way to hear about this history is to do a free walking tour of Istanbul. There are a few tours that you can try to learn about this city – try this morning tour of Istanbul's old city, or this combined sightseeing and food tour called secrets of Istanbul.
All of these tours run summer and winter – although if you are a solo or couple, do double-check that they will be going ahead if it is just you or your group.
Stroll around Topkapi Palace
Aside from famous mosques, there are palaces in Istanbul too! Topkapi Palace Museum is an Ottoman palace, operating from 1478 to 1856 – after its closure for some time, it was reopened as a tourist site and museum. You can admire the ornate architecture here, classic of the Ottoman period, and stroll around the many exhibits and collections throughout the palace. The museum is mainly indoors, so it's perfect for chilly winter days.
Visit Istanbul's many museums
Other than Topkapi Palace, there are plenty of other museums in Istanbul.
The Museum of Innocence is one of the most interesting museums of the city – it is a museum based on a book that was set in Istanbul, but also provides a compelling insight to what the city was like in the 1970s. If you haven't read the book, it's definitely worth getting the audio guide.
The Quincentennial Foundation of Turkish Jews pays homage to Turkey's Jewish population and the role they play in the country. There is also a synagogue on site, and a cafe that serves up Sephardi food.
The Istanbul Toy Museum could be one of the best things to do in Istanbul with kids – it exhibits toys back to the 1700s!
The Istanbul Archaeology Museum has all sorts of archaeological pieces from the Ottoman Empire to modern day.
The Museum of Turkish and Islamic Arts is a large art gallery featuring pieces from across Turkey and the Islamic world, including some rare pieces.
There are lots more, but these should get you started! Some of these museums (although not all) are included in the Istanbul Museum Card.
Go Up Galata Tower (with no queue!)
Galata is one of my favourite areas of Istanbul, and it's punctuated by the stand-out Galata Tower. The tower dates back to 1348, when there was a Genoese colony in the Galata area (the rest of Constantinople was in Roman charge). It replaced another tower that was destroyed in 1203.
The Genoese colony eventually also fell to the Ottomans, and it was used as a watchtower, mainly for spotting fires! It has been refurbished throughout the years, but is now used as a tourist attraction.
In the summer, the queues for Galata Tower are pretty horrible. I was queuing for over 90 minutes just to go up! But every time I've walked past Galata Tower in winter, the queue has looked a lot more manageable.
Go underground in the Basilica Cistern!
You won't notice it's winter underground! The Basilica Cistern is a huge, ancient cistern underneath Istanbul – there are lots of them, but this is the largest! Built in 532 AD, it provided water to locations around the city. Nowadays, it's a kind of eerie place to visit, but its underground location makes it perfect for anyone visiting Istanbul in winter!
Do a Bosphorus River Cruise
The Bosphorus is the strait of Turkey that separates Europe and Asia. You might think that taking a cruise on the Bosphorus is something that you can only enjoy in Istanbul in the summer. Think again! The cruises run all year and, as long as you wrap up warm, there's no reason why you can't stand out and enjoy the view.
There are a few different tours that you can do, depending on when you do them, your budget, and what you want to include. Most tours feature at least a little sightseeing; some include lunch or dinner, and a few even venture out to the Black Sea!
Here are some tours that you can do of the Bosphorus:
Experience the bazaars
Something else that Istanbul is synonymous with is its many bazaars. Its most popular are the Grand Bazaar and the Spice Bazaar. The Grand Bazaar was constructed by order of Mehmet (the Ottoman conqueror of Istanbul) in 1455. It was supposed to be a place for merchants to sell their products, and a portion of the profit would go back into the Hagia Sophia Mosque.
Due to Istanbul's geographical position, the Grand Bazaar quickly became a point of trade between Europe, Asia, and Africa. It's partially due to this Bazaar (and of course, a lot due to Istanbul's geography) that the city became such a mix of cultures, which it remains today!
The markets are open all year round, apart from national holidays in Turkey (including both Eids, I got caught out once when I tried to visit during Eid al-Adha which is not the Eid after Ramadan!). They're covered, so they're great to explore even if the weather isn't so good!
Warm up in a hammam!
If sightseeing in Istanbul in winter gets a bit too cold for you, head to a hammam to warm up! Hammams are Turkish baths, and there are a few around Istanbul. They range from a set up similar to a sauna/ steam room with a pool to a full-on massage and scrub – take your pick!
Where to eat in Istanbul
Turkish food is underrated on the global food market. Think full Turkish breakfasts consisting of bread, dips, olives, Turkish cheese, dates, pancakes stuffed with potato and spinach, fried vegetables and yoghurt sauce, and of course lots of food that is influenced from its surrounding countries – try the falafel!
Turkish food is hearty and wholesome, meaning that it's more suited to Istanbul in winter – I've always found it a bit heavy during the summer! And, of course, the colder it is, the more cups of Turkish chai (tea) you can drink – those are the rules, right?
There are loads of amazing restaurants in Istanbul – I'm sure there are tons that I haven't been to yet so aren't included on this list, but here are some of my favourites!
Van Kahvalti Evi dishes up full Turkish breakfasts. Don't go here alone – these are sharing portions!
Galaktion is a Georgian restaurant near to Galata Tower, serving classics like Khinkali and Kanchanpuri.
Tyros Falafel is a Lebanese fast-food style restaurant with the best falafel wraps I've ever eaten.
Khave 6 is a cafe serving delicious individual breakfasts, including an excellent vegan option.
Parsifal is a vegetarian place (plenty of vegan options available) serving some Turkish and international dishes.
Köklem Uygur Yemekleri, a Uygur restaurant – Turkey is home to a lot of Uygur people, and therefore a lot of their delicious food is available!
The Galata House Restaurant serves Russian and Georgian cuisine in a homely atmosphere – the owner speaks great English and will happily speak to you about Istanbul for as long as you want!
Where to go from Istanbul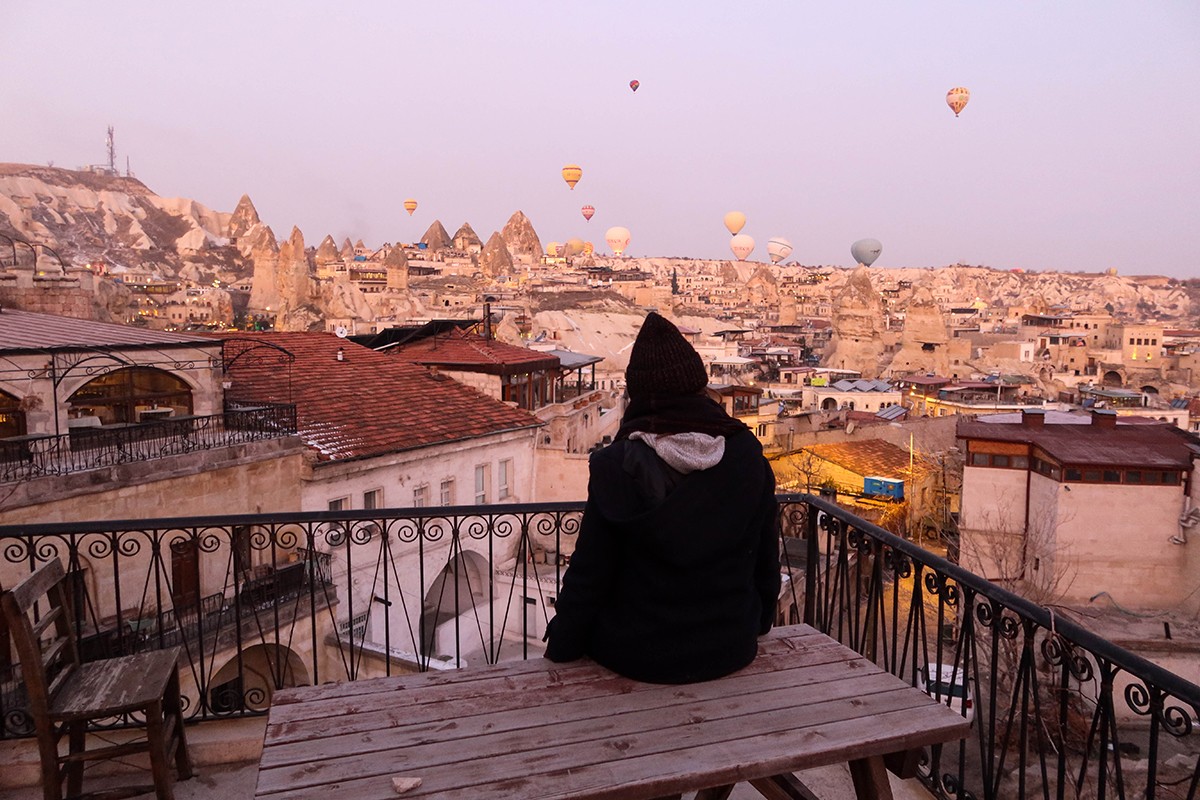 I collaborated with some other travel bloggers to write a full blog post all about the best places to visit in Turkey in the winter – check that out for inspiration! From Istanbul, you can travel to all of these places by road, rail, or air. I'd recommend taking the bus or train where possible – my niche is travelling overland and it's much more sustainable!
My favourite place to visit in Turkey in winter is Cappadocia. This is a bit far from Istanbul by bus (8-12 hours!), but you could get the fast train to either Konya or Ankara and take the bus from there. Cappadocia in winter is absolutely magical – it's famed for its fairy chimney landscape and balloon punctuated sky, and it looks even more special with a layer of snow!
Have I persuaded you to visit Istanbul in winter?
Istanbul in winter – it's something that you should try! I have absolutely loved my trips to Istanbul in February, January and November and think it's a great time to visit. Let me know if you have any questions about visiting Istanbul in winter or any other time of year!