Beautiful Cappadocia is one of the best destinations to visit in Turkey, famed for its epic landscapes, fascinating history, and hot air balloons.
It attracts travellers, young and old, from all over the world.
It's a relatively easy journey from Istanbul or Ankara and is also quite close to the Mediterranean holiday regions of Turkey, so it's an ideal side trip from any of these places.
So when is the best time to visit Cappadocia?
While many people head to the region during Turkey's summer, or when they're chasing the sun in the spring or autumn, visiting Cappadocia is perhaps best in winter.
You may be wondering what makes Cappadocia in winter so special?
I'm going to go into in this blog post – and show you why visiting Cappadocia in winter may be way better than visiting in summer!
Reasons to visit the winter wonderland of Cappadocia in winter
Magical snowy landscapes
The region around Cappadocia typically sees a lot of snow from around late November until early March.
While snow isn't guaranteed, if you visit Cappadocia in December, January, or February, you'd be pretty unlucky to not have a white landscape!
The landscapes of Cappadocia are magical, there's no doubt about it.
But what makes this even more so? A layer of snow.
Cappadocia's wonderful any time of year, but there's something extraordinary about this brilliant white landscape.
Stay in a cosy cave
Most people who visit Cappadocia stay in a cave hotel.
People lived in caves in the area in ancient years, both to shelter from the extreme weather and to hide from invaders!
Lots of these caves are open to visit (and they are one of the best things to do in Cappadocia), but the cave hotels are new caves, with heating, comfy beds, and rustic decor.
These caves are popular all over the Cappadocia region, and there's something really special about staying in a cave when the temperature's that little bit cooler (you can make the room really nice and toasty with central heating!) and the sun goes down a little earlier.
In the summer, you'll want a bright room with a balcony, but these little caves are ideal for Cappadocia in winter.
I really recommend the Dervish Cave House.
These cave rooms are great value – we had almost a mini apartment with a lounge area, a bedroom and a huge bathroom!
There is also a wonderful free breakfast every morning. Turkish breakfast = superior to all other breakfasts. Click here for rates and to reserve your spot!
Nothing is closed during winter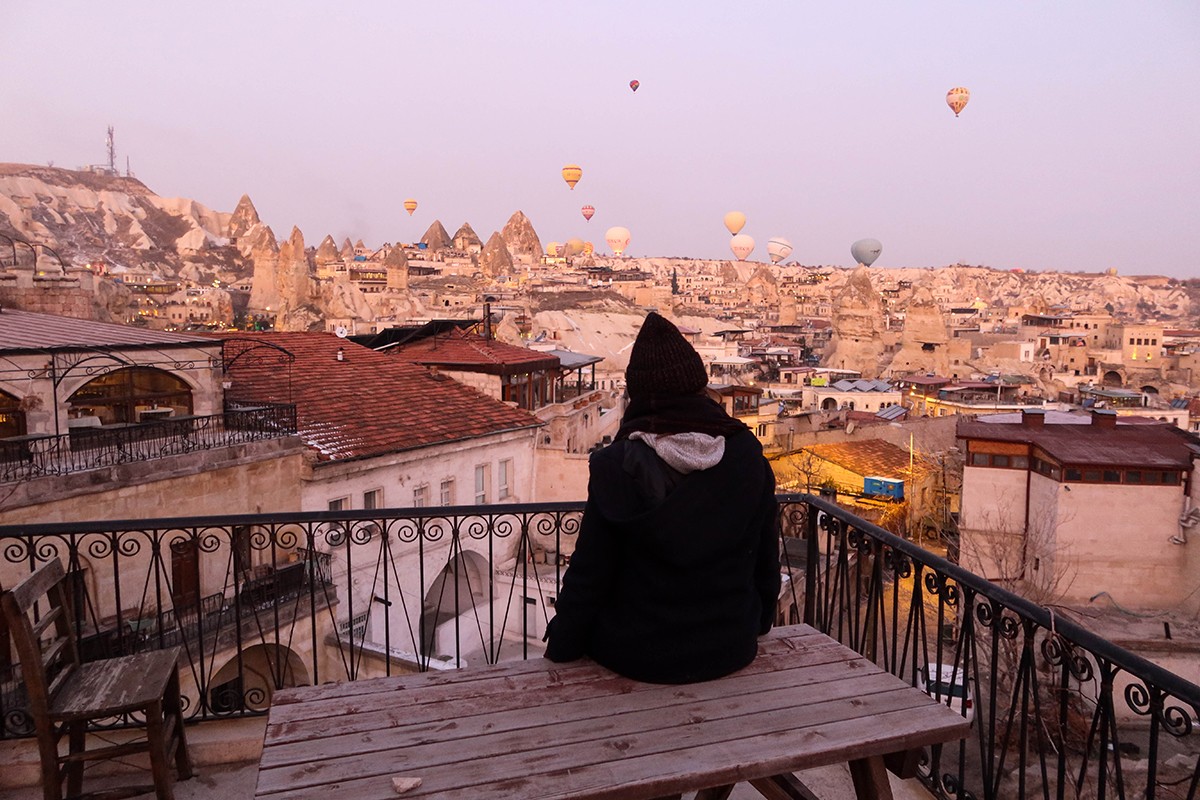 A lot of people avoid travelling in winter because some attractions are closed.
Cappadocia in winter is not one of those destinations – everything, from hot air balloon rides to museums, remains open!
Not only will you see the region from a bird's eye view, but you can enjoy the Goreme open-air museum, climb up Uchasair castle, and visit many of the underground villages.
There's so much to see in Cappadocia in winter or summer!
Enjoy wholesome Turkish food and mulled wine
This is one of the main reasons to visit all over Turkey in winter, but it's worth mentioning here!
Turkish food is hearty and wholesome, and it's great to enjoy with multiple cups of chai (Turkish tea) in the colder months.
In Cappadocia, try out the kebabs, which are made in clay pots, and check out the pasta restaurant on Goreme – it's awesome.
This region of Turkey is famous for wine.
Wine here isn't as delicious as neighbouring Georgia, but it's still worth sampling while you're passing through! And, in the winter, cafes serve mulled wine – perfect for a pick me up after one of Cappadocia's best hikes!
Cappadocia in the snow is perfect for hiking!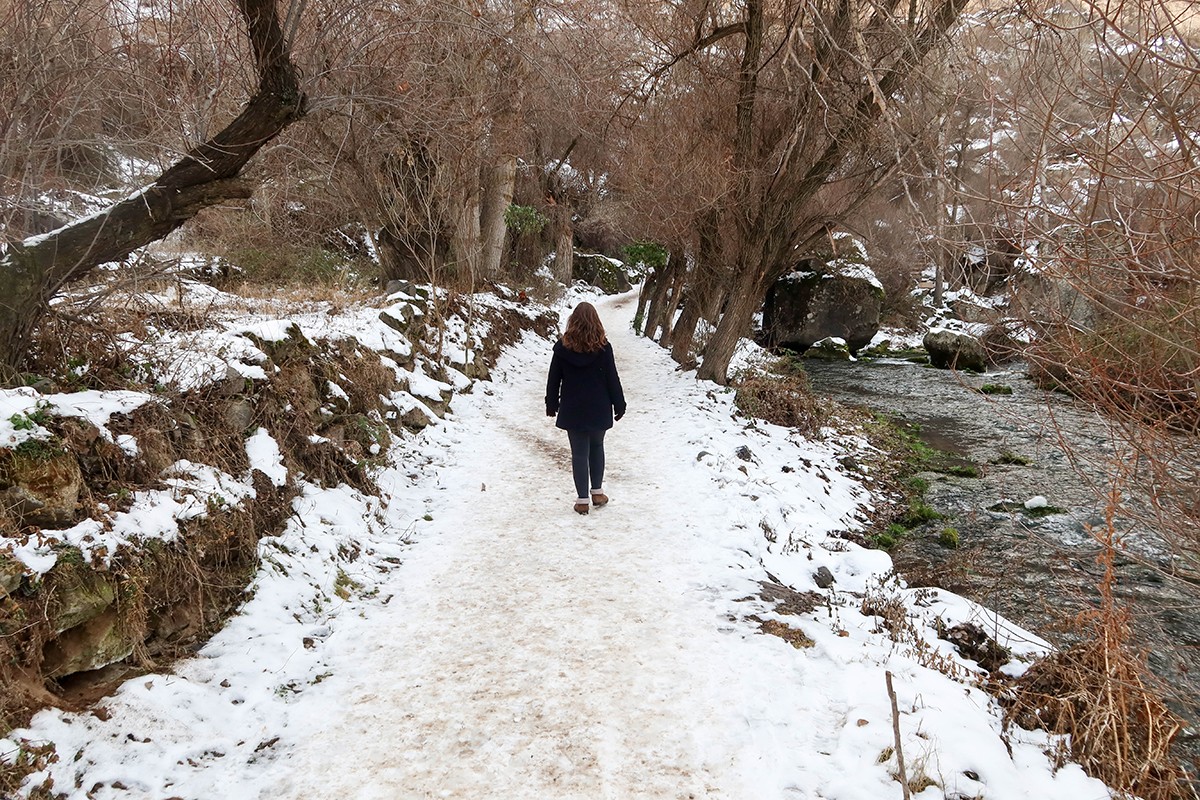 Which brings me to my last point. Cappadocia in winter is the ideal hiking climate.
As I've mentioned, the landscape is breathtaking here, and while it can be too snowy for some hikes, I visited Cappadocia in January and every hike I wanted to do was open.
During the summer, this region of Turkey is scorching, making it quite challenging to do any hikes.
But come to Cappadocia in February or any other time before, and you'll have not only dramatic snowy backdrops but also very comfortable temperatures to move around in.
Despite it being cold, every single day that I was in Cappadocia during the winter was crisp and sunny, with barely any clouds in the sky.
It's the kind of brisk winter weather that makes you want to get outside right away!
One of my favourite hikes was Goreme to Uchasair, traversing through a gorge on the way and the Valley of Love – named so for its phallic-shaped rocks – on the way back.
What to pack for Cappadocia in winter
If you're visiting Cappadocia in November to March, there are a few items that you'll want to make sure you remember to pack!
You'll need some sort of large coat that will keep you warm.
Waterproof boots are essential if you're going hiking at all.
Remember a hat, scarf, and gloves
Unless you're venturing up any of Turkey's mountains on the same trip, you won't need any comprehensive snow gear. The same cold weather clothes that you wear in most countries will be sufficient!
Visiting Cappadocia
From Istanbul, most people fly to Cappadocia, but you can also take an 11-12 hour bus (some of which are night buses).
It's easier to get to Cappadocia from Ankara. This is a five hour bus and they leave throughout the day and night. I've used BusBud before.
If you're looking for a hotel in Cappadocia, I recommend the Dervish Cave House. You can check them out and reserve your spot here.
Things to do in Cappadocia in winter
And you might be wondering what there is to do in Cappadocia in the winter?
Make sure that you don't miss:
a hot air balloon ride
visiting Uchaisar Castle
hiking around the rock formations
the Goreme open-air museum
visiting the underground cities
Hot air ballooning is definitely the main thing to do in Cappadocia. If your budget will allow one, I'd definitely recommend it! You can use the tool below to book a tour.
Winter Cappadocia guide
I hope this Cappadocia in winter guide has inspired you to visit the area, and hopefully Turkey as a whole!
It's an epic country, with so many things to do, and somewhere that I hope I'll be spending more time in in the not so distant future.
For more winter adventures, check out my things to do in Istanbul in winter guide!