Is Albania worth visiting? Here are my personal thoughts on travel to the country from my trip there!
Tucked between the Balkans and Greece, Albania's a country that was long off the tourist radar. 
The nation suffered under a brutal Communist regime, which meant that it was very closed off to the rest of the world for some decades.
Post-Communism, it took a while for the country to find its feet and develop; probably more so than other Balkan countries due to just how closed off it was.
But these days, it's all changing.
Albania's always had epic nature – you don't have to choose between beaches and mountains here – but in recent years, tourism infrastructure has developed to make visiting the country fairly seamless.
Plus, it has Roman ruins, Mediterranean food and excellent year-round weather.
I spent two weeks in Albania exploring Tirana, the capital, and the southern beaches.
I absolutely loved it and believe it's a destination worth your attention!
In fact, I've seen many posts on social media calling it the most "underrated country in Europe" and I definitely agree.
So, why visit Albania? Hopefully, I'll convince you in this blog post!
Is Albania worth visiting?
YES, Albania is definitely worth visiting!
Whether you're into beautiful beaches, hiking, history or more adventurous activities like SCUBA diving, Albania provides.
It's affordable, it's welcoming and it's relatively easy to get around – as long as you're ok with doing a little planning.
It may not be as easy to travel as well-trodden destinations like Spain or Germany, but honestly, as long as you do a bit of research (like reading this blog!) getting around is fairly effortless.
So, let's dig into all of my best reasons to visit Albania!
Reasons to Visit Albania
There's an abundance of reasons to visit Albania, from hiking in the mountains to lazing on Mediterranean beaches.
Albanian beaches 
Albania shares a border with mainland Greece, and you can spot the Greek island of Corfu from Saranda.
Greece is world-famous for its glorious, Mamma Mia-esque beaches.
So, it should come as no surprise that there are beaches to rival Greece's just over the border in Southern Albania!
However, unlike in Greece, tourists haven't yet flooded Albania's beaches – but they're coming!
Ksamil has been blowing up on social media in the last couple of years, inspiring more and more people to book a trip to Albania – but compared to Santorini and Mykonos, it's still relatively quiet.
Plus, there are countless other beaches in Albania that still see barely any tourists.
An Albanian summer is prime beach weather. The climate mimics that of Greece—expect hot summers drenched in sunlight and cool, mild winters.
Plus, it has beach bars! We went to a few around Saranda.
They're not extensive by any means, but we found one with a laid-back atmosphere, sunbathing nets, plenty of food and an extensive cocktail list – along with a pool and, of course, a small private beach.
Great value
One of the most prominent reasons to visit Albania is the savings compared to other Mediterranean destinations like Greece, Italy, and Spain – although I don't want it to sound like that's the only reason – it has plenty of attractions and appeals in its own right.
But in an ever-expensive world, the cost savings in Albania can't be ignored.
Whether it's accommodation, transportation, food, or even most alcoholic beverages, you'll find it's cheaper.
We secured a one-bedroom apartment with a kitchen and large living area in Saranda for an entire week for €180; so it worked out €90 per person.
Of course, you could find cheaper deals if you spoke to locals directly.
Cheap food was abundant; you could easily eat out for around €5 per person, or €10 per person if you dined at a swankier place. Drinks were typically pretty good value too.
Fascinating history
Albania has an intricate, often sombre history that's well worth learning about while you're here.
Sitting at a crossroads of Europe, you'll find Roman ruins and Ottoman-influenced cities.
The country was isolated for much of its recent history, following a Communist regime that was among the most oppressive in Europe.
It remained closed off from the rest of the continent and the world.
During a walking tour in Tirana, we learned that items like bananas and Coca-Cola didn't appear in Albania until the 1990s due to its insular policies.
Tirana's evolution since the fall of Communism is nothing short of remarkable, and nowadays it's an open, welcoming city.
However, there are plenty of places to delve into the capital's and nation's history.
I definitely recommend the aforementioned walking tour, and to delve into the harsher aspects of Albania's Communist past, you can visit Bunk'Art, a series of museums in and around Tirana.
Roman ruins
So, those Roman ruins.. they're accessible, and they're well worth visiting on a trip to Albania!
Durrës, once a prominent Roman port called Dyrrachium, is home to an amphitheatre that once accommodated 20,000 spectators.
Apollonia, near the modern city of Fier, showcases the remnants of a library and a monumental gateway.
With every footstep, you're literally walking on pathways that scholars and merchants trod more than two millennia ago.
Its proximity to the Aos River indicates its strategic importance in both trade and military planning.
You can't overlook Butrint, close to the Greek border.
The site includes not just Roman ruins but layers of different civilizations.
You'll find Roman villas next to early Christian basilicas, all encircled by medieval walls.
Shkodër is home to an intact Roman bridge, Mesi Bridge, spanning the Kir River. .
Interesting bunkers
Then there's the bunkers…
This is another slice of Albania's World War Two history, and is something that makes it completely different to other nations in Eastern Europe.
These bunkers are scattered across fields, mountains, and even urban areas throughout Albania.
They're tangible remnants of the country's isolationist past under the Communist leader Enver Hoxha.
Initially designed for military defence, these bunkers range in size—from small, one-person pods to larger, more complex installations.
A visit to one of these bunkers, such as those at Gjirokastër, is a glimpse into Albania's Cold War mindset.
The thick concrete walls and narrow openings were designed to withstand potential invasion, a physical manifestation of Hoxha's "bunker mentality."
The Bunk'Art Museum in Tirana which I mentioned before is well worth visiting – and probably the most famous bunker of them all.
Other bunkers in the country have been repurposed—some as cafes, others as storage spaces.
Still, their prevalence makes them an indelible part of Albania's modern history.
Tirana's a unique city break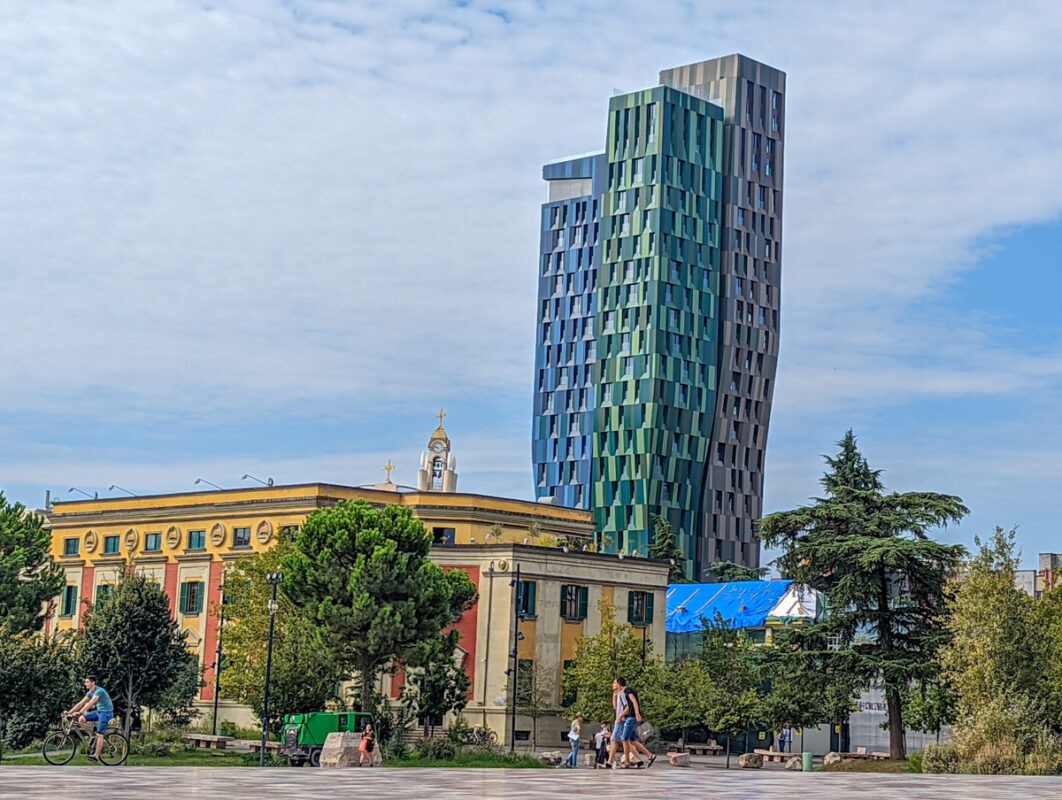 Ever thought of a city break to Tirana?
I was actually quite taken with this city and thought it was well worth a two or three-day trip.
In Tirana, there's a burgeoning food scene, plenty of nightlife, historical attractions and modern culture.
It's a wonderful fusion of cultures; European from its geographical position, and Middle Eastern from the Ottoman rule.
I loved Tirana's city spirit too.
One of my favourite stories was that when war broke out in Ukraine, they renamed the street that the Russian embassy was on to "Free Ukraine Street". So all response to the Russian embassy has to go to "Free Ukraine Street"!
Attractions and Experiences to Check Out:
Skanderbeg Square serves as the city's focal point and showcases a mix of historic and modern architecture.
National History Museum provides an in-depth look into the country's turbulent and captivating past.
The Pyramid, once a monument to Enver Hoxha, has transformed into a graffiti-covered symbol of change and artistic expression.
Tregu Cam is a bustling traditional market that offers everything from local produce to handmade crafts.
Street art around the city adds an unexpected layer to Tirana's multifaceted identity.
Visit Bunkart to learn about the country's Communist history.
Albanian food
I'm not going to say Albanian food was my favourite, but it could definitely appeal to some!
Generally, food here is quite meat-heavy (which is why I struggled a bit with it, as a veggie).
However, that said, it's a bit of a fusion of Mediterranean food.
Apparently, lots of budding Albanian chefs venture over to Italy to study cooking and then return to their home country, full of the knowledge of how to create the very pest pizza Margareta or gnocchi!
Plus, due to its proximity to Greece, you can expect lots of Greek salad (or "Albanian salad" as it may be called!) and gyros.
Finally, you may see some Turkish foods on the menu, thanks to its Ottoman influences. Albania's no stranger to vine leaves!
Epic nature
While Tirana is a fun city to hang out in for a few days, most people visit Albania for its nature. 
The Albanian Alps, locally known as the "Accursed Mountains," challenge both amateur and seasoned hikers.
Trails like the Theth to Valbona route traverse over these jagged mountains.
As you ascend, the expansive vistas reveal isolated villages and untouched forests, providing a sense of remoteness that's increasingly rare in Europe!
The Southern Riviera contrasts with a Mediterranean climate and stunning beaches.
Dhërmi and Jale Beach are home to aqua waters against a backdrop of rugged cliffs and olive groves.
The country is also home to a variety of lakes and rivers.
Lake Skadar, one of the largest lakes in the Balkans, hosts diverse ecosystems teeming with birdlife, including the rare Dalmatian pelican.
Then there's the Osum River, whose canyon is perfect for adventure seekers eager to go rafting or canyoning through its winding waterways.
UNESCO sites
Don't just take my word for it about Albania's cultural and historical sites – UNESCO's deemed a few of them to be pretty special too.
One of these is the historic city of Gjirokastër.
This well-preserved Ottoman town is a marvel of architecture and history, with stone-roofed houses that give it the name "City of Stone."
Another famous destination is the ancient city of Butrint, close to the Greek border.
Once an ancient Greek and later Roman city, Butrint has seen various civilizations pass through, each leaving their mark.
The ruins include an amphitheatre, a basilica, and public baths, among others.
What makes Butrint unique is its setting amid lush greenery and water, offering a different feel from other ancient ruins.
Then there's the natural wonder of the Gashi River and Rrajca, part of the Ancient and Primeval Beech Forests of the Carpathians and Other Regions of Europe.
This area is a haven for biodiversity and offers some of the last untouched beech forests on the continent.
Perfect for road-tripping
Albanian road trip?
We didn't actually drive when we were there – neither myself or my partner are all that confident about driving overseas – but we met plenty of travellers who had rented cars in Tirana and had drove themselves the whole way around the country.
They did actually tell us that it was only really Tirana where the roads were hectic enough to put them off driving in Albania, and the rest of the country was quite chilled out!
Hitch-hiking is also quite common in Albania. Again, we didn't hitchhike, so I can't comment too much on this, but it seemed to be the done thing by some people!
The nightlife scene in Tirana
There's quite a robust nightlife scene in Tirana!
We only went to a couple of bars, but it had a fantastic atmosphere and everywhere boasted a broad selection of drinks, with local and international beers, wines and cocktails.
I even had Aperol Spritz for about 3 euros.
If you want to dance the night away, there are a few clubs here too – it could contend with lots of other European cities.
Fusion of cultures
A relic from the country's Ottoman past, 70% of Albanians are Muslim.
That said, most don't really practice; pretty much every Albanian I spoke to said they were Muslim, but they couldn't remember the last time they went to a mosque – quite similar to how many British people are Christian but don't really go to church.
There are also Christian people in the country, and one thing that strikes me about Albania is that there seemed to be a lot of religious harmony within the country – which contrasts with elsewhere in the Balkans!
Scuba Diving
While not famous for its coral reefs or marine biodiversity, the waters near Saranda boast an array of incredible shipwrecks.
These sunken vessels vary from medical transport ships to car ferries – there were even a few car wrecks on the sea bed – along with plenty of wrecked fishing boats.
We spent a week diving in Albania, and while I did enjoy it, my partner and I discussed how the dive school wasn't very safe and that we only felt comfortable because we both had experience, wore dive computers and the dive sites were relatively easy.
In fact, a couple of times we ended up doing our own safety stops and decided to go up independently because the Divemaster either didn't do a safety stop or was diving on too low air for our comfort.
Based on our experience, I wouldn't have recommended the school – but it's also come to my attention that the school, Spiranca Diving Center, was actually involved in a diving accident where a woman tragically lost her life, and the owner was arrested for negligence and hiring untrained instructors. 
They don't appear to be operating any more.
There are a few other dive schools in Albania, but I can't speak for their safety because I haven't used them personally.
I'd recommend taking this as a lesson to, wherever you are in the world, carefully check all dive shop accreditations, check your equipment thoroughly and ensure that you know what to do in an emergency.
Consistent Weather
The climate in Albania rarely disappoints.
During our two-week stay in September, we enjoyed constant warmth and sunshine, with temperatures up to 30°C and very little rain!
Coastal regions maintain a milder climate even during winter months, whereas you might find snow up in the mountains.
Uncharted Hiking Trails
Albania abounds in hiking opportunities, especially in its mountainous regions near Macedonia and Montenegro.
While our itinerary focused on diving, we met travellers who raved about the extensive hiking they had done.
Referred to as the "Albanian Alps," the country's mountain ranges offer something for both beachgoers and mountain lovers.
You'll find a variety of terrains to suit your preferences.
Improved Transport
Albania's transport infrastructure has improved significantly in recent years.
My partner visited in 2016 and recounted tales of uncertain bus arrivals while waiting alongside highways.
Those days are mostly behind Albania!
Tirana now has a central bus station, and multiple private bus companies operate within the country.
We took a bus from Tirana to Saranda, and while we couldn't book it online and did have to ask around a little when we arrived, it was relatively smooth.
After Albania, we went to Lake Ohrid in Macedonia, and we were able to book this on GetByBus.
There's also a new seasonal route connecting Tirana to southern beach destinations – this wasn't running when we visited Albania, so we couldn't try it, but it seems an effective transfer service!
It's safe!
Contrary to what some may think, Albania is a safe country to visit.
Popular culture, often influenced by films like "Taken," perpetuates a very negative image of the country. 
This made me quite sad and frustrated as I explored – I've been to 65 countries, and Albania felt much safer than many of them.
I actually travelled from Rome to Albania (I took a train to Bari and then a boat from Bari to Durres), and felt markedly safer walking around Tirana than I did in Rome.
Not that Rome felt dangerous, but Tirana felt much more chilled out, and I found that I was much less concerned about pickpocketing here!
Saranda also felt very relaxed – there was nothing dangerous about it, apart from the lax attitude of the dive school that we were with.
As Albania undergoes rapid development, the locals are eager to change outdated narratives about safety and put their country on the tourist map!
Things to consider when visiting Albania
As you may be able to guess, I think Albania's a wonderful country and it's well, well worth visiting!
But there are a few considerations to make before visiting.
Travel logistics
Albania doesn't offer the seamless rail connections that make traversing most of Europe a breeze.
Like much of the Balkans, trains don't really exist here – you'll need to take buses, hitchhike or drive yourself to get around.
This makes travel logistics a little more complicated than elsewhere in Europe, but it's a lot easier than it used to be!
Mixed success with food
As a vegetarian, I found Albania's culinary offerings to be somewhat limited.
Although I didn't exhaustively search for the best vegetarian spots, the meals I had in Tirana were satisfying enough, and the breakfast at our hotel was delicious!
Yet in Saranda, the food options felt repetitive—mostly pastas and Greek salads.
Limited resort options
If your idea of a vacation involves all-inclusive resorts, you won't find many in Albania.
This isn't necessarily a downside; we found that the lack of mass tourism contributed to a more local experience!
But if you want to go on holiday somewhere with huge five-star resorts with swimming pools, Albania might not be the one.
Who is Albania perfect for?
So, what kind of traveller would love Albania?
Generally, I think any adventurous visitor who enjoys exploring places that are lesser-known (or just about to take off!) will love it.
Whether you're a solo traveller, group of friends, family or couple, if you adore a bargain and enjoy exploring places that aren't chock a block with tourists, you'll adore Albania!
Perfect for those who like off-the-beaten-track destinations
Albania caters well to those weary of tourist-packed destinations.
Unlike the crowded beaches of Greece or Malta, Albania's serene and peaceful.
If you relish the idea of less-crowded beaches, you'll find a respite here—but consider visiting sooner rather than later, as it's only going to become busier!
Albania with kids
Families do visit Albania, but if you're visiting with kids you might need to do a bit of extra planning!
For example, rather than taking buses with kids, I'd recommend maybe hiring a private driver or taking the wheel yourself.
Before booking, dedicate time to researching accommodation and activities that cater to families.
There aren't loads of kid-specific attractions in Albania, but the country has plenty of beaches and older kids will love the UNESCO sites and history!
Albania for couples
For couples with a taste for adventure, Albania doesn't disappoint.
Numerous stunning beaches beckon, often devoid of the tourist throngs found elsewhere.
Plus, mountains and walking around beautiful UNESCO cities are ideal for dates with a difference!
Solo travel in Albania
Albania's great for solo travellers.
The capital city, Tirana, along with other major tourist spots, offers an array of hostels where you can meet other travellers.
Are you ready to visit Albania?
Hopefully, this blog post has shown you that Albania's a European country that should definitely be on your radar!
With beaches, mountains, culture and history, there's so much to adore in this country.