If you're an overland traveller exploring Europe, the Italy to Albania ferry is almost a rite of passage. It takes you from the historic, beachy Italian region of Puglia to the heart of the Balkans, within striking distance of Albania's capital, Tirana.
I personally love an overnight ferry (and fortunately my boyfriend does too!), so we happily buckled down for a night on the AF Francesca GNV ferry.
In this article, I'll detail how to get it and what to expect. Make sure that you follow these steps, as it's a little more complicated than you may originally think!
How to book tickets on the Bari to Durres ferry
Whenever I've booked ferries in Europe, every single company always seems to have awful reviews. It was exactly the same when I booked the Palma de Mallorca to Barcelona boat.
Thanks to this, I didn't have much to go on when I looked on Direct Ferries for boats from Italy to Albania.
In the end, I went with GNV, only really because I'd heard of the brand before and the price was decent.
I booked direct, but I have heard of some people having issues with doing this.
Direct Ferries do claim to offer more support, so if it's around the same price when you look, it might be worth booking through them.
It cost me around €150 for a cabin with bunk beds at the end of August – we split this between two, so it worked out at around €75 per person.
Arrive in Bari
We took the train from Rome to Bari in the morning, paying around €15 for first-class seats.
It was busy, but we had a table, decent wifi and got free snacks and drinks.
The standard class was a few euros cheaper and the seats looked fine; although they wouldn't have got free refreshments and I can't comment on the WiFi.
You can book tickets from Rome (or other Italian destinations) to Bari via Trainline.
Is it worth staying in Bari?
Originally, we intended to stay in Bari for a night, but due to an admin error (i.e. I booked the boat for the wrong night), we ended up only having the afternoon.
We left our luggage at the station (which cost €6 per bag) and set about exploring Bari on foot.
It's a charming little city, with a labyrinth of old streets in the old town leading to two basilicas, a historic castle and a scenic port.
But we found a few hours enough to see the city centre.
One note if you're taking a morning train from Bari: many restaurants finish lunch at 3pm.
Hotels in Bari
If you are spending a night or more in Bari, here are some hotel recommendations:
Bari Grand Central Apartment is a great place to stay if you want your own kitchen and living space. The bedroom is lovely and there's even a hot tub! Check it out here.
Arvian B&B is a chic guesthouse with boutique-style rooms, located in the heart of the city. Take a look here!
Arriving at the Port of Bari
Now, the fun begins – and make sure you follow this important next step!
While you will have a ticket from GNV or Direct Ferries, this isn't actually your boarding pass.
First, you need to go to the port – Google maps location here.
This is where the boat leaves from – but there's another step to take before you actually board!
Head to the bus stop opposite the terminal. Then, take the free shuttle bus to Marisabella, which is along the waterfront, about 2km away.
Of course, if you're driving, you can just drive directly here.
This is a bit of a ridiculous step, as you end up going to a completely different terminal to get your ticket, and then going back to where you need to get the boat from!
But the ferry is just not set up for pedestrian travellers; if you're driving yourself, it's so much easier!
We didn't print our tickets, just showed the ticket office our GNV booking, and that wasn't a problem.
If you're taking the shuttle bus, this could add up to an hour to your time. So be sure to factor this in when you're planning your timeline!
We actually left our luggage in the station for this time, went to Marisabella at around 5 pm and then walked back to the station to get our bags. Then we took a taxi (which cost €13) to return to the port!
However, just to complicate things further, the Marisabella terminal isn't open all day, so the earliest you can do this is about 5 pm.
Boarding the Italy to Albania ferry
Thankfully, boarding the Italy to Albania ferry is a much simpler process!
Our boat left at 11 pm and we were told that boarding started at 6:30 pm; although we arrived at 7 and there was still no movement. We ended up boarding at 7:30 pm.
Just go through the terminal, where you'll either walk straight through or join the queue of people.
There are a few boats leaving at once, so make sure you're in the right line, and go through ticket inspection and baggage control.
We were on the AF Francesca, but there was actually another boat docked that was also heading to Albania. So make sure you get on the right one!
If you're driving, it's a similar process, but just through the car channels. Your car may be searched.
Once you're on the boat, head to the reception, where you can get a key for your cabin.
You will need to leave one passport in exchange for your keys. I hate doing this, but it was duly returned to me when we checked out the next day!
The cabin
Having travelled on a cargo ship across the Caspian and many overnight trains all over the world, I wasn't too fussy when it came to sleeping arrangements. I was mainly just delighted that my partner and I had our own cabin!
We opted for a cabin with a toilet but no shower, as that was about €20 more.
There are some more luxurious rooms, with double beds and furniture, on offer. These only cost around €50-€70 more, but as we were literally only on board for a night, we decided on the cheaper option.
The room was basic, with no plugs, and the bathroom wasn't the cleanest, but the sheets were fresh and the mattresses comfy. Not the lap of luxury, but for a night to get us across the Ionian Sea, it was fine!
Facilities on board the boat
There's a bar, a canteen-style diner and a fancier restaurant. These opened at around 8 pm and closed at 11 pm; although we tried to visit the bar for an Aperol spritz and were told sternly "no, just beer"!
We opted to save a bit of money and eat some food that we'd bought at the Spar shop earlier on the top deck while watching lorries and cars drive onto the boat.
The sky darkened around us as the black waves lapped the base of the boat. In the morning, we'd be in Albania.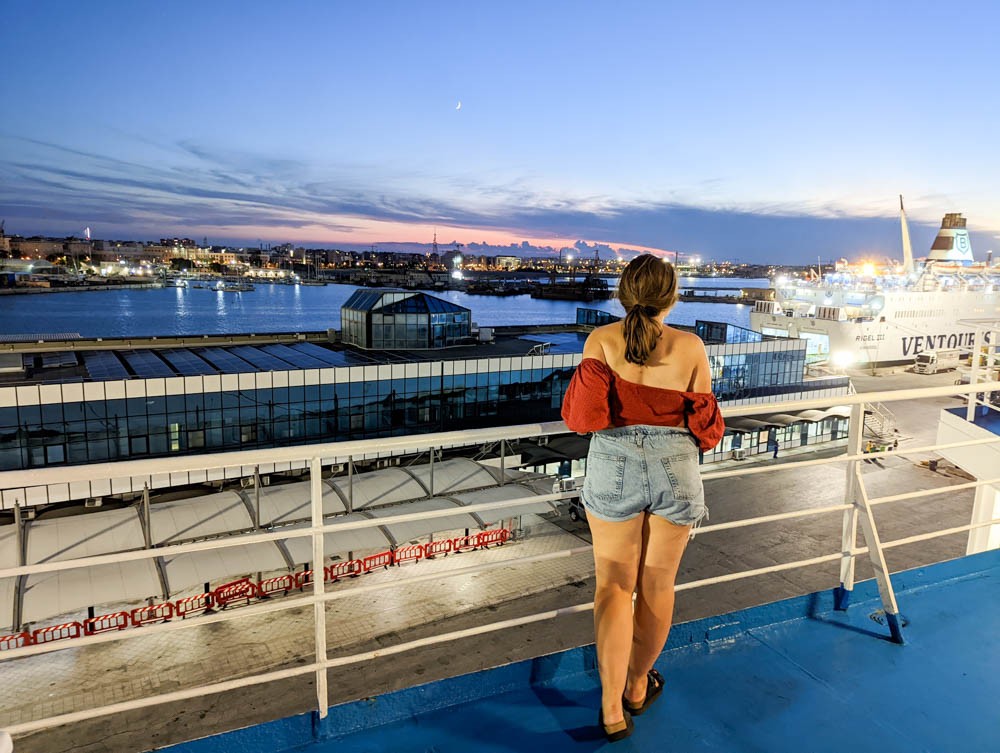 Sleeping on the Bari to Durres boat
We actually retired to our cabin before the boat left shore; we were knackered and needed the rest.
Although the boat said it was leaving at 11 am on the ticket, we actually felt it start to move at 10:30 pm. Sure enough, soon after my mobile data disconnected, signifying that we were some distance from land.
Thanks to the fact that we actually had beds, and that I always sleep well on boats, I had an excellent night's sleep. Unfortunately, it was disturbed at about 6:30 am the next day!
The next morning
"Could all passengers in cabins check out", a voice boomed over the speaker, awakening us from a deep slumber.
Sleepily, we hurriedly got changed, grabbed our bags and exchanged the cabin key for my passport.
We sat in the cafe and sipped a coffee, the same announcement continuing every 15 minutes or so for the next hour.
We definitely could have had another hour in bed, but I guess they don't want all cabin passengers checking out at once!
We made our way to the deck for our first look at Albania. Apartment blocks lined the industrial-looking town of Durres, with morning clouds slowly parting way to reveal bright blue sky.
Once we'd docked, we followed the crowds of people and made our way down the pedestrian exit to disembark the ferry.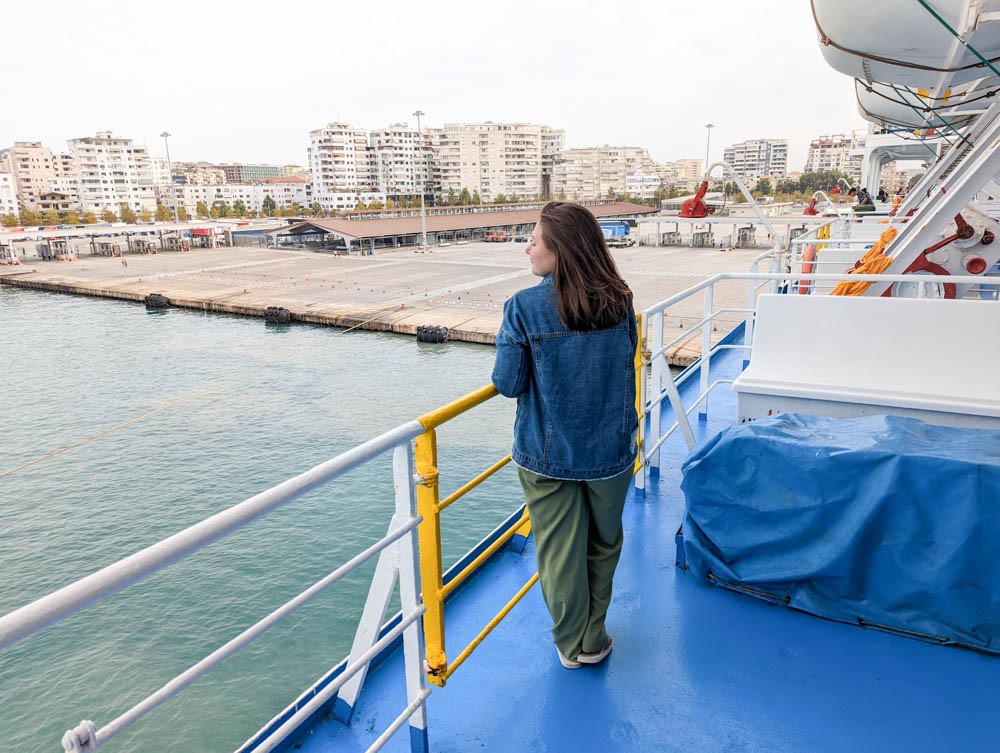 Welcome to Albania
Albanian border control was simple – just a quick passport check – and we were soon outside, blinking in the sudden bright sunlight.
There are a few things to see in Durres, including some Roman ruins, but we'd just come from Rome, and we were keen to get to Tirana.
The bus is quite easy to get (so I've read), but Albanian buses always have a bit of a reputation for being a little chaotic.
As it was so early in the morning, we opted to take a taxi. This cost €30, which was more than we were anticipating paying, but it was worth it to save a hassle.
Where to stay in Tirana
We stayed at the Padam Boutique Hotel, which is one of the best hotels in Tirana – but it's a bargain for what you get.
The rooms were comfy, with elegant features and rain showers in the bathroom.
It's home to one of Tirana's best restaurants, and our included breakfast the next day was excellent.
Click here to read more about this hotel.
The Bari to Durres ferry is a great way to travel across the Ionian Sea from Italy to Albania. It's a bit of a hassle to board, but works out more budget-friendly when you consider it includes a night's accommodation, and it's more eco-friendly too!