If you're taking the Palma de Mallorca to Barcelona ferry, this blog post has all the information that you'll need!
Leaving the picturesque coastline of Palma, punctuated by the majestic cathedral, and sailing over the Balearic Sea, the Mallorca to Barcelona boat trip is an unmissable experience.
You'll end your journey in the buzzing city of Barcelona, the capital of Catalonia and the second-largest city in Spain.
Known for its world-famous landmarks including La Sagrada Familia and Las Ramblas and chilled-out beaches, Barcelona is a fantastic jumping point to see more of Spain by rail or venture toward the French border. 
You could take a flight between the two, of course – but where's the adventure in that? The ferry is affordable, comfortable and beautiful. Here's everything you need to know.
Reasons to take the Palma de Mallorca to Barcelona ferry
First, why would anyone choose to take a seven-hour boat to Barcelona, when there are cheap plane tickets with a flight time of only 50 minutes?!
It's an experience!
My first answer is I just like travelling without flying. I see it as a challenge, I like the feeling of getting from A to B staying at ground (or sea) level, and I always feel a bit funny after I fly.
Plus, I run an overland travel blog. Of course I'm going to suggest that you take the ferry!
Price
Secondly, if you are travelling on a budget, ferry tickets may be the cheapest option.
We paid around €35 each for a ticket in the 'club' class (photos and information about that below!), which I thought was a reasonable price.
While budget airlines connect the Balearic Islands to Barcelona, you'll often end up paying €30-€40 just for extra baggage. I calculated it, and the ferry was around €10 cheaper.
Convenience
Palma Mallorca Airport is quite easy to access from the town, but it's a bit trickier in Barcelona. However, the port is much easier to get from.
Although a direct flight is obviously quicker, airport transfers can take a long time. I find a lot of the time, bus/ train/ boat travel is a lot more convenient than flying.
Sustainability
Travelling on a ferry as a foot passenger is more sustainable than flying. Of course, it changes a bit if you have a car, but of course, if you're tossing up the pros and cons of getting the boat vs flying, you won't have a car anyway!
Which companies run Mallorca to Barcelona ferries?
During my research, I found three ferry companies that travel from Mallorca to Barcelona. These are:
Trasmediterranea
GNV
Iberia
It's worth mentioning that none of these lines has very good reviews on Trustpilot. I can't speak for the customer services, as I didn't really use it (other than interacting with people at the port, all of who were pleasant).
Despite these reviews, I wanted to get the boat – for the reasons above, and because there was no other 'how to take the Mallorca to Barcelona ferry' blog post, and I felt that there should be!
I opted to go with Trasmediterranea, who run about 10 times per week and had the cheapest rates and the best Trustpilot rating. I have no real complaints and really enjoyed my time onboard.
Please note that all of my comments will be about Trasmediterranea – I haven't personally used GNV or Iberia's services. I'll try to use them next time I'm in the Balearics and report back, however.
Where do I buy tickets for the ferries?
You can buy tickets online on the Trasmediterranea, GNV or Iberia website. You could also use a booking engine like Bookaway or Direct Ferries, but I often find it easier to book direct if the price is similar. Otherwise, you end up with a separate booking which is hard to sort out if anything goes wrong.
There are several types of tickets, including affordable options like just a general ticket (where you can access the public areas and restaurants) and a VIP ticket (which costs around €5 more per person and gets you into VIP seating).
There is a Spanish subsidiary and an even bigger discount if you are a Balearic resident.
How long does the ferry take?
The average journey time is about seven hours.
Arriving at the port
The port is five minutes by taxi from the city centre, and it should cost between 6-8.
Get there up to 60 minutes before departure to get your boarding pass from the ticket office; if you have already printed your ticket off you probably could get away with arriving 45 minutes before departure, but I wouldn't push it too much.
The Trasmediterranea is (at the time of writing) in building GM2. If you take a taxi, they will drop you off in the general area, but make sure that you walk in the right building!
What is the boat like?
I absolutely loved the boat. I've taken a lot of cheap ferries in my time (growing up an hour away from the English Channel will do that for you!), and this was one of the nicest.
Here are some of the things that you can look forward to onboard..
The restaurant and seating area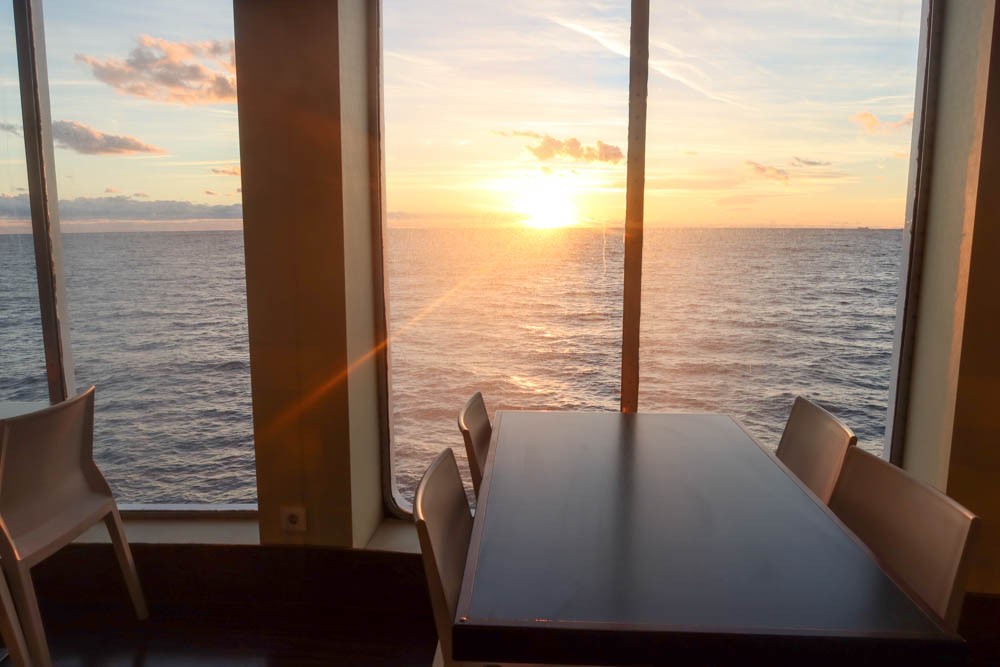 There were two restaurant/ cafe areas on our boat, with a large open plan seating area. The self-service area wasn't open (apart from lunch, which we missed), but the cafe served drinks and snacks all day. Our VIP tickets even came with a free hot drink and snack!
There are plenty of places to sit here, with a few different types of chairs – so you'll likely find some sort of comfy seat.
Upstairs, there are quiet zones, rows of seats (that look like they should be on a plane) all facing a TV.
The VIP lounge
Onto my favourite part – the VIP lounge!
This lounge had rows of large, squashy, fully reclining seats. At the front, large windows offer panoramic vistas of the sea.
When we were there, there were only four of us in the whole cabin! But it could accommodate about 100 people.
The VIP lounge is card access only (you need to pick the card up from the reception before you set sail) and has its own loos.
I think you need a VIP ticket to get the complimentary snack and drink too, but you might get it on standard tickets too!
Cabins
If you want a proper nap on the Barcelona – Palma de Mallorca ferry, cabin options are available!
I, unfortunately, didn't get a look into the cabin, but when I booked, I was informed that I could upgrade to one for 100 more (for two people).
If this post does well, I'll return and try one out!
The deck
The deck is an absolute beauty. Make sure you stand on it as you leave Palma, seeing the Spanish city gradually get smaller until it's a pinpoint on the horizon.
There are plenty of places to sit and enjoy a drink or lunch on the deck – perfect if it's a sunny day.
And there's even a swimming pool! This was obviously not in operation during November, but it would be perfect for the summer months. Why fly when you can spend a day stretching out on deck and swimming?
What catering options are there onboard?
We travelled during the offseason, and only the cafe was properly open. This meant we could get coffee and croissants (plant-based milk was available!) but not much else.
However, there is a buffet restaurant, which I presume is open during the busier months (I have contacted Trasmediterranea to enquire).
Is the ferry ride choppy?
It can be! When we were in Mallorca, we experienced 'the worst weather in November in 25 years'.
This meant that the sea was a bit rough sometimes!
However, the day that we left was beautiful. At first, the sea was a bit choppy, but it got smoother as we advanced closer to the mainland.
Arriving in Barcelona
You'll arrive in the Port of Barcelona after around seven hours of sailing time. On our ferry, the boat let off the cars first, and we had to wait for someone to direct us (which took about 20 minutes).
Once you're allowed off the boat, you just need to follow directions until you get to the main office! As this is domestic travel, you don't need to show your passport or anything like that.
Then, you're free to go! I've found an excellent affordable hotel and walking distance from both the port and Barcelona city centre.
Where to stay near the Port of Barcelona
We stayed at Acta Mimic, which is a 10 minute walk from the Port of Barcelona. This is a theatre-themed hotel with quirky rooms at affordable rates (we paid around 45 per night at the end of November, which is really cheap for Barcelona).
The beds were comfortable, the showers were fantastic, and all of the rooms were furnished well. Plus, it's located in the Gothic Quarter and is only a 10 minute walk to Las Ramblas!
While we were in Barcelona, we also walked from Acta Mimic to Barceloneta, the Sagrada Familia, and the Estacio de Nord Autobus Station.
Covid policies on Trasmediterranea ferries
Here are the covid policies on the ferries:
you must wear a face mask at all times apart from when you are eating and drinking or outside (in line with Spanish law)
some seating areas are not in use
as it is domestic, there is no check for vaccination or negative test
Getting the Mallorca to Barcelona boat
The Palma to Barcelona ferry is one of the most popular transport routes in the Balearic Sea, but it isn't that well-trodden by travellers!
Although the quickest flight is 50 minutes, taking the boat allows you to depart the island of Mallorca, famous for its beaches, Palma cathedral and dramatic mountains (see my post about the Palma to Soller train for more information about exploring these mountains!).
On board, you'll enjoy some beautiful Mediterranean scenery, relax for a day of your holiday, save a bit of money, be kinder to the environment and avoid hassle getting to and from the airport.
For me, taking this ferry or the opposite option – the Mallorca to Barcelona boat – is a no brainer!