After road tripping around the entirety of Australia, I've developed a new appreciation for packing up a few bits, jumping into my car and taking to the wide open road. Like Australia, the USA is home to a diverse range of climates and terrains, with spectacular national parks and dynamic cities with lots of cultures and history to enjoy; which a road trip can make the most of. Not to mention it's one of the cheapest ways to travel the USA!
My US travels haven't gone further than going to my dad's wedding in Los Angeles, seeing Niagara Falls age 3 and visiting New York on a shoestring budget on the way back from Guatemala, so I've asked for some help with the best US road trips from travel bloggers who've experienced them.
Some of these road trips are short and will take you just two or three days – others could be stretched over a few months if you really want to see it all. But they all tap in to something fantastic about the US – whether that be beautiful national parks, cosmopolitan cities or beaches just made for surfing.
How to get around
If you want to do these road trips but don't have a car, your options are to hire one or to find like-minded people who have vehicles and want to do the same trips; while Greyhound is great for getting around the US, some of these places aren't on their routes. Facebook is a great place to start looking for travel mates.
Once you're in the cities, it should be easy enough to get around on public transport – and for something a bit different, you could try something different by using Limo Find to rent a limo!
Let's get stuck into the best road trips in the US – chosen by travel bloggers who've been there!
The West Coast – Seattle to San Diego
One of the best road trips to take in the United States is a west coast road trip. You'll start in Seattle and spend at least 10 days going through Washington, Oregon, and California, ending up in San Diego. This 2455-mile road trip will take you through some major cities such as Portland and Los Angeles. You'll also get a chance to explore nature by stopping by the water in Gig Harbor and the coast of Washington in Long Beach. Hikers will love all the trails available in Bend, Oregon as well as Redding, California.
You'll then head through world-famous San Francisco to central California to the coastal town of Monterey. If you're a wine lover, you'll enjoy stopping in Temecula. This is just as beautiful as Napa Valley but much less crowded and more affordable. Your trip ends in San Diego, where you're free to extend it to explore the beaches of California with surfing, kayaking, or just strolling in the sand.
his road trip will take you through the three beautiful states on the west coast of the United States while making sure you see a variety of terrain; from mountains to the beach!
By Marissa from Postcards to Seattle
Great River Road
When it comes to epic road trips in the US, driving the Great River Road is near the top. Following the course of the Mississippi River from its headwaters near Lake Itasca, Minnesota, until it flows into the Gulf of Mexico, the Great River Road runs a whopping 3,000 miles, passing through 10 different states. To make the full trip and spend time exploring would be a 3 week adventure. However, it is a very easy route to break into segments.
Each state has developed a number of interpretive centers along the route that explore the role of the river in relation to the wildlife and the societies it supports, and the industries that were built up around it. From the lumber to flour milling to button making, the industries that flourished because of the river are diverse, and the interpretive centers tell those stories.
My favorite aspect of the Great River Road is the variety of sites. Whatever a traveler's particular interests, the route can entertain them. Literature lovers can see the home of Laura Ingalls Wilder, Mark Twain, and the haunts of Anne Rice. Music lovers can visit the studios of Prince, the last venue of Chuck Berry, and the homes of Elvis and BB King.
There are military history sites, American mythology sites, and religious sites. And, there are those that share the uglier parts of our history, including the Trail of Tears Monument, the National Civil Rights Museum, and the Japanese American Internment Museum.
All along the route, the Mighty Mississippi is always there, creating the backdrop. It does not provide the dramatic scenery of the mountains or the desert, but it is beautiful in a subdued way. From the shallow headwaters, to the overlooking sandstone bluffs, to the city river walks, watching the river pass gives the Great River Road a sense of permanence.
By Roxanna from Gypsy with a Day Job
Blue Ridge Parkway
One of the best road trips to take in the United States, if not one of the best road trips in the world is the US Blue Ridge Parkway. The Blue Ridge Parkway is 469 miles of complete nature and connects the Great Smoky Mountains National Park to the Shenandoah National Park.
The road makes twists and turns along the beautiful Blue Ridge Mountains. It takes drivers through forested mountains and provides ample opportunity for hikes and picnics. There are even a few amazing waterfalls to stop and enjoy! A favorite place to find them is Dupont State Park. Trails are well marked and it's possible to do a few short waterfall hikes in under two hours, or you can spend the whole day in the North Carolina wilderness. One of the most well known things to do is take a slide down "Sliding Rock," near the town of Brevard. Sliding Rock is a natural waterslide that drops visitors into the fresh mountain water.
If you have the time I would suggest at least two days to drive this route, camping along the way. Or you can stay in Asheville and take short day trips along the parkway. It's the perfect mountain escape!
By Natasha and Cameron from The World Pursuit
Interstate 75
Interstate 75 doesn't boast the international name recognition of Route 66, the Blue Ridge Parkway, or the Pacific Coast Highway. But if you're planning on doing a road trip along the east coast of the United States, chances are good that you'll want to use it at some point.
Heading south takes us through the southern music mecca of Macon; to our favorite place in the world, Sanibel Island (which is located about 20 minutes west of Fort Myers); through the Big Cypress National Preserve and Everglades; and ultimately into the city of Miami.
You can imagine the stunning natural beauty along the way, from the rolling hills of south Georgia farmland to the palm trees and ocean breeze of the Gulf of Mexico to the fertile swamps of south Florida. If you leave early enough, it's possible to do the entire trip in one day (8 hours to Fort Myers, then another 2.5 hours to Miami). But we often break the trip up into segments, stopping to do awesome stuff like swim with manatees in Crystal River, Florida along the way.
But heading north on Interstate 75 is a different sort of road trip adventure altogether. It's actually possible to drive from Atlanta all the way north to the Canadian border at Sault Ste. Marie, Michigan (approximately 15 hours away), without ever leaving the highway. The route takes you through some cool cities and incredible natural attractions along the way, and you could easily make a week-long trip of it.
In Tennessee, you pass through Chattanooga and Knoxville, and near two beautiful national forests and Great Smoky Mountains National Park. In Kentucky, you'll see the gorgeous Daniel Boone National Forest and the college town of Lexington. As you get further north, you'll witness the beauty of Ann Arbor, the devastation of Flint, and the exceptional forests and massive lakes of northern Michigan.
In short, Interstate 75 is a great way to explore the eastern side of America's heartland, offering glimpses of America's unique landscapes that really make the country great.
By Bret Love & Mary Gabbett from Green Global Travel
Houston to Big Bend National Park
If you are looking to venture far off the beaten track, the sky is wide and the nature is wild in western Texas. Drive from Houston, through San Antonio, to Big Bend National Park, and then up to Carlsbad Caverns in New Mexico. Around thirteen hours and 811 miles (1305 km) cover the picturesque Hill Country, Chihuahua Desert, and finally the Guadalupe Mountains.
There are plenty of fun stops to break up the drive. Starting in Houston, you cannot miss the chance to visit the NASA Space Center. We also enjoy biking the Buffalo Bayou, and catching a free concert in Miller Outdoor Theatre by all of the museums. Moving west out of Houston, you can't miss the iconic Alamo in downtown San Antonio, and then dinner on the famed Riverwalk. As a day trip, you could rent bikes and visited the trail of Spanish missions that are unreachable by car!
As you head out west, step into frontier life at Ft Stockton. The next stop is looking for fossils and tons of wildlife in Big Bend National Park. It is possible to camp at Big Bend, and kayak the Rio Grande where you can step in Mexico and the US at once – if you're traveling with kids, they'll love this experience.
Nature viewing opportunities are abundant; we saw wild javelinas and coyotes, kangaroo rats and deer. After Big Bend, head north and marvel at the stunning caverns in Carlsbad Caverns. Along the way there are plenty of spots to hike in the Guadalupe Mountains National Park. On the way back, take the northern route back to Houston, braving the winds and tumbleweeds at Cadillac Ranch.
By Becky from Kid World Citizen
Florida – Miami Loop
One of the best US road trips is a circuit of Florida.
Start in Fort Lauderdale, then drive to Tampa, down to Sarasota, down to the Keys via the Everglades National Park, then back to Fort Lauderdale for our flight back home. We spent a total of 16 days, with 4 days in each of Fort Lauderdale, Tampa Bay, Sarasota and Florida Keys. Our total trip covered: 690 miles / 1,110 km.
Miami and Orlando are popular Florida destinations that are great for first-time visitors, but this Florida orbit also is great for the returning traveler who wants to see some more off-the-beaten-path destinations.
Fort Lauderdale has a huge LGBTQ scene in Wilton Manors, with parties happening every day. The Las Olas Riverfront is another popular spot with lots of upmarket restaurants and shops. Fort Lauderdale also has some beautiful beaches, which are not as crowded as Miami but just as beautiful.
Tampa Bay is famous for its gorgeous gardens and hip atmosphere, with attractions for all ages. Check out the best Clearwater beaches while you're in the area.
Sarasota has the gorgeous Siesta Key Beach, the Lido Key and Botanical Gardens to visit. Finally, the Keys, our favourite – extremely LGBTQ friendly, lots of fun water activities and of course some of the best sunsets you'll ever see, which take place every evening!
By Stefan and Sebastian from Nomadic Boys
Maine Coast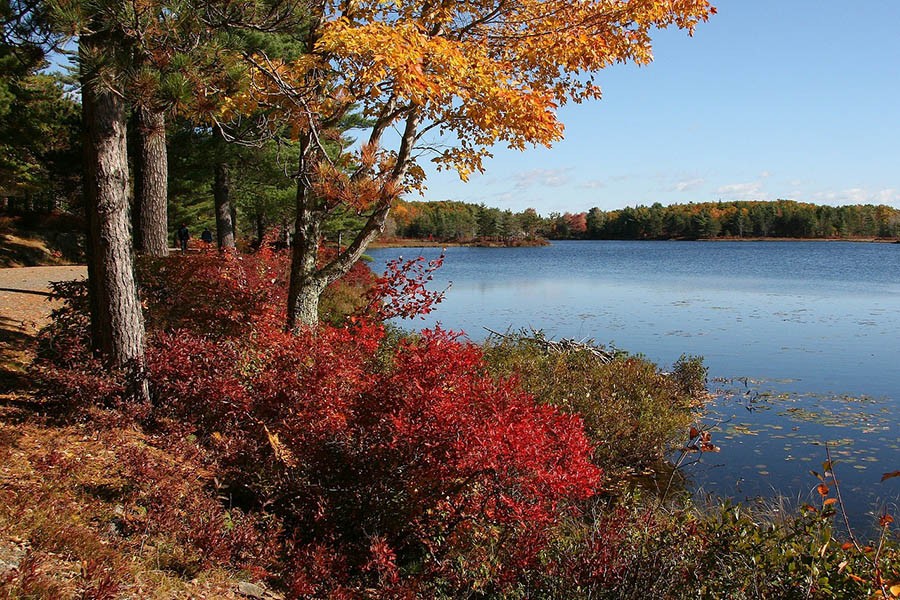 The coast of Maine is crazy-beautiful beautiful in all seasons. In spring the wildflowers explode into a kaleidoscope of colors. Winter offers all sorts of winter sports and quaint towns covered in blankets of snow. Summer brings the beaches, street festivals, and lush greenery. Autumn, however, is truly special with spectacular foliage in blazing colors of red, yellows and orange. You can see all of this on a drive along route 1 from Kennebunkport to Acadia National Park.
You will see why this route is considered to be one of the most stunning the U.S. This drive takes four and a half hours to complete but it could also take several days. A leisurely drive will allow you to really appreciate all the charm and beauty of the area.
In the many picturesque New England towns you encounter you will find great scenery, charming bed and breakfasts and a wide selection of things to do. The best time to see the turning foliage or to go leaf peeping is late September to mid-October but you will enjoy the stunning beauty of the area any season.
Places you must stop at along the way going north include, Freeport, Rockland and Bar Harbor. Spend a few days at the last stop, Acadia National Park and you've got the ideal 10-day itinerary any season.
By Talek from Travels With Talek
California State Route 395
California is the ultimate road trip paradise, with its diverse landscapes and scenic highways. One of the most beautiful stretches of California highway is State Route 395 between South Lake Tahoe and Bishop. Although the distance between the two towns is just a little over 280 km, and can be done in 3 hours, this is a region you can explore in one or many days, depending on how little or how much you explore.
The route passes through some of the most spectacular natural scenery in California, and indeed, on the planet. Craggy mountain peaks form the backdrop for beautiful deep green forests that burst into vibrant yellows and oranges in the fall, making an awesome road trip even more gorgeous. Sapphire blue lakes dot the landscape. Little rivers bubble merrily by the side of the road. Deep canyons speak of mysteries, inviting you to explore further. And the black road snakes through this paradise, opening up beautiful vistas every minute.
Although every part of the route is spectacular, some places are absolute must-stop-and-explore spots. Just south of Bridgeport is the short detour to the gold-mining ghost town of Bodie. A few miles to the south is Conway Summit, the highest point on the drive. In the fall, you see entire hillsides covered with color. Still further south is the unique Mono Lake, a saltwater lake where you can see tufas, limestone towers exposed by a drop in the water levels.
Another highlight is the June Lake Loop, a scenic detour that takes you past four beautiful lakes. Up next, Mammoth Lakes is a beautiful ski resort town, and home to the Devils Postpile National Monument. Just south of Mammoth Lakes is beautiful Convict Lake, which looks stunning at sunrise.
California SR395 is one of my all-time favorite road trips. If you have not done it, I hope you go!
By Dhara from It's Not About the Miles
Deep South – Savannah to Asheville
Delicious food, interesting and complex history, beautiful architecture, and thriving culture -that's what you'll find on a road trip through the USA's deep south. While there are a million routes to take and cities to consider in the region, a first-timer to the south can't beat a road trip from Savannah, Georgia to Asheville, North Carolina, with a stop in Charleston, South Carolina along the way.
Start by enjoying Savannah's attractions – which include some of the most beautiful architecture in the region, a fantastic food scene, and plenty of ghost stories. With its coastal location, you can even hit nearby Tybee Island for some beach time!
Afterward, head to Charleston for some similar antebellum vibes with their own regional twist. Savannah and Charleston have a lot of similarities, but they each have their own unique flavor, as well! Be sure to stop by the 1500-year-old Angel Oak tree and, for the tea fans among us, head to the Charleston Tea Plantation for a tour and tasting.
After wrapping up in Charleston, it's time to hit the mountains: Asheville is known for being home to the largest private home in the USA (The Biltmore Estate, built by George Vanderbilt), its epic craft beer scene, delicious food, and proximity to the amazing Great Smoky Mountains National Park–you'll have fantastic hiking options available to you while in Asheville!
This road trip can be accomplished in a week, but the more time you have, the better! In total, the driving time is a little over 6 hours with good traffic, and the route runs about 374 miles.
If you're after another deep south adventure, a Tennessee and Mississippi road trip is another memorable experience!
By Kate from Our Escape Clause
Scenic Byway 12, Utah
Utah is a strange and magical place for the out-of-stater, encompassing high desert plateaus, towering mountains, and ancient canyons. One of the best ways to explore the state is by embarking on a scenic journey on highway 12 — a National Scenic Byway covering 124 miles of natural beauty and lots of opportunities for outdoor recreation. In our humble opinion, it is one of the most stunningly beautiful landscapes in America, a landscape so ruggedly desolate that the drive alone is an experience you'll never forget.
Your journey could be extended for weeks and weeks as you explore two national parks, three state parks, and millions of acres of national recreation and forest lands, but I'd suggest three days as an absolute minimum. Your journey from west to east begins in Panguitch, a town that is rich in history and wild-west charm. Panguitch is where you'll want to stock up on provisions and fill your tank before your journey. It's also a great spot to throw back a drink at an authentic saloon or embark on a historical walking tour.
As highway 12 winds its way through red rocks and canyons, you'll find plenty of opportunities for picnicking, hiking, and photography. Must-visit areas include Bryce Canyon National Park and the famous red-rock hoodoos, Escalante Petrified Forest State Park, Anasazi State Park Museum, and Capitol Reef National Park. On your journey, you'll pass the Kiva Koffeehouse, perched on the side of a cliff with expansive views of the surrounding canyon. Don't pass it by! The coffee is fabulous and the views are extraordinary.
By Tara from Back Road Ramblers
Maui, Hawai'i
The 103 km Road to Hana is without a doubt one of the best road trips in the US, partly due to the novelty of its location on an island in the middle of the Pacific ocean: Maui, Hawai'i.
But there's a lot more to it than merely a unique location. It's also where you'll find some of the most beautiful, jaw-dropping, bucket-list-worthy scenery you'll ever lay eyes on. The short length of this journey is deceptive though — this isn't something you can do in an hour. To do it right, you'll take a minimum of a full day to get to Hana and back… better still, allow yourself two days (one day to drive TO Hana, and one day to drive back).
The first reason it takes so long to drive is that the road can be narrow (with over 50 one-lane bridges you'll be crossing), and it's very curvy (more than 600 twists and turns) — all that means you'll be driving at a slower pace compared to typical highway speeds. But don't let that put you off because these bridges and curves contribute to the exceptional beauty of your route.
The second reason you need to allow all this time is because there are so many attractions along the way. Here are a few of the classic stops: a jungle hike to the famous Twin Falls, a stop at Aunty Sandy's for the warm banana bread that just came out of the oven, exploring the legendary black sand beach at Waianapanapa, and hiking through the dormant Hana Lava Tube. Once you arrive in the town of Hana — provided you have enough daylight hours remaining — hike to a 400-foot waterfall via the Pipiwai Trail for a special memory that lasts forever.
By Sheralyn from Paradise found in Maui
Big Sur, California
California's Big Sur is the kind of road trip that many of us dream about: Long stretches of dramatic coastline, windswept beaches, the roaring Pacific Ocean to one side and mountains to the other, steep cliffs and winding corners that make you feel nauseated and thrilled at the same time, and gorgeous towns at either end.
Big Sur is about 150 miles south of San Francisco on Highway 1, and covers the stretch between Carmel (in the north) to San Simeon (in the south). To get to Big Sur, you basically need to make your way to the coast and Highway 1, and it's best approached from either end as there aren't many roads that take you to the Big Sur stretch part-way through.
For nature lovers, there are plenty of stops along the way but you could also just drive the 90 mile (145 km) stretch of stunning coastline in one hit. But be aware, whilst the distance may not seem that great, the scenery is breathtaking (lots of stops!) and the road narrow and slow-going, so plan at least 4-5 hours for your road trip.
If you want to break your trip, stop at many of the state parks for a hiking or wildlife spotting adventure, enjoy some beachcombing, or at least take a photo of famous landmarks such as the Bixby Bridge or the Point Sur Light Station. There's also a few art galleries, quirky shops and restaurants along the way, and, of course, plenty of stunning lookout spots.
The best time to drive this beautiful road is probably in the off-season (spring and autumn/fall) as there'll be fewer crowds, you'll either get gorgeous wildflower displays or incredible autumn/fall foliage, and you'll have more chances of having a fog-free road trip!
By Kati from Queensland and Beyond
Sedona to Grand Canyon, Arizona
Sedona, famous for its red rocks, has absolutely stunning scenery. This only continues on a road trip from Sedona to the Grand Canyon South Rim, a drive of approximately 2 hours. Take the Route 89A from Sedona to Oak Creek Canyon, which is named as one of the 10 most scenic drives in America.
Oak Creek Canyon is a breathtaking stretch of beauty on a winding road that climbs 4,500 feet from Sedona to the top of the Mogollon Rim. You'll see lush green forests, stunning red rocks and if you make a stop, a waterfall or two. Your chances of spotting waterfalls coming down cliffs are much more during or after the rainy season. This stretch is only 15 miles but take your time with the winding roads and the beautiful vistas.
The driver will be focused on the winding twists and turns, so make sure to take plenty of stops so they can enjoy it as well! There are several camping grounds and picnic spots on the way, surrounded by lush forest, which make for perfect stops to take in the spectacular scenery.
By Shweta from Zest in a Tote
The Midwest – Wisconsin to Yellowstone, Wyoming
Yellowstone is the oldest National Park in the US and well worth a visit. It's nearly 2,000 kilometres to drive from Wisconsin to Yellowstone, taking about 19 hours. It can be done over 2 days, but there are lots of great stops along the way, so you might want to extend your trip!
In South Dakota highlights include the Badlands National Park, Mount Rushmore, and Custer State Park. Once you've crossed the border into Wyoming, Devil's Tower is a worthy stop off.
Yellowstone National Park should be on everyone's US bucket list – aim to spend at least 3 days here. The area Yellowstone covers is enormous and President Grant made this the first National Park in the USA in 1872. The area is known for its geothermal activity, wildlife and ecosystem. You might be able to see grizzly bears and black bears, moose, elk, bison and even bald eagles in the park. A highlight is viewing Old Faithful geysers and Grand Prismatic Springs with the stunning colors from the algae in the water.
Once you've taken in Yellowstone's beauty, head south to Grand Teton National Park. If you are looking for magnificent views and a less crowded park Grand Teton is a great place to stop as the park is connected to Yellowstone. There's more nature to see in the park and the views of Grand Teton mountain are unmissable.
By Nicole from Nicole La Barge
Ohio Loop
Ohio might not be the first state that comes to mind when you think of a road trip, but this northern state in the country's Midwest has a great deal to offer. It's a bit off the beaten path when it comes to visitors, so you'll generally enjoy quieter roads, and see parts of the USA that aren't often on a visitor's map.
There's lots to see and do in the whole state – you could spend up to three weeks road tripping around. Or if you have less time, another suggestion would be a three to five day trip, starting in Dayton, heading up through Columbus, and then on to the Shores and Islands area around Sandusky.
The total distance covered on this trip isn't too great, at around 200 miles, or 300 kilometres. There's plenty to see along the way though to fill a few days.
Starting in Dayton, you'll want to visit the various locations associated with the Wright brothers, the aviation pioneers who essentially started air travel as we know it. Here there are numerous sites related to their life and work, including the Wright-Dunbar Interpretative Center, where their cycle company was located.
From Dayton, head on up to Columbus. You'll want to stop on the way to take in some of the sights on the way, we'd recommend the mill and town at Clifton, which is very picturesque. Once in Columbus you'll find plenty to do, including all the museums and cultural attractions you would associate with a state capital.
Sandusky is your next stop after Columbus. There is a lot to do in Sandusky – you can head out to explore the islands in the lake, take in the fantastic Cedar Point amusement park, or simply enjoy all there is to offer in town.
By Laurence from Finding the Universe
Georgia Coastline
If you want to do a beautiful and scenic drive along the south eastern part of the USA, driving along the Georgia coastline on the slower coastal roads, away from Interstate 95, is a fantastic way to see the area. You can take surface roads like route 17 instead for a nice and slower pace of travel with lots to see and do along the way.
Taking the scenic roads means scenic landscapes with hidden towns, bridges, rivers and unspoiled countryside that really shows the essence of the low country lifestyle in the Georgia coastal areas.
Starting from the southern border of the Georgia coastline at St. Mary's, you will pass through historic towns and islands like Jekyll Island, St. Simon Island, Sapelo Island to Beaufort and Savannah. These are wonderful places to visit and even do an overnight stay to enjoy the best of southern hospitality and living. Many of these towns and islands are very unique to Georgia that maintain an authentic and Southern lifestyle and friendly charm.
A great place to stay for a longer time frame would be in Savannah; with highlights including ghost tours, cathedrals, the Owen Thomas House and the beautiful historic squares, 48 hours in Savannah will be a highlight of your Georgia road trip.
By Noel from Travel Photo Discovery
Oregon Loop
With Portland as a starting point, one can easily see the wide range of Oregon's diverse terrain in very short amount of time. In this best of Oregon loop, you'll witness the lush Willamette Valley, Colombia River Gorge, snowcapped Cascade mountains, high desert in Central Oregon, fertile wine country, and beautiful Pacific Coast. And all in less than 11 hours (530 miles) of driving time!
Starting in Portland, you'll enjoy Oregon's largest and most popular city, full of tasty eateries, urban hikes, and cute shopping streets. Then head East on I-84 through the impressive Colombia River Gorge to the trendy windsurfing town of Hood River. Stop by local apple farms as you head south through Mt. Hood National Forest and pass numerous mountain peaks on your way to Central Oregon.
Oregon's high desert is an outdoor playground in both summer and winter. After pursuing your favorite outdoor adventure activities around Bend, make your way back over the mountain range to Silver Falls State Park. Here you can see 10 or more waterfalls on one trail – and even walk behind two of the falls! Continue back into the Willamette Valley and explore Oregon wine country around McMinnville, Oregon.
Once you've had your fill of pinots and cab savs, continue west just one hour to reach the Oregon Coast. Climb the dunes at Pacific City and when you're ready, make a stop at the Tillamook Cheese factory on your way back to Portland.
This trip can be done in a minimum of 3 days but is better enjoyed over one or two weeks.
By Michelle from Roam Redmond Oregon
Miami to Key West on the Overseas Highway, Florida
The road trip from Miami to Key West on the Overseas Highway is one of the best in the country for a couple of reasons. First it connects two of Florida's spirited destinations of Miami and Key West, and second, the road goes via the beautiful Florida Keys. The actual time on the road for this route is just a little under 4 hours (~165 miles). But there are so many things worth stopping by that the trip is good enough for 4 days too.
At the start in Miami, you can spend a few days exploring the street art around Wynwood Walls, art deco architecture of Miami Beach, and take in the happening nightlife. Once on the Overseas Highway, stop at Key Largo in the upper Florida Keys and snorkel or take a glass bottom boat tour to see the corals and tropical fishes.
In the middle Keys, stop at the Islamorada Beer Company tasting room and try some of their refreshing craft beers. The nearby Morada Way Arts District is full of great galleries and restaurants and worth a stroll. After Islamorada, you will cross the Seven Mile Bridge, the highlight of Overseas Highway road trip. The water views over the bridge are very beautiful.
After the bridge, you will reach Bahia Honda State Park. This park has the best beaches in the Keys and is worthy of a stop. I suggest hiking the old Bahia Honda bridge trail for its great views. The last stop on the route is Key West, popularly known as the southernmost city in the country. The city is great for nightlife, Cuban cuisine, and colorful culture and has something for everyone.
By Ketki from Dotted Globe
Kamehameha Highway,Oahu, Hawai'i
The usual tip that you get when traveling to Hawai'i would be to leave the island of Oahu as soon as you can as many people think there is not much to see. Well, this is actually the complete opposite. We spent a couple of days in Oahu and totally fell in love with it. From Honolulu you can easily make your way up to the North Shore, which is one of the most famous surf areas in the world. It's not only the place where surfing was actually born, but also an area where huge waves roll in and international pro surfers would quickly take their board for a ride in their "living room".
The best way to experience the North Shore is by car during a very easy and chilled day trip. Starting from Honolulu, your first stop could be the popular Dole pineapple plantation, which is not only a great place for pineapple ice cream but also a super historic place that shaped the economy of Hawai'i back in the days. From here follow the Kamehameha Highway and make your way up to the old surfing village of Haleiwa, where you'll find little shops and an amazing lunch spot – Haleiwa's Joe.
Once filled up, follow up North and enjoy the constant views of the coastal landscape with amazing surf spots passing by, such as Sunset Beach, Waimea Bay and Banzai Pipeline. Usually, when the swell is up, you can simply stop on the side of the road and join hundreds of other visitors watching the pros take their waves.
Route 66, Illinois to California
Route 66 probably needs no introduction for most people as it is one of the most famous roads in the world and a classic American road trip. Although the route technically doesn't officially exist anymore (it was decommissioned in 1985) a large percentage of the original route can still be driven. It is a popular route for both motorists and those on motorcycles.
It runs about 2,400 miles (3862 km) from Chicago in Illinois to Santa Monica in California within the United States. It is a great way to experience parts of Midwestern and Western America with lots of cities, small towns, parks, museums, and quirky roadside attractions along the way. You can also still eat at Route 66 era diners and stay in vintage motels.
Highlights of Route 66 include the Auburn Brick Road in Illinois, the Sandia Mountains, the Grand Canyon, and glitzy Los Angeles. You'll go from the temperate climate of Chicago to the scorching desert and finally the respite of the Pacific Ocean, with lots of Americana memorabilia, quirky attractions and spectacular road vistas on the way.
Route 66 is a long one and we'd recommend 2 weeks to make the road trip if you have the time. You'll want to spend some time creating your ultimate Route 66 road trip itinerary to make sure that you don't miss any of the epic spots on this bucket list road trip.
By Jessica from Independent Travel Cats
The Ultimate USA Road Trip
I hope that this list of US road trips has inspired you to take to the road! If you want more information, check out the blogs linked above, and for more witty jokes and road trip adventures, follow me on Facebook!
Pin me!