Tasmania is special. For many, it may seem to be the ends of the earth but in reality, it is one of the best places to seek adventure. Tasmania is an ideal place for all nature lovers. If you love to engage yourself in various outdoor activities then Tassie is the perfect holiday destination for you.
Wherever you go in Tasmania, nature is there too. With its unique wildlife and beautiful rainforests, this place is one of Australia's last wildernesses, where you can completely detox from urban life and just be within the trees and plants.
There are so many amazing things to do in Tasmania; and most of them are nature-based destinations. Although there are a few towns worth doing, like Stanley in the North, and Tasmania's capital Hobart is definitely worth your time (you can check out my 3-day itinerary here) – I do recommend that you spend most of your time in Tasmania within its beautiful nature.
Whether you're into hiking, camping, photography, birdwatching, or swimming, you'll find something to suit you in beautiful Tasmania. Here's a selection of the best things for nature lovers on the island.
Places to Visit and Things To Do in Tasmania (for nature lovers)
Hiking the Overland Track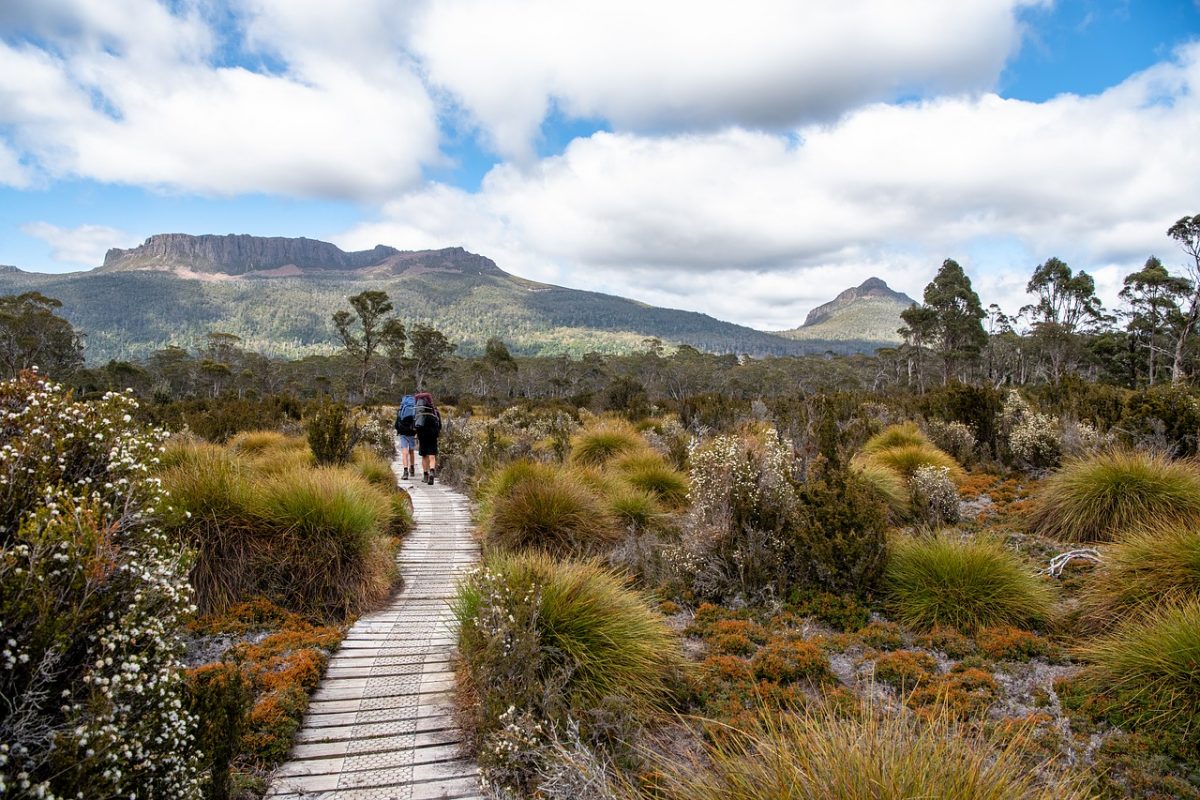 This is one of the most popular hiking treks in Australia. If you are up for some adventure then pull on your boots and get ready for this very memorable trip. The hiking lasts six days, so you'll need to pack accordingly and camp along the way.
The trail winds through Cradle Mountain/ Lake St Clair National Park, and you'll get to see epic scenery like the view of Cradle Mountain itself (the summit is not included on the trail but can be done as an extra) and the wonderful lakes that punctuate this landscape.
If you want to make the most of your hiking trek, summer is the best season to go; this is the time of the year when you can witness wildflowers blooming. However do be aware that in summer (the beginning of October to the end of May), you need to pay a fee to walk the trail, register in advance and only hike in one particular direction. This is to maintain the condition of the trail and prevent over-tourism.  You can book yourself space on Tasmania's Parks and Wildlife Service website.
Kayaking at the Freycinet Peninsula
If you are a fan of the water, definitely try kayaking at the Freycinet Peninsula. Located on the east coast of Tasmania, the Freycinet Peninsula is a wonderful place to explore. It is home to Wineglass Bay, and many people opt to include hiking to a Wineglass Bay Viewpoint (we did the Mount Amos hike to see the bay) onto their Tasmania itinerary.
However, there are other options to enjoy the bay. If you are the daring kind then you can even go for water rafting! But if you are looking for a more peaceful option then kayaking would be perfect for you. You can explore the beauty of the natural cliff formations and the insides of the caves along the coastline this way.
Bird Watching
If you like looking for birds, you can rest assured that Tasmania will not let you down. You can find some of the best places for bird watching in Australia here. There are a large variety of birds to see in Tasmania. Places such as Bruny Island, Mt. Field National Park, Hobart and Mt. Wellington are some of the main spots of bird watching. From fairy penguins to orange-bellied parrots, you can expect to see all varieties of birds, all over the island!
Walk Around Maria Island
Maria Island is basically a small world heritage island national park located off the Tasmanian coast. The island is mainly popular for its large variety of wildlife which you may not witness anywhere else. If you want to spend some lovely time seeing animals such as wombats, whales, kangaroos, dolphins, Tasmanian devils, etc., then this
is the place for you.
If you love to hike, there is a four-day walk which takes you from beaches to historic convict sites to forests, where you can really enjoy all that is Maria Island. During the winter time, the walk is shortened to three days.
Bushwalking in the Tarkine
This is one of the most special places in northwest Tasmania. This is the largest and the last cool-temperate rainforests in Australia. The best way to explore this beautiful place is to take a multi-day walk into the deep forests; an experience of a lifetime. Surrounded by moss-covered trees, the place has a charm of its own. Taking a walk through the thick dense rainforest will make you feel at one with nature, and you'll see a distinct variety of flora and fauna.
Try to find a Tasmanian devil!
The Tasmanian Devil is the most iconic of all Tasmanian animals. They are, sadly, very difficult to spot in the wild as they have been largely wiped out by man. There is a Tasmanian Devil 'UnZoo' which works to conserve these animals; I am yet to visit the place so cannot comment on how ethical it is at the moment, but many people say that they are doing good work.
Boating around Bruny Island
For a beautiful experience, you can go for boating around Bruny Island which is located just off the southeast coast of Tasmania. From whales to seabirds, you can enjoy it all around this area. During your boating ride, you can also enjoy many other large and small wildlife living in the area. You can either opt for all-day excursions from Hobart or stay on the island for a few days. You will be provided with waterproof clothing but you are advised to carry something warm to wear.
Visit Cradle Mountain National park
The Cradle Mountain Summit Hike is one of the most visited and popular attractions in Tasmania. If you are in Tasmania visiting this place is a must. You can find a range of day walks to explore the area. There are a lot of things to discover and witness on your multi-day walk. If you are up for some adventurous hiking trip then this could be the perfect option for you.
Mt Field National Park
Home to some of Tasmania's best waterfalls and only a stone's throw from the capital, this is one of the most popular national parks in Tasmania, with tourists and locals alike.
Located 40 miles northwest of Hobart, this place has incredible trees, wildlife, great walks and gushing waterfalls. Once you've completed the Waterfall Walk, head up to Lake Dobson for some swimming – we had it nearly all to ourselves when we were there (in March) and it was warm enough to swim!
Are you ready to visit Tasmania?
Often known as 'the love child between New Zealand and Australia', Tasmania is one of the most unique spots in Australasia. Its temperate climate, unique nature and fascinating animals are just some of the amazing reasons to visit: I know you'll fall in love with this island, just like I and many other visitors have.
If you've enjoyed this post, please share it or follow me on Instagram!