There's nowhere quite like Barcelona.
The Spanish city is actually the heart of Catalonia, and it's also renowned for its incredible architecture (largely made by Gaudi) and fun atmosphere.
There are so many things to do in Barcelona – but what if you only have one day? If you're here on a layover, or just have a day to spare while taking a wider trip around Spain, don't worry!
I've got a full itinerary for you, to enable you to see the best of this Spanish city without any hassle!
So, here's a fantastic one day in Barcelona itinerary!
Begin with a walking tour
Whenever I go to a new city, I always try to find a free walking tour. You're in luck if you're looking for one in Barcelona, as GuruWalk, a popular tour company, run their fascinating tours in the city centre.
On this Barcelona walking tour, you'll traverse the best attractions in the city including the Sagrada Familia and Casa Mitla, learning all about Barcelona's history, Catalonia's passion for independence and Gaudi's affinity to the city as you go.
If you want a more niche walking tour, you can also do a Gaudi & Modernism tour or even a tour focusing solely on the Spanish Civil War.
Head to Park Güell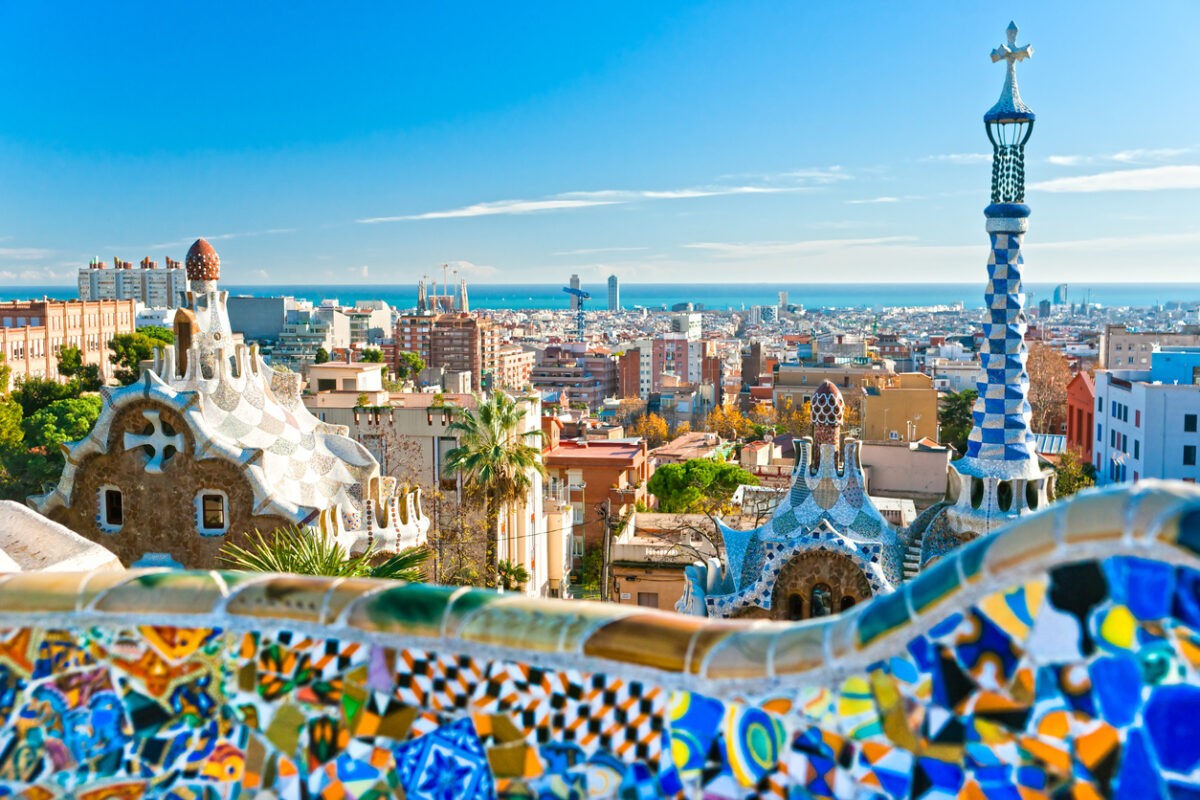 One of Gaudi's masterpieces, Park Güell sits just to the north west of the city centre. I'd recommend heading here before visiting any of Barcelona's other attractions because it's the furthest away, and then you can make your way back.
Dating back over 100 years, Park Güell was designed and created by none other than… Antoni Gaudí, of course!
As you explore the park, which consists of gardens with gorgeous plants and early 20th century architecture, you can take in the gloriously unique style of Gaudí – there are so many photo spots!
Don't miss the view of all of Barcelona, stretching to the sea!
From Park Güell, you can walk to the Sagrada Familia – it's around half an hour, and it'll give you a chance to explore some of Barcelona's lesser-known streets. Alternatively, take the V19 bus.
Sagrada Familia
You will have seen this on your GuruWalk tour, but now it's time to go inside!
The Sagrada Familia started to be built in 1882. However, the most interesting thing about this building is that it is actually still being built – although Gaudí died in 1926 (after, tragically, being knocked over by a tram), Barcelona continued slowly building it.
It's actually expected to be finished fairly soon – probably in the 2030s – so get there quickly to still see it in its unfinished state!
Although it's not finished, you can still explore the building thoroughly. The church is famous for its four tall spires, and inside you can check out Gaudí's tomb, elegant carvings and stained glass windows.
Casa Mila and Casa Batllo
Two more of Gaudí's masterpieces are right in the city centre! Casa Mila, which is also sometimes known as La Pedrera or "The Stone Quarry", due to the fact that its surface resembles stones, is often thought of as Gaudí's best work of civil architecture.
It was built as a home for the Mila family (hence the name!) and was an apartment block. However, nowadays it's mainly used for tourism purposes and is also an event space.
Just down the road from Casa Mila sits Casa Batllo. This eerie building actually looks like it's been made from bones, with "skulls" that are balconies. While the structure looks a bit intimidating, it's decorated in bright blues and greens; Gaudí took inspiration from marine life when he was choosing the colour scheme for this building.
It's possible to tour the entire house, including the beautiful roof terrace where you can catch a view of the city centre.
Check out Las Ramblas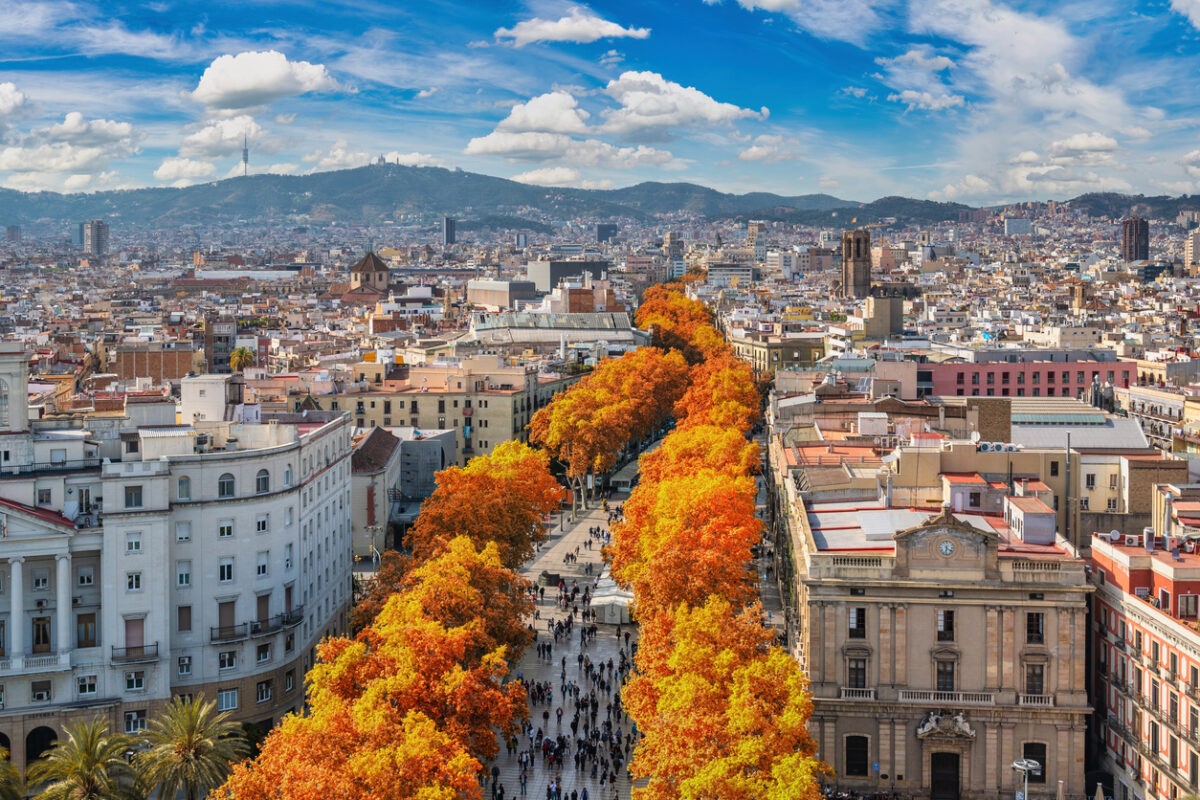 The iconic Las Ramblas runs through the heart of Barcelona's city centre.
You'll probably check the famous street out on your morning walking tour, but I'd recommend spending some time in the afternoon browsing the street, buying any Barcelona-themed souvenirs and enjoying a sangria at one of the bars! 
Head to the beach!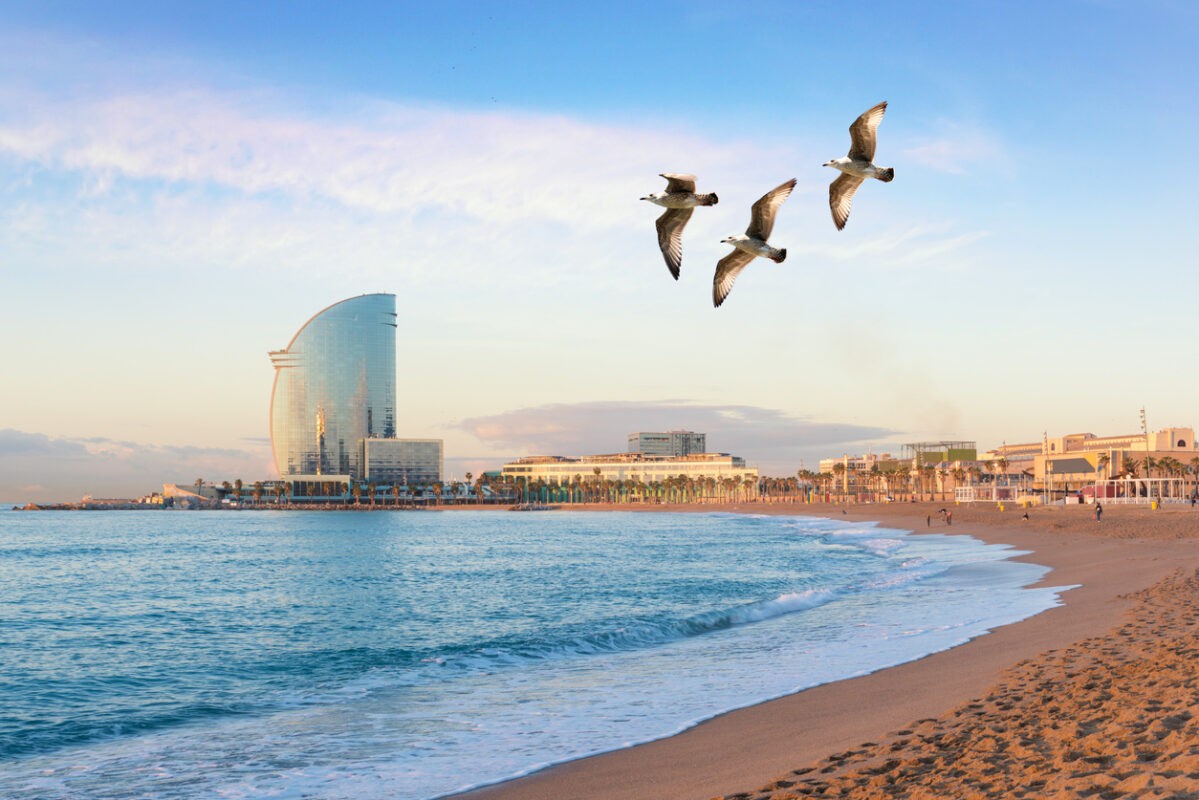 After spending some time exploring the architecture, you might be craving a bit of sunshine and relaxation!
Head to Barceloneta Beach, famous for being the city's connection to the Spanish fishing industry.
There are plenty of places here to grab some fresh seafood, but nowadays it's one of the most popular tourist areas of the city.
There's a lifeguard in the summer months, plenty of sun loungers and places to buy drinks and ice cream.
If you're in Spain in winter, it's still worth heading down to Barceloneta beach for a stroll!
If you're ready for dinner, head to Suquet De L'Almirall, a seafood restaurant that's famous for its fresh seafood paella, featuring fish that's been freshly caught in the Barceloneta waters. Other dishes include mouthwatering Catalonian cockles with ginger and lime or various tapas dishes.
Head back to town for dinner
If you haven't eaten at Barceloneta, then head back into the city centre for your evening meal. Remember, in Spain, people eat much later than in other countries (usually around 9:00 pm onwards!), so if you want a bit of atmosphere, you might want to grab a drink and wait until then.
However, if you're really hungry and can't wait, most restaurants start serving dinner at around 8:00 pm.
One of my favourites is Bodega Biarritz. This is a fairly authentic tapas restaurant that serves all of your favourite dishes – patatas bravas, croquettes, the lot! And plenty of delicious Spanish wine.
Enjoy Barcelona's nightlife!
If you like to party, there's nowhere better than Barcelona. Some of my favourite bars in include Negronia, where there's no menu but a mixologist can whip up a brew that's perfect for whatever you want, or La Tieta, which is famous for its ever-changing wine menu.
And if you really want to party to the small hours (or beyond… I mean it when I say Spaniards stay up late!), clubs like Red58 and Laut are open all night.
Where to stay in Barcelona
I'm a big fan of Acta Mimic, which is close to the city centre attractions and has a quirky theatre theme. Rooms are modern and boutique-style, and the hotel has affordable rates and does a breakfast each morning.
Where to go after Barcelona
From Barcelona, you can head north to the Pyrenees and France (I love Val d'Aran), across to Madrid (see my winter guide to the Spanish capital here) or south to cities like Alicante, Malaga or Seville.
There's so much to see in Spain!
Alternatively, you could take the boat from Barcelona to Palma de Mallorca – read my full review here!