History and local culture. What a combination. And what a great quest to pursue on a Southern Italy road trip from Naples to Palermo, the location of which is a paradise for lovers of both. Here is a 1,200-mile, 2-week odyssey to maximize both these aspects by visiting the best cities in Sicily, famous for both history and local culture.
Although southern Italy has a reasonably good rail service, your best bet is to rent a car in order to navigate the narrow streets of some ancient towns and to visit archeological sites that may be far from the cities.
South Italy Road Trip: Naples to Palermo Drive Itinerary
Naples – 2-4 days
Naples is the starting point of this southern Italy road trip. It's a large city, and there are plenty of facts about Naples that make it an interesting place to visit.
One of the things Naples is famous for is erotic art. Some of the city's art was so erotic, in fact, that it was banned from view during many periods throughout the city's history. As late as the last century the collection could only be viewed by "men of mature age and respectable morals" who were willing to pay large sums.
Women were considered too sensitive to be exposed to the collections. This hide and seek continued through the 1960s when the exhibit was closed again to be officially reopened in 2000.  Even today children cannot enter without an accompanying adult.
The 'secret room' of the National Archeological Museum in Naples with its extensive collection of Greek and Roman antiquities has some of the best of this erotic art. The exhibit was fascinating – a peek into ancient Roman culture that still draws interest 2000 years after they were first created.
The other big draw in this wonderfully chaotic city is its food. Pizza is practically a religion in Naples…and with good reason.
The city certainly lives up to its nickname, the capital of pizza. The varieties are legend including one of the largest varieties of vegetarian pizza known to man.
You're in luck if you're booking accomodation in Naples – from guesthouses to luxury digs to backpacker hostels, there's all sorts in the city. Click through to check some of today's best deals and book today.
Matera 1 -2 days
Matera is wild…a mystical dream Salvador Dali or Hieronymus Bosch could have had; perhaps the word "otherworldly" was created just so it could describe Matera. A town carved straight out of the mountain, it is known as "la Città Sotterranea" (the Subterranean City), and is a UNESCO World Heritage Site.
The city has been inhabited since the Paleolithic and is so surreal and unique many movies have been filmed there including Mel Gibson's The Passion of the Christ, The Omen and the most recent Ben Hur.
So many sites are underground or in caves; homes, restaurants, churches…there is even an underground museum which I can only describe as poignant – because these pretty works of art exist underground, in the dark, never seeing the light of day.
Mainland Italy to Sicily Ferry
At the very tip of the Italian boot in Reggio Calabria is the town of Villa San Giovanni.  Here is where you take the car ferry to Messina in Sicily.  The car ferry takes 30 minutes and costs about €35. The crossing itself is smooth sailing.
Taormina 1-2 days
One of the things that makes Sicily so unique and special is the mixture of cultures that have contributed to its development.  Throughout Sicily's history, it has been invaded and colonised by Phoenicians, Greeks, Romans, Vandals, Arabs, Normans, Spanish and others.
The effects of this colonisation can be seen throughout the city particularly in its architecture.  Many impressive structures are a mixture of Byzantine, Arabesque, Norman and gothic influences.
Add to this the recent immigrants from Bangladesh, Sri Lanka, China, Romania, Ghana, Philippines and Morocco and you've got a cultural melting pot that would be the envy of any city except New York.
One of the first cities that you will visit in Sicily will be Taormina. This ancient city's claim to fame is the nearby Mt. Etna, Sicily's live volcano. Within the city, the big draws are Corso Umberto, the main pedestrian drag with medieval buildings on either side of the street and the Teatro Greco (Greek Theater). Built in the 3 rd century BCE, the circular amphitheater is still in use today!
Ortygia – 1 day
Further south from Taormina is Siracusa (Syracuse) with its impressive amphitheater. Although Siracusa is the main town, it is the little adjacent island called Ortygia, which is the original settlement, that truly impresses.  Just wandering its narrow alleyways will be a trip highlight.
It is a well-preserved medieval island with authentic trattorias and specialty shops selling home-made goods down every alley.  The colourful alleyways suddenly open on spectacular plazas, brilliant fountains and ancient ruins.
Villa Romana del Casale – half a day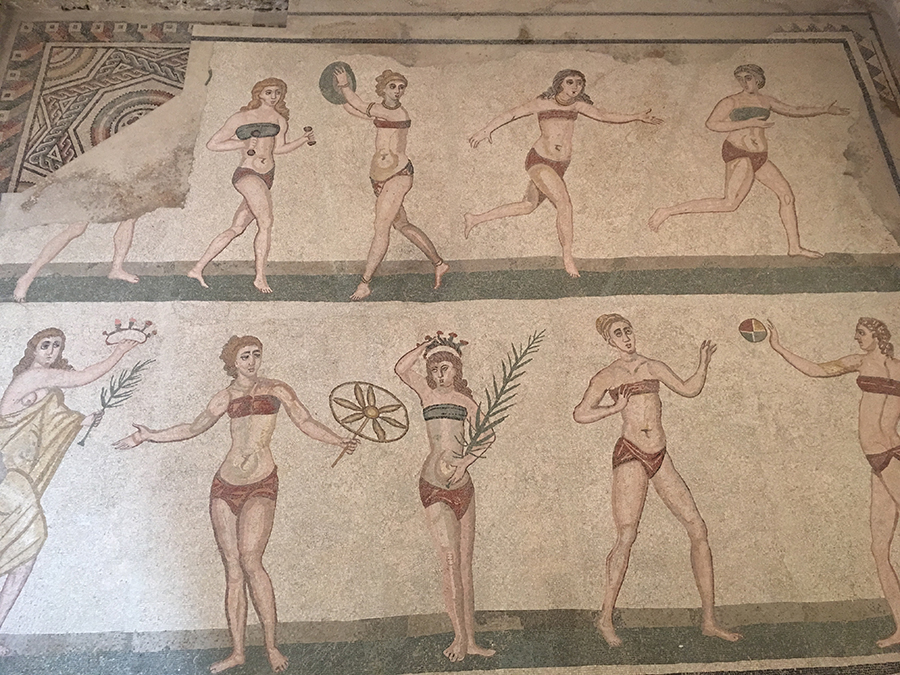 You'll no doubt be anxious to get to Agrigento, on Sicily's sun-baked southern coast, with its outsized reputation for Greek ruins. But on the way to Agrigento there's an amazing, well excavated Roman villa, Villa Romana del Casale, a UNESCO World Heritage Site. If you detour to see it, you'll be glad. The "Villa" is more like a palace with the largest, most complex and best-preserved collection of Roman mosaics in existence.
Built in the 4th century AD Villa Romana del Casale was severely damaged at various times in its history until it was finally abandoned in the 12th century, after it was buried under a landslide.  Excavations took place throughout the 20th century and the mosaics survived relatively intact. Seeing these magnificent works of art is another one of those travel moments where you feel a connection to the past. It is an emotional experience to see such a high level of artistic achievement created 2000 years ago.
Agrigento – 2-3 days
Agrigento certainly lives up to its reputation for Greek ruins. The Valley of Temples in Agrigento has several structures but the Tempio della Concordia, named in honour of the Roman goddess of harmony, is the most impressive.
Built of marble in the 5th century BC, it was already ancient when the Romans first saw it. It was dismantled in the middle ages, the stone used for housing and the land turned into a lime pit, of all things.  Nevertheless, what's left will give you an idea of how impressive this place must have been once upon a time.
Monreale – 1 day
From Sicily's southern coast, shoot up north in a straight line to Cefalu, followed by the island's capital city, Palermo, the jewel in Sicily's crown.  On the way, about eight kilometres southwest of Palermo there is another can't-miss gem quietly existing under the radar; Monreale.
You could either visit Monreale on your way to or from Palermo or stay in Palermo and visit Monreale as a day trip offered by various tours. The main attraction of the town is the showstopping cathedral and its cloisters, which date back to the 12th Century and are steeped in history. The cathedral at Monreale is one of the most fascinating religious buildings in Italy; and it is not to be missed during your Sicily road trip. There are also a handful of restaurants and bars to enjoy before or after visiting the cathedral.
Palermo – 2-4 days
You've made it! The last portion of your Southern Italy road trip takes you right into the heart of Palermo, a city famed for its food, architecture and shopping. Here's just some of my highlights of Palermo.
Palaces
The most UNESCO World Heritage Sites of any country in the world are in Italy.  Sicily has the most UNESCO sites of any Italian city. It stands to reason that the capital city, Palermo, is also the capital of World Heritage Sites.
The city itself is like a cultural amusement park with its winding alleyways, ornate decaying palaces, street markets with the strangest vegetables I've ever seen, cathedrals with atypical architecture, religious street processions. It's all a little bizarre and surreal…like a Fellini movie.
 Streets and Markets
Notwithstanding the architectural gems that are found around every corner in Palermo, the authentic Palermo is experienced in its streets, markets, and food.  The pedestrianised streets make it easy to wander around the ornate palaces; some of which have been turned into museums.
Palermo's plazas function as the city's living rooms filled with little cafes, music venues, art exhibits and strolling citizens.
Street food in Palermo can be found all over town in little stalls selling tasty snacks for about €1 – €2. Try as many as you can especially the "arancini" little, fried rice balls.
At the Ballaro market, one of three major markets in Palermo, we saw some very strange looking vegetables. Looks were deceiving. When we tasted them at a nearby food stall and they were delicious.
Palermo is another vegetarian heaven. The selections are varied and cooked with imagination and innovation.
Want to book somewhere special for the end of your road trip? Check out Palermo's best hotel deals here and book today.
If you are interested in history and culture, Italy is one of the world's best destinations. Southern Italy offers a peek into the millennia of cultural achievements that have gone into creating the Italy of today.
Don't go on your Southern Italy road trip without these essential items…
Southern Italy Climate
Southern Italy has a Mediterranean climate, with mild winters and hot summers. January and February are the coldest months, with temperatures ranging from 5-13 degrees; and if you are travelling in the hottest months of July or August, expect temperatures anywhere between 19-30+ degrees. October and November are Southern Italy's wettest months, and the summertime is by far the driest time of the year.
South Italy Road Trip Driving Tips
Most cars in Italy are manual, so if you can only drive automatic, be sure you book in advance and be prepared to pay some more.
Italians drive on the right hand side of the road – the same as America and the rest of continental Europe
An inverted red and white triangle means that you must give way
Be wary of your speed – there are a lot of cameras in place, especially on the highway
Apply for your international driving permit before renting a car and taking to the roads
This is a guest post written by Talek Nantes.
Native New Yorker, Talek Nantes is a freelance writer, travel consultant and founder of the travel blog, www.travelswithtalek.com. She is a passionate travel enthusiast and enjoys sharing her travel experiences with others. Talek's personal and professional background have led her to travel to over 100 countries. She has lived and worked throughout the world and speaks several languages. Talek has an MBA and a Masters Degree in International Relations from the University of Pennsylvania. She lives in New York City and Miami. In her blog, Talek shares information on unique destinations, and provides actionable travel tips and advice to help travelers make the most of their time away from home. Her focus is on experiential travel, cultural immersion and interaction with local people to help travelers create their own unique travel experiences.
Pinning the night away…
Disclaimer: some of the links in this post are affiliate links. If you make purchase using any of these links, I may make a small commission, at no extra cost to you. This is just one of the ways I keep this blog running!