I can understand why so many people visit Bali. It's got spectacular scenery, a really unique culture, and lovely people. But there is so much more to Indonesia than this one island – which I would argue is a bit of a victim of its own success as it is one of the most overtouristed destinations in the world.
Neighbouring Java, however, has an equally interesting culture, amazing people, and arguably better scenery. I recently spent one week in Java and absolutely fell in love with the place: and I hope that this post inspires many more people to visit the island.
Java travel comprises volcano trekking, gorgeous temples, stunning countryside and dynamic cities. If you want to party, this isn't the place; but it's great for nearly everything else.
This Java itinerary will show you the very best of the Indonesian island and detail exactly how to spend a great one week in Java. It's jam-packed, and great fun!
There's a high chance that this post contains affiliate links, including Amazon associate links. If you make a purchase using one of these links, I may get a small commission at no extra cost to you. This is just one of the ways I keep this site and my content running for free!
How to get to Java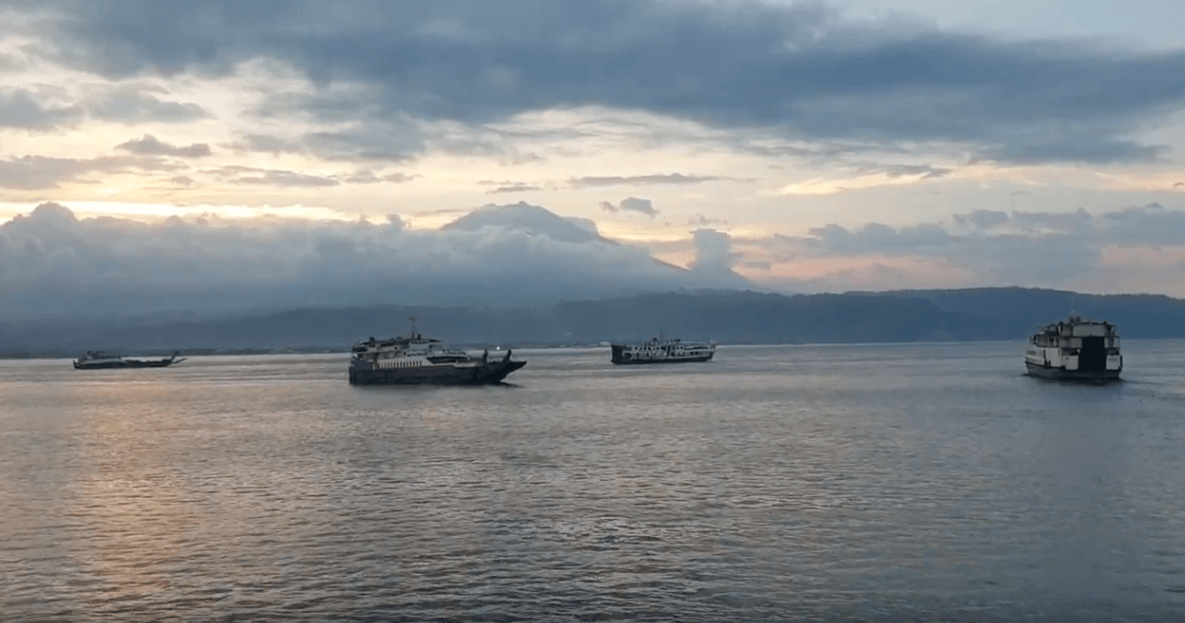 I'm writing this Java itinerary based on the presumption that you've travelled from Bali to get here. This is indeed a wild assumption, as it's just as likely that you've landed in Jakarta – in which case, do this itinerary in reverse.
But if my wild assumptions are true and you're heading to Java from Bali, you'll want to get yourself to Denpasar. Taxi prices to Denpasar can be absolute daylight robbery; if you're not in the prohibited area you could get a GoJek to save on a bit of rupiah.
I got the bus from Umbung Station. I rocked up to the station at about 1pm and had to wait 45 minutes for a bus. It was a local bus, and cost me 60,000 rupiah – although I've been told that it should actually cost 40,000 rupiah.
You'll be driven for 3.5 hours or so past some spectacular scenery and local life in North Bali – you won't believe it's the same island, honestly – to Gilimanuk, where the ferry to Java leaves.
It costs a mere 6,000 rupiah to take the ferry to Java, and takes around an hour. Be sure to head outside when you get there – you can see Java from Bali, and the view is nothing short of spectacular. It will show you exactly what you're in for during your week in Java island!
From there, you can either get your accommodation to pick you up, or take a taxi. However, be aware that the taxis do have a tendency to overcharge. Asking your accommodation for pick up is the cheapest way of getting to Java.
But Claire, I'm arriving from the other end of the island…
If you're arriving in Jakarta, you will most likely fly. If you're got a screw loose like me, you might travel through South Sumatra and get a ferry over, but based on the locals and tourists I spoke to while doing this route,  I'm gonna estimate that about 0.0001% of international travelers do this.
Here's some helpful information about how to get from Jakarta Airport to the city centre.
How to get around Java 
The best way to get around Java is by train. Buses are readily available, are cheaper and leave more frequently, but they're slow and can be very uncomfortable. I'd highly recommend taking the train and booking them as soon as you finalise your Java itinerary. You can search for and book transport on these websites.
Where to stay in Java
There are a range of places to stay in Java, from hostels to homestays to hotels. Homestays can be a great way to meet locals, where hostels are good to meet other travelers. Hotels range in standard, with some luxury options being available in Jakarta and Yogyakarta, and only basic guesthouses in places like Cemoro Lawang (for Mount Bromo).
I'll include some recommended hotels and hostels throughout this itinerary – to book, you can just click through and enter your dates.
WiFi in Java and connectivity 
Java isn't as good for WiFi as neighbouring Bali, but it's not too bad. Hostels and hotels will normally have WiFi which ranges in quality – you'll at least have enough to send a WhatsApp, and in the cities you'll be able to upload pictures etc. as well. However not that many public spaces like stations and trains in Java have WiFi.
Many people choose to purchase a SIM to avoid the risk of not having a decent internet connection. These can be purchased easily throughout Indonesia and are very cheap.
One Week in Java Itinerary
FYI: All prices are in Indonesian Rupiah (IDR). At the time of writing, 1 USD = 14,356.50 IDR, 1 GBP = 18,079.74 IDR, 1 EUR = 16,133.07 IDR and 1 AUD = 9,870.40 IDR.
Banyuwangi (Mount Ijen) – 1 night 
Upon arrival into the delightfully named town Banyuwangi, head to your homestay and organize your Mount Ijen Tour. This can be booked through most homestays and hotels – I booked mine through Banana Homestay and it cost 300,000 IDR – this is because it was on a bank holiday (normally it is 275,000 IDR).
If you've got time, Banyuwangi is quite nice for a stroll around, to see all of the coloured buildings and get a feel for small town Java life. Then I'd recommend trying to get some sleep before waking up at the bright-eyed hour of 11:30pm, ready to trek up Ijen.
You'll be picked up for the tour; remember to wear warm clothing (it gets cold up there!) and to bring your camera and some snacks. Your tour guide will provide you with a gas mask – which is essential for hiking Ijen.
This volcano is seriously one of the best things I've ever seen and I recommend it for anyone visiting Java. The blue crater lake is completely eye-catching, the blue flames are fascinating, and the colours as the sun rises are out of this world.
I've wrote a full post about hiking Mount Ijen; you can check it out by clicking here.
The tour guide may offer a stop off at a waterfall on the way back – you can decide as a group whether you want to. We all had trains and buses to catch, so decided not to.
There are a few other things to see around Banyuwangi, and you might want to spend a day resting after the hike. If you've got time, by all means go for it! However, many people opt to go straight to Bromo – me and my travel mates included.
Where to Stay in Banyuwangi
If you want lovely hosts, personal service and to get a real local experience, look no further than Banana Homestay. The owners of the place make everyone feel so welcome, even serving up a birthday dinner for one of the other guests when I was there!
They also helped us with the Ijen tour, getting buses and trains the next day and even gave us a lift to the bus station.
Book Banana Homestay by clicking here – just look at the reviews and you'll see what a fantastic place this is!
If you would rather stay in a luxury hotel, eL Hotel Royale Banyuwangi also has very good reviews – click here for more information.
How to get from Banyuwangi to Mount Bromo
You can take a bus or train from Banyuwangi to Probbolingo, and then take a shuttle to Cemoro Lewang for Mount Bromo.
The trains are faster and much more comfortable, but they are quite significantly more expensive and fewer run each day. You can purchase train tickets on Tiket.com and Traveloka.
The bus, on the other hand, is slower, not that comfy at all (try to get eksecutif class if you can – we did the whole trip on the local bus with no A/C!) but very cheap and they come frequently. Bus tickets can be purchased on the spot. 
Mount Bromo – 1 night
Once you get to Probbolingo, you'll want to transfer to a tourist shuttle up to Cemoro Lewang. Ask around when you get to the train or bus station, and you'll be pointed in the right direction – most locals know that any tourists in Probbolingo will be looking to go to Cemoro Lewang.  They leave when they are full and take about an hour and a half – the cost is around 40,ooo IDR per person – or if you leave before it is full it will cost more.
They do run quite late; we still managed to get one at around 8pm. If you get there really late, you might be able to take a Grab taxi there.
If you end up in Bromo that late, make sure that you have already eaten! Eat in Probbolingo or get snacks somewhere. Everywhere shuts in Cemoro Lewang (and then opens again at about 3am).
Once you're fed, try to get a few hours' sleep before another very early wake up!
I'd recommend leaving at 3am to leave at half 3 – then you'll make it to the viewpoint at around 5/ half 5, when sunrise starts. There are two viewpoints, King Kong Hill and Penanjakan Hill; King Kong Hill is the one that all of the jeeps go to so maybe check out Penanjakan Hill.
After sunrise, you can hike to the other viewpoint or check out more of the national park. Currently, Mount Bromo itself is closed due to a recent eruption. I still think going to the viewpoint for sunrise is well worth it, but you won't spend as much time there as normal.
Once you're all Bromo-d out, head back to Cemoro Lewang for some breakfast or lunch – depending on what time it is – and to hit the road. All of the restaurants that were shut the night before will be full of life now; so take the opportunity to have a meal!
Where to Stay in Cemoro Lewang
Accommodation in Cemoro Lewang isn't great. You won't find any luxury hotels here, and even the guesthouses are overpriced and have definitely seen better days. The good news is you'll only be needing the room for a few hours' kip and to store your stuff while you're hiking!
We booked accommodation at the tourist desk where we organised our shuttle – this is a very feasible option. Other people in our shuttle just rocked up and booked there and then.
There are some more 'resorty' style places a bit further from Cemoro Lewang, but you won't be able to walk from there to the national park in the morning. If you're interested in these kind of places, you can check them out on booking.com.
How to Get from Probbolingo to Yogyakarta
If you decide to head back to Probbolingo, you might want the easiest route to Yogyakarta. If you can hack it, hop on another bus or train; check train times here.
We actually decided to take a shorter bus to Surabaya and stay the night there. There isn't that much to do here, so I'm not putting it on this Java itinerary (as you only have one week in Java!) but if you can't face the long journey to Jogya on the same day (don't blame ya), know that this is an option. We stayed in 'The Hostel' which was fine for the night – you can book by clicking here.
Side note: I'm currently travelling overland (and sea) from Bali to London, and here is one of my videos that I made, all about hiking Ijen and Bromo. Enjoy and please follow me on YouTube for more!
Yogyakarta – 3 nights
Whether you travel from Probbolingo or Surabaya, I have no doubt that you'll be cream crackered when you eventually make it to Yogyakarta. So treat yerself to a nice sleep in, play some cards, get a massage, or do whatever you do to unwind.
If you've travelled straight to Jogya, you've got three days in Yogyakarta on your Java itinerary. This is a great time to see what the city has to offer.
Day One – Prambanan Temple and Yogyakarta City
Because I didn't make it to the temples but do feel like they should be a part of your Java itinerary, I enlisted one of my fellow travel bloggers, Sue from Travel For Life Now, to write about them.
Visiting Prambanan while in Yogyakarta is a must-do. The World UNESCO Heritage Site Prambanan is a complex of 240 Hindu temples decorated with bas reliefs that tell the Indonesian version of the Ramayana stories. It is the largest Hindu Temple in Indonesia. The complex is very spread out and has three zones. Most people focus on the central 3 temples dedicated to Brahma (the creator), Vishnu (the Preserver) and Shiva (the Transfomer). The largest Temple (47 meters tall and the one in the middle) is the one dedicated to Vishnu. There is much to see in addition to the main temples.
Walking around is easy and there are many paths. Again, there are steep steps to get up into the Temples. The entrance fee is $25 unless you purchase the $40USD combination ticket for Borobudur.
Once you're back in the city, I'd recommend spending some time walking around the city centre, enjoying the cafes and street art, and then heading to the Walking Street, where you can purchase street food, souvenirs and clothes afterwards.
Day Two – Borobudur Temple for Sunrise
Sue's helping me out again with her description of Borobudur temple!
Along with the Merapi volcano, Borobudur was one of the highlights of our time in Yogyakarta. Most people visit for sunrise – which is recommended for this Java itinerary. However do bear in mind that, especially if you visit during rainy season like we did (February) a sunrise/sunset tour may be out due to rain.
Borobudur is a UNESCO World Heritage Site, built in the 9th century in Central Java. The uniquely Javanese design blends element of Buddhism with Indonesian ancestral worship. It is the largest Buddhist Temple in the world and archeologically is as significant as Angkor Wat.
We began walking counter-clockwise on the first of the 9 levels, viewing the very detailed bas reliefs. Then the second level. And, then the clouds rolled in. We hurriedly went to the top to see the stupas on the central dome. The stupas surround the top and one has an exposed Buddha. You can see for miles from the top and the Stupas and Buddhas were stunning.
Borobudur wasn't very crowded when we were there in late afternoon in February. In high season (especially June/July), it gets very crowded and the sunrise/sunset viewings are full of people. Tickets cost $25USD for adults, and combined tickets for Borobudur and Prambanan cost $40USD.
If you would rather be guided around, local guides are for hire or there are day trips from Yogyakarta to Borobudur, many which factor in the sunrise. The stairs are very steep and good walking shoes are best for the temple visit.
Day Three – Yogyakarta's Nature
For day number three, rent a scooter (or find some friends with scooters, like I did) and visit the Javanese countryside. Like all of Java, the nature around Jogya is be-a-utiful and well worth some exploration. Just riding around on the bike is a good time – but there are also various caves and points of interest to see on the way.
So, I'd highly recommend not doing what we did. We were told by two people that the cave we wanted to go (Jomblang Cave) to was shut, so we ended up following some other guys to Pindil Cave. We paid 100 IDR to go tubing here, which isn't all that much money but is a bit costly for Indo – and then got there to find the place full of schoolchildren. Like absolutely packed – I've never seen anything like it!
Thing is, I'm not so sure that Jomblang Cave was actually shut all along. I'd recommend checking with your hostel before you leave to clarify, and leaving early!
Once you've seen the cave, the Javenese coastline is not too far away. These include beautiful spots like Pok Tunggal and Sundak Beach. If you do venture down there, know that Yogyakarta City is a  drive away, so be sure to leave plenty of time to return!
I'm going to suggest that you take a night train this night to get to Jakarta. It leaves at 10pm and you'll arrive at about 6am. Book tickets online via Traveloaka (I used this website) or Tiket (which people I met used, but for some reason didn't accept my card).
An extra day in Yogyakarta: Kalibiru National Park
I haven't been here, but am planning to visit when I next go to Yogyakarta because it looks absolutely INCREDIBLE. Kalibiru National Park is 1-2 hours from Yogyakarta (you can reach it by private or shared car, or bus and ojek scooter) and has epic viewpoints like the following:
If you have an extra day or so to spend in Yogyakarta, I reckon this would be a well worthwhile addition. You can see more information about it here.
Where to Stay in Yogyakarta
If you're after a hostel, Laura's Backpackers is exceptional. Rates include a free breakfast and dinner (all vegetarian, not all vegan but I made it work) and the hostel has a lovely, chilled social atmosphere without being a party place. Click here to learn more and to book.
For something a little bit different, Yabbiekayu Eco-Bunglows is located 9km out of the city and was somewhere I was considering staying at. It enjoys Java's countryside while being in striking distance of Yogyakarta. Click here to learn more and book.
The boutique-y Royal Ambarrukmo Yogyakarta is a great luxury option, with great reviews, spacious rooms, a pool, fitness centre, restaurant and bar on site. Click here to read more about this hotel.
Jakarta – 1 night 
The capital of Indonesia, Jakarta is, unfortunately, most well-known for its traffic. I was greeted with this sobering fact as soon as I tried to cross a road in the city – it's impossible. Take Go Jeks around.
Apart from chat about the traffic (which we Brits all love to do), there are some fun things to do in Jakarta. The Museum of Indonesia is there and worth seeing, and if you happen to visit on the 24th April like me, it's free!
Other attractions include:
The Istiqlal Mosque, which is the largest mosque in South East Asia and which visitors can have a guided tour of.
The beautiful Jakarta Cathedral
The streets of Kota Tua, Jakarta's old town
The authentic Batavia Café which has a lot of old-world charm
Various other museums: the Bank Indonesia Museum, the Maritime Musueum and the Wayang Museum
As I only spent a day in Jakarta, I can't give hugely extensive travel advice, but check out this post of things to do in Jakarta for some more tips.
Where to Stay in Jakarta
I Couchsurfed when I was in Jakarta, so can't personally recommend anywhere, but I have heard amazing things about Six Degrees Hostel – and it definitely seems to have all I look for in a hostel. Click here for more information and to book.
If you're looking for a mid-range hotel in Java, Holiday Inn & Suites Jakarta Gajah Mada has great reviews, a pool, spacious rooms and is in the city centre. Click here for more information and to book.
Or, for luxury, Keraton at The Plaza, a Luxury Collection Hotel, has huge rooms with lavish features like floor to ceiling windows and roll-top baths. There is a pool, fitness centre and bar on site and reviewers love the friendly staff and spaciousness of the rooms. Click here for more information and to book.
Need to know for Java travel  
I'd really recommend taking the trains over bus in Java. The trains are spacious, fast and reliable – the buses are cramped, slow, and never get to where you want on time. The trains do generally need to be booked in advance though. Try Tiket or Traveloka for your booking needs.
If you do decide to get the buses, it kinda is worth it to splash out a little and get the Ekspress buses rather than the Ekonomi buses. And for Pete's sakes bring some snacks.
Something else that's kinda fun is that with many Ekspress buses, you can get a combo ticket that includes lunch. I never did this, as I'm pretty sure that nothing was vegan, but it's worth mentioning.
Oh yeah, the food in Java for vegans can be interesting. I ate just rice and spicy sauce a couple of times. That's what dreams are made of. BUT I survived.
Sustainable Travel in Java
Indonesia has a huge plastic problem. Plastic is used everywhere here, and because it's an island, it goes pretty much straight into the sea.
Please be mindful of this while on your Java itinerary. I know it's easy to forget, especially when we're offered bags all the time and everything is served in plastic cups, but we can't have our tourism to Java be negatively affecting it. And by using so much single-use plastic, it is.
Bring a water to go bottle, a material bag, a reusable cup, metal straws, tupperware and reusable cutlery, and you won't have to use any single-use items. There's no excuse for single use, in Java or anywhere else in the world. You can click through on the items above to purchase them from Amazon.
As always, I'd highly recommend trains over planes, because it's way more sustainable. The buses are also a better option than flying, and in the cities if it's just you and you're happy to, use Go Jek motorbikes or public transport rather than taxis.
As I mentioned, Java's not the most vegan-friendly place, and while I really don't think I could consciously eat animal products now I understand everyone's journey is different and some people aren't there. But do think about the environmental impacts of eating meat anywhere in the world and try a few meat-free meals in Java – I recommend Padang Vegan Damai in Yogyakarta (I went here for lunch twice one day) and The Loving Hut in Jakarta. I promise they're good! You can use HappyCow to find vegetarian/ vegan restaurants and options anywhere in the world.
Remember to always be kind and considerate to the locals – you're in there country after all. Sometimes things won't always go to plan on your Java itinerary – try not to get angry about it, things just run differently here and it's part of the adventure!
Try to support locals by eating at local restaurants (very easy to find here!), staying at homestays when possible and purchasing souvenirs from local stalls. If you're coming from Bali, you'll find Java has a lot less catered to tourists, which is great – many more opportunities to integrate with locals and make us being there a pleasant experience for all!
Javanese people are incredibly friendly and kind, and remember that even if you don't have a common language, a smile and a laugh goes a long way.
Where from Java?
As you all know, overland travel is BAE for me, so I carried on from Jakarta over land (and sea) to Sumatra. The result was a 60-hour bus through South Sumatra to Pekanbaru. Would I recommend this? I'm not sure. I'll blog about it later, but I'll just say it was simultaneously one of the best and worst travel experiences of my life.
Most people opt to fly out of Jakarta. Normally I'd always urge people to overland, but here – I can't really blame ya. From Jakarta you can get cheap flights to elsewhere in Indonesia, Singapore, Kuala Lumpur and other destinations.
Click here for my two days in Singapore itinerary, or here for a 2 days in Kuala Lumpur itinerary. If you're worried about your travel budget, here's an idea of how much you'll spend in Malaysia.
Or if you're wanting to explore elsewhere in Indonesia, check out my posts about Bali:
If you've enjoyed this post, please share it!
I'm travelling from Bali to London without flying – follow me on YouTube for more.