The sun shone brightly as we hit the road, journeying from Diveshack in Sliema towards Cirkewwa Marine Park, one of Malta's premier diving destinations.
I was on a diving day trip visiting some of Malta's underwater highlights; we were heading to the northeastern tip of the island, where, some 30 metres underwater, lay a historic tugboat and ex-German patrol boat.
I've put together my experience of diving in Malta in this blog post; it's a must-read for anyone planning on SCUBA diving in Malta or specifically at the Cirkewwa Marine Park!
About the Cirkewwa Marine Park
A marine protected area on the northwest-most point of the island of Malta, right by where the ferry to Gozo leaves from, the Cirkewwa Marine Park is a diving area, protected to enhance tourism in the area.
Managed by the Malta Tourism Authority, the Cirkewwa Marine Park encompasses four dive sites, with two wrecks and a reef.
The two wrecks at the marine park are advanced level dives: they go down to 30 metres (and then some!) and most wrecks are naturally advanced level.
If you have the advanced level certification, but not the deep dive speciality, as I did, you'll stick to 30 meters or just above when exploring the wrecks.
The reefs are shallower, so could technically be dived by open-water divers, but as the wrecks are the highlights here, it's likely that open-water divers will head to other sites in the Maltese waters.
As a side note, Malta is an excellent place to get your advanced diving certification – it only takes a few days and opens up thousands of dive sites around the world!
What's SCUBA diving in Malta like?
Malta boasts around 100 dive sites, ranging from beginner-friendly to advanced to technical; I'd be exploring a colourful seascape with vibrant sea life, a Mediterranean reef, and historic shipwrecks.
Malta diving conditions are typically excellent; current is generally minimal and visibility can be up to 40 metres – but is normally 10-20 metres.
As we approached the park, my instructor Piotr gave me a heads-up about the sea temperature. "It's only going to be around 18°C – which is why we have thick wetsuits! – it's a lot warmer than when I arrived this year in January, which was only 14C!" he said.
Despite the sea temperature not being that warm year-round, Malta is an all-season SCUBA diving destination; Diveshack is amongst a handful of schools that stay open throughout the winter, with divers braving lower temperatures (either wearing a drysuit or much thicker wetsuit!).
Dive sites in the Cirkewwa Marine Park
The Cirkewwa Marine Park is landmarked by four diving sites: Tugboat Rozi, P29 Patrol Boat, Cirkewwa Arch and Sugar Loaf and Madonna.
We were planning to go under the water three times, seeing Tugboat Rozi, P29 and the arch.
Tugboat Rozi
"We're going to do a long stride to enter the sea here", Piotr explained. "Then we'll descend and swim along the reef before reaching the wreck".
With a hand holding my mask on my face, and another hand ensuring that my weight belt and BCD stayed in place, I stepped off the wall, hearing a splash as I entered the waters.
The choppy waves meant that we descended as quickly as possible (top tip: defog your goggles before jumping!), where the currents were thankfully a lot calmer.
The first stop on our dive was the Rozi wreck, a former tugboat that operated in Valletta Harbour until 1992.
Scuttled to become a diving attraction, the wreck of Rozi begins at 20 metres and descends down to around 36 metres.
We didn't need to swim far to get to her – sitting about 130 metres from the nearest entry point, she's fairly easy to reach.
There was even some reef to check out on the way, although we were advised to conserve our air, as our last dive of the day would be around this reef.
Gradually descending to 20 metres, I started to make out the ghostly shadows of Tugboat Rozi, until she was there to admire in front of me.
Slowly descending to around 30 metres, I was able to take in the remarkably well-preserved wreck – apart from her engine and propellor, she's completely intact.
P29 Patrol Boat
The P29 wreck was the main attraction of our next dive in the crystal-clear waters of Cirkewwa Marine Park.
But even before we reached it, we were surrounded by a stunning array of colourful fish and jellyfish.
Someone in my group even spotted an elusive octopus!
Swimming further out (it's about a nine-minute swim to the wreck, at which we were advised to stay between 5 – 10 metres), we started to make out the outline of the former patrol boat, P29, which now serves as a diving site.
Originally built in East Germany, P29 was sold to Malta in 1997 and operated until 2004.
But in 2007, the Malta Tourism Authority scuttled her to create what is now a diver's playground.
The outside of the boat is covered in reef and marine life, and there's even a machine gun on deck.
For experienced divers, there are opportunities to penetrate the wreck and explore its inner workings; although, as I didn't have my deep dive speciality, I stuck to exploring the wreck at 30 metres.
Cirkewwa Arch
"We won't be going too deep for our last dive" Piotr explained. "You can go to 20 metres if you really want to lie on the bottom of the ocean, if not, a maximum depth of 15-18 metres will be fine!".
The Cirkewwa Arch was made when the roof of an underwater cave – which there are a lot of on the way – collapsed.
It's an underwater rock formation that's covered in plant life, and can be swum to and around – which makes for some excellent photos!
After an easy wade-in from Susie's Pool, we dove to around five metres, before starting the slow descent along the reef wall.
En route, we spotted plenty of fish – by far the most colourful that I'd ever seen outside of tropical waters – and even an eel lurking in the rocks!
There are a few caves to explore (if you have a diving light, this is an excellent dive to take it on) and we enjoyed swimming through the arch, taking some photos from different angles.
Around 20 minutes later and after slowly bobbing upwards, I saw the surface about five metres above me.
Here, we did our three-minute safety stop and admired the intricacies of the reef – before surfacing, heading back on shore and celebrating a successful day of diving!
Check out my YouTube video which documents the whole day!
Facilities at the Cirkewwa Dive Sites
Malta manages its diving sites exceptionally well.
The Cirkewwa sites have their own car park which is for divers only from 9:00 am to 5:00 pm.
Here, there were free, clean toilets, ample parking for dive schools and a food truck, along with well-maintained entry points to the dive sites, with ladders, steps and handlebars making it much easier to get in and out of the water!
Food and drinks at the Cirkewwa Dive Sites
There's a little food and drink on offer at the Cirkewwa Dive Sites; a van parks up in the car park and offers a range of cold drinks, along with hot dogs and sometimes other food items.
On the day that we were there, he only sold hot dogs but advised that this was because the dive sites were still quite quiet. "I have more of a menu in the summer!" he told me.
I ended up eating at a cafe by the Gozo ferry terminal; unfortunately, they didn't sell the glorious pastizzi (Maltese pasty with flaky pastry) but I did get a qassatat filled with ricotta cheese, which was heavier than a pastizzi but still quite tasty!
I also bought a couple of small bottles of water here, but I'd recommend bringing a larger bottle of water with you – diving's thirsty work!
How to get to the Cirkewwa Dive Sites
Your dive school will arrange transportation for you – I just walked to Diveshack in Sliema in the morning, where gear hire was arranged (diving in Malta is slightly cheaper if you have your own gear), and I met my instructor and diving group.
The instructor then drove us to the dive sites.
Tips for diving at the Cirkewwa Dive Sites (and in Malta!)

Looking for tips to take your Malta diving experience to the next level?
Aside from choosing a fantastic diving centre (I highly recommend Diveshack!) and being conscious of not disturbing any of the natural world underneath the water's surface, here are my top tips!
Malta dive safety is exemplary (but take all normal precautions, of course!)
Malta takes diving safety very seriously.
As it's one of the most popular (if not the most popular!) dive destinations in Europe, popular with beginners and improvers, Maltese diving schools and the tourism authority are unanimous that the number one priority is safety.
Some things I noticed on my dive were:
snorkels were mandatory
we had long surface intervals because we went down to 30 metres
we all checked we could clear our mask efficiently before descending
we were briefed on a back up plan if the current changed
While I'm a much more confident diver than I used to be, the extra safety precautions that Diveshack and the Malta Tourism Authority put into place made me feel even more at ease.
Considering this, Malta would be an excellent place to learn how to dive!
Your buoyancy may be different than in other places you've dived
If you're used to diving in the Red Sea like I was, expect different buoyancy in Malta; the sea is less saline here, which meant that even with 10 mm worth of wetsuit I still needed less weight than on the salty Red Sea!
I initially went down with 8 kilograms, which was too heavy – I could feel my lower body being weighed down and struggled to stay horizontal, even after putting air in my BCD.
I then opted for six kilograms, which gave me much more flexibility to move around and stay in a flat position!
Buoyancy control is, however, very personal – while it often depends on the salinity of the water, it also varies depending on weight and body composition – and it can take a while to work out which is best for you!
You can dive in winter, but there are a few things to consider
While the Malta diving season is The seas of Malta are open all year round for divers, but they can plummet to a chilly 14°C in the winter.
"Diveshack is open year-round" Piotr explained as we drove to the shoreline. "It mainly caters to locals in the winter months, who usually have drysuits. But people still dive in thick wetsuits in the winter too!".
We dived in April when the water was around 18°C – around 10 degrees colder than its maximum temperature in the summer season (when diving in a shorty is a possibility!).
I wore a 5mm long-legged wetsuit and then a 5mm shorty over the top, giving my body a thickness of 10mm but my legs and arms a 5mm thickness.
I didn't wear a hood – but others in my group did and were very thankful for them.
I think my tendency to go cold water swimming in the UK meant that I didn't feel the need for a hood and wasn't too cold underwater!
Another consideration is that, while diving in Gozo is very popular, sites are often inaccessible because Malta's seas can be quite rough in the winter (on another day, I did a non-diving day trip to Gozo on a ferry from Sliema, and at least five people threw up on board!).
You can see my full blog post about diving in Malta in April by clicking here.
With over 100 dive sites, it's worth spending at least 2-3 days exploring!
Give yourself enough time to explore all that the Maltese underwater world has to offer!
With over 100 dive sites, you could spend weeks exploring the underwater world of Malta and Gozo!
But if you're short on time, I'd recommend spending at least 2-3 days diving.
This will give you enough time to see a variety of dive sites and get a good feel for diving in Malta.
Check out Diveshack for all of their dive sites and courses!
I loved diving with Diveshack in Sliema; offering friendly service, heading to the main dive sites of Malta and with rigorous safety procedures, with them you can do fun dives or any courses.
If you're yet to qualify, check out their tester dives and open water courses – you can also do advanced open water, rescue diver and other specialities with them!
Are you ready to dive the Cirkewwa Dive Sites?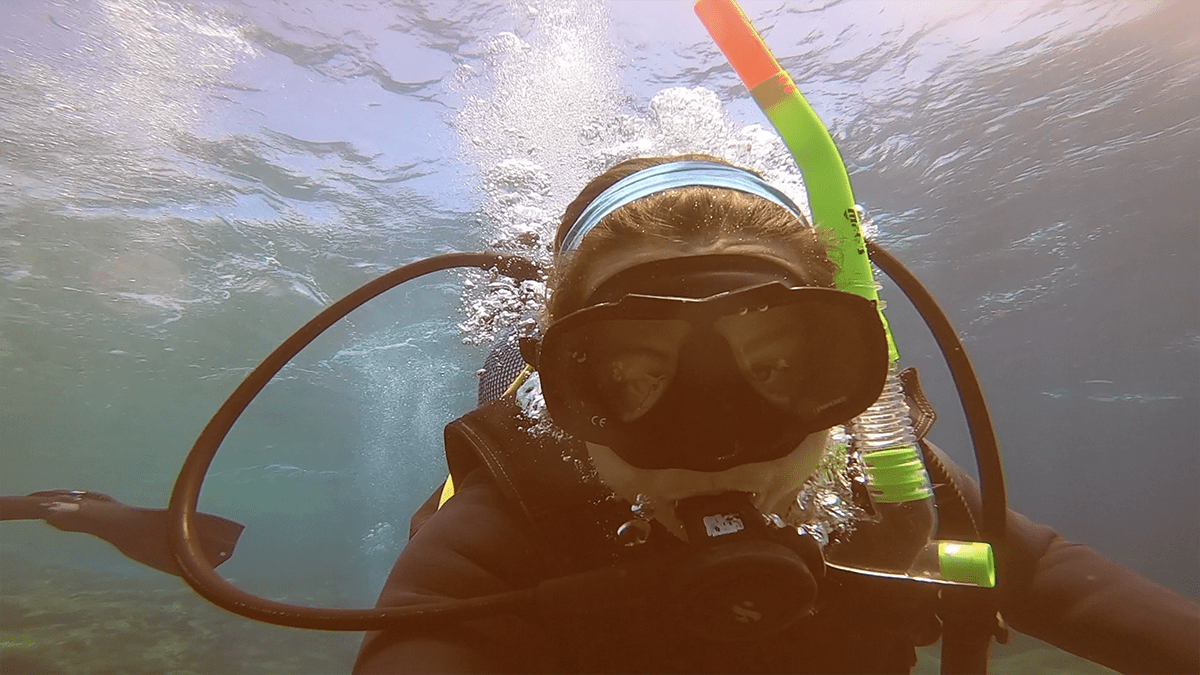 One of Malta's prime destinations, the Cirkewwa Dive Sites are well-maintained, safe and easy to access with a dive school.
And once you plunge into the waters and witness what lies beneath the surface here, you'll understand why Malta is renowned as the diving capital of Europe!