With its relatively small land size and incredible high-speed trains, Japan is an ideal destination to explore if you enjoy overland transit.
There are many reasons to visit Japan: From ancient temples and shrines to ultra-modern hotels and cutting-edge technology Japan is quirky, fascinating and manages to blend past and present together so beautifully.
Any month of the year is a great time to visit this unique country, as each season is sure to deliver natural scenery that will literally take your breath away.
Personally, revisiting during the cherry blossom season is at the top of my bucket list! Japan is a destination where it certainly pays off to invest in a bit of preparation beforehand to avoid any unexpected surprises.
This blog post can help you when planning a trip to Japan!
English is spoken in major cities and in many hotels but the further you venture from Tokyo, the less likely English is spoken or understood.
I highly recommend learning some basic Japanese phrases and responses to make getting around on a daily basis easier. If you're up for a challenge, learning the Japanese alphabets (there are 3!) will be a huge advantage for you – reading signage and menus will become a breeze and help you save time and make the most of your experience.
It's also important to brush up on the top spots to visit in the oriental country and have a rough Japan itinerary planned before you go. And this is where we come in!
Getting Around Japan by Rail
If you're spending 2 weeks in Japan, bullet trains are a fantastic way of exploring the country. In terms of overland travel throughout the country here's some facts about Japan's shinkansen (bullet trains):
• Nozomi のぞみ Shinkansen reach speeds of 300km/h
• Hikari ひかり Shinkansen reach speeds of 230km/h
• Kodama こだま Shinkansen stop at all stations.
Contrary to popular opinion, you do not need to buy the Japan Rail Pass before your visit if you plan on using the Nozomi Shinkansen – Nozomi are not covered by the pass but are the fastest trains.
If you choose this way, I recommend purchasing tickets to your next destination at least a day in advance (where possible) from JR stations.
To avoid any detail getting lost in translation, it's useful to have pre-printed information about your journey to give to the sales clerk. Include date of travel, destination, type of shinkansen, reserved or non-reserved seating, number of tickets and smoking or non-smoking preference.
Japan's Metro system in major cities like Tokyo, Kyoto and Osaka are simple to navigate as train lines are colour-coded like many other metro systems throughout the world and signs are in both Japanese and English… so there's no need to worry.
Using the Metro is a very inexpensive and efficient way to travel between neighbourhoods and cities, prices vary depending on the distance you choose to travel.
To give you an idea, in Tokyo a one-way train ticket will cost you between JPY 170 to 310 (USD 1.55 to 2.80), which is cheaper than a cup of coffee!
As an added bonus, travelling the way locals do will help you to not look like a tourist and get a glimpse into everyday Japanese life, giving you a more authentic travel experience. So now we've covered how to get around the Asian country, let's look at the exciting destinations we can visit in 2 weeks in Japan!
2 Weeks in Japan Itinerary
Days 1-4: Tokyo
Tokyo's a must visit on any Japan itinerary, whether you're a first-time or seasoned traveller – its size alone will totally blow you away.
It's like multiple different cities that combine seamlessly to make up one huge metropolis.
Getting around Tokyo may seem daunting but as mentioned above, with a little preparation beforehand you'll soon realise it's really quite easy after all!
Breaking up your visit into a neighbourhood or two each day is the perfect way to discover everything Japan's capital has to offer.
Getting to Tokyo from Narita Airport
The Narita Express is the fastest way to get from Narita Airport to Tokyo. It will stop at Tokyo Central, Shibuya or Shinjuku and takes approximately 1 hour.
The highlights from each Tokyo neighbourhood include:
Braving "The Scramble" Shibuya Crossing
Quirky shops in Harajuku
The world's busiest train station and hilarious Robot Restaurant in Shinjuku
Tokyo's oldest temple and shrine Senso-ji in Asakusa
Anime, electronics and maid cafes galore in Asakusa (Electric Town)
Breathtaking views over the city at Tokyo Skytree in the city's Northeast
Spending an afternoon strolling the Tokyo Imperial Palace Gardens.
Seeing a traditional performance at Kabuki Theater
Where to stay in Tokyo
Dormy Inn Premium, Shibuya. It's in an excellent location, in a quiet street just off one of Tokyo's main arterial roads and about 8mins walk to Shibuya station. Rooms are very clean, tidy and staff are very helpful. The breakfast is great, too. For rates and to book, click here.
Day 5: Day Trip to Hakone (Mt Fuji) from Tokyo
The Hakone Free Pass is the easiest way to see all the sights and attractions on the Hakone Round Course.
The combination of cable car, train, ropeway, bus and boat are unique approach to see the hot springs, lakes, art galleries and gardens in this region. If you're lucky, on a clear day you'll have postcard-worthy views of Mt Fuji.
Getting to Hakone from Tokyo
Catch the high-speed Odakyu Express early in the morning from Shinjuku station to Hakone-Yumoto station, approx. 1h25.
Make sure you sit on the right side of the Odakyu Express from Tokyo to get the best view of Mt Fuji as you speed past!
Days 6-10: Kyoto
You'll never be lost for things to see and do in wonderful Kyoto.
Previously known as Heian-kyo, Kyoto was Japan's ancient capital city for almost a millennia and boasts over 1,600 beautifully preserved temples and shrines, amongst other attractions.
Kyoto's magnificent history completely astonished me so I'd highly suggest spending around 4 days in this intriguing city to appreciate it fully.
The highlights for Kyoto include:
Cross Sanjo Ohashi Bridge over to 7 kilometres of stores at Sanjo Shopping Arcade in Downtown Kyoto
Discover Arashiyama Bamboo Grove, Monkey Park and Gio-ji Moss Gardens in Arashiyama
Wander the historical streets and spot Geishas in Gion, Kyomiza-Dera
Fushimi-Inari all in Central Kyoto
Admire Daigo-ji in South-Eastern Kyoto
Stroll along the Philosopher's Path leading to Ginkaku-ji in Kyoto's East.
Getting to Kyoto from Tokyo
From Tokyo Shinagawa Station, take a bullet train to Kyoto Station, approx. 2h20 on Nozomi shinkansen.
Where to stay in Kyoto
There are so many great places to stay in Kyoto.
Kyoto Hana Hotel, Gion's location is ideal for exploring the traditional Geisha neighbourhood and numerous shops and restaurants are nearby. It's also only a 2min walk to JR Sanjo station. For rates and to book, click here.
Day 11: Hiroshima
Hiroshima is a beautiful city with a very sad past.
Witnessing the everyday life of people there today makes it very hard to believe the tragedy that unfolded there in the final stages of WWII on 6th August, 1945.
After Imperial Japan's refusal to surrender, the United States dropped an atomic bomb that completely flattened the city and killed 146,000 people (mostly civilians) in the aftermath.
The "A-Bomb Dome" – the only building to not be destroyed as the atomic bomb was detonated 600m in the air directly above it – is a reminder of the horrors of war and is now a symbol of people's hope for lasting peace.
Highlights from Hiroshima include:
Eat your way through Hondori Arcade
Reflect on the unfortunate history of the A-Bomb Dome and Peace Memorial Park
Marvel at the thousands of paper cranes at the Children's Peace Memorial
Be astonished by Jizoson's nuclear shadow
Learn about the effects of nuclear warfare at the Peace Memorial Museum
Walk by the Peace Arch and Peace Flame where the flame is said to burn until the last nuclear weapon on Earth has been destroyed.
Getting to Hiroshima from Kyoto
Catch a bullet train from Kyoto Station to Hiroshima Station, approx. 1h40 on Nozomi shinkansen.
Where to stay in Hiroshima
Royal RIHGA Hotel, Hiroshima. 10mins from Hiroshima station by taxi, you can't beat the location for exploring Hiroshima on foot.
It's moments walk from Hondori Arcade and the Peace Memorial Park. You can also request a room overlooking the stunning Hiroshima Castle. For rates and to book, click here.
Day 12: Day trip to Miyajima from Hiroshima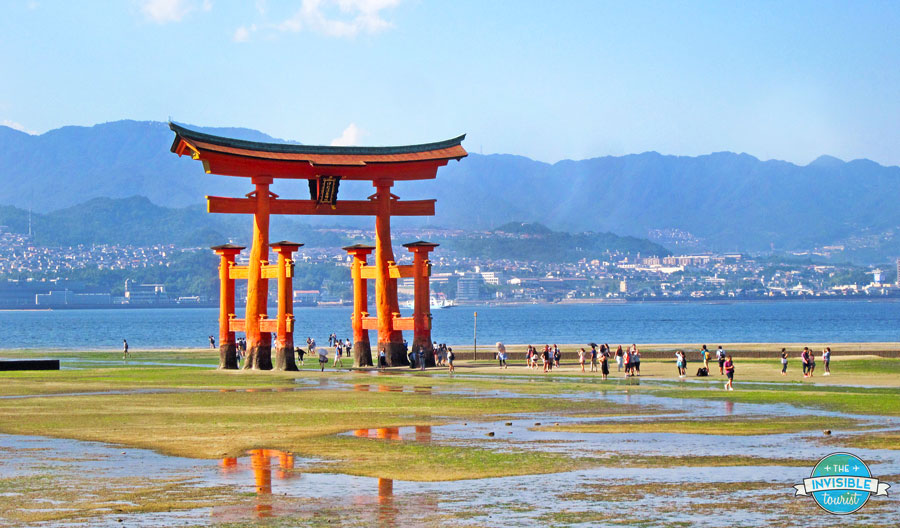 Dating back to the 13th century, Itsukushima Shrine is UNESCO World Heritage Site and is one of Japan's National Treasures. Deer roam freely around the island as they are considered sacred.
Miyajima is an ideal day trip from Hiroshima and is well-known for it's grand Torii Gate that appears to "float" on the water at high tide. It is one of the most popular tourist attractions in Japan.
Getting to Miyajima from Hiroshima
Book a ferry ticket through your hotel or purchase one in advance from the port at Hiroshima Peace Park.
The "Heritage Route" roundtrip ticket is the fastest option and takes around 45mins to reach the island.
TIP: Be sure to check the tide information before your visit to find out if the Grand Torii Gate will be in low or high tide.
As mentioned, it will "float" in high tide but in low tide you'll be able to walk beneath it to really appreciate this amazing structure up close.
Day 13: Osaka
Bustling metropolis by day and even more so by night, Osaka is a fascinating place to spend a day as you begin to journey back towards Tokyo.
Known for its BBQ-style street food like takoyaki (octopus balls) and insane amount of shopping arcades the city is also home to stunning Osaka Castle & Museum, which is well worth a visit.
There's an abundance of castles in Japan which are all amazing reasons to visit the country, but Osaka's is without a doubt one of the best. The 360 degree view from the castle's observation deck is a must-see!
Highlights of Osaka include:
Be amazed by the number of quirky signs along Dotonbori
See the famous Gilco Man from across the Dotonbori River
Get lost in the many shopping arcades
Enjoy a BBQ-style meal
Learn about Osaka's history and admire the view from the top at Osaka Castle.
Getting to Osaka from Hiroshima
Catch a bullet train from Hiroshima Station to Osaka Station, approx. 1h30 on Nozomi shinkansen.
Day 14: Transit back to Tokyo from Osaka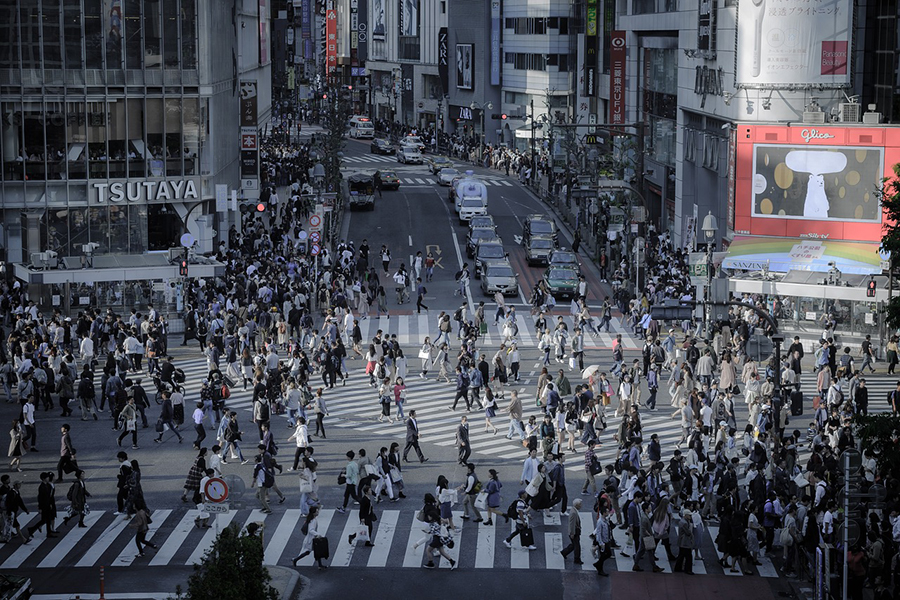 It's a good idea to leave a day to transit back to Tokyo from Osaka so you don't have to rush or miss your flight due to an unforseen event. Spend what time you have left in Tokyo revisiting one of your favourite neighbourhoods!
Getting to Tokyo from Osaka
Catch a bullet train from Osaka Station to Shibuya or Shinjuku Station, approx. 2h30 on Nozomi shinkansen.
Day 15: End of the trip
Finishing your trip Narita Airport leaves you with endless possibilities to explore other destinations in Asia, or simply fly home.
Getting to Narita Airport from Tokyo
Again, the Narita Express is the fastest way to get to Narita Airport from Tokyo. Catch it from Tokyo Central, Shibuya or Shinjuku stations and the journey takes approximately 1 hour.
Taking the boat from Japan to China or South Korea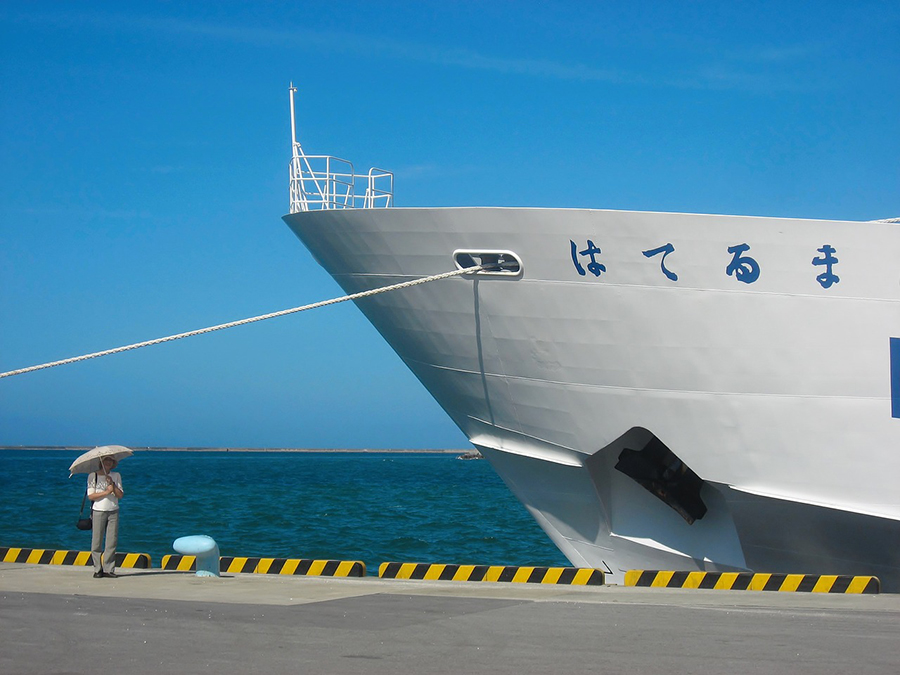 For all the overland fanatics who can't stand the thought of travelling by plane, there is an alternative: a boat from various ports in Japan to Donghae or Busan in South Korea, the fastest of which takes just 2 hours and 55 minutes.
There's also a ferry from Shanghai to Osaka: this takes a whopping 46 hours! For more information about ferry travel in the Orient, search for your destination on seat 61.
Don't visit Japan without these essential items…
Knowing what to pack for Japan can sometimes be a bit tricky.
The climate is very dramatic – searing, humid summers give way to freezing winters – so your summer and winter Japan packing lists may be very different!
But here's some pointers for the best things to pack for Japan, whatever the season:
In the summertime, think thin, breathable attire.
Japanese people dress conservatively, even in the humidity of the summer months, so opt for long travelling pants and leave your denim shorts at home!
While temperatures soar in the summer, rain can also happen at any time; so be prepared for sudden downpours with a good quality rain mac and an umbrella.
Wearing light clothes will also ensure that they are quick dry, meaning that you won't spend your 2 weeks in Japan carrying round a case of damp clothes! I'd also take a quick dry towel, that's light enough to carry around with you and that you can use to wipe off any sweat or quickly dry yourself from any sudden showers.
In the winter, layer up! Japan's got the most famous skiing in Asia, but this obviously means it gets cold.
Bring similar items that you'd take on a winter holiday to Canada or Alpine Europe.
Toiletries, while widely available in Japan, are expensive, so make sure you're stocked up with your favourite brands before leaving. Japan's a long way from everywhere, meaning that unless you're flying in from China or Korea (pssst… did you see the section above about taking a boat from these countries?), you're probably going to have a long flight.
I'd always recommend ear plugs, an eye mask, a kindle and an iPod to help you sleep/ keep you amused on long flights. Although the bullet trains aren't long, these items will come in handy to keep you occupied then as well!
Remember a universal adaptor to keep your devices topped up with charge and an iPad or good quality smartphone to look up maps, restaurant recommendations, and of course, log on to Claire's Footsteps and check this 2 weeks in Japan itinerary for details of your next stop 😉
And don't forget a Lonely Planet Japan guidebook and a Japanese phrasebook!
Author Bio: Alyse is an Australian who has spent the last 9 years travelling "The Invisible Tourist Way" in 230+ cities across 31 countries. Her blog The Invisible Tourist explores ways travellers can enjoy the perks of being a visitor in a foreign place without "standing out" as a tourist.
She aims to help her readers make the most of their travel experiences and encourages supporting local jobs and businesses. Follow her adventures and travel tips on her blog, The Invisible Tourist.
Have you been to Japan? What was your favourite bit? Let me know in the comments below!
I'm in the mood for pinning…