Everyone talks about visiting Paris, but there are so many other places to visit in Northern France, just a short train ride away.
Once you've checked off all of the best cities in France, consider visiting the sleepy town of Bayeux. It's a small place, but there's so much history here!
Bayeux is a wonderfully tranquil and historic Normandy town that has beautiful buildings, a very French air to it and an abundance of history; it's well worth visiting on your France itinerary.
Even if you're visiting Paris for the first time, it's worth seeing if you can do a trip outside the city to see more of the country – and Bayeux is a perfect place for it!
It's easy to get to by train from Paris, and while you'll need a car or a tour guide to see its surroundings, its attractions – which can be visited in a day – are very easy to voyage on foot.
How to get to Bayeux from Paris
The best way to get from Bayeux to Paris is by train from Saint Lazare Train Station.
It's a short two hour journey, and tickets are available on Trainline or at the station. They vary wildly in price, so it is best to book in advance!
Leaving your belongings in Paris
If you're going to Bayeux and then returning to Paris, rather than carrying all of your stuff around, you could make use of a service like LuggageHero in Paris.
They will store your baggage safely and securely at their designated collection points, and their rates never go over 8€ per day. The shops are vetted by local
LuggageHero staff, and you'll get your own security seal provided by free. What's more, your bag is insured when storing with LuggageHero, making it a lot safer than other options.
For more information about how and where to store your luggage, click here.
ou could also rent a car in Paris and drive it to Bayeux – however I'd only recommend this option if you've drove in big cities before, can speak some French, and have nerves of steel.
Things to do in Bayeux
The Bayeux Tapestry
The Bayeux Tapestry made this town famous all the way back in 1066. It's a long tapestry that illustrates the Norman invasion of England and the Battle of Hastings, and it has miraculously been preserved since its creation. Historians have worked tirelessly at analyzing the tapestry, and with the included audio guide, every visitor can listen to the story it tells of the Norman conquest.
It really exceeded my expectations, as it speaks about a significant historical event in a really engaging way! The attached museum talks about all things tapestry-related, from preserving it to transporting it. It costs 9,50€ to enter the museum. If you want to visit the D Day museum and the Baron Gérard Museum as well, you can purchase a combination ticket for all of them.
The Memorial Museum of the Battle of Normandy
The other main part of Bayeux's history is D Day. British, American and Canadian soldiers arrived at the nearby beaches and fought against the German occupiers, and Bayeux was actually the first town to be liberated.
You can learn all about this in the Memorial Museum of the Battle of Normandy, which documents everything related to this fateful day. Including why troops landed on the beaches, exactly where they landed, and what the consequences were, this is a great spot to start learning about this side of Bayeux's history.
The Bayeux War Cemetery with about 4,500 graves is nearby, and is also worth a visit to pay your respects to the fallen soldiers. It will cost you 7,50€ to visit the museum, or if you have a combination ticket you can get a deal for all three of Bayeux's museums.
Baron Gérard Museum
This exhibition focuses on local and national artwork, including Bayeux porcelain and lace. Many famous French painters are exhibited here.
I didn't actually go myself, due to focusing more on history while I was in Bayeux, but I met a few people who recommended it for art fans. It costs 7,50€ to enter, or you can go in on your combination ticket for all three museums.
See the Notre-Dame Cathedral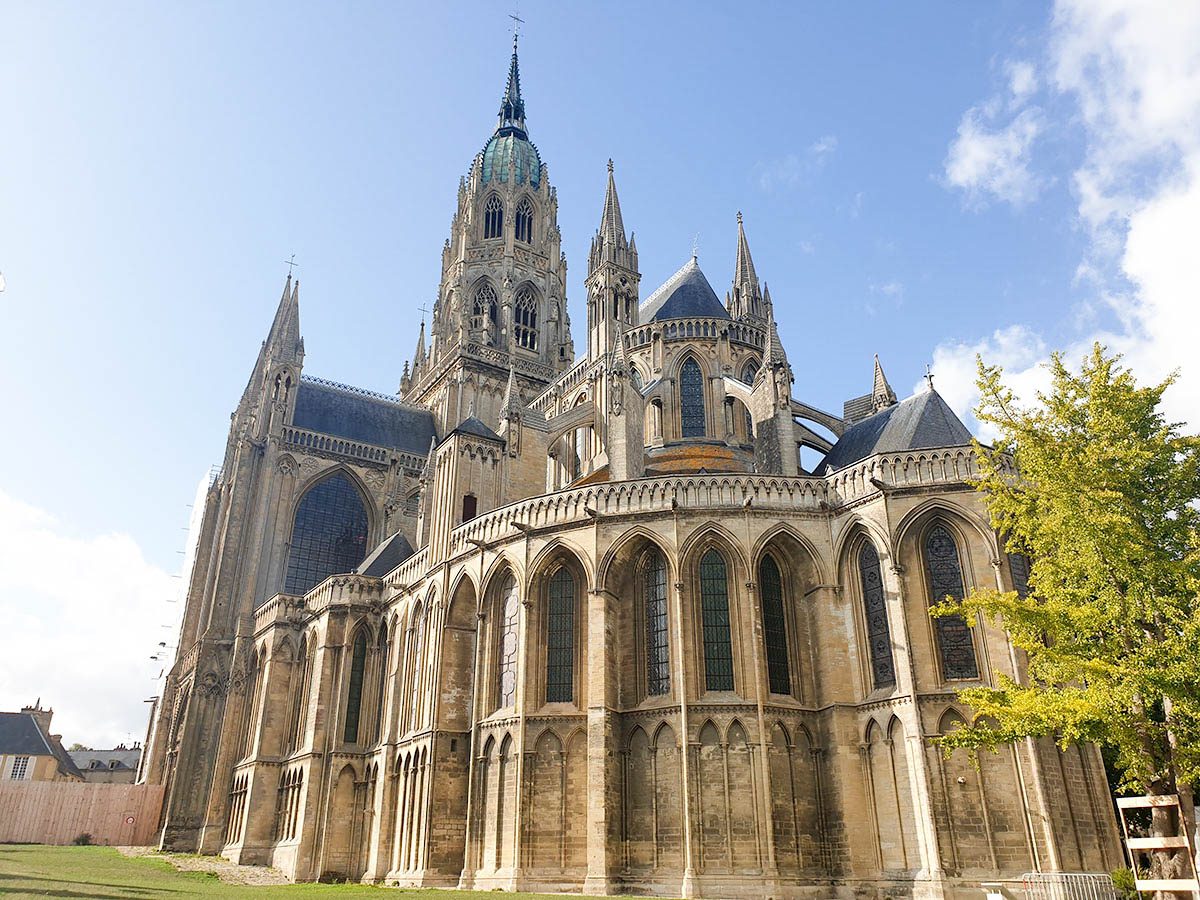 While much of Bayeux's historical tourism is focused on D Day and the Bayeux tapestry, it is very much a medieval town – the architecture of which is epitomized in its cathedral. This beautiful religious building is bulit in Romanesque style with Gothic features.
It was sanctified in 1077, but has been adapted throughout the sanctuaries. It has a historical significance as well – the site was where Harold II made his oath to marry William's the Conqueror's daughter to enable him to take the crown of England – which was broken which ultimately led to the Battle of Hastings. it is free to enter and look around. You can also go into the crypt down below.
Shop at the Bayeux Market
You can enjoy Bayeux's traditional shopping scene every Saturday morning at Saint Patrice Square. Here they sell all sorts of Norman food as well as fresh fruit and vegetables. It's got a great atmosphere, and there are also plenty of places to buy pre-made foods as well.
The Old Town Walk
One of the best things to do in Bayeux is to just amble around and enjoy the medieval buildings, which are impressively intact after the second world war – many of Normandy's towns were pretty badly destroyed, but Bayeux still retains its medieval charm, complete with the River Aure flowing through and a waterwheel.
You're also likely to see many signs about liberation – as Bayeux was the first town to be liberated by the Americans, they're very friendly towards the US here – if you're from the US yourself, expect a warm reception!
If you are interested in learning more about the history of the town, you can take a guided walk. They start at the tourist information centre, take place in French or English, and are recommended by Rick Steves.
Tour D Day Beaches
While this one is outside Bayeux, one of the best things to do in Bayeux is without a doubt touring around the D Day beaches. You can rent a car from nearby Caen, and drive the full stretch of the Normany beaches, learning about the history of D Day as you go.
My favourite stops were Maisy Battery, Omaha Beach and Juno Beach. Alternatively, you can do a guided tour for a day.
Tours leave Bayeux itself, and you'll have the advantage of a knowledgeable local guide to tell you all the information you'd want to know about the beaches.
Or, a more budget-friendly alternative is to take a bus from Bayeux to Omaha Beach. It's not possible to see all the beaches by bus, but you'll at least get to say you saw one by doing this!
Places to Visit Near Bayeux
Normandy has many beautiful towns and villages, as well as picturesque countryside. The D-Day beaches are definitely the biggest attraction near Bayeux, but other places that are viable as a day trip (or can be added together to create a Normandy itinerary) include the following.
Caen
Founded by William the Conqueror, the city of Caen suffered more than others in the Second World War – it was the last city in the region to be liberated on the 19th July 1944. You can learn about this history, and also visit the castle and its various churches.
Roen
Most famous for being the place of Joan of Arc's death, Roen has some interesting, albeit gruesome, medieval history (its old Market Square is most famous for being a site of mass excutions in the Middle Ages). There are numerous churches to explore, as well as an up and coming art scene headed by the town's youth.
Mont St Michel
One of the most famous attractions in France is about an hour and a half's drive from Bayeux and an essential part of any Normandy itinerary. Mont St Michel is located on its own island, and has been a site of Christian pilgrimage for centuries, after claims that it was ordered by the Archangel Micheal. It's a place shrouded in mystery and legend, and is a key stop on many people's France itineraries.