Travelling from China to Hong Kong: the differences between the two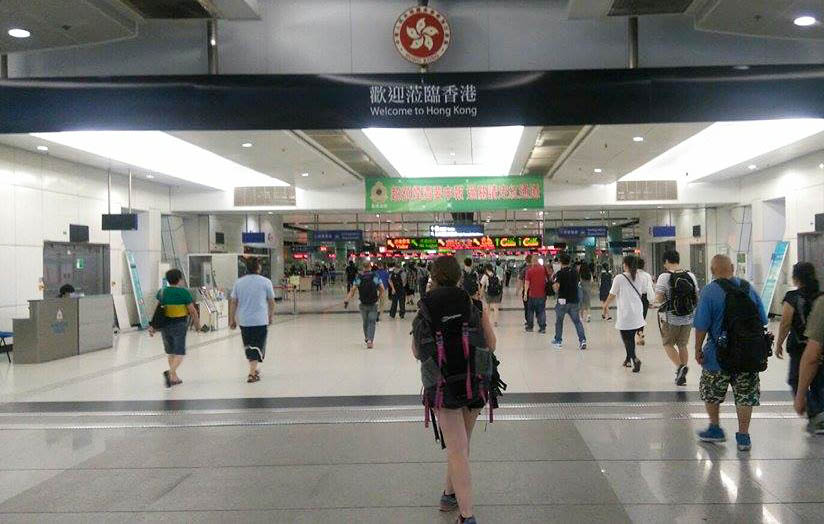 Woah, Hong Kong. It's a great city, but it's a strange culture shock after spending a lot of time in mainland China. Hong Kong was a British territory until very recently, so obviously has a lot of British influence still, which intertwines with a more traditional Chinese culture.
I'll be honest: I liked Hong Kong, but I didn't love it. Despite China's irritations and frustrations, I really really loved the place. Hong Kong was different but the same and it was this that confused the heck out of me. But I'm going to give Hong Kong a fair chance and visit again, without going to China first. There's lots to love in Hong Kong, it's just strange doing it from China.
So what are the differences between China and Hong Kong? Here's some things that I picked up during my time there.
People Speak English
In China, it's rare to find someone who can speak English. I'd often have to resort to my 20 words of Mandarin (spoken in all the wrong tones so I probably couldn't be understood anyway), a cheat sheet that my step mum made for me with Chinese symbols or just acting out what I meant to say. Of course, I was completely happy for it to be this way – one of my pet peeves is when people travel to another country with an entirely different language and just expect them to speak English as well – but at times it was so hard.
In Hong Kong, people know English. While I was always eager to try out my awful Mandarin while in China, the fluency of English in the city was a great respite. I did kind of miss the sense of achievement that comes with trying to be understood in Chinese though!
It's Incredibly Multicultural
China is hardly multicultural; tourist visas are hard enough to get and it's common to be the only foreigner in a certain place (it is also common to have laowi shouted at you, which means foreigner; it's all done in a positive way though, honest!).
Hong Kong is streaming with different cultures. People from all over the globe have collected in the mixing pot of a city, bringing with them food, languages and customs. I really enjoyed this while in Hong Kong, eating amazing Indian food in Chungking Mansions and savouring vegetarian sushi on the streets of Ko Tao. But I did kind of miss feeling like a rockstar in China!
There's Some Really 'Classically English' Place Names
I climbed up to Victoria Peak, which is one of the top things to do in Hong Kong, and walked past Bristol Street. Ex-imperialism is very evident in Hong Kong, shown by the anglicised names everywhere. Walking around Hong Kong, I felt a little angry at my ancestors – seriously, why did Britian have to overtake everywhere? – but I actually met some Hongkongese people who said that they missed it being a British territory! I guess it's one of those things that you can only experience when you're there. By contrast, in China I often struggled to get a menu in English let alone take a walk around Pound Lane!
People Wait in Line for Buses
And traffic actually stops where it's meant to. Traffic in China and crowds in China are a huge free for all. If you're boarding a bus, you'd better have nerves of steel – it can be a pretty savage experience. And don't even think about crossing a zebra crossing before the car is completely stationary, and even then take caution. In Hong Kong, people patiently wait in line for buses and everything else and traffic does exactly what it's supposed to. It was so difficult to adjust to this!
Facebook Works!
I was amazed the first time I managed to go onto Facebook without having to make sure my VPN was working. Internet in China isn't great, made worse by the fact that a VPN has to be connected to if you want to use Google, Facebook or any other social media. I'm sure you can imagine the pain of this as a blogger! I couldn't believe what was happening when I first logged onto Facebook without flicking my VPN
And Wine Exists
Another great respite for me (yet probably not my liver) was the sudden availability of wine. In bars and 7/11s wine can be easily bought – whereas in China it's pretty much non-existent or really expensive. I barely drank in China as I detest beer, so a glass of wine on my first night in Hong Kong went down an absolute treat.
It's Unbelievably Expensive
I wasn't prepared for the priciness of Hong Kong. Accommodation, food, public transport…. Everything was suddenly multiplied in price. And I don't know why, but in Hong Kong it's so difficult to budget. Like a lot of hostels in Asia, the hostels here don't have kitchens, so it's impossible to cook for yourself. Even a cheap takeaway falafel costs about 80 HKD, and any meal in a restaurant could set you back 200-300 HKD. Drinks out are at least 70 (normally more) HKD and hostels are around 200-300 HKD for a dorm room. The attractions aren't extortionate but not cheap either – the peak tram costing about 80 HKD for a ride and the Big Buddha bus being about 30 HKD each way.
I attempted Hong Kong on a budget by staying at a cheap hostel in Chungking Mansions, eating the inexpensive (and delicious!) Indian food on the ground floor of the mansions and trying not to drink too much (which was difficult as I was reunited with wine!) But I still spent about 2500 HKD in 5 days. For a budget traveller, this is pretty painful!
I was so impressed by the cheapness of China, especially out of the main cities. Great street food can be had for 10 yuan (just over one pound) and some hostel rooms can be had about about 25-30 yuan. Subway tickets are super cheap – just 2 yuan takes you anywhere in Beijing. Dealing with the expense of Hong Kong after so long in China was a huge shock!
*
Hong Kong is pretty surreal after China. Everything works, it's so easy to get around and be understood. But you know what? I really missed China. I loved the challenge of getting around and being understood. And Hong Kong just seemed too simple after seven weeks on the mainland.
But it's a fantastic city. There's so much to do and explore on the city itself and in the more jungly regions (check out this article for information about trekking and camping in Hong Kong!) I just struggled to adjust to Hong Kong after China, as I was constantly comparing the two. So I'm going to give Hong Kong another chance. I only just brushed the surface during my five days there, and there's still so much on my Hong Kong list, so I'll be returning while I'm still in the Eastern hemisphere. I'll be back Hong Kong. And I'm sure I'll love you more next time.
Have you been to Hong Kong? What did you think of the city?
Pin Me! 
9 responses to "Travelling from China to Hong Kong: the differences between the two"